Homemade ranch dip in just 5 minutes! This version has lots of yummy dill flavor and uses dried spices - no chopping or messing up a ton of dishes! This ranch dip recipe is particularly delicious with homemade pan fried potato chips or baked chicken tenders.
Unlike some people who love eating a wide variety of foods, I adore ranch. BUT, it has to be good. Hidden Valley is not good. Homemade bar ranch from a packet is good. Those packets are also Hidden Valley, so riddle me that. I think it's something about the combo of less preservatives, less or no mayo, that makes "homemade" ranch so wonderful.
I've seen a ton of no-packet homemade ranch ideas on the internet, and a lot of them call with powdered milk or something similar to achieve a more classic flavor. I don't love having ingredients around that only can be used for one or two things, though, so I don't use anything but spices and sour cream in my ranch.
So we'll kick off Super Bowl week with this! Easy ranch dip that is perfect for a game-viewing extravaganza but also wonderful to have on hand at all times for the "I should eat a veggie" moments that sometimes happen on Mondays.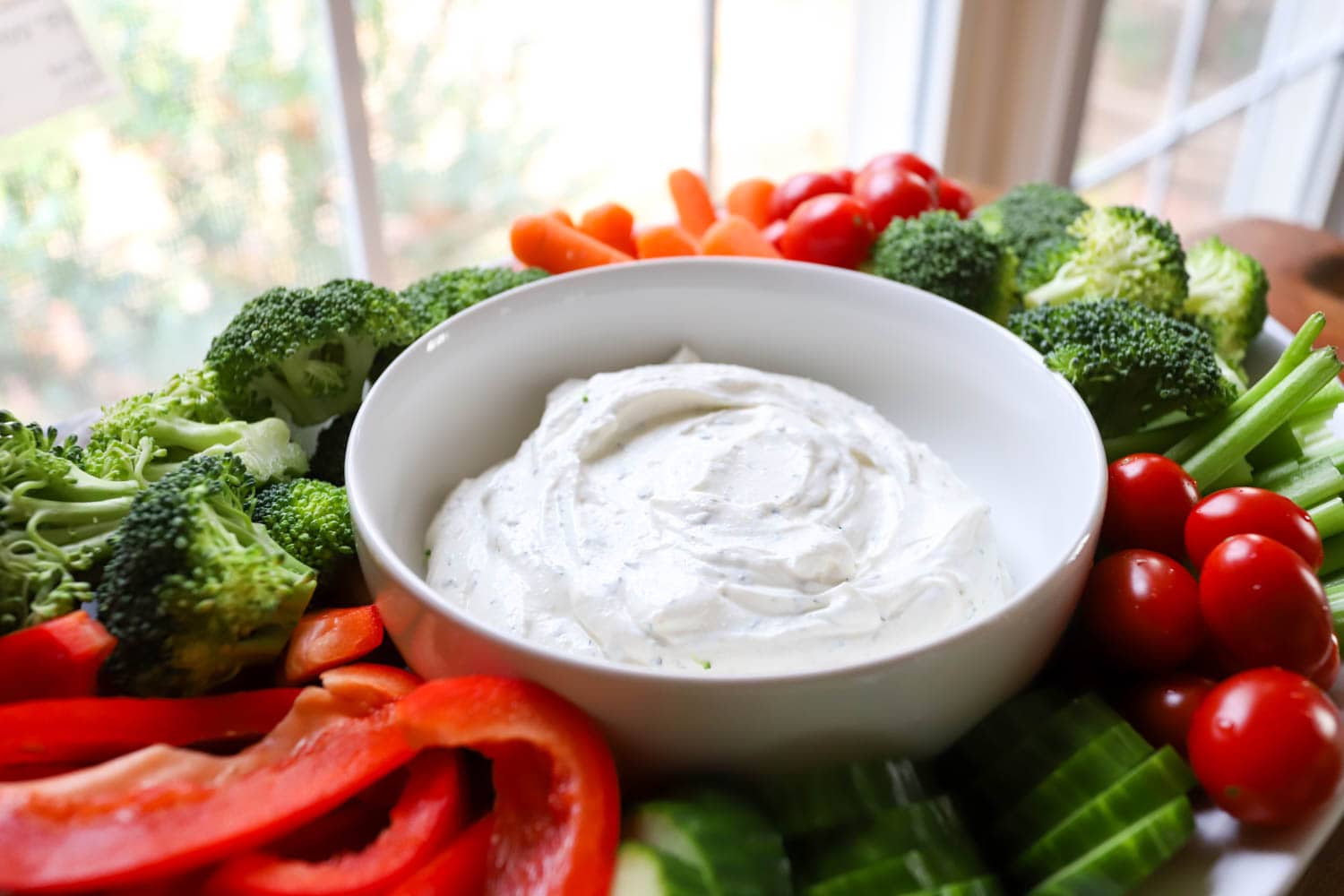 Even in this simplified version of homemade ranch dip, this is a dip that gets devoured so quickly every time I make it. It's a great way to add some veggies to an appetizer spread, perfect for dunking potato chips or wings, and if you have friends like ours you may want to make a double batch for your super bowl gathering.
This does have a strong dill flavor, so if you aren't super into dill cut the amount in half when you make this and add a few extra pinches from there based on your preference.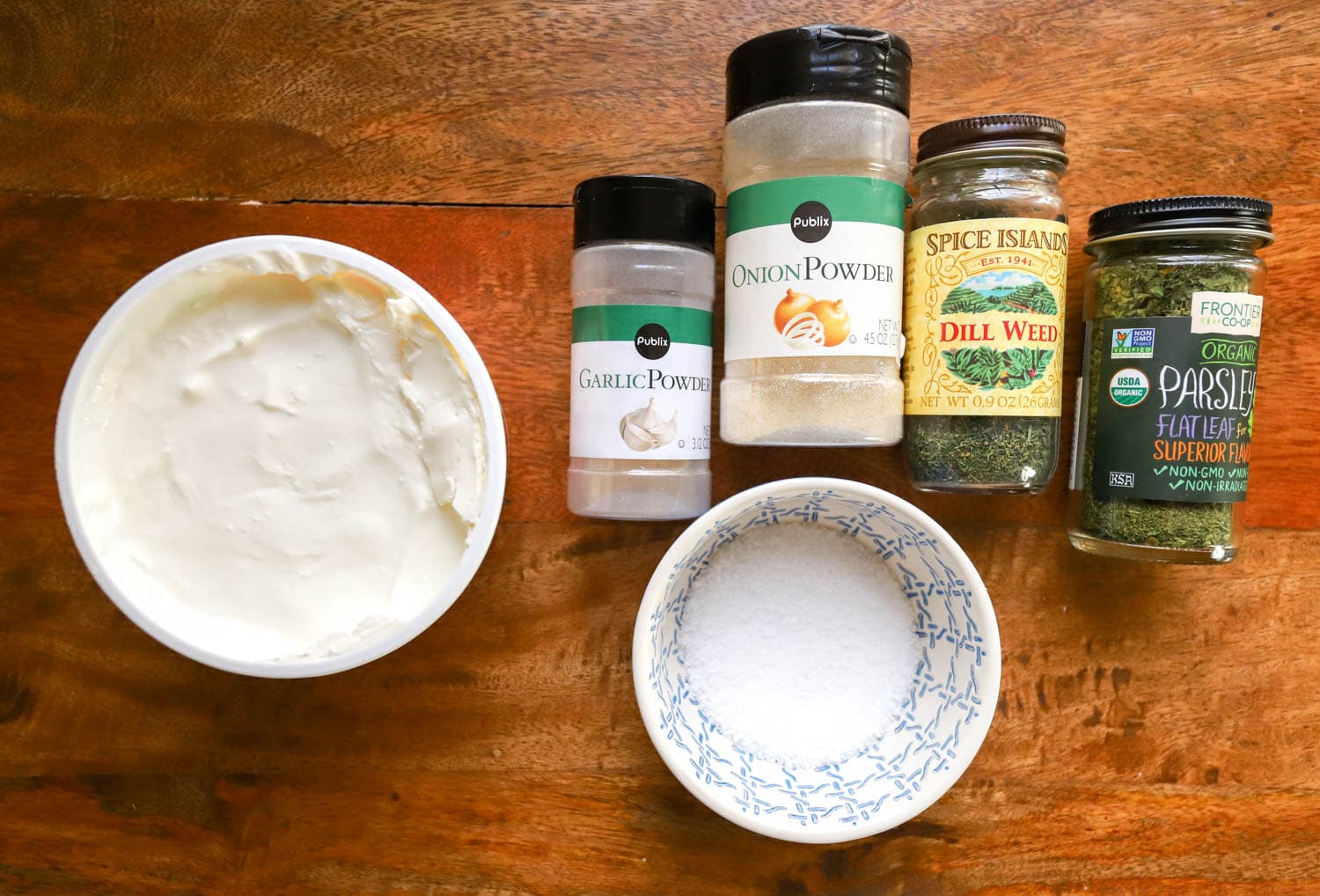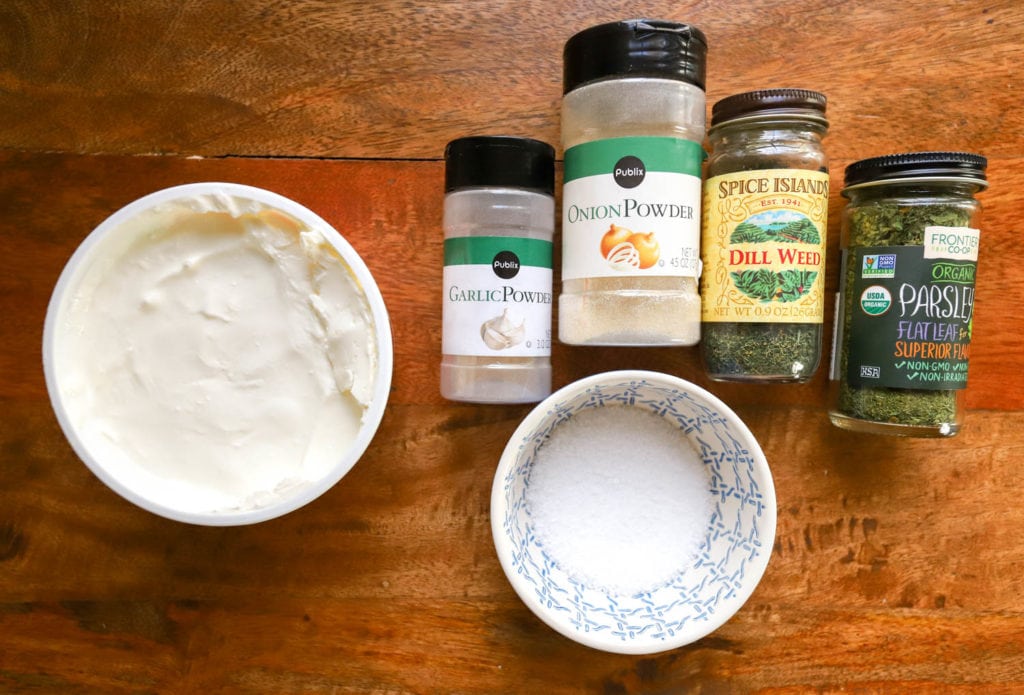 How Do You Make Homemade Ranch Dip From Scratch?
The ingredients are so simple! Sour cream, salt, onion powder, garlic powder, dill, parsley.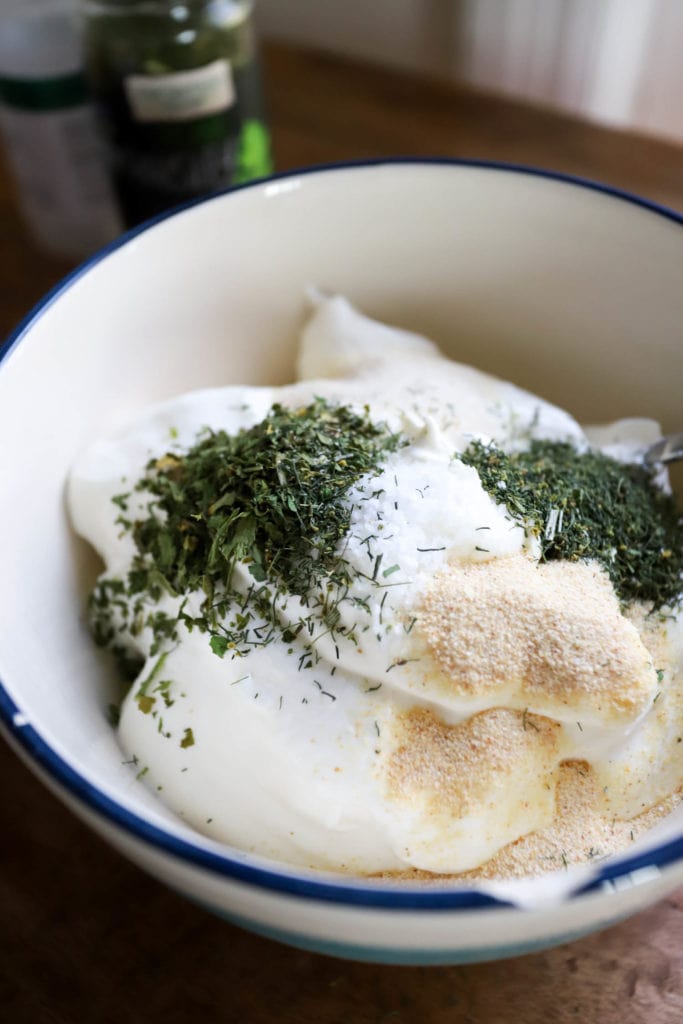 Fresh herbs are great, but this is really wonderful using dried herbs and pantry staples. Another secret is full-fat sour cream, just don't skimp here please, the flavor is so different. We're going for rich.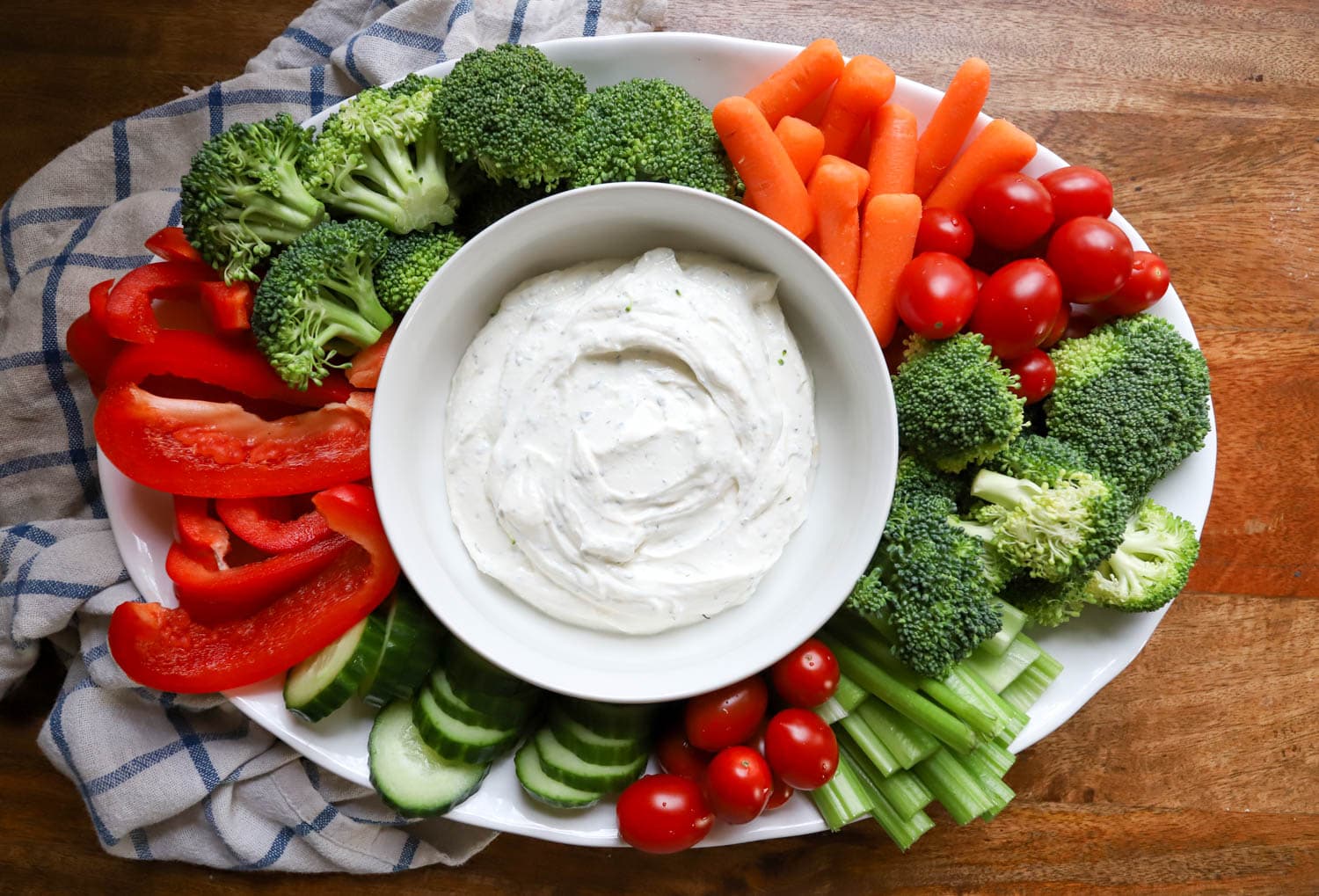 The method is, there is no method. Stir the ingredients together, taste, YUM. The flavor gets better as the dip sets, so I like to make it early in the day or even a day or two in advance so the flavors can meld in the fridge.
This is called meal prep.
Serve with anything! I love a big bright veggie platter with ranch dip, but anything you usually eat with ranch is perfect for this dip.
Classic, simple, delicious, yummy. Enjoy this!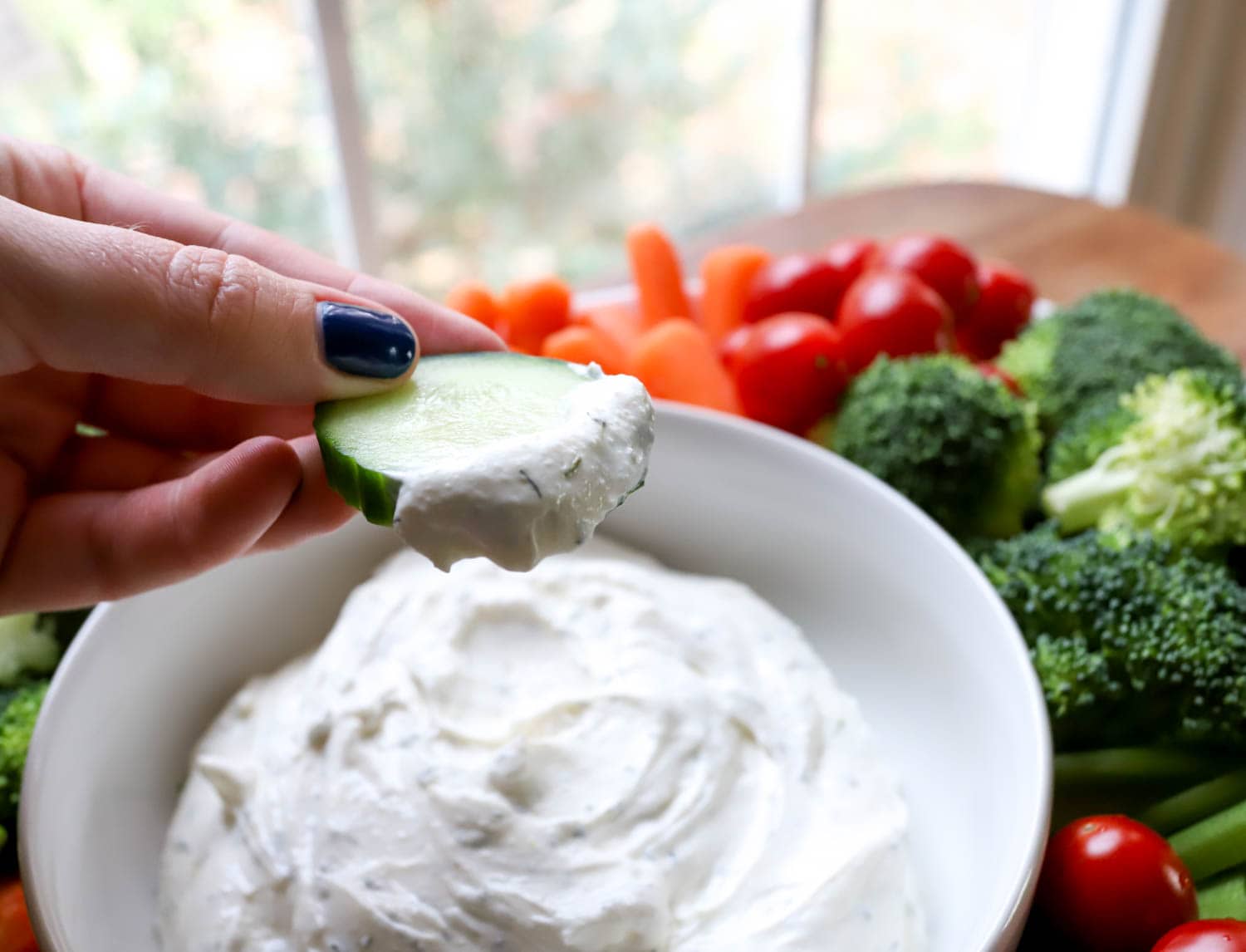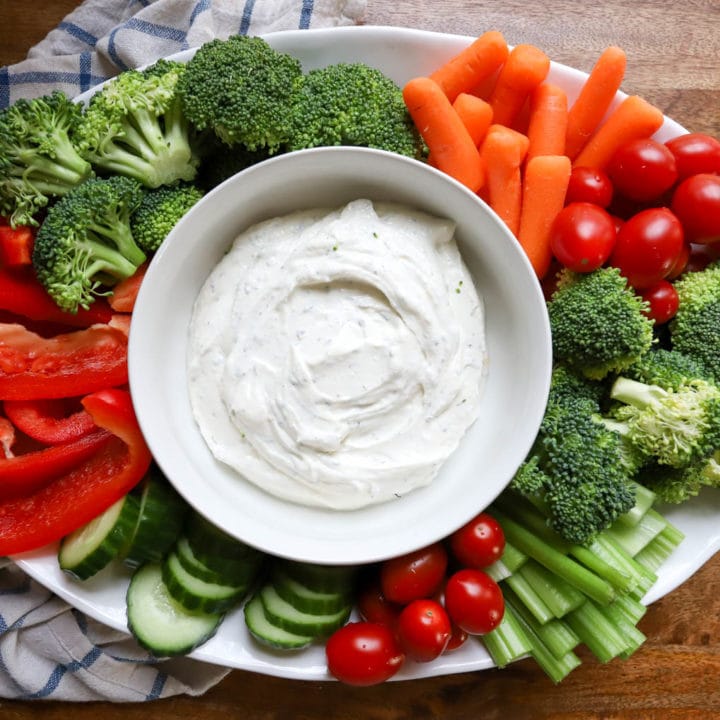 Easy Homemade Dill Ranch Dip For Chips
Super easy homemade ranch dip that is done in just 5 minutes and is perfect for your next veggie platter!
Ingredients
2

cups

sour cream

1

teaspoon

dried dill

1

teaspoon

dried parsley

1

teaspoon

onion powder

1

teaspoon

garlic powder

1

teaspoon

salt
Instructions
Combine all ingredients in a bowl. Stir well, and let sit for at least 15 minutes before serving.

Can be kept in the fridge for up to a week.

Serve with veggies, chips, wings, or any dipper you like.

Enjoy!
Notes
This is best made at least an hour in advance. I like to make a batch on the weekends as meal prep to eat with raw veggies throughout the week!
Stores in the fridge for at least a week.
To make into a salad dressing, use 1 cup sour cream and 1 cup milk, keep everything else the same.