I mean, come on. All of the free things, which means that pudding for breakfast is totally acceptable whether you're on a diet or not.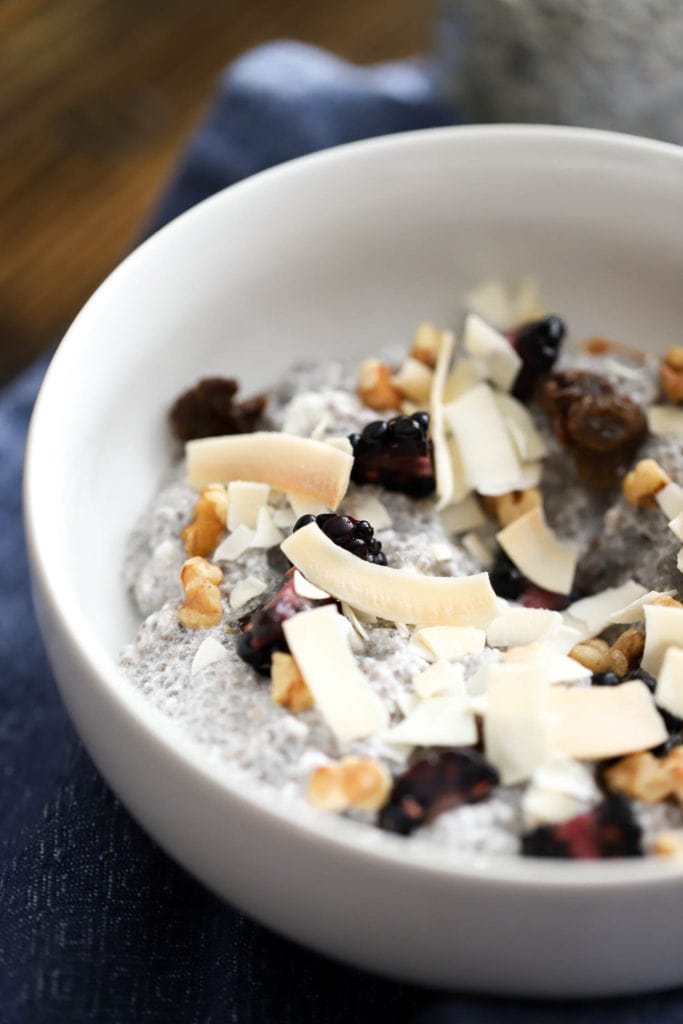 When I was reading about Whole30 and the philosophy (a ton that I disagree with), there is a note that it isn't recommended to eat chia pudding because it can make you think of real pudding and THAT IS SO BAD and on and on. So I presented this to Jay, who'd been asking for chia pudding, and he rolled his eyes and we made chia pudding.
Great story, right? So, while this isn't on the hoity-toity list of recommended Whole30 foods, it is totally compliant with all of the actual rules and delicious to boot. You can also make this with sweetened versions of any of the ingredients, which...wouldn't be gross, hence why some people feel the need to detox from sugar. Because it's good. We enjoyed this without added sugar, though, thanks to some fresh fruit and raisins which add sweetness without sugar to the final dish.
Chia pudding, in case you've never made it, is super simple. Liquids and chia seeds go into a bowl with any flavorings you like, they sit, the chia seeds soften and thicken the liquid, and the end result is a pudding-like texture. I love the texture, and the nutritional benefits of chia give me the warm fuzzies. In this version I used almond milk, coconut milk, and vanilla to flavor the pudding.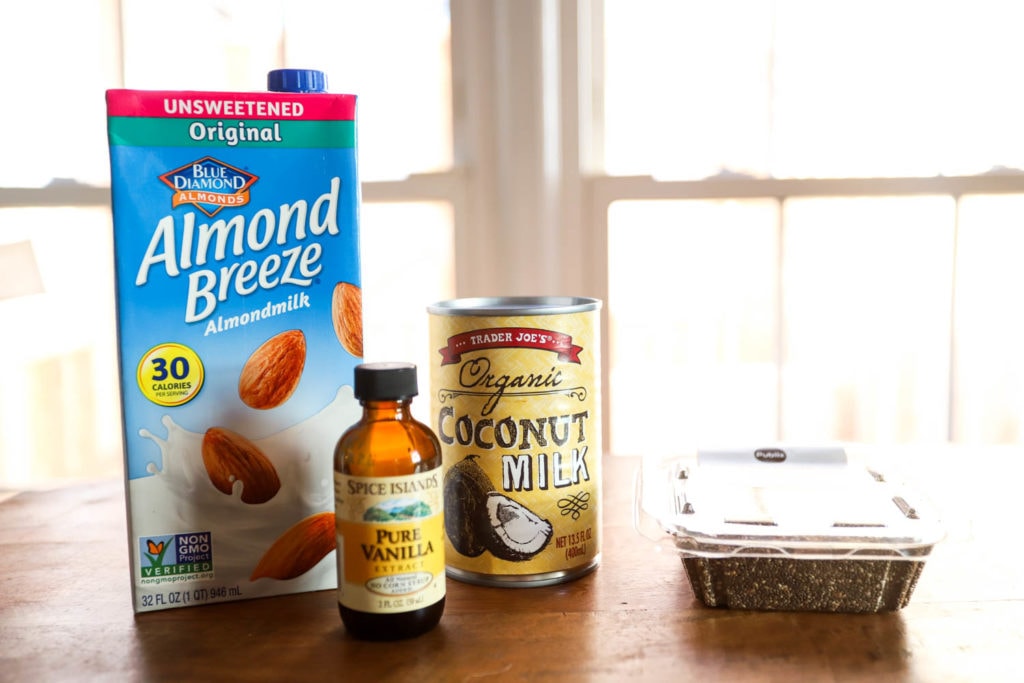 All of the ingredients get stirred together super quickly, then the pudding goes in the fridge, covered. I always make this the night before, but even if you have 4 hours or so to let it sit that's fine. Don't stir too much when you're making the pudding; the coconut milk will stay a little lumpy and keep the end result super creamy with extra pockets of the coconut cream throughout the pudding.
For toppings I used flaked coconut, blackberries, raisins, and walnuts. I tried this with roasted, salted cashews BUT found the salty cashews to be a little much with the unsweetened pudding. However, if you drizzled some honey over your pudding and then used salted nuts, that would be fantastic.
Of course, you can top this with anything you'd like, Whole30 or not. Other fruits (fresh or dried), any nuts, chocolate chips, honey, or even a bit of peanut butter and jelly are all delicious on chia pudding.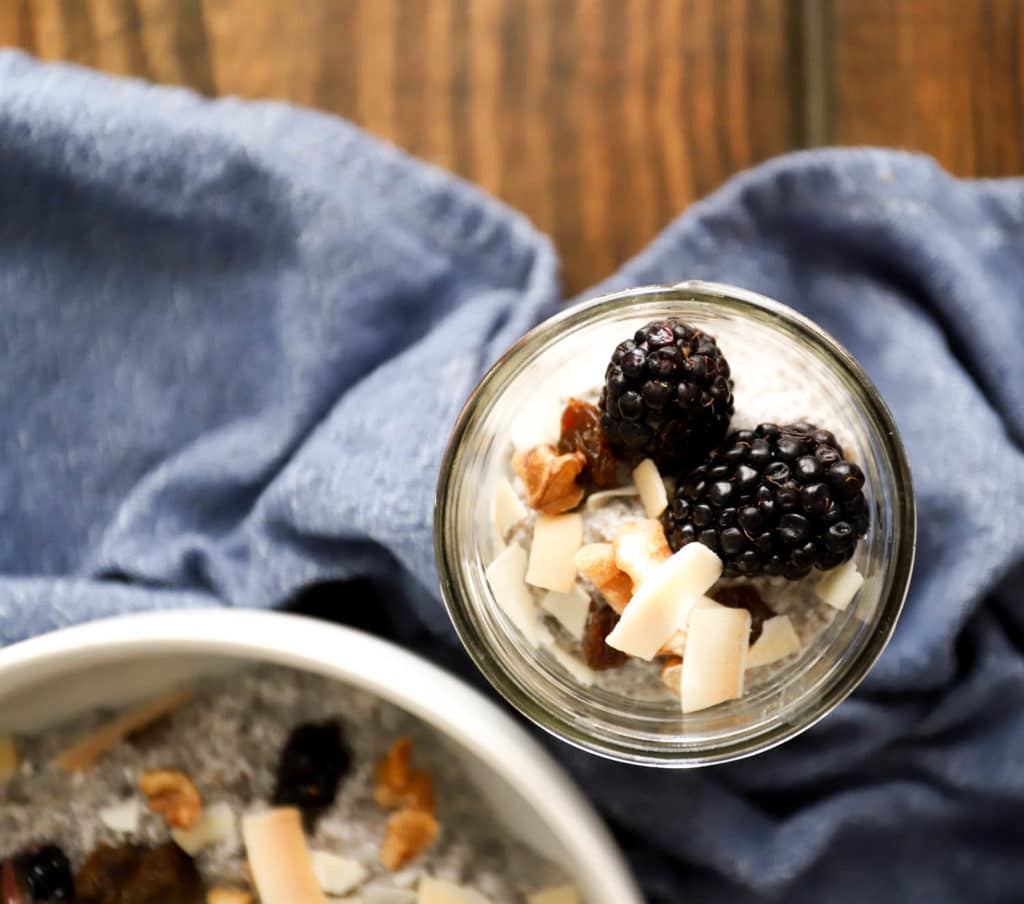 The huge win here is the coconut vanilla flavor, which is really delicious, almost fresh-tasting while being so creamy. The pillows of coconut cream are PERFECT and feel so fancy even though, let's be honest, we just didn't stir that much to accomplish that.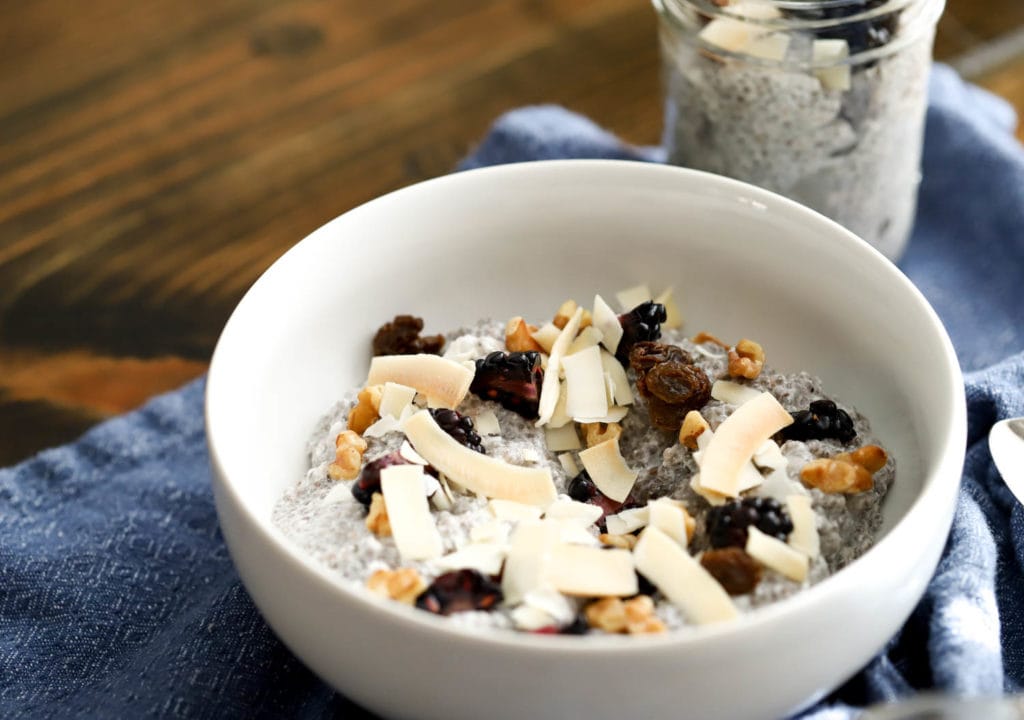 For breakfast, for lunch, for a snack, this is a great treat to have around any time. I love keeping it in jars with lids so everything is already portioned out, and you should definitely make a double batch that will last throughout the week.
Enjoy!
Coconut Vanilla Chia Pudding (vegan, dairy free, sugar free)
Vegan, dairy free, gluten free, and low sugar don't mean a thing with the yummy almond flavor and crunchy toppings on this chia pudding! Make a big batch and enjoy it all week.
Ingredients
1

cup

chia seeds

3

cups

almond milk

unsweetened

1

can full-fat coconut milk

2

teaspoons

vanilla extract

¼

teaspoon

cinnamon

Toppings: Flaked coconut

raisins, blackberries, unsalted walnut pieces
Instructions
Combine all ingredients except for the toppings in a large bowl. Stir just to combine; leave some chunks of the coconut cream throughout the mixture. Cover the bowl and refrigerate for at least 4 hours or overnight.

Serve the chia pudding topped with as many toppings as you'd like. Enjoy!
Notes
Other topping ideas: chocolate chips, drizzles of honey, any fruit or nuts you like