This Southern-style sugar snap pea salad is WHAT YOU NEED for hot summer day. Perfect for a cookout or potluck, the creamy dressing, salty bacon, and crunchy, snappy peas form the most delicious summer side dish ever. This version is gluten free and nut free! I like to serve it with skillet corn and tomatoes and crispy chicken for a yummy summer dinner.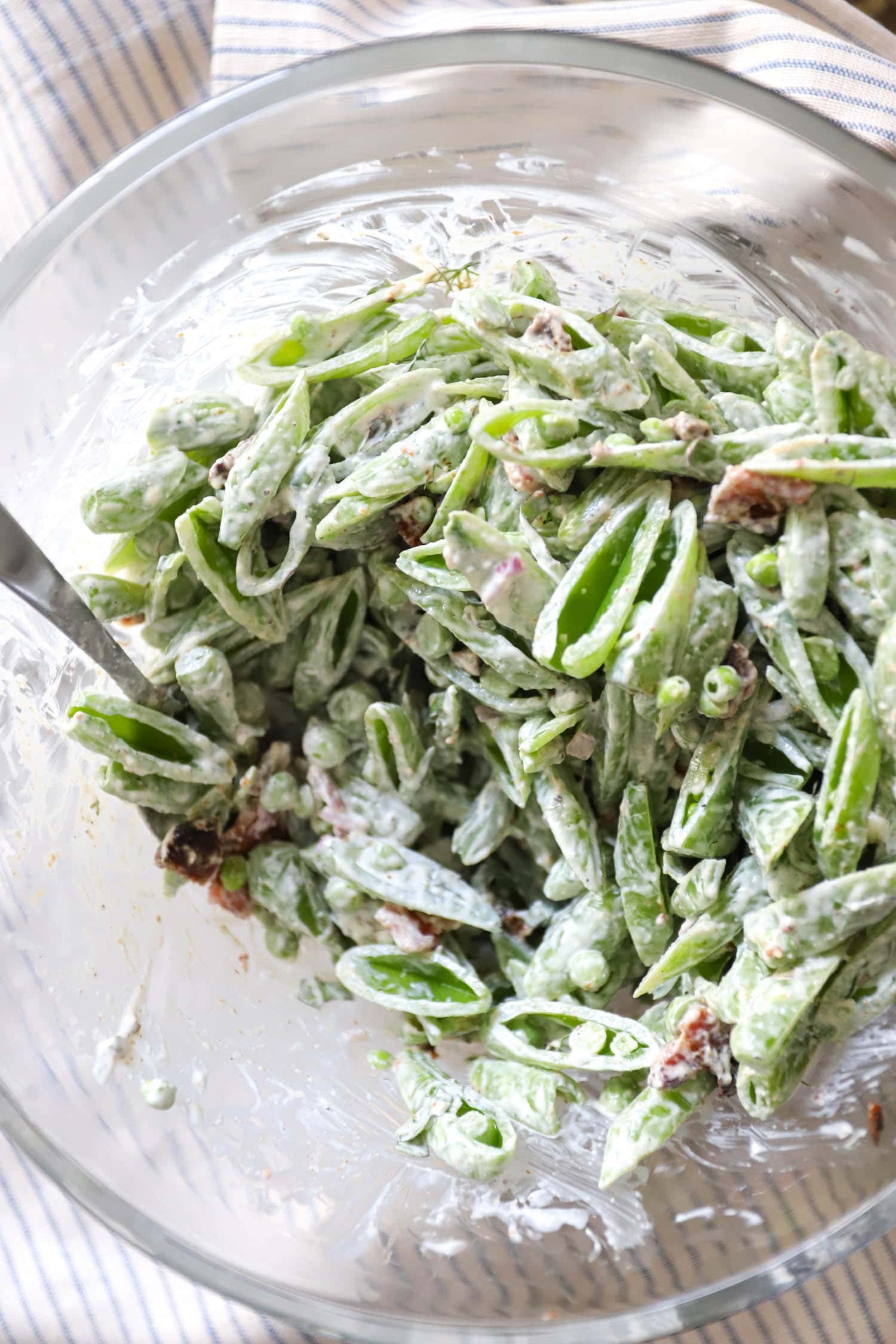 Southern Salads = it has bacon.
Here's our new favorite summer side dish! We are all about sugar snap peas, and this time of year when they're actually GOOD and we have a chance of finding them locally we have them around all the time.
We eat a lot of raw veggies as snacks with hummus or ranch, but turning them into quick side dishes to go with grilled meat or to take to a potluck is another favorite thing to do with peas especially.
There are tons of variations of this salad, and I made mine with a combination of classic Southern flavors (bacon, mayo) with some extra brightening from lemon juice and fresh herbs. The combination of creamy/salty with herby freshness is SO good.
Ingredients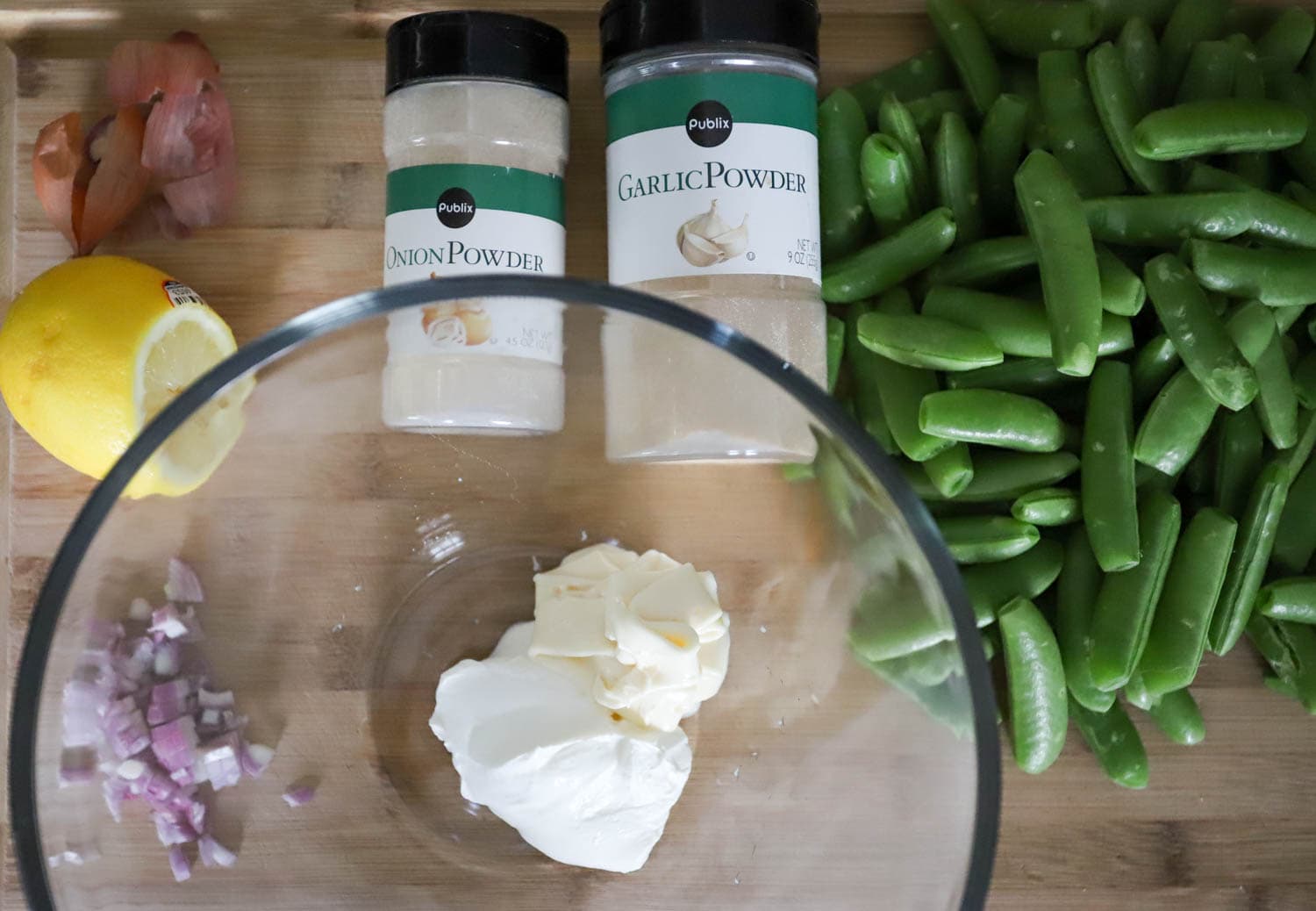 For the salad dressing you'll need: mayo, sour cream, a shallot, lemon juice, onion powder, garlic powder, salt, and pepper. The salad comes together with bacon and sugar snap peas + some fresh herbs. It's really simple!
Ingredient Notes and Make Ahead
If you don't have a shallot, you can use about 2 tablespoons of finely diced onion, or skip it altogether. A sliced green onion works well too!
This recipe can be made with snow peas, the flat, not-as-crunchy pea that is usually in the grocery store right near sugar snap peas.
I love the combo of mayo and sour cream, but you can use all of one or the other. You can also sub Greek yogurt in the dressing if you prefer.
The dressing can be made up to 3 days in advance, and the peas and bacon added in up to 24 hours in advance.
For extra lemon flavor, zest the lemon first, then add the lemon zest to the salad when you add the peas and bacon.
Step By Step Instructions
The salad comes together super quickly because nothing except for the bacon is cooked. I do take the time to trim the ends off the peas and pull off the strings while the bacon is cooking to get rid of anything tough on the peas.
Start by whisking the dressing ingredients together in the bottom of a large bowl. Taste the dressing and add enough salt so that it is just on the edge of too salty - that's how we make sure that all of the unsalted peas taste really, really good.
When the bacon has cooked, let it cool for a minute, then chop it and halve the peas to bite-sized pieces. This is also a great use for leftover bacon.
Chop any fresh herbs you like - I've used basil, parsley, dill, or a combination and all are delicious, but I really like basil with bacon in the summer so I use that most times that I make this. (ps if you don't have any fresh herbs don't fret, you can skip them)
Throw the ingredients in the same bowl with the dressing.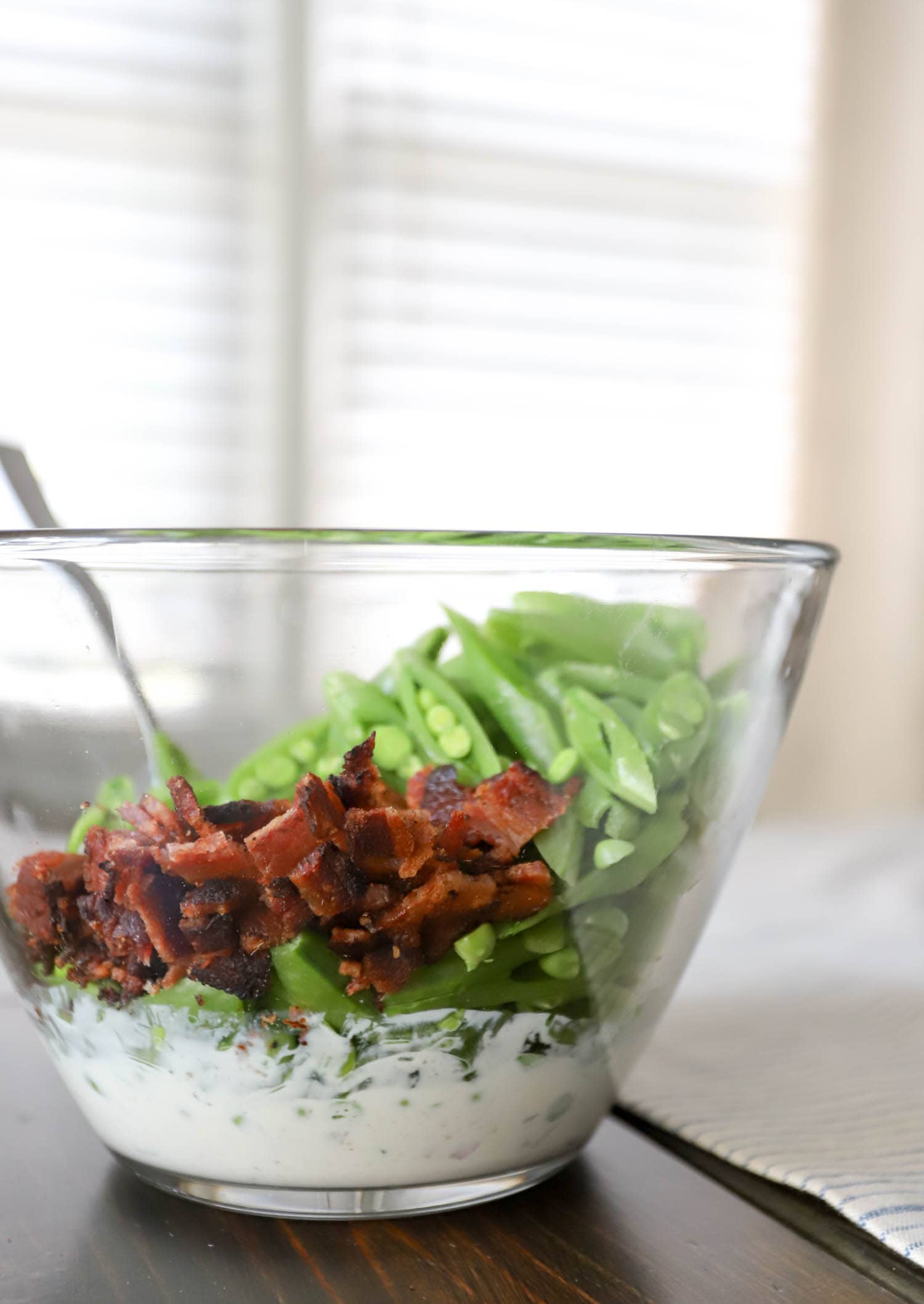 (ps I like to assemble salads like this in advance and then stir them together right at the last minute if I don't need the dressing to marinate any of the ingredients. I think in this sugar snap pea salad it keeps the ingredients a bit crisper!)
Mix!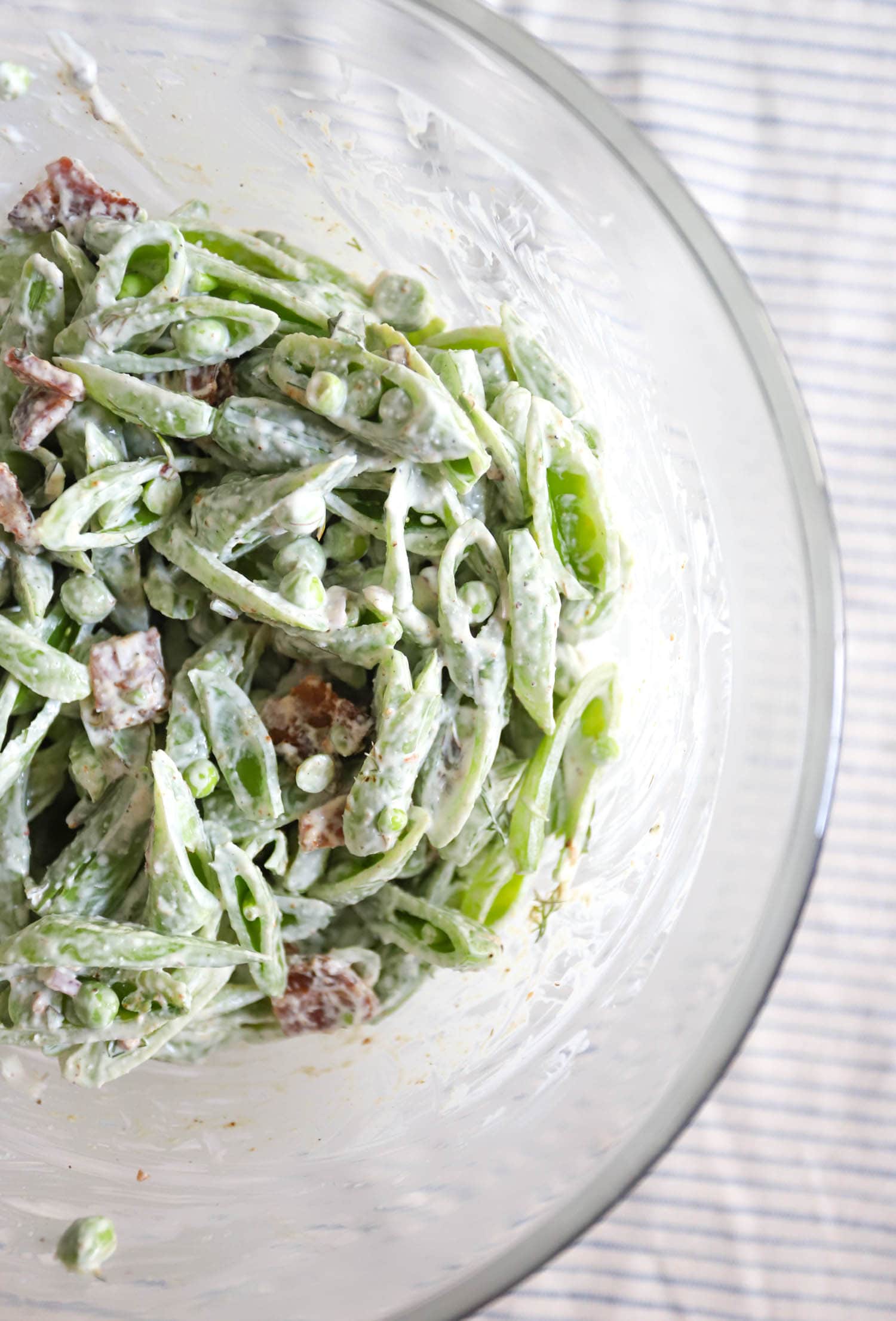 Taste, add more salt and pepper.
Serving Suggestions
This is great served right away, or can be made up to a day in advance. The dressing may absorb somewhat or get overly thick, so if you make this in advance and that happens just add a little more mayo or lemon juice right before serving to wake the salad back up.
Or, do the layering technique like above and stir the sugar snap pea salad together at the last minute!
To make this a complete meal, some yummy marinated grilled chicken and vegan potato salad would be really yummy with this!
Let's have a party this weekend so we can make this! Chewy bacon + crunchy peas + zippy dressing is pretty much a party anyway, right?
Enjoy!
(ps, if you need other summery side dish ideas and/or want to make double the bacon, Bacon Basil Panzanella and Skillet Tomatoes and Corn are to.die.for in the warmer months!)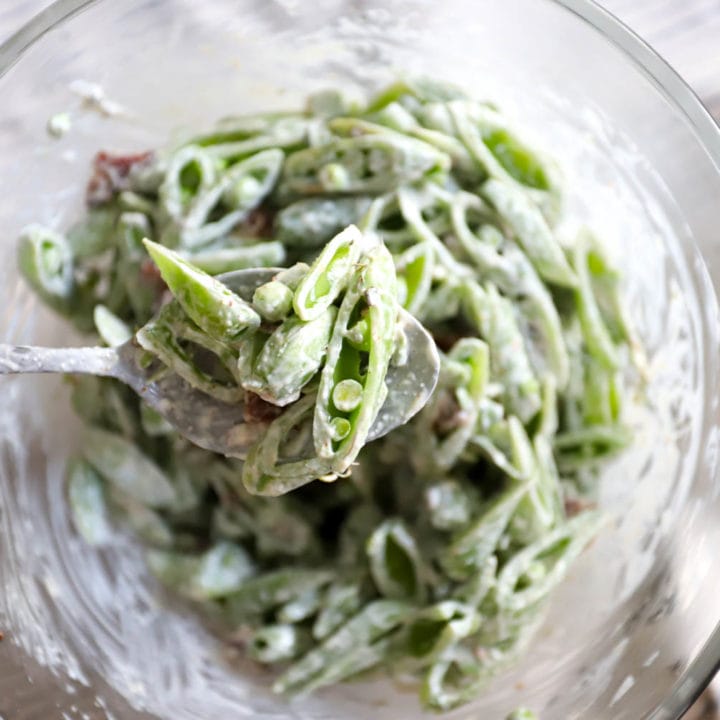 Easy Sugar Snap Pea Salad
This Southern Sugar Snap Pea Salad with Bacon comes together quickly and combines bright fresh flavors with a creamy dressing. 
Ingredients
24

ounces

sugar snap peas

trimmed and cut in half

4

slices

bacon

cooked and crumbled

3

tablespoons

chopped fresh basil

or a combination of herbs that you like

1

small shallot

minced

½

lemon

juiced

⅓

cup

mayonnaise

⅓

cup

sour cream

½

teaspoon

onion powder

½

teaspoon

garlic powder

salt and pepper
Instructions
In the bottom of a large bowl, combine the shallot, lemon juice, mayo, sour cream, and spices until smooth. Add a few pinches of salt and pepper and taste; add more seasoning to your preference.

Stir the peas, bacon, and herbs into the dressing. Taste and season additionally if needed. Can be made up to one day in advance or served immediately.
Notes
This salad is gluten free as written. Vegetarian if you omit the bacon. This recipe can be made with snow peas, the flat, not-as-crunchy pea that is usually in the grocery store right near sugar snap peas. Leftovers can be stored in the fridge covered tightly for 3-4 days - after that the salad will get a little watery.
More Easy Summer Recipes