Featuring our favorite marinade for grilled chicken, this salad with goat cheese and walnuts is one that we make often for main dish salad dinners or for meal prep! The combo of tangy dressing, maple marinade, and creamy goat cheese is just the best ever. No boring main dish salads here!
Hello and hi! How are we managing in this pandemic coup? Are we being gentle with our New Year's Resolutions? Please say yes.
One thing that we have been trying to do for a few months is making one "lunchy" item during our meal prep. Not focusing only on dinners helps us stay away from takeout (which I'm such a sucker for especially on days where I don't have anywhere to go), and having super yummy foods in the fridge to grab just overall makes our workdays at home feel more enjoyable.
I kind of vary in how well I do this lunch meal prep, but I generally AT LEAST try to make a salad dressing and wash/prep/chop some veggies so we can throw together salads with random stuff on top.
One of our favorite combos ever is vinaigrette with goat cheese and walnuts, and grilled chicken on top takes "oh good you cut up some veggies" to "oh yay lunch!"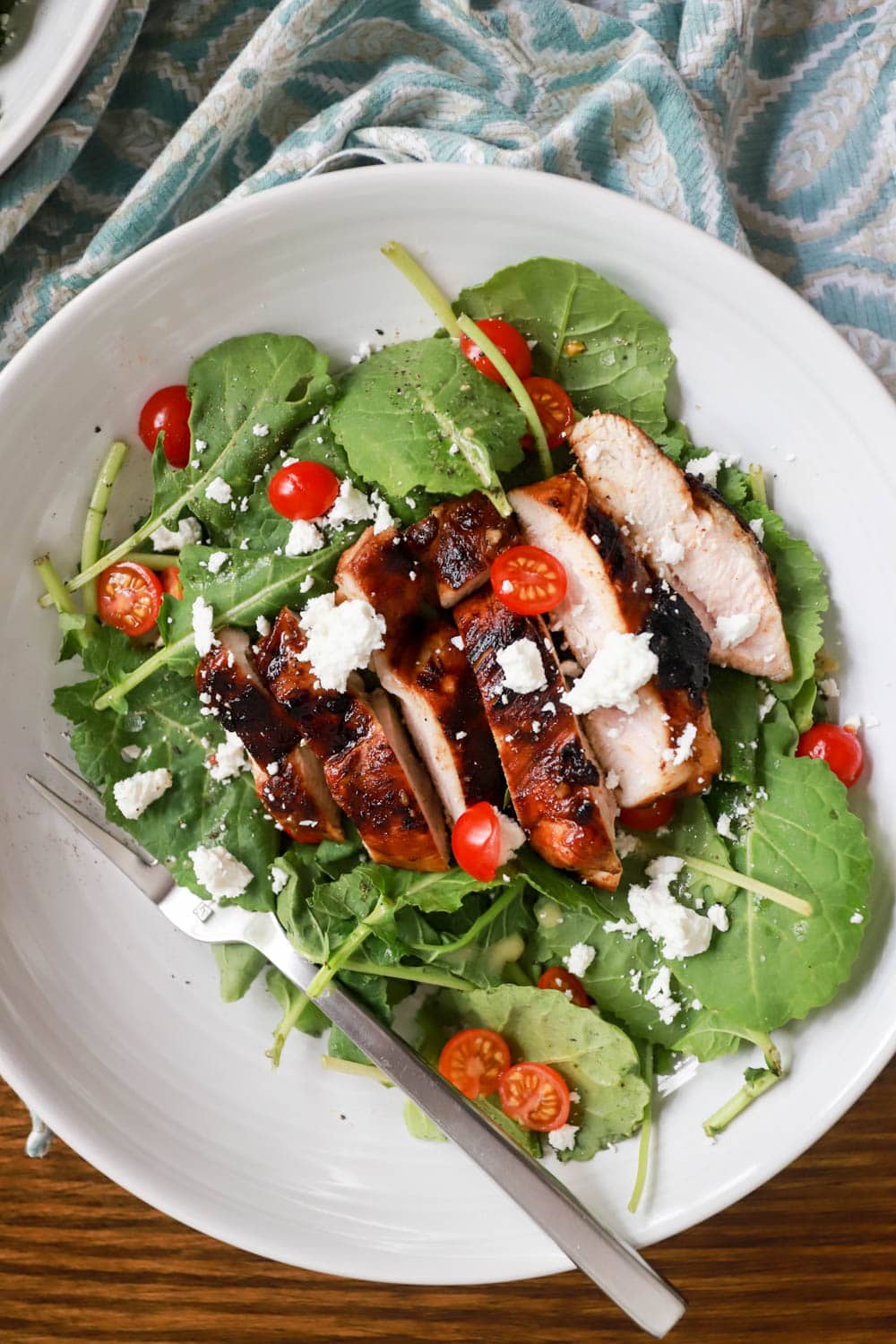 One way I really like to double duty this grilled chicken salad is to have it intentionally as leftovers after we grill out. So I'll make the maple marinated chicken but a double or triple batch, and then the "meal prep" is just the salad stuff and dressing since the chicken is already done.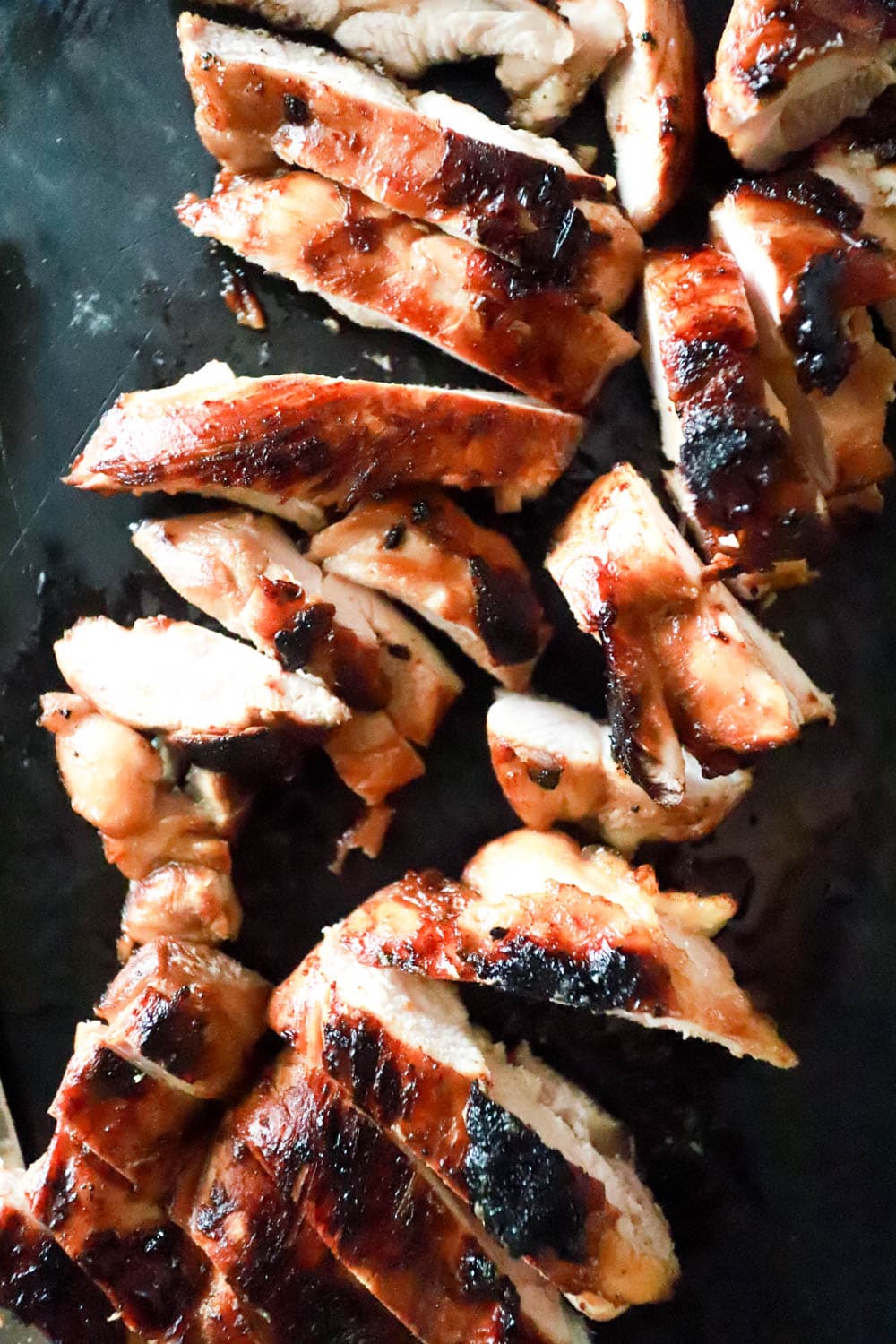 Basically I can't meal prep an entire dish without feeling overwhelmed; some of it already needs to be done for me.
How to Make Grilled Chicken Salad
My best tip for meal prep chicken is to use chicken thighs, all day every day. They have so much more flavor and don't dry out in the fridge like chicken breast does. Chicken thighs all the way!
When I do meal prep this all at once, I start with the chicken marinade. I let the chicken marinate for about an hour (or overnight if I'm organized), and during that time I make the lemon vinaigrette and wash/chop veggies for the salad. I also toast the walnuts and crumble the goat cheese with a fork and package them in separate containers.
When everything is done, I grill or broil the chicken, let it cool, slice it, and stick it in a container.
Since we aren't going anywhere I keep the ingredients separate in glass containers that I love, or if Jay is going into the office he'll build a salad with grilled chicken to grab in the morning before work.
And that's it! It's a simple recipe overall, but a combo we have made again and again over the last year since working from home. For me it's less about what food I'm prepping and more about the behavior of doing it. I've found that sometimes I like prepping a lunch on Saturday instead of Sunday and reserving Sunday for more "oh sure watch a third movie" types of weekend behaviors.
I have another chop-all-the-veggies meal prep salad that we make, this peanut sauce chopped salad. It has a Thai-inspired peanut sauce that we make at least twice a month that is absolutely delicious.
If you have any favorite meal prep tips or recipes I'd love for you to share them! Non-boring lunches are always the key for success.
Enjoy this grilled chicken salad! It's a total winner.
Favorite Grilled Chicken Salad
Our favorite marinade for grilled chicken, a few meal prep ingredients, and we have a delicious grilled chicken salad ready for the week! Get. After. This.
Ingredients
Maple Marinated Chicken
1

pound

boneless

skinless chicken thighs

¼

cup

maple syrup

¼

cup

apple cider vinegar

2

tablespoons

Worcestershire sauce
Basic Lemon Vinaigrette
½

lemon

juiced (about 3 tablespoons)

1

tablespoon

grainy mustard

½

teaspoon

kosher salt

1

tablespoon

maple syrup

3

tablespoons

olive oil
Grilled Chicken Salads
8

cups

salad greens

any kind you like

½

cup

EACH chopped veggies

your choice: cucumbers, carrots, celery, cherry tomatoes, bell peppers

½

cup

crumbled goat cheese

½

cup

toasted chopped walnuts
Instructions
Chicken: whisk together the syrup, vinegar, and Worcestershire sauce. Add the chicken and marinate as long as you can, at least 20 minutes or up to 4 hours. Grill, broil, or pan-sear until cooked through. Allow to cool and slice.

Dressing: Combine all ingredients in a jar with a tight-fitting lid. Shake to combine. Taste and add a few pinches of salt if needed for extra flavor.

Salad: Prep any salad ingredients you like. For me, I wash, dry, and chop lettuce, wash and chop veggies, crumble goat cheese, and toast the walnuts. I store each ingredient individually for meal prep.

Meal Prep: I store each of the ingredients separately for meal prep then build salads for lunch when working from home. Or, assemble salads in containers and store in the fridge. Store dressing separately for either option.

Assemble: Serve the sliced grilled chicken over greens and veggies. Sprinkle with goat cheese and walnuts. Drizzle with dressing, and serve!
Notes
I like to double down on the meal prep aspect of this and have these salads after we have grilled chicken for dinner. I double the recipe and then all I have to prep is the salad dressing and salad ingredients.
Buy pre-washed and chopped greens for even more time savings.
Feel free to use any salad ingredients you enjoy! I usually prep 2 veggies, one crumbly cheese, and some toasted nuts.
Any leftover chicken works great in these salads!