MEAL PREP THIS FOR SURE.
Alternative Title: The Time Beck Discovered Chow Mein Noodles and Now That's All She Wants To Eat.
And honestly, who can blame her? This spicy peanut chopped salad is one of my favorite things to do with the Spicy Peanut Sauce I posted on Monday. We use it in hot and cold dishes which allows it to taste super different aka behave like two sauces aka two for one aka measure twice cut once? I don't know.
I posted on Monday. We use it in hot and cold dishes which allows it to taste super different aka behave like two sauces aka two for one aka measure twice cut once? I don't know.
I love this salad because you can use ANYTHING you like for salads, chop it all up, probably while watching tv and/or drinking wine, definitely while your kids are occupied with another adult because YOU'VE HAD ENOUGH.
Here I have red cabbage, cucumber, chow mein noodles (the crunchy kind in a can yes we can), green onion, cashews, cilantro, and yellow pepper. I can think of about a million other things that would be great here, but let's just say that cubed avocado never hurt anything or anyone.
Then we have our peanut sauce!
I make every single component beforehand, then make salads as I want to eat them - the dressing would make most veggies a little soggy if tossed together in advance. Here's my setup: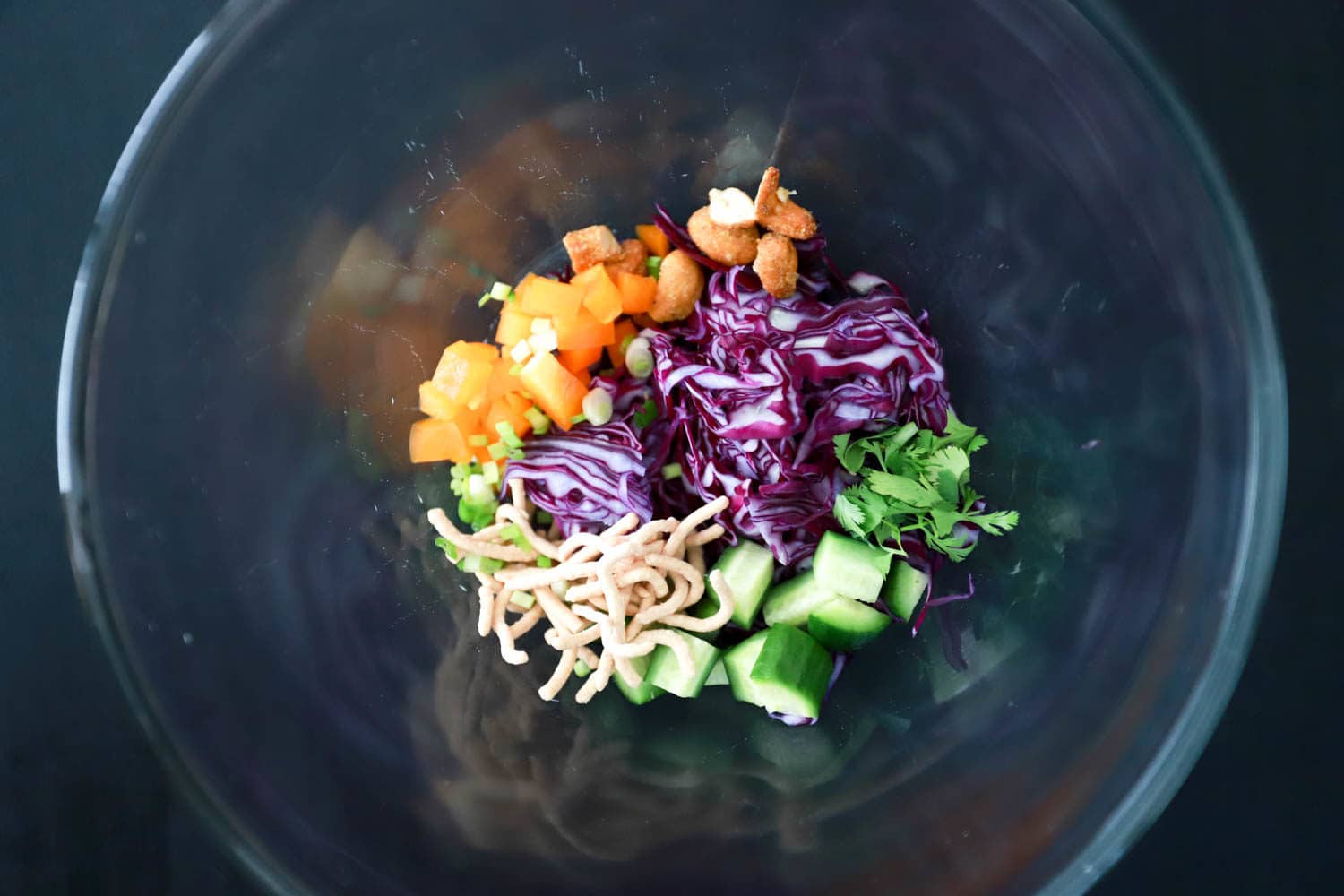 Tossed with dressing, lunch is DONE.
Extra chow mein noodles because Beck ate all mine and obviously low carb is not my jam.
And that's it! I love the flavor + texture combination here, not to mention that the salad is different every single time I make it based on what I have in my fridge, want to use up, and am generally feeling like eating.
For lunches at work, I make a container with all the veggies I want, then the morning of add some nuts and noodles and a scoop of dressing in the corner, then toss together at lunch right before I eat. It works really well that way and doesn't require a bunch of containers.
If you aren't into canned fried (baked?) noodles, leftover noodles or zoodles would be delicious here, or just extra veggies! I've used greens with this too and like it, but I like kale vs spring mix or some softer greens - the heavy dressing kind of overpowers mild soft green stuff, I think.
Now THIS is a food pyramid. Healthy, satisfying, delicious.
Add these to your Sunday meal prep. They're so worth it and so are you. Enjoy!
Spicy Peanut Chopped Salad
Crunchy chopped salad loaded with veggies and crispy chow mein noodles, tossed in a seriously addictive spicy peanut dressing. Perfect for lunch, dinner, or meal prep!
Ingredients
Salad:
3

cup

shredded cabbage

about ¼ head cabbage

½

bell pepper

chopped

¼

cup

green onions

sliced

1

cup

chopped cucumber

⅓

cup

torn cilantro leaves

½

cups

chopped cashews

1 ½

cups

chow mein noodles
Dressing:
½

cup

peanut butter

⅓

cup

sesame oil

¼

cup

soy sauce

¼

cup

rice vinegar

2

tablespoons

chili pasta

I use the Rooster brand chili garlic sauce

2

tablespoons

sugar

1

clove

garlic

peeled

1

piece

fresh ginger

about ¼ inch long (roughly the size of the tip of your index finger)
Instructions
Once your veggies are prepped, add a bit of everything you'd like to a bowl with a spoonful or two of the dressing. Toss to combine, and add more dressing if you'd like. Probably have seconds. 

For meal prep, I keep the veggies and noodles/nuts in separate containers, then combine right before eating. To take for lunch at an office situation, I add all the veggies I'd like to one container, then morning of add crunchy stuff + a scoop of dressing to the container, then toss together right before eating. 

For the dressing, add all ingredients to a blender. Blend on HIGH to combine. Taste and adjust the seasonings to your preference.
Notes
There are measurements here for veggies, but honestly use as much of anything as you'd like! 
Other veggies I love with this dressing are: halved cherry tomatoes, torn kale, shredded carrots, and cubed avocado.
This dressing recipe will yield extra, you could chop up about three times the quantity of veggies and have plenty of dressing, or check out my original post for other ideas on how to use the peanut sauce. 
If you aren't feeling chow mein noodles, sub other cooked pasta or zoodles. 
Peanut dressing is adapted from Pinch of Yum.