These easy baked meatballs are gluten free, made with ground turkey, and done in just about half an hour! They can be made in advance for a super easy meal prep, kept in the freezer, and don't have breadcrumbs or any extra binder. These are the yummiest healthy gf meatballs!
Gityer balls right here!
I'm sorry let's start over don't x out. I made you a yummy new meal prep entree and I hope you love it.
There's no "once upon a time in the late 90's I was listening to NKOTB and..." story here. There is, instead, a very quick tidbit about how I love frozen meatballs, and my kids love frozen meatballs, and we keep frozen meatballs in the house at all times.
But I also like making my own stuff from scratch. Clearly.
(in particular, this meatball bolognese would be lovely with these gluten free turkey meatballs if you aren't into the frozen kind)
Back when we catered a ton (oh wait here is the story sorry) we made so.many.meatballs because, well, everyone likes a meatball. A specialty for us was bacon blue cheese meatballs because OBVIOUSLY.
Recently, though, I've been honing in on really basic recipes that can be used with lots of sauces, and this gluten free meatball fits.the.bill.
How to make gluten free meatballs without breadcrumbs:
Ok, um, you just don't use them. Sorry, I have no magic here. I use basic seasonings, egg and parmesan cheese to hold things together, and the "secret" is to use enough parmesan that the meatballs don't totally fall apart, but no so much that they taste overly Italian-ish. We've used this recipe with Teriyaki-style sauce, pesto, marinara, buffalo sauce...it all works.
Ingredients! Ground turkey, egg, parmesan cheese, Worcestershire sauce, salt, onion powder, garlic powder. Things that make everything taste great!
And, FYI, use any meat you like here. Ground chicken, beef, or even venison would be wonderful, the flavors are nice and basic here.
Mix the seasonings into your meat, gently form meatballs, place onto a baking sheet. I use parchment paper because I don't want to fuss with a huge meat mess (that sounds so gross), but a silicone baking mat would work, as would just cooking spray and the willingness to clean a dish.
You can bake these turkey meatballs right away or let them chill for awhile in the fridge. They don't need it, necessarily, but it's a way to get some prep out of the way earlier in the day. I often make the meat mixture and form the meatballs right after breakfast (weird, fine, but my kids play nicely at that time), and keep them in the fridge until right before dinnertime.
Oven! 400F. Right before baking, I drizzle with a bit of olive oil and sprinkle with a little more salt. Bake for 25 minutes, done and done.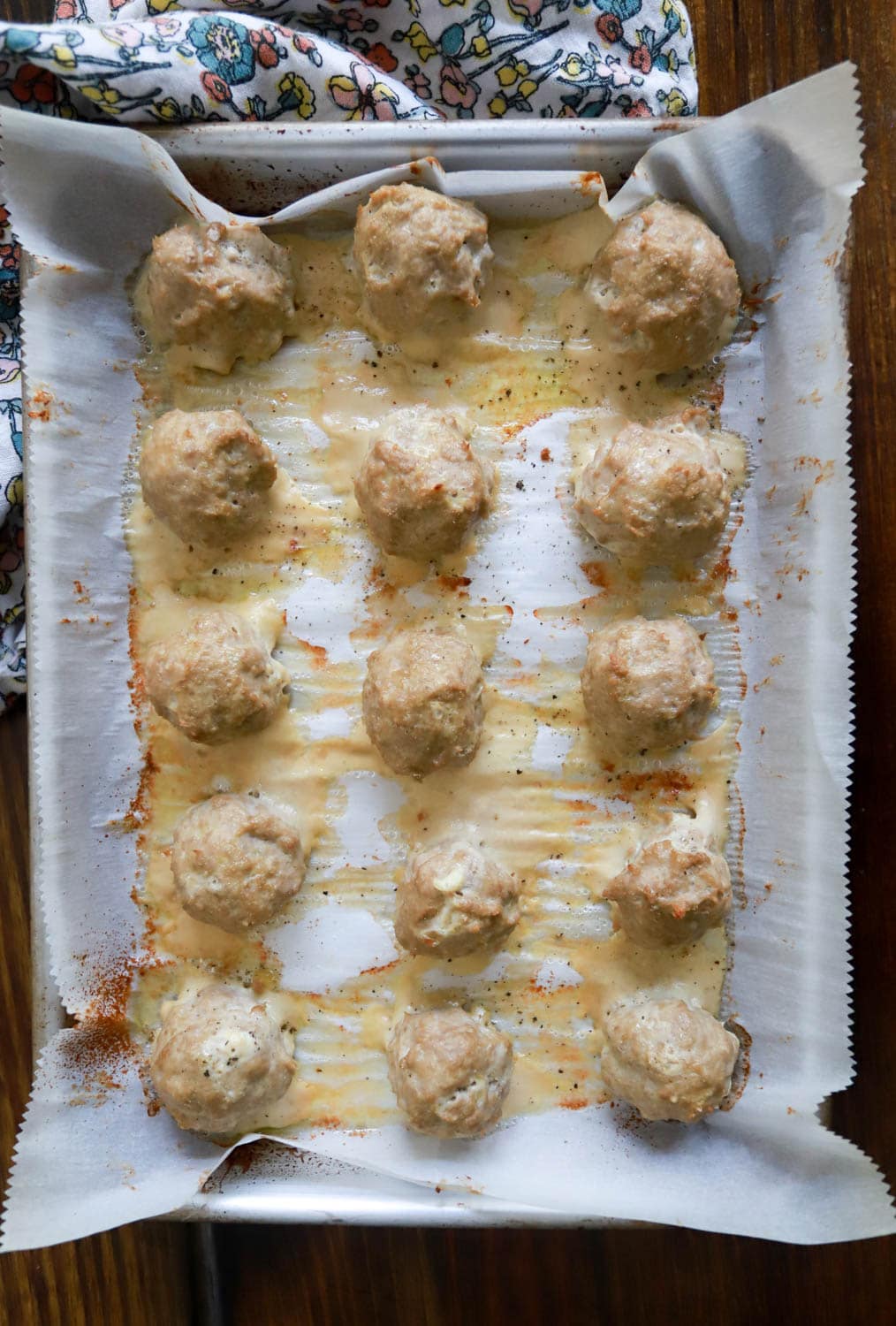 Because we're using turkey here the meatballs won't be super golden brown, but because the mixture is a bit lighter I like baking them rather than pan frying - that's where adding breadcrumbs is a little bit more important.
I don't have a ton to say other than this: you can serve these basic turkey meatballs with anything you like, this is a very good gluten free meatball recipe, and these balls are very, very good.
One meal prep hack could be: meatballs AND big batch of marinara on a Sunday, then freeze half of each for a gift to your future self? Just a thought.
Or or OR you could toss these in walnut kale pesto and toss over some buttered noodles with extra parm and lemon wedges. Yes, please do that and invite me over. The kale in the pesto can be your salad!
Make these, love them, share them. Enjoy!
Print
Gluten Free Baked Turkey Meatballs
---
Total Time:

40 minutes

Yield:

Serves 4
Description
Simple turkey meatball recipe with no bread crumbs = the best basic gluten free meatball recipe ever! These are great kept (fully cooked) in the freezer and thawed for use in tons of recipes.
---
1

pound ground turkey

1

egg

2 tablespoons

grated parmesan cheese

½ tablespoon

Worcestershire sauce

1 teaspoon

kosher salt

½ teaspoon

EACH onion and garlic powders
olive oil for drizzling
more salt for sprinkling
---
Instructions
Prepare a baking sheet with parchment paper, a silicone baking mat, or cooking spray.
Combine all ingredients (except olive oil and extra salt) in a large bowl. Use your fingers to mix the egg and seasoning into the meat.
Gently form the mixture into about 16 meatballs, or 20 for smaller bites. The trick is to touch the meat as little as possible, pushing the meatballs into spheres without mushing them too much. The meat mixture will be fairly wet, but move quickly and you'll get the hang of it.
Arrange the meatballs as you go about 2 inches apart on the baking sheet. Place the baking sheet in the fridge until ready to cook or bake right away.
Preheat the oven to 400F. Drizzle the meatballs with a bit of oil and sprinkle with salt.
Bake the gluten free meatballs for 25 minutes until cooked through and slightly golden. Serve as desired.
Equipment
Prep Time:

15

Cook Time:

25
Keywords: easy meatball recipe, turkey meatballs, turkey meatball recipe, gluten free meatball recipe, gluten free meatballs