Yummy kale pesto without pine nuts made in my favorite food processor (the parts go in the dishwasher!) is the best meal prep ingredient ever! It doesn't require fresh herbs so can be made year-round and keep beautifully in the freezer.
Here's the thing: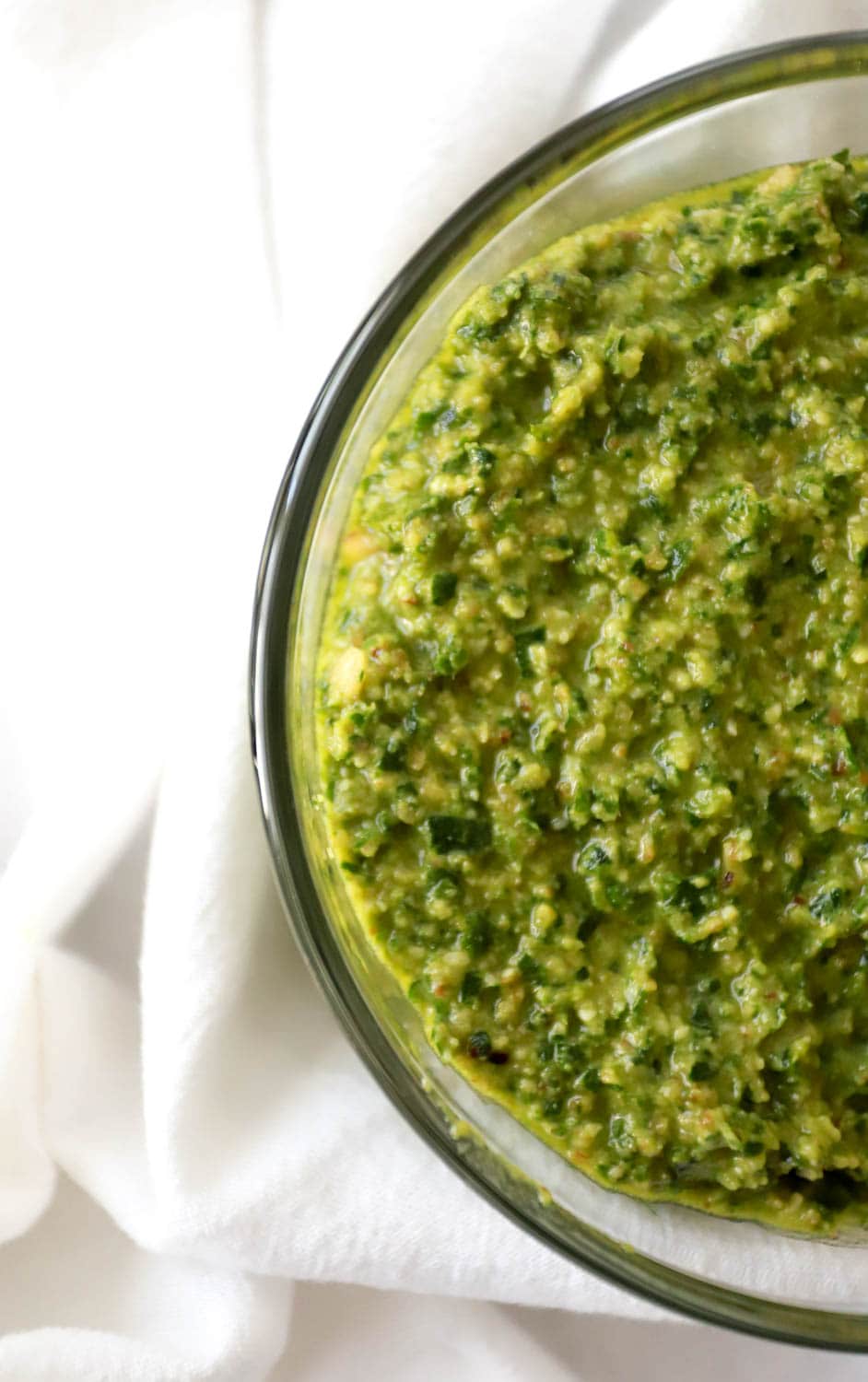 I don't actually hate cooking entire meals on the weeknights. I find it relaxing to put our kids to bed, chat with Jay, and make an entire meal start to finish.
Buthoweveralso, when I do that it means that we eat dinner at 9pm and then don't go to bed until 11, and that's not OK. SO, I mostly prep some things and then cook one or two items when we're ready to eat.
5 Minute Meal Prep Ingredients
Sauces/spreads/condiments are an excellent thing to meal prep because they can be used with really simple meals to add tons of flavor with no effort at all. Think a sauce drizzled over grilled chicken, dressing tossed with greens and roasted veggies, that sort of thing.
Grilled pesto chicken is actually one of our favorites because the chicken is freshly grilled but the sauce is already handled.
This fake out meal prep is a pesto without pine nuts (they're expensive!), made in my favorite food processor (favorite because the parts go in the dishwasher!) in just five minutes.
I wanted to make a pesto without basil or fresh herbs because I've made a TON of basil pesto this summer and was working on some fall recipes. I used all kale because I knew it would hold up in the food processor AND an extra nutrient dense scoop of pesto in our food is never a bad thing, right?
This pesto features kale, walnuts, parm, garlic, lemon juice, salt, and olive oil. That's it! Everything goes in the food processor.
Blend blend blend until it's smooth, and that's it! Taste the pesto to see if you'd like a little bit more salt or lemon juice - it will be super thick and should taste excellent on its own!
The end. What you DO with your kale pesto is entirely up to you! Use it as a veggie dip. Spread it onto grilled veggies or chicken. Thin it out with more lemon juice to make a salad dressing. Toss it with pasta or gnocchi (and some of the cooking water!).
OR OR OR plop some of it on a quinoa/lentil/roasted veggie bowl and really go to down in the nutrition department.
I can't tell you how delicious this is. Since there are no herbs the walnut and parm flavors really shine through, and the kale adds an earthy/green background flavor without taking over the entire dish. This keeps in the fridge for about a week (ok longer, fine, you know me) and freezes perfectly as well.
I make double batches every time I make pesto and freeze half for later which is like DOUBLE meal prepping look at me go.
Enjoy this!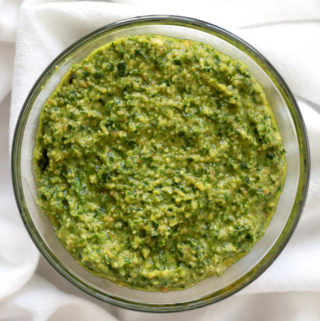 Kale Pesto With Walnuts
Walnut Kale Pesto made in just a few minutes for the most perfect meal prep condiment. Freeze half, and use it with pasta or in bowls all week long!
Ingredients
1

cup

chopped toasted walnuts

3

cups

torn kale leaves

½

cup

grated parmesan cheese

1

garlic clove

peeled

½

lemon

juiced

1

teaspoon

kosher salt

½

cup

olive oil
Instructions
Add all the ingredients to a food processor and combine on high for 1-2 minutes until a smooth paste forms.

Taste the pesto and add more salt to your preference or a bit of olive oil if the mixture is very dry. This is a very thick pesto.
Notes
Use on pasta, grilled chicken, tossed with gnocchi, or in scoops over lentil and quinoa bowls. YUM.
Use any kind of kale you like in this recipe!
PS while you have the food processor out it's a perfect time to make a batch of the best ever peanut sauce for a totally different type of meal! Takes another five minutes of your life and HOLY FLAVOR.