Making your own homemade casseroles without cream of mushroom soup is so simple! This non traditional green bean casserole has a creamy sour cream-based sauce and is topped with pan fried shallots for a delicious, healthier alternative to classic green bean casserole. I make this with healthy sweet potato casserole and roasted turkey for a small holiday dinner variation!
IT'S THE HOLIDAYS GUYS.
Seriously. The most wonderful time of the year and all that jazz.
Recipe Notes
I am a huge fan of very simple casseroles, and traditional green bean casserole is one of my favorite holiday dishes. Occasionally I change up the method with fresh green beans and by making my own sauce instead of using cream of mushroom soup. The result is a very classic flavor but slightly jazzed up - fresh green beans, fresh shallots, and garlic all are delicious in this casserole.
Just like most casseroles, this one sort of gets better as it sits, and you can 100% make the entire thing up until the final bake a few days before Thanksgiving or whatever holiday meal you're making.
This is also a good method to have on hand for times when you'd like a creamy side dish but don't have any cream of mushroom soup - thickened stock with sour cream and seasonings works wonderfully as a substitute for cream of mushroom soup in green bean casserole.
Ingredients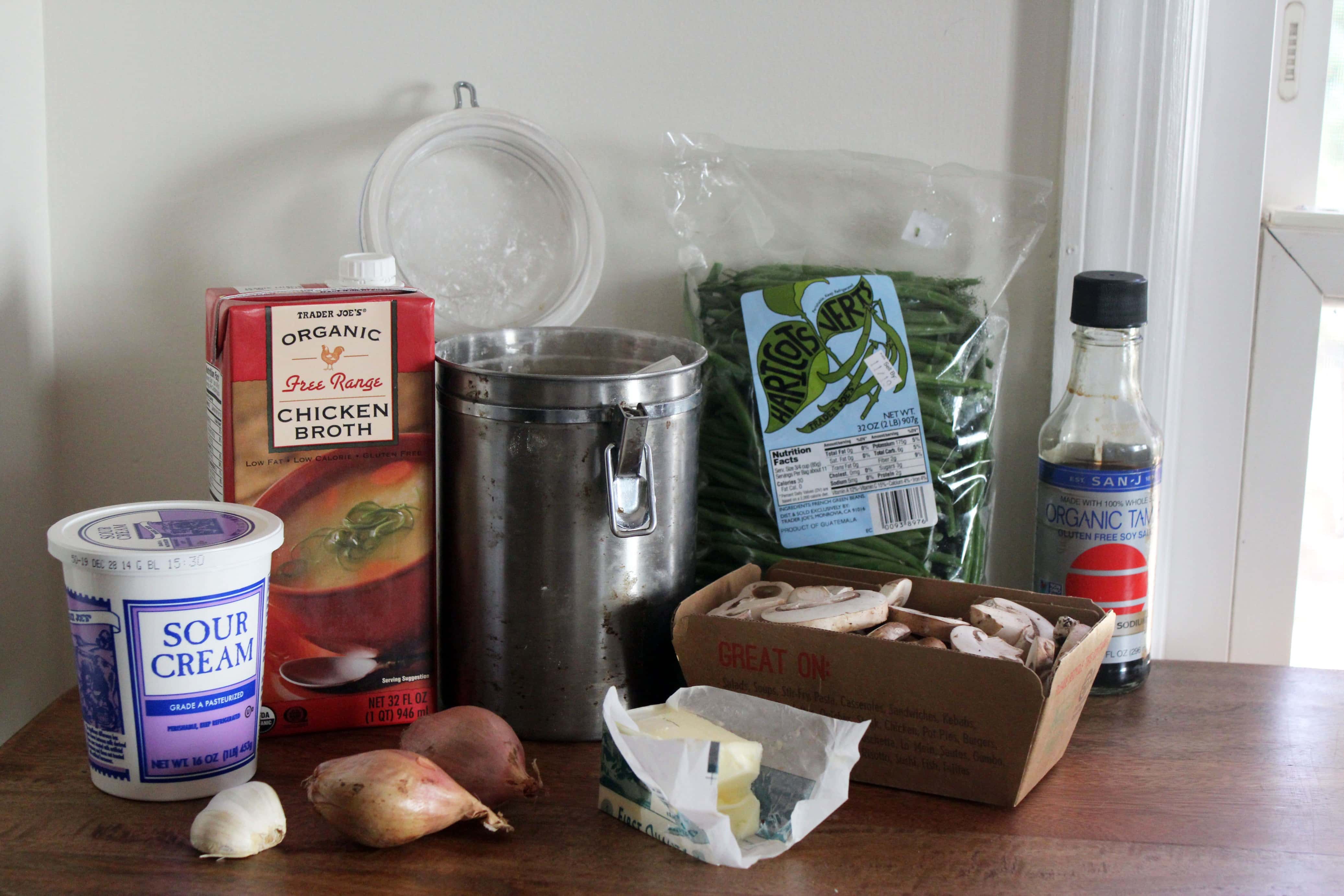 Ingredients: fresh green beans! Or haricots vert! I like thin green beans because they're pretty and cook slightly faster, and I get mine at Trader Joe's, but any green bean that you like is just fine. I cut green beans in half for casseroles so that they are a little closer to bite-sized.
You also need sliced mushrooms and, again, any kind you like goes! You also need butter, garlic, soy sauce, chicken stock, flour, sour cream, and 2 shallots. Then salt and pepper, duh. If you're going to make this dish and bake it right away, preheat the oven to 375F.
Ingredient Notes and Variations
If you'd like to make this vegetarian, sub vegetable stock for the chicken stock.
Use full fat sour cream at all times for the best flavor and texture of the sauce.
If you prefer to not buy a shallot or don't have one, about ⅓ cup of thinly sliced onion can be substituted no problem.
You can use canned green beans if you like! 2 large 28-ounce cans will be the perfect amount for this casserole.
Frozen green beans also work well here, treat them as you would fresh and be sure a good amount of the liquid evaporates from the skillet so the casserole isn't too soupy.
French Fried Onions are classic in this dish, and feel free to use them if you'd like! I love the onion flavor from the pan fried shallots here, but if you like that crispy crunchy topping, grab a can of the classic onions instead!
Step By Step Instructions
First, we'll make our crispy shallot topping. You can do this in a separate pan, but I just used one pan to save on dishes. Add 1 tablespoon of the butter to a skillet to heat up over medium heat.
When the butter foams and the pan is hot, add the shallots to the skillet in one layer and sprinkle them with salt. They should sizzle!
Let the shallots cook and crisp for about 3 minutes, then toss them once and let them go for another few minutes. We want some dark bits on the shallots and for them to be mostly crispy.
When the shallots are done, remove them to a little dish to hang out while you prep the filling of the casserole.
Add another tablespoon of butter to the skillet with the mushrooms. Let them cook for about 7 minutes, stirring the whole time, until they are browned and wilted.
Next, add the green beans to the pan with the mushrooms.
Stir the mushrooms and green beans together and let them cook for a few minutes - how long will depend on how large your green beans are AND how large your skillet is. Stir the green beans every few minutes and let them soften a bit - remember that they'll keep cooking in the oven so they don't need to be totally cooked.
While the green beans are working, mince the garlic and gather up the rest of the ingredients.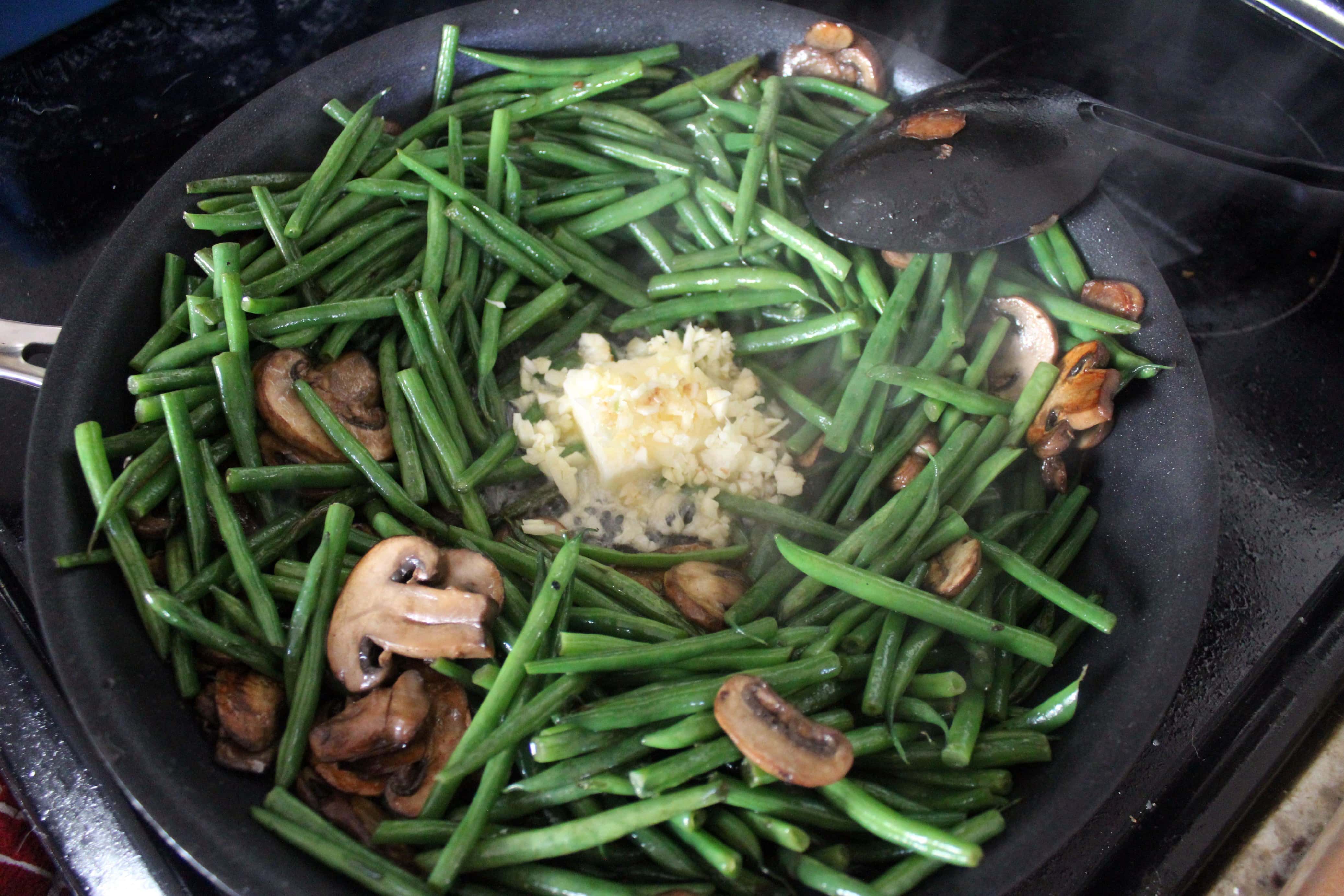 When the green beans are just slightly soft (remember they'll cook more in the oven), make a well in the center of the skillet and add another pat of butter and the minced garlic.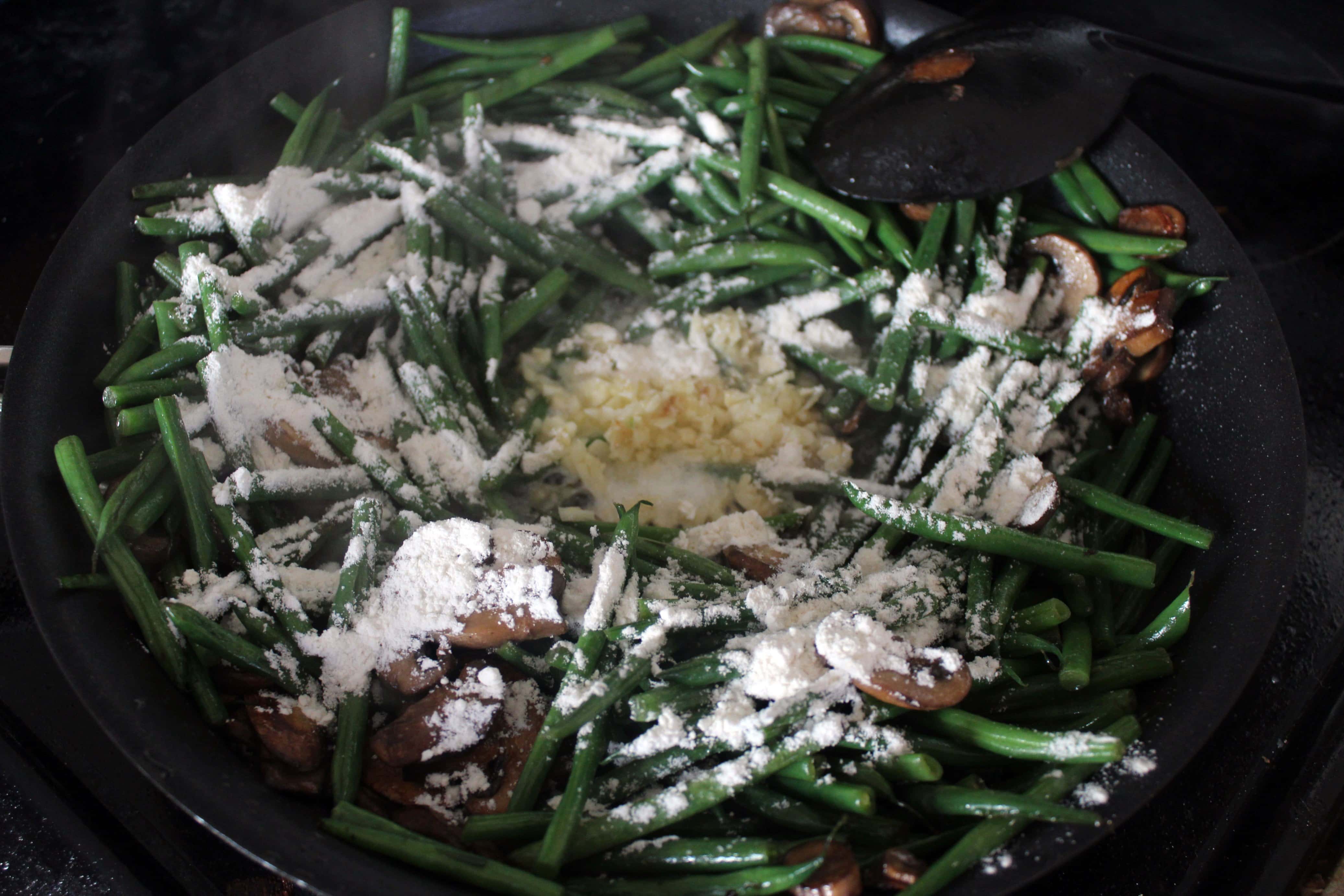 Then sprinkle the flour over the skillet! The flour mixes with the butter and liquids from the veggies, which will help thicken the stock and form a sauce.
Stir everything together to incorporate the flour with the butter and garlic, for about 2 minutes. Then, pour the stock slowly over the whole skillet, stirring as you go, to create a gravy.
Last, add in the soy sauce, salt, and sour cream.
Stir everything together, and taste! Add more salt and pepper if you'd like, or another splash of stock if yours gets really thick.
Pour the mixture into a baking dish...
...and top it with the shallots.
Now, just bake the dish for 20-30 minutes until the beans are soft and the top is slightly dark.
Fresh! I'm a big fan of regular old green bean casserole with the canned soup and fried onions, but this is a really nice alternative, especially if you're part of a gang that does a lot of cream of whatever soup based dishes. Vegetables! Healthy!
I can't WAIT for next week. The countdown is totally on.
Green Bean Casserole Without Cream of Mushroom Soup
Delicious, easy homemade green bean casserole with your own creamy sauce, fresh green beans, and pan-fried shallots. This healthy version of green bean casserole is the BEST.
Ingredients
3

tablespoons

butter

2

shallots

peeled and thinly sliced

2

pints

sliced mushrooms

any kind you like

1 ½

pounds

green beans or haricots verts

cut into bite-sized lengths

2

cloves

minced garlic

2

tablespoons

flour

1

cup

low sodium chicken or vegetable stock

1

teaspoon

soy sauce

½

cup

sour cream

½

teaspoon

kosher salt

black pepper

to taste
Instructions
Preheat the oven to 375F.

Preheat a skillet to medium-high heat with 1 tablespoon of the butter. Add the shallots and cook for 5-7 minutes until slightly crispy at the edges and wilted. Remove the shallots from the pan and set aside.

Add 1 more tablespoon of butter to the pan with the mushrooms. Cook for 5-7 minutes until wilted and browned, stirring occasionally. Add the green beans, and cook for another 7 minutes until the green beans are bright green and soft. Make a well in the center of the skillet by pushing the green beans and mushrooms to the edge, and add the final tablespoon of butter and the garlic. When the butter melts, sprinkle the flour over the whole skillet. Stir everything together to coat the green beans in the butter, garlic, and flour.

Slowly pour in the chicken stock, stirring as you do so to create a thin gravy. Stir in the soy sauce, salt, and the sour cream. Let the mixture bubble and thicken slightly. Taste the dish and add more salt and pepper to your preference.

Transfer the mixture to a baking dish and top with the shallots. Bake for 20-30 minutes until the green beans are soft and the casserole is bubbly. Enjoy!
Notes
Make Ahead: This can be made up to 4 days in advance and kept in the fridge - just do the very last baking step right before you'd like to serve. Vegan: To make this vegan, use olive oil instead of the butter, vegetable stock, and vegan sour cream. Canned Green Beans: Feel free to make this with two large (28 ounces) cans of drained green beans if you prefer.
Other Easy Side Dish Recipes for Holidays