My favorite kid-friendly meal prep dinner! This recipe for healthy baked chicken tenders has just a few ingredients and is super easy to make. Bonus, you can freeze the breaded tenders and bake them right before serving for a quick + fun weeknight freezer meal!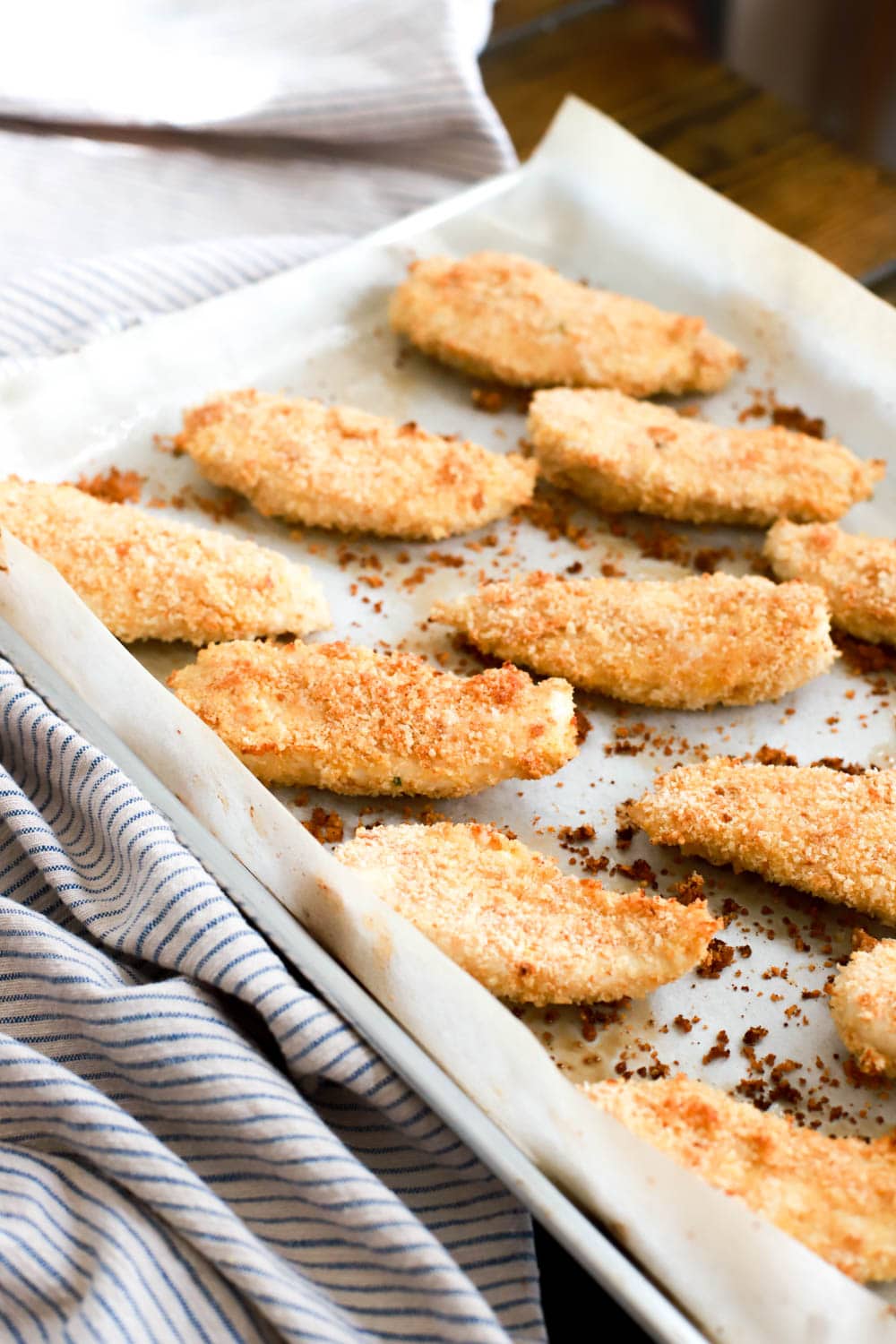 THEY'RE JUST LIKE FRIED.
Ha. Ha. No, no they are not. Sorry, not here to lie to you.
Here are the ways that easy homemade baked chicken tenders are not like fried chicken tenders:
they do not stink up your house with oil smell or cause third degree burns.
they have fewer calories.
they are done quickly and are great for meal prep, freezer meals, or leftovers.
they have a parmesan coating that is just YUM but no batter to get all over everything.
So, what I'm saying is that MAYBE baked chicken tenders are better than fried chicken tenders? In like 3 cases, but I'd say that at-home no-frying situations are preferable from a mess standpoint FOR SURE.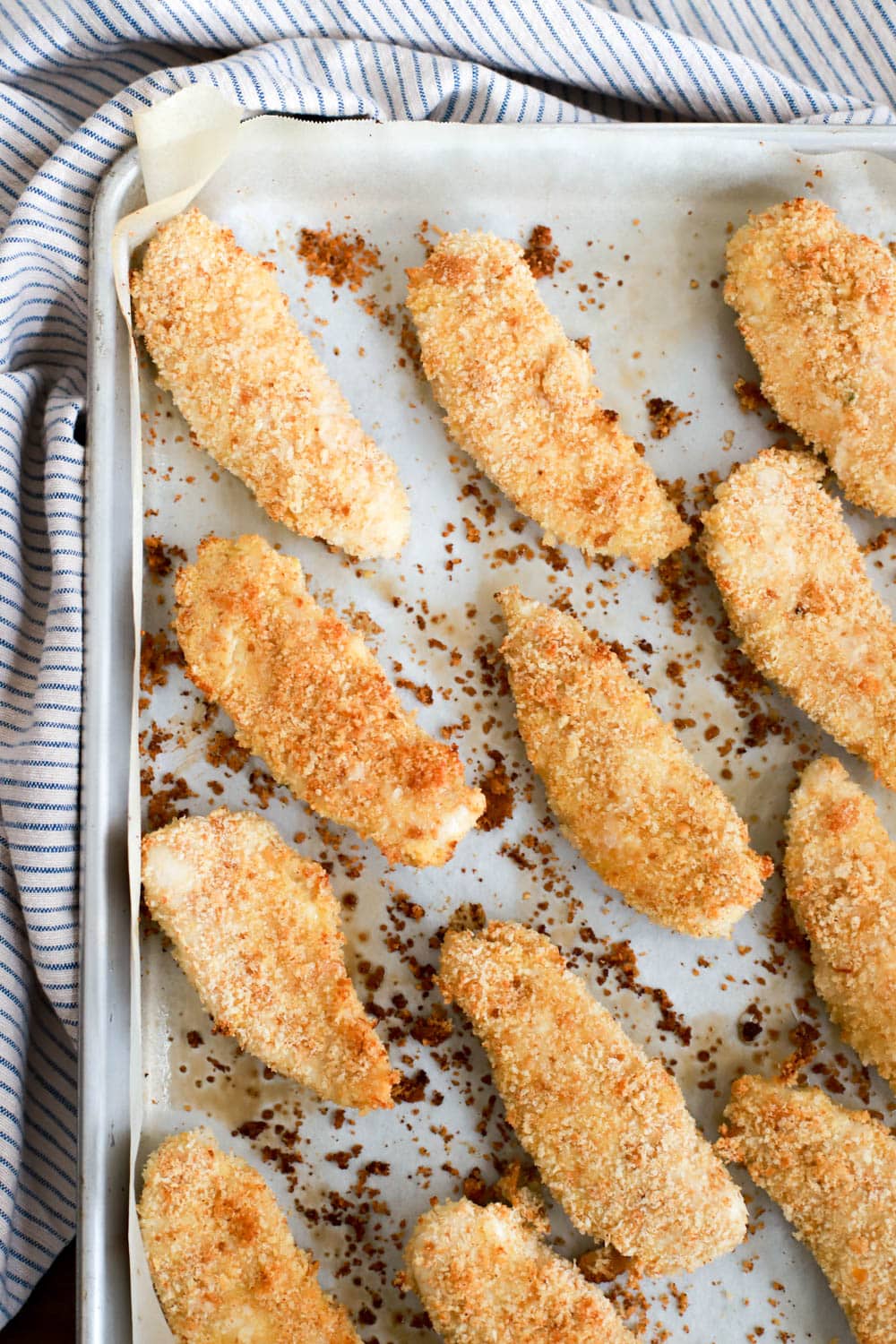 So! We are making baked chicken tenders. Easy, homemade baked chicken tenders that can be served any way your family needs them to be served.
I think these would work well as a freezer meal: bread and freeze flat on a pan, then put in a bag or container (so they don't stick together) and bake from frozen for a few minutes longer than in the instructions below.
Keys to How To Make Super Crispy Chicken Tenders Without Frying Them Because Frying Is The Worst Albeit Sometimes Worth It are: parchment paper, parmesan cheese, and cooking spray.
The parchment paper ensures no sticking (and I actually prefer this to a wire rack because there's no chance of the breading pulling off on the rack), the parmesan melts and gets crispy crunchy, and the cooking spray helps with golden-browning without frying in oil.
Bonus! We skip one breading step because I just couldn't be bothered. Instead of a flour/egg/breadcrumb method we go straight egg/breadcrumb, and the breading stays on beautifully.
Homemade Baked Chicken Tenders Recipe
So! The breading is: regular breadcrumbs AND panko breadcrumbs, grated parmesan cheese (the ground up kind, not shreds), salt, onion powder, and garlic powder.
Whisk the breading together, then in a separate dish whisk two eggs together. Do this for at least a minute so that any large pieces of egg break down a little bit.
Now, arrange a large baking sheet with parchment paper, and bread your chicken tenders! Dip each one in the beaten egg, then in the breadcrumb mixture, pressing on as much of the breading as you can to each piece of chicken. Then, place the chicken tenders on the parchment paper about an inch apart.
NOW, another key to helping these bake nicely is to let the breaded chicken tenders sit for just a minute if you have the time. You can definitely bread these early in the day and let them sit in the fridge, but I'm talking more bread them THEN turn the oven on, let the baked chicken tenders sit unbaked on the counter for 10 minutes. Easy resting, not half a day of your life.
Preheat the oven to 425F! Then spray the chicken tenders with cooking spray and sprinkle them one more time with salt, because food should taste good.
Bake the chicken tenders for 10 minutes, then very gently flip them over, spray + salt sprinkle the other side, bake for 10 minutes more, and done!
Now, again. These aren't fried, so they aren't deep dark golden. They are, however, perfectly light and crispy, and I think if you left them in the oven long enough to brown the outside more the inside would be dry and tough.
BUT! You can definitely broil these for 30 seconds on each side if you'd like for more browning. I won't be offended.
The key to good browning is to use a good amount of cooking spray, but hold the bottle about a foot away from the chicken so the breading doesn't go flying all over the kitchen. It will. Promise.
NOW. What you do with these baked chicken tenders is totally up to you.
With ketchup for kids? Cut into teeny bites like I did for my meal prep?
On a platter with honey mustard? Literally just any fancy mustard you have with a squirt of honey until it tastes right?
Over our favorite kale salad for a weekend lunch?
WHY YES we did all of the above one day and then I had the leftovers cold from the fridge for weekday lunches, why?
The coating here doesn't taste like parm in an Italian way, though you could dress these up with some marinara and melty cheese and that would work JUST fine. Instead, it just tastes good from the spices, umami from the cheese, crispy from the extra salt and cooking spray.
It's fried chicken you can get on board with. It's kid food that isn't from a package. It's fun and not too hard but also it's got enough steps that there is a definite sense of satisfaction when these baked chicken tenders are done, you know?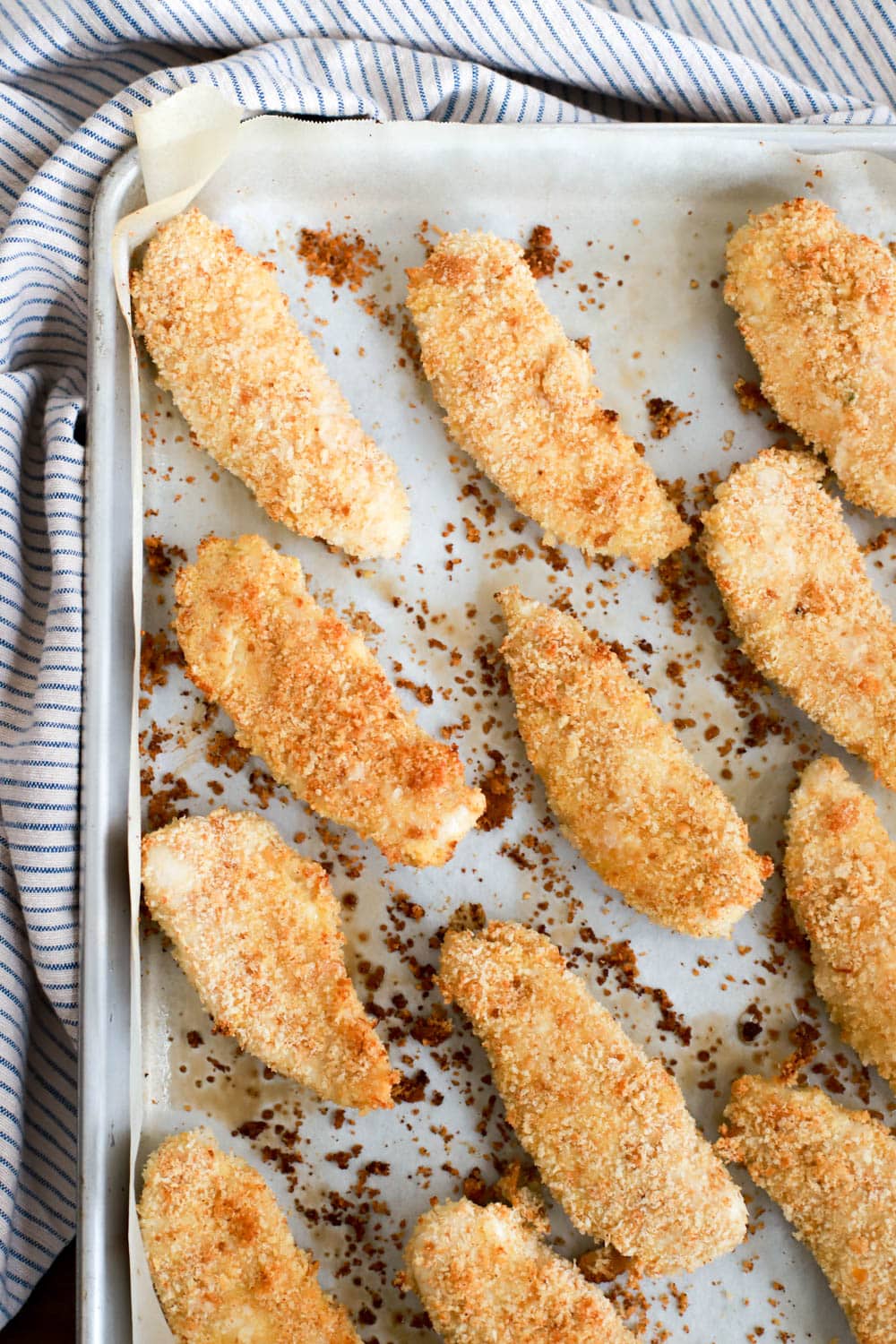 Also. Parchment paper for President.
ENJOY THESE!!
Easy Homemade Baked Chicken Tenders
Easy, healthy homemade baked chicken tenders served any way you like! These are perfect for meal prep or make-ahead.
Ingredients
2

pounds

chicken tenders

2

eggs

lightly beaten

1 ½

cup

panko bread crumbs

1

cup

bread crumbs

seasoned or not, don't stress

¼

cup

grated parmesan cheese

1

teaspoon

kosher salt

½

teaspoon

onion powder

½

teaspoon

garlic powder

cooking spray
Instructions
Line a large baking sheet with parchment paper.

Combine the bread crumbs, parmesan, and spices in a shallow dish. Beat the eggs into a separate dish. This is our breading setup.

Lightly dip each chicken tender in the egg then the breadcrumb mixture, pressing on as much of the coating as you can. Place the breaded chicken tenders in one layer about 1 inch apart on the baking sheet.

While the chicken tenders rest (about 10 minutes), preheat the oven to 425F.

When the oven is hot, spray the tenders all over with cooking spray and sprinkle with salt.

Bake the chicken tenders for 10 minutes on each side, flipping and spraying + salting the second side after 10 minutes. The tenders will be lightly golden, crispy, and cooked through. Enjoy!
Notes
If you'd like to make these in advance, keep them in the fridge until you're ready to bake, and allow 1-2 minutes extra on each side.
To freeze, freeze on the baking sheet, then store the breaded raw chicken tenders in a bag or freezer container. Bake as directed for 4-ish extra minutes on each side until cooked through and golden brown.
A good coating of cooking spray is key to crispy baked chicken tenders!
Easy honey mustard: whatever mustard you like, enough honey (1 tablespoon at a time) to make it taste great to you. I love this method with grainy brown mustard!
More Easy Recipes with Chicken