Monday food/gift food/make-ahead food, YES.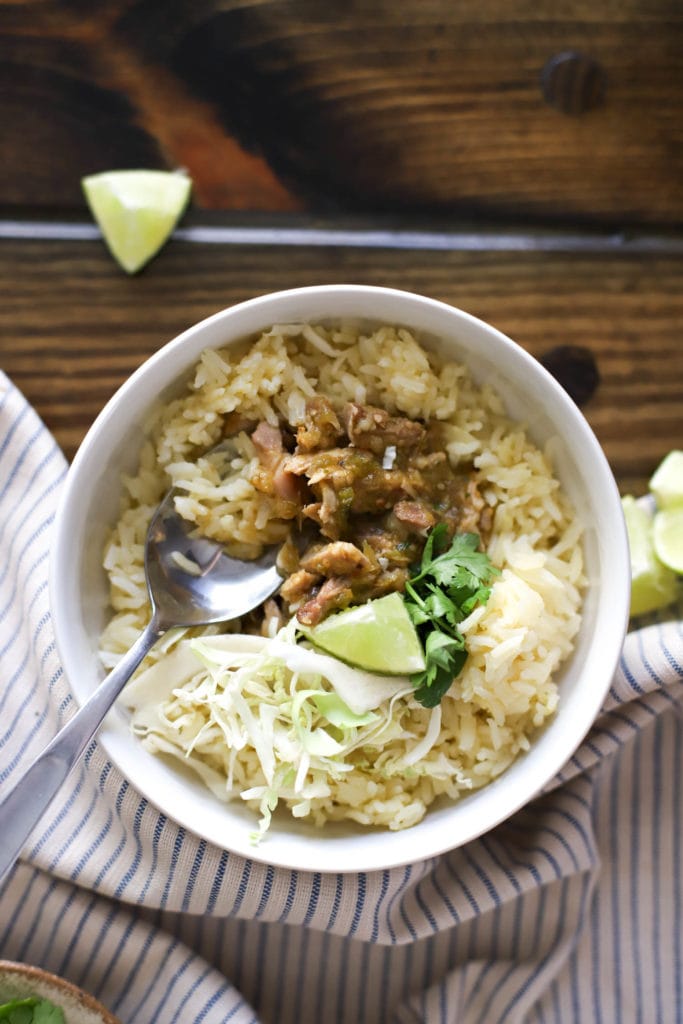 Also tastes like salsa verde that you made yourself so double YES.
Hi! How was your weekend? We had a whirlwind of moving some furniture OUT, which made room for my brain to create new projects for us in the next 17 weeks (omg), and next on the list is paint Beck's new room, secure a toddler bed, and move her next door so we can organize the baby room. I'm not quite sure she understands what's happening with all of that, but there are currently no fewer than 7 pillows on the floor of the empty room so she enjoys the rolling-around-without-getting-in-trouble aspect of the space so far. Also please feel free to educate me on kids room Ikea hacks that are easy and cheap. Like...really easy.
So this dinner. It's the perfect been-working-on-the-house meal because it can be made in advance OR doesn't take long at all to make fresh. I made this last week while Beck napped and it was all I could do to not eat a massive second lunch right on the spot. I took half of this to friends of mine who just had twins, and saved the other half for dinners while Jay has been gone for work. Chicken seared in tons of spices, shredded to absorb sauce. Roasted tomatillos and veggies blended super quickly to make a hugely flavorful sauce without any chopping. Fresh cilantro + lime + garlic, jasmine rice to balance the whole thing.
I kind of had in my mind at first to make this more decadent, like an enchiladas suiza or similar with sour cream or some kind of melty cheese all up in this. That would be DELICIOUS, but the mom that was receiving this is off dairy because one of her babies has a milk allergy (just one of them, weird huh), so I kept this super light and dairy free which I think I loved even more.
The sauce comes together quickly because we roast the veggies for the sauce while we cook the chicken and everything is done at the same time. First, prep the veggies for the sauce. Tomatillos, onion, hot pepper, bell pepper. Honestly any kind of those things you like - whatever onion or pepper you have, that kind of thing. Roast the veggies at 425F plain (no oil or salt, we add that later) for 40 minutes while you make the chicken.
For the chicken, grab some breasts or thighs, and heat a large skillet to medium-high heat with olive oil. Then measure cumin, salt, onion powder, garlic powder, and smoked paprika to make a quick spice blend. I almost always use something similar to this when I make Mexican-style proteins, and it is such a delicious blend.
When the skillet is hot, add the chicken in one layer and sprinkle it with all of the spices. It'll seem like a lot, but we need the flavor to infuse the rest of the sauce. Let the chicken sear for about 6 minutes on each side until browned and cooked through, then remove it to a plate to cool. Turn the heat off the skillet but don't wash or wipe out the pan - we'll make the sauce right in the same skillet. At this point I like to start the rice too and cook it in chicken stock for a pretty yellow color and extra flavor.
When the chicken has cooled a little bit, use your fingers or forks to shred it into large bite-sized pieces.
When the veggies are done, take them out of the oven to cool just slightly.
Grab the rest of the ingredients for the sauce:
Olive oil, garlic, cilantro, lime juice, and salt. The fresh ingredients with the deep seared chicken and roasted veggies is what makes this so flavorful and delicious.
Throw the roasted veggies with the rest of the sauce ingredients in a food processor and blend to create a slightly chunky sauce.
You can make this completely smooth if you'd like, but I love the texture from a few pieces of the vegetables that aren't totally blended. Taste the sauce and add more salt if it's overly tangy or tastes bland. Also: This would be a GREAT roasted salsa verde for chips or veggies on its own.
When the sauce is blended and the chicken is shredded, transfer both back to the skillet and turn the heat to medium.
Stir the sauce and let it come to a bubble, tasting as you go and adding more seasoning if you'd like.
Dinner is done! I served this with shredded cabbage on top for crunch + veg with lime wedges and cilantro, but sour cream or other cheese, red salsa or chopped tomatoes would be great in this too.
I adore this, and already have so many fun ideas for the chicken base - extra stock with fresh corn kernels to make a quick soup, baked into burritos and topped with extra verde sauce and cheese, or tacos obviously.
The rice is slightly extra special from the chicken stock and I love jasmine rice for this, but plain white rice works wonderfully too. The best part is that you can make the rice and sauce in advance and microwave them before dinner - the flavors are perfectly delicious even the next day.
Enjoy!
Tomatillo Chicken and Rice
Ingredients
Tomatillo Mixture
1

pint

tomatillos

husks removed, rinsed (about 14 small tomatillos)

1

bell pepper

halved, seeds removed

1

jalapeno or other hot pepper

halved, seeds removed

½

onion

cut into large chunks

¼

cup

fresh cilantro leaves and stems

1

garlic clove

peeled

½

lime

juiced

½

teaspoon

salt

¼

cup

olive oil
Chicken
1 ½

pounds

boneless

skinless chicken thighs

1

teaspoon

ground cumin

1

teaspoon

salt

1

teaspoon

onion powder

1

teaspoon

garlic powder

¼

teaspoon

smoked paprika

olive oil for cooking
Rice
1 ½

cups

jasmine rice

3

cups

chicken stock

lime wedges

shredded cabbage, and extra cilantro for serving
Instructions
Make the tomatillo sauce. Preheat the oven to 425 F and arrange the tomatillos, onion chunks, and pepper pieces on a small baking sheet. Roast for 40 minutes until wilted and browned. When the veggies have cooked, transfer to a food processor with the cilantro, garlic, olive oil, lime juice, and salt. Blend to combine, leaving some chunks of veggies. Taste the sauce and add more salt to your preference.

Meanwhile, cook the rice to package directions with the stock and cook the chicken. Preheat a skillet to medium heat with a drizzle of olive oil. Combine the spices in a small dish with your fingers. When the skillet is hot, add the chicken in one layer to the skillet and sprinkle all over with the spice mixture, using it all up.

Cook the chicken for about 6 minutes on each side until browned and cooked through. Transfer to a plate to cool and turn the heat off the skillet (we'll use it to finish the sauce in a minute, don't wipe it out). When the chicken is cool enough to handle, shred to bite-sized pieces.

Add the chicken and tomatillo mixture back to the skillet over medium heat. Let come to a bubble and taste for seasoning, add more salt to your preference.

Serve the chicken mixture over the rice topped with shredded cabbage, extra cilantro, and a spritz of lime juice. Enjoy!