I think, of all the recipes I make here and for my little business, this is by far the most misunderstood, most loved, and most asked about.
Misunderstood because it makes no sense on a menu or in a title.
Loved because holy omg once you try it you get it.
Asked about because it's kind of weirdly simple but also ridiculously amazing? I don't know.
I only know that I make and sell a ton of it, still have it requested all the time, and absolutely adore it. I got the idea years ago from an article I read about a restaurant in Seattle that makes a similar appetizer: basically confit with tomatoes. I've made it on this blog before with fresh tomatoes, but, honestly, I never do that anymore. We cook the tomatoes for so long that canned simply hold up to the cooking better AND you can't tell if they were fresh or canned anyway by the end of the cooking. So. The new an improved best appetizer in the world. It is insanely easy, and once you perfect it it's GREAT.
You need canned tomatoes, olive oil, salt, sugar, and garlic. Full stop. I've added herbs and spices and other things before, but plain and simple is my favorite way to do these.
First, preheat the oven to 275F and drain the tomatoes. I save the juice for marinara or soups - don't waste things you buy!
Then, dump the tomatoes into a baking dish, and cover them completely with olive oil. I use measurements below, but basically we want enough olive oil so that just a bit of the tomatoes are sticking out.
Then, sprinkle the whole mess with salt and sugar!
Now we bake! This takes some time. Like....a whole day. I've rushed these before at a higher temperature and it kind of is fine, but it's REALLY not the same as if you start these first thing in the morning and let them be done about 6 hours later. Stick then in the oven, stir every hour or so. During the cooking process you might need to add a little more olive oil - be sure the oil level stays nearly where it started.
When they're done, they'll look like this. Dark in color but not black, with a few super dark edges.
Now, garlic! The contrast between the super deeply flavored tomatoes and the raw garlic is what makes these so special. Flatten the garlic with the side of your knife to peel it, then mince it really finely.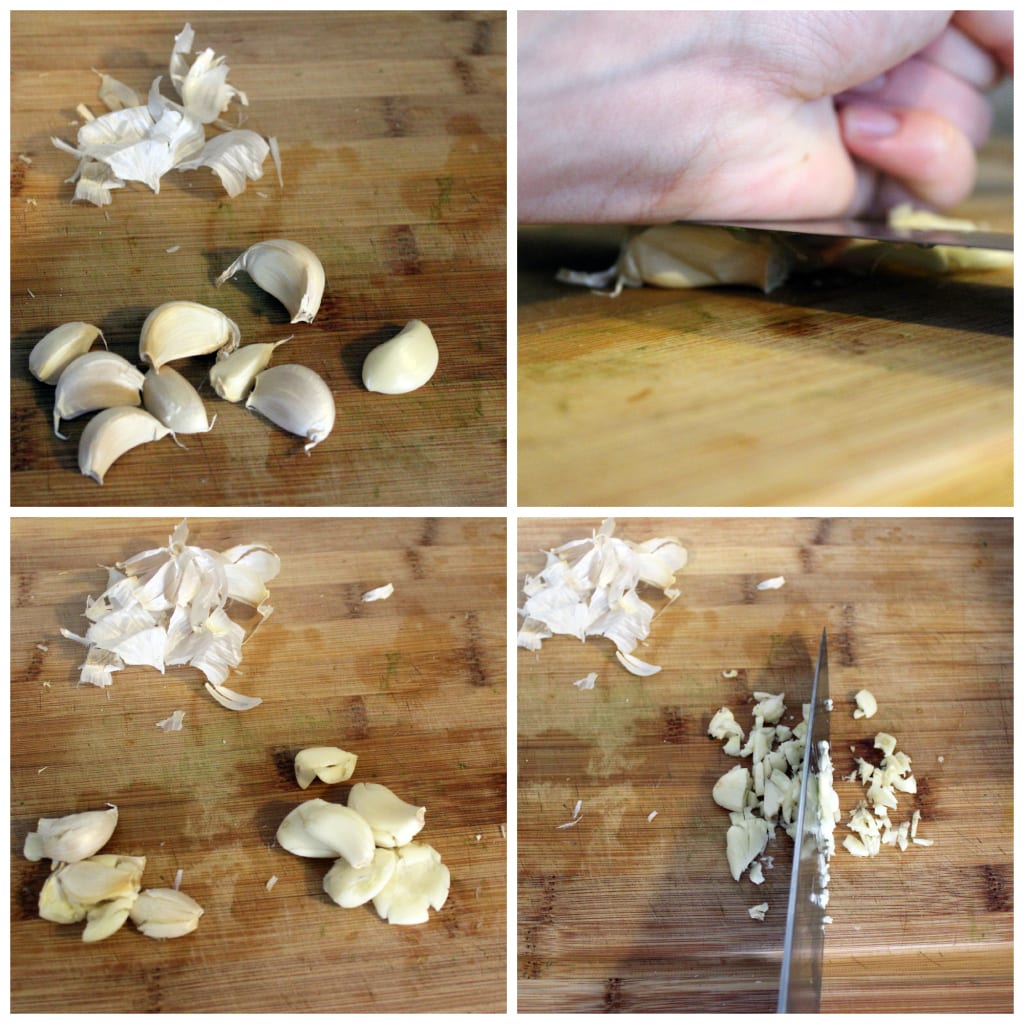 Sprinkle the garlic over the warm tomatoes, then cover them with plastic wrap to steam. The garlic flavor will meld with the tomatoes, and the world will be a happy place.
And that's it! You can eat these right now, or you can make them well in advance - the oil basically preserves the tomatoes, and they'll keep in the fridge for several weeks.
I usually serve these with crostini, but the list of ways I use them is endless - to start tomato sauces or soups, mixed into risotto, on top of chicken or fish - seriously anything in the entire world you can think of is made better by these.
So now you know my one secret. I have nothing else to give. Make these soon!
Print
Slow Roasted Tomatoes in Olive Oil
---
Total Time:

5 hours 10 minutes
60 ounces

canned diced tomatoes, drained

1 cup

olive oil, plus more if needed

1 teaspoon

salt

1 teaspoon

sugar

6

cloves minced garlic
---
Instructions
Preheat the oven to 275F. Arrange the tomatoes in a baking dish, then pour the olive oil over top. Add more olive oil as needed so that just the tops of the tomatoes are exposed. Sprinkle with the salt and sugar.
Bake for several hours, stirring every hour or so, until the tomatoes are very dark red. Add more olive oil during the cooking process as needed so the tomatoes don't dry out.
When the tomatoes are cooked, sprinkle the raw garlic over top and cover with plastic wrap. Let sit for at least 20 minutes, then serve as desired.
May be made up to a week in advance and kept in the fridge.
Notes
These are great on crostini, but I love them in marinara, risotto, or just as a topping for fish or chicken. Sky's the limit!
Prep Time:

10

Cook Time:

300