It's definitely a noodle day.
I've been sick all weekend, so ramen is totally perfect for that, but MORE IMPORTANTLY, we're balls deep into the first season of PBS's Mind of a Chef (on Netflix), and there have been several episodes relating to Asian style noodles and ramen in particular that have me all nostalgic.
This isn't a traditional ramen by any means, but it's quick enough to make on a Monday and SUPER delicious. Later this year I have plans to make legit ramen that takes 8 days and your firstborn or something, but for today this will have to do.
Let's do it.
This is my version, but obviously the type of veggies you use AND protein AND noodles can be swapped out depending on what you like and/or are in the mood for. I had bamboo, oyster mushrooms, and bok choy for veg, chicken for protein. Then long noodles. For the broth, veggie stock, sriracha, mirin, soy sauce, rice vinegar, and garlic. Then, a scallion for topping.
First, mince the garlic so it'll be ready for the broth. Cook the noodles to package directions, too. I cooked the noodles in the same pot I used for the chicken and ramen broth, but you could use three pots: one for the broth, one for the noodles, and one for the veggies to save time.
Then, let's start with the broth, which we'll make while we cook the chicken. Add the chicken to a big pot, and cover it with vegetable stock. Go low or no-sodium for this, since we add soy sauce we don't want to end up with a super salty ramen.
Then, add in the rest of the flavors. Soy sauce, sriracha, mirin, rice vinegar, and the minced garlic all go in to the pot with the stock and the chicken.
Cover the pot, bring the liquid to a boil, then reduce the heat to medium-low and poach the chicken gently.
While the chicken is working, prep the veggies you'll be using into large chunks, and preheat a skillet to medium-high with a little bit of oil.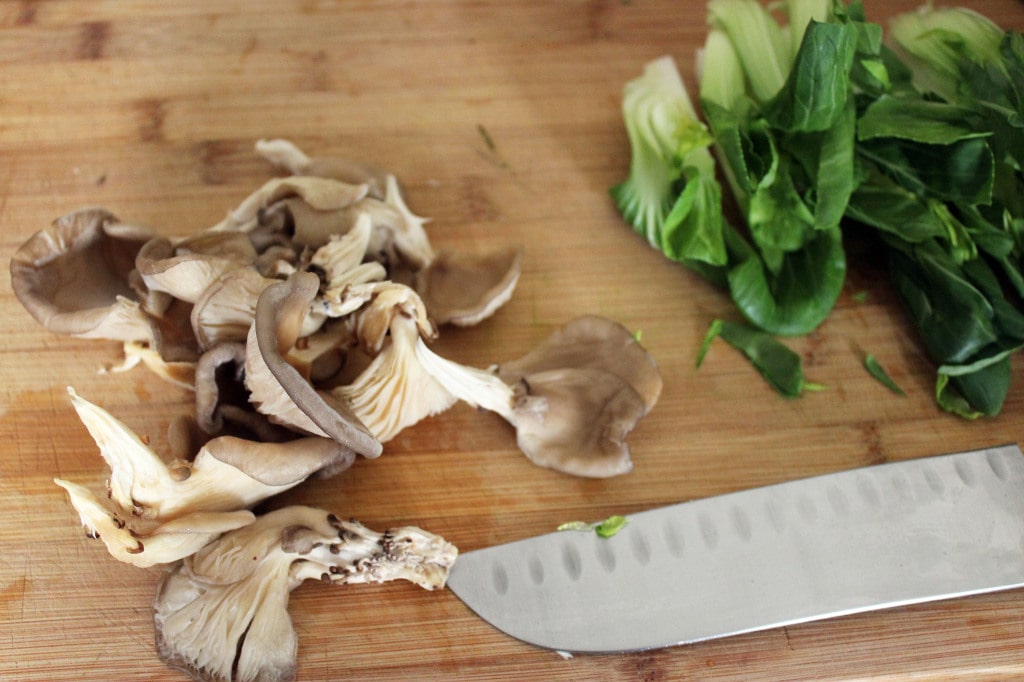 When the oil is very hot, add the vegetables one item at a time (bok choy and oyster mushrooms, in my case), and cook them until wilted and browned on both sides. Right before you remove the veg from the pan, add 1 teaspoon of soy sauce to flavor the vegetables themselves.
So now we have our veggies all prepped!
When the chicken is cooked through, after about 15 minutes, remove it to a plate to cool. When cool enough to touch, shred the chicken with forks or your fingers.
Turn the heat up on the chicken broth to medium-high, then taste: add more soy sauce if you'd like!
Now, we have our broth adjusted, so let it simmer for a few minutes while you prep some last things. Grab some sesame oil if you have any - it's a great drizzle over top of the ramen.
And, thinly slice the scallion for topping.
Now, let's build the ramen. Start with noodles, then add veggies and chicken. Drizzle with olive oil, then ladle the whole mess with the yummy broth.
Top with scallions, and RAMEN.
On a Monday.
In not too much time, and for WAY less than you'd spend at some fancy pan-Asian joint that charges $16 for a bowl of essentially salty spaghetti.
You will adore this, friends. Remember that it can be customized almost any way you'd like, but the best part of this is really the broth. The vinegar and mirin add a nice flavor that is sexier than just soy sauce and stock together, promise.
And the noodles love sexy flavor.
Easy Chicken Ramen
Ingredients
12

ounces

linguine or other long pasta

cooked to al dente and reserved

2

boneless

skinless chicken breasts

3

cups

no-sodium vegetable or chicken stock

¼

cup

soy sauce

plus more as needed

1

teaspoon

sriracha

2

tablespoons

mirin

2

tablespoons

rice vinegar

3

cloves

minced garlic

2

heads baby bok choy

cut into large segments

1

bunch oyster mushrooms

gently separated

4

ounces

bamboo shoots

drained

1

scallion

thinly sliced

sesame oil

optional, for drizzling
Instructions
Add the chicken, vegetable broth, garlic, mirin, rice vinegar, sriracha, and soy sauce to a large pot. Cover, and bring liquid to a boil, then reduce heat to medium-low and simmer until the chicken is cooked through, about 10 minutes.

When the chicken is cooked through, remove it from the liquid to cool, then shred with forks.

While the chicken cools, bring the broth back to a boil and taste: adjust seasoning as you'd like. Let the broth boil and reduce for 5 more minutes before serving.

Meanwhile, sear the veggies. Preheat a large skillet to medium-high heat with a drizzle of oil. Working in batches, cook the veggies on both sides until browned but not mushy. Right before removing from the skillet, sprinkle with 1 teaspoon of soy sauce. Set the veggies aside.

To assemble, make a mound of pasta in the middle of a bowl, then top with some chicken and seared veggies. Drizzle with sesame oil, and ladle the ramen broth over top to cover everything.

Sprinkle with scallions and serve. Enjoy!
Nutrition