It's high time for a new Caesar dish.
I adore Caesar dressing, and I make it a lot for catering and life and Mondays. Especially now that Jay is a vegetarian-who-only-eats-animals-without-faces and also LOVES shrimp, this was a super great one to make this weekend.
It's my standard Caesar dressing, but instead of romaine lettuce like you'd expect, we went with endive, which is bitter and sexy and really sturdy, which I love for lettuce wraps. ALSO, it's smaller than romaine leaves, and I like having smaller things for pick-up salads like this.
So, there.
Let's make boats. You need shrimp, lemon, grated parm, and endive. Then for the dressing we have olive oil, dijon mustard, Worcestershire sauce, more parm, garlic, anchovy paste, heavy cream, and pepper. I don't use raw egg in my dressing, but you could sub an egg yolk for the heavy cream - up to you! Also, about the parm: I have two kinds because I'm spoiled. These two kinds are actually two of THREE kinds of parm I keep in my fridge on the reg for different things. You could totally just use regular grated parm and call it a day. Seriously. I'm out of control.
Let's make the shrimp first. Use any size shrimp you like, but cut it into small chunks while you preheat a skillet with olive oil to medium-high heat.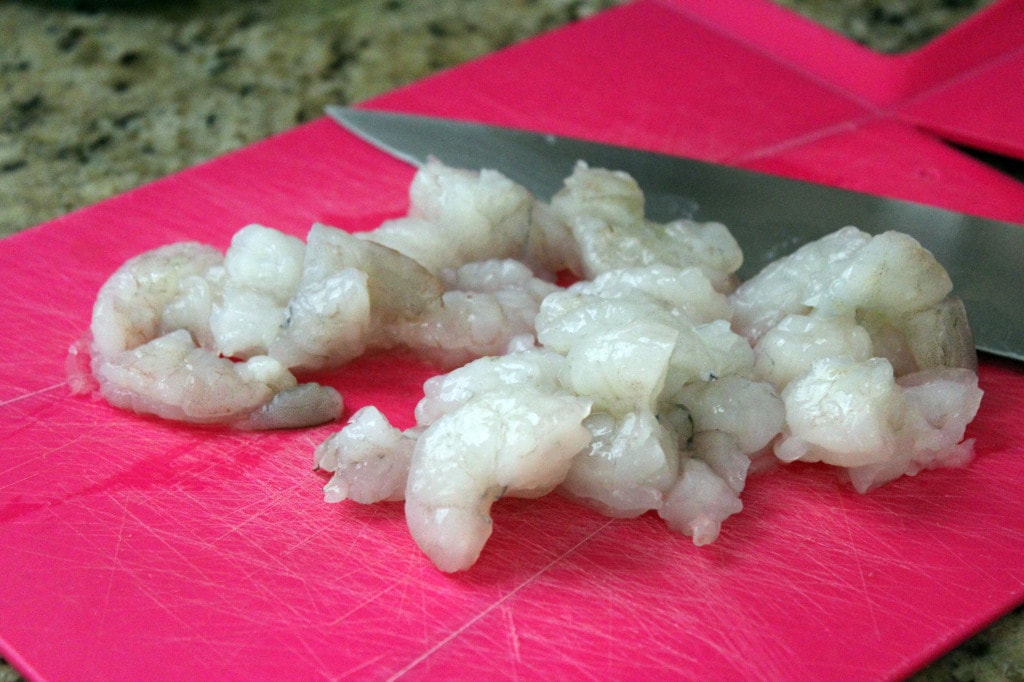 When the oil is super hot, add the shrimp.
Let the shrimp cook for 1 minute without moving it at all. It should sizzle! Then, zest the lemon directly over the shrimp.
Sprinkle on some parmesan, too. Just a little bit.
Now, stir the shrimp for just another minute or so until the parmesan browns just a bit.
Take the shrimp out of the pan, and set it aside until you're ready to build the boats. Also, spoiler alert! This makeshift crust is great on any seafood, chicken, WHATEVER that you like to cook quickly in a hot skillet. Seriously. Legit.
Now, onto the dressing. I make mine in this little food processor, but you could use a blender or even a whisk!
Juice half of the cut lemon in with the other dressing ingredients, then whir away. Taste the dressing and add anything you think it needs. The measurements below are just a guide - add more of anything you'd like once you taste the first run.
Now, we build! Just separate the endive leaves gently, add in a bit of the shrimp mixture, drizzle over some dressing, and add parm + parsley if you feel like it. I do just a tiny bit of dressing at first, then serve extra on the side in case folks want to add a little bit more.
These are gorgeous, and very simple. I love using shrimp in appetizers because they cook so quickly, and you can make the dressing a few days in advance to save even more time.
Party, appetizer for dinner, lunch, snack....these are all-the-time food. Enjoy!
Shrimp Caesar Endive Boats
Ingredients
FOR THE DRESSING

¼

cup

olive oil

¼

cup

heavy cream

juice of ½ lemon

1

teaspoon

anchovy paste

1

tablespoon

dijon mustard

½

teaspoon

Worcestershire sauce

1

clove

garlic

3

tablespoons

grated parmesan cheese

pepper

to taste

FOR THE ENDIVE BOATS

½

pound

shrimp

any size, peeled, deveined, and roughly chopped

1

tablespoon

grated parmesan cheese

plus extra for topping

zest of 1 lemon

Caesar dressing

from recipe above or your favorite kind

1

small head endive

leaves gently separated
Instructions
For the dressing, combine all ingredients in a blender or food processor until smooth. Taste, and add more lemon juice, parm, or pepper to your taste.

Preheat a skillet with a drizzle of oil over medium-high heat. When the oil is very hot, add the shrimp in a single layer and let sit for 1 minute. Then, sprinkle the parmesan and lemon zest over all the shrimp. Toss for 1 or 2 minutes more until the shrimp is cooked through and the parmesan is slightly browned, then remove from the heat.

To assemble the shrimp boats, spoon a bit of shrimp into each of the endive leaves, then top with a drizzle of dressing and some extra parm. Serve immediately.

Enjoy!
Notes
I use two kinds of parm for this: grated jarred stuff for the dressing and shrimp, then fancy stuff for shredding over top of the boats. Just use one kind if that's all you have!
Nutrition