Holy MOLY was this good.
This is definitely, by far, the thing you should be making tonight for dinner. Or tomorrow.
Or for Valentine's Day.
It's REALLY good.
My super outdoorsy friend Weston goes on fishing trips in Alaska, and he brought over some halibut for us to cook earlier this week. The parmesan and dill preparation was something he'd had in Alaska at a restaurant, so he described it to me and this is what I came up with.
It was SO good and easy!
The pictures here are for 6 large pieces of fish, but the ingredients below are written for 4 portions - increase or decrease accordingly!
4 white fish filets, about an inch thick. Halibut, cod, sea bass, or any very firm white fish is fabulous.
salt and pepper
½ cup panko bread crumbs
½ cup grated parmesan cheese (the stuff in a jar is fine unless you're just dying to spend money on something freshly grated)
1 tablespoon butter
½ cup sour cream
¼ cup mayonnaise
splash heavy cream or half and half
one lemon
1 clove garlic
2 tablespoons chopped fresh dill, plus more for serving
I made the sauce first so it could get super duper flavorful for awhile before we ate.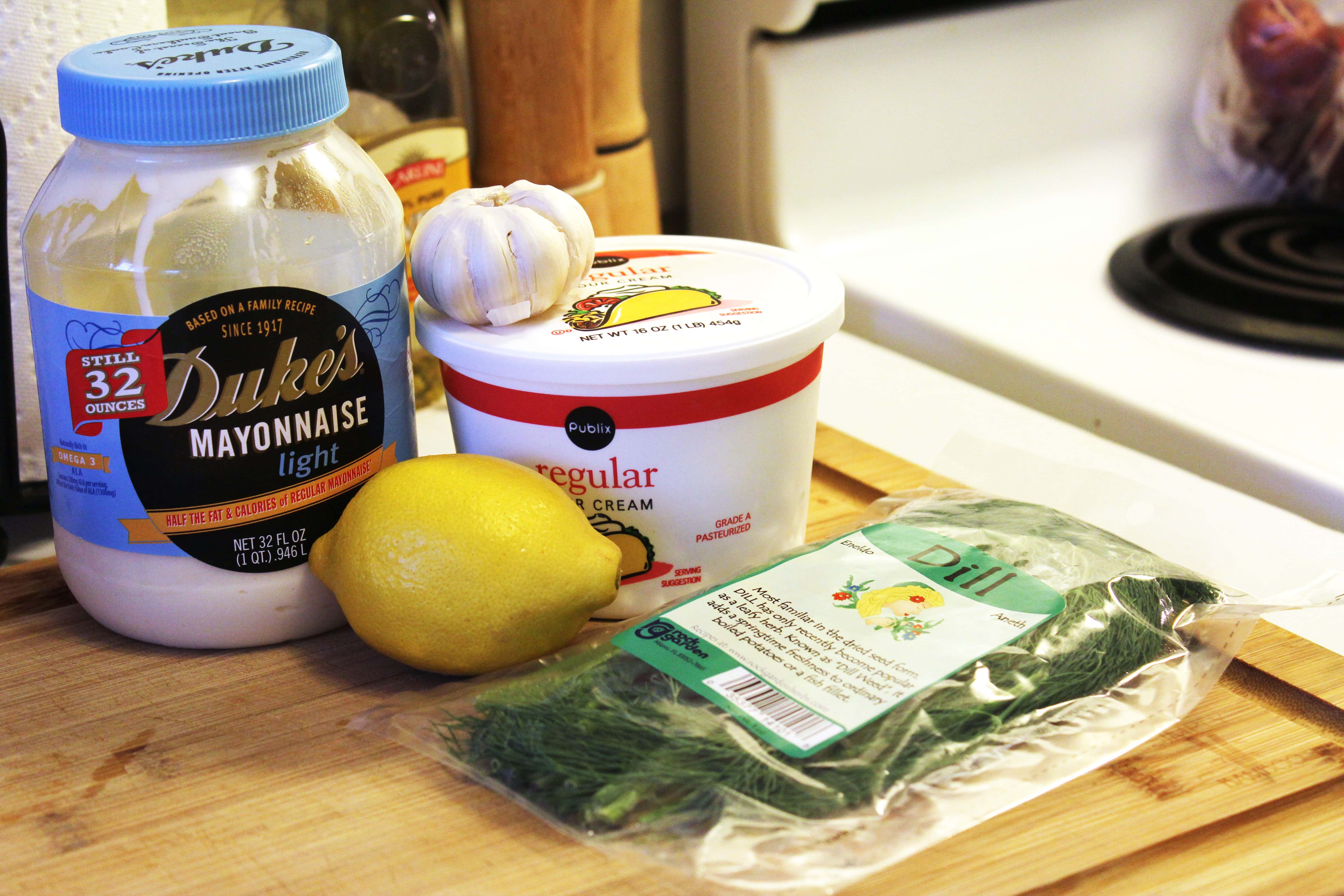 To a bowl, add the sour cream, mayo, and heavy cream. Then, using a teeny grater, grate in the garlic and lemon zest.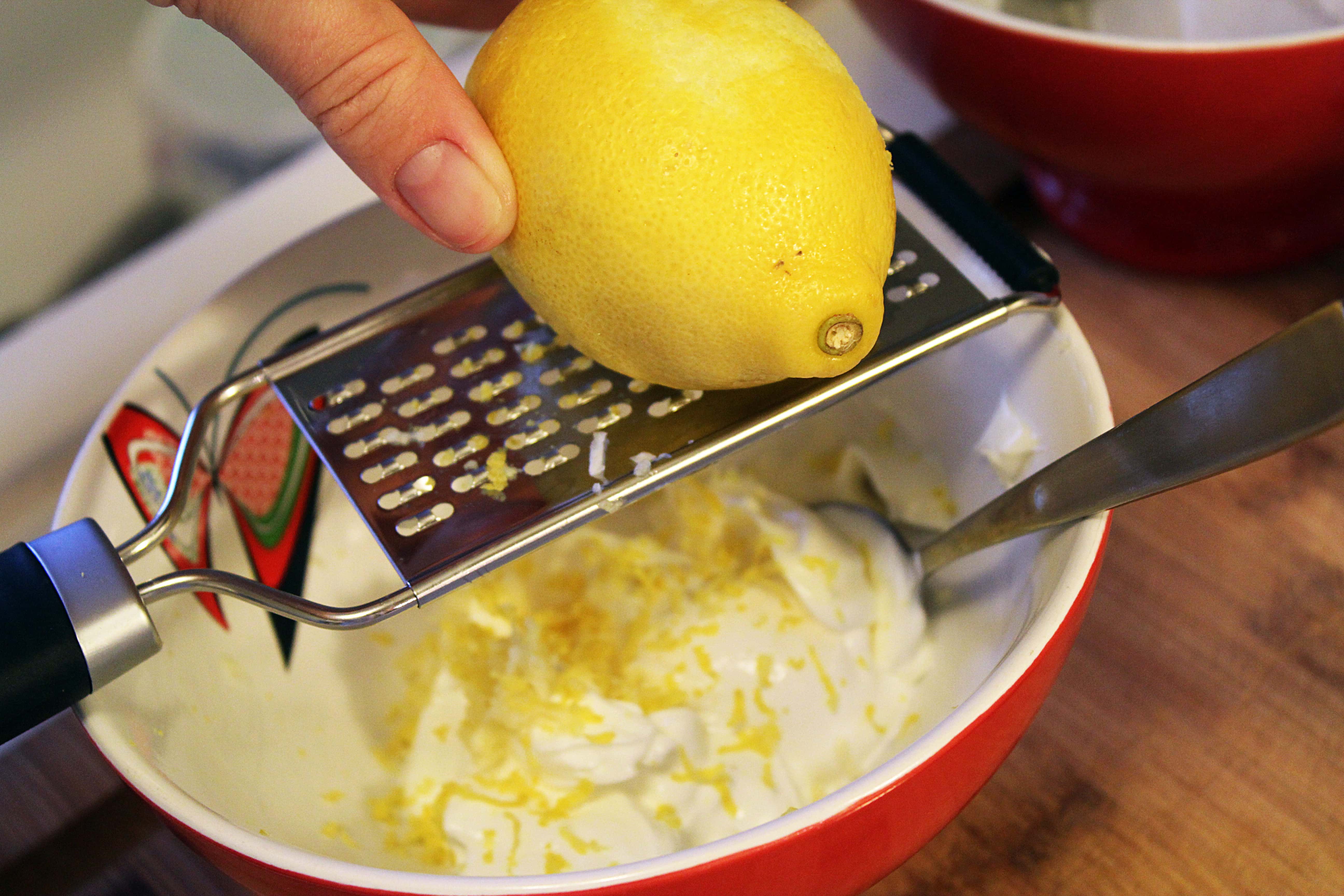 If you don't have a handheld grater you can zest the garlic and lemon on the side of a box grater or just mince it really finely - no worries either way.
Save the lemon for serving, and mince up lots and lots of dill - it's the star of the show here!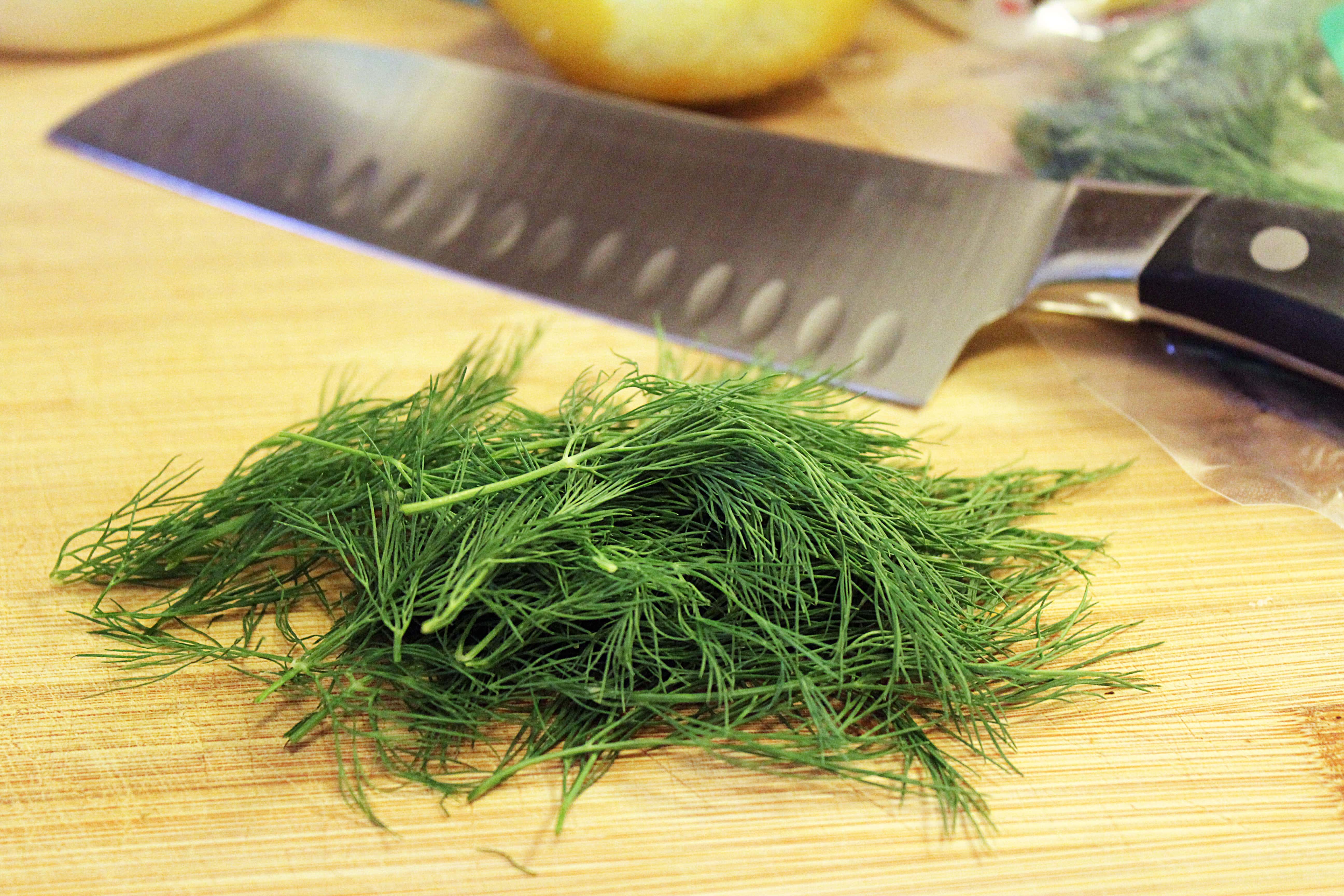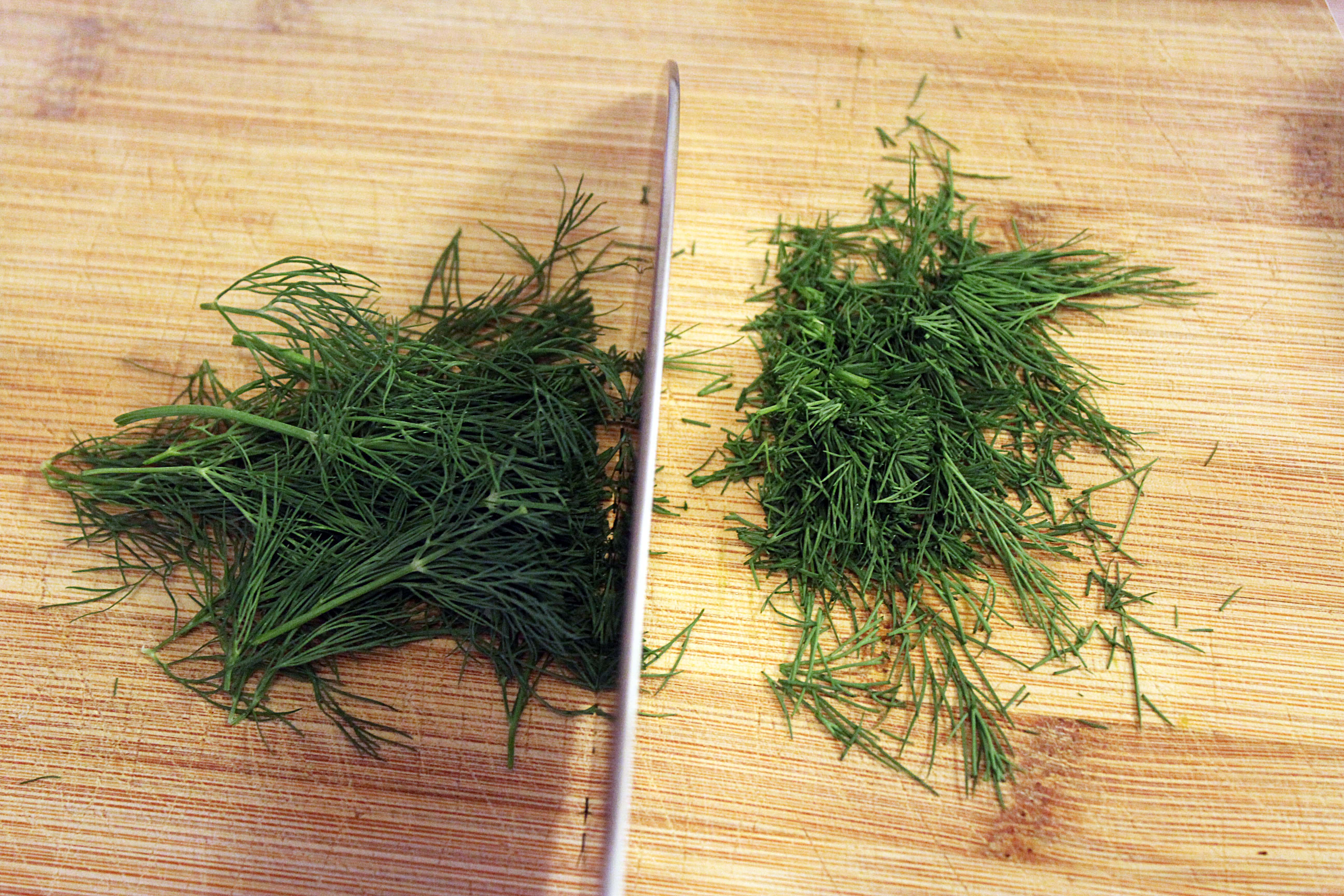 Add the dill to the lemon/garlic/cream mixture with a sprinkle of salt and pepper, then stir everything together.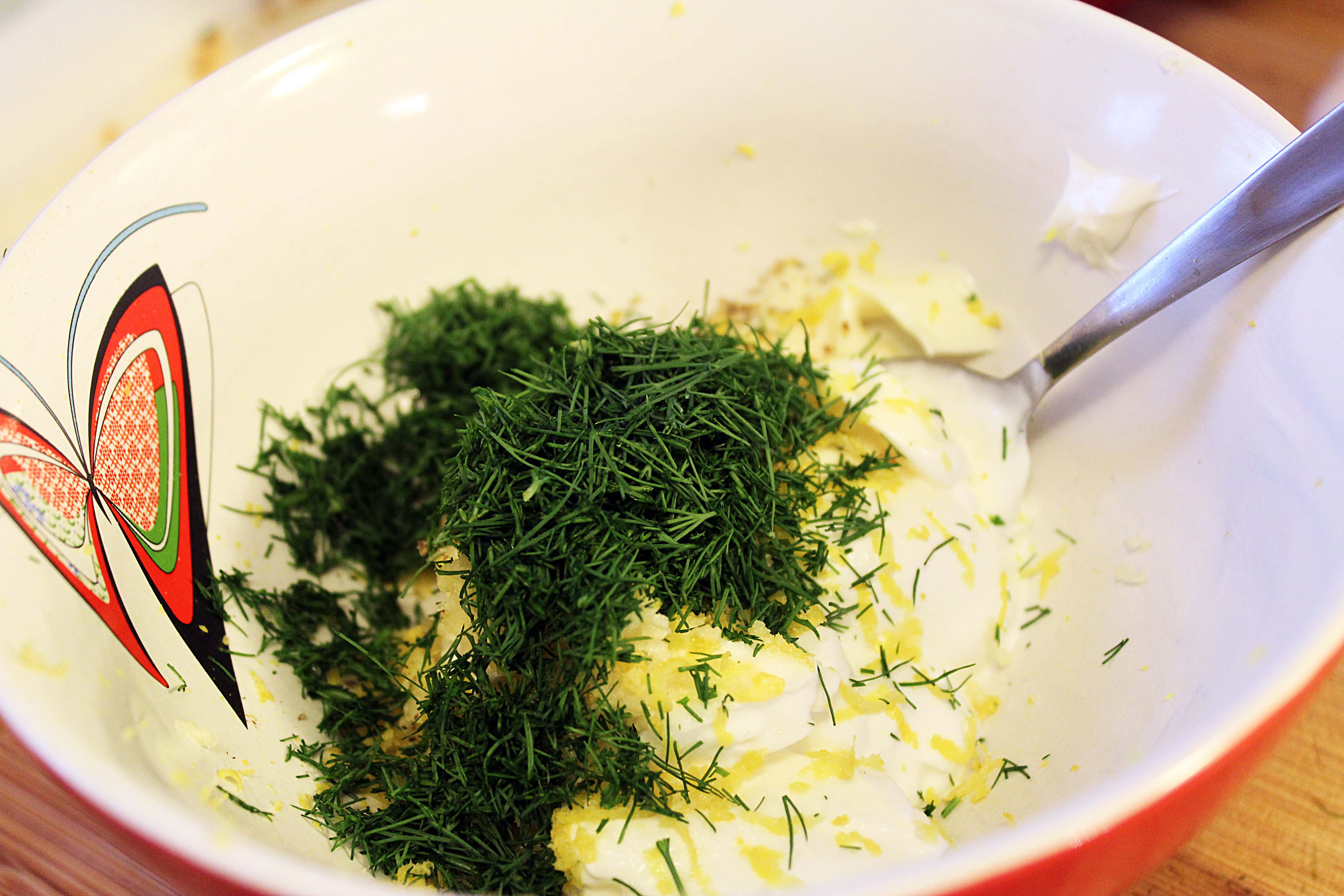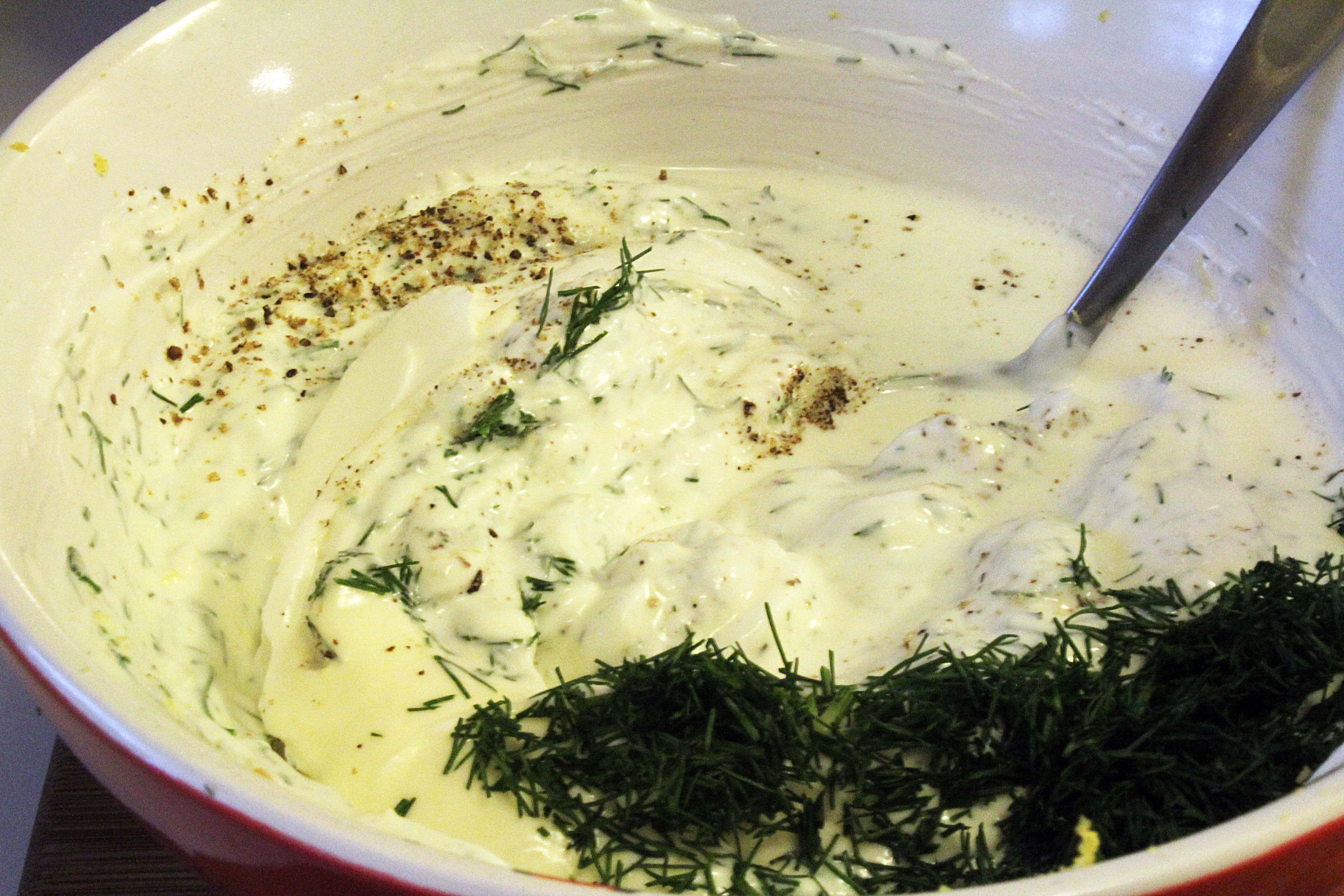 I got excited after the first stir and added more dill and pepper. Taste your dip and add more of whatever you'd like, though! Keep in mind that the garlic flavor will get a lot stronger as the dip sits, so don't add more of that.
Yum. Keep the dill sauce in the fridge while you get the fish ready.
Incidentally, the dill sauce can be used as a veggie dip - who needs packaged ranch when you have THIS?
Now, for the fish. Preheat the oven to 400F and pat the fish very dry with paper towels, then salt both sides.
I'm using a cooking rack IN a baking sheet to bake this fish, but you can use just a baking sheet, or a broiler pan, or whatever works for you.
Seriously, look at this fish.
So. Good. Now, for the filling:
So easy! Melt a tablespoon of butter in a bowl, then add the panko, cheese, and pepper. Mix it all together lightly with a fork.
I ate about three forkfuls of this. Sorry about that.
Divide the topping evenly among the fish, then press it evenly into the top of the fish with your fingers - no need to kill it, just be sure it won't fall off.
Nice! NOW, at this point you're ready to cook the fish. However, you could make the dip a day in advance and put the crust on the fish hours before you cook it to give you time to take a shower, clean your house, make side dishes, or drink 8 glasses of boxed wine.
What I'm saying is, you can do this in advance.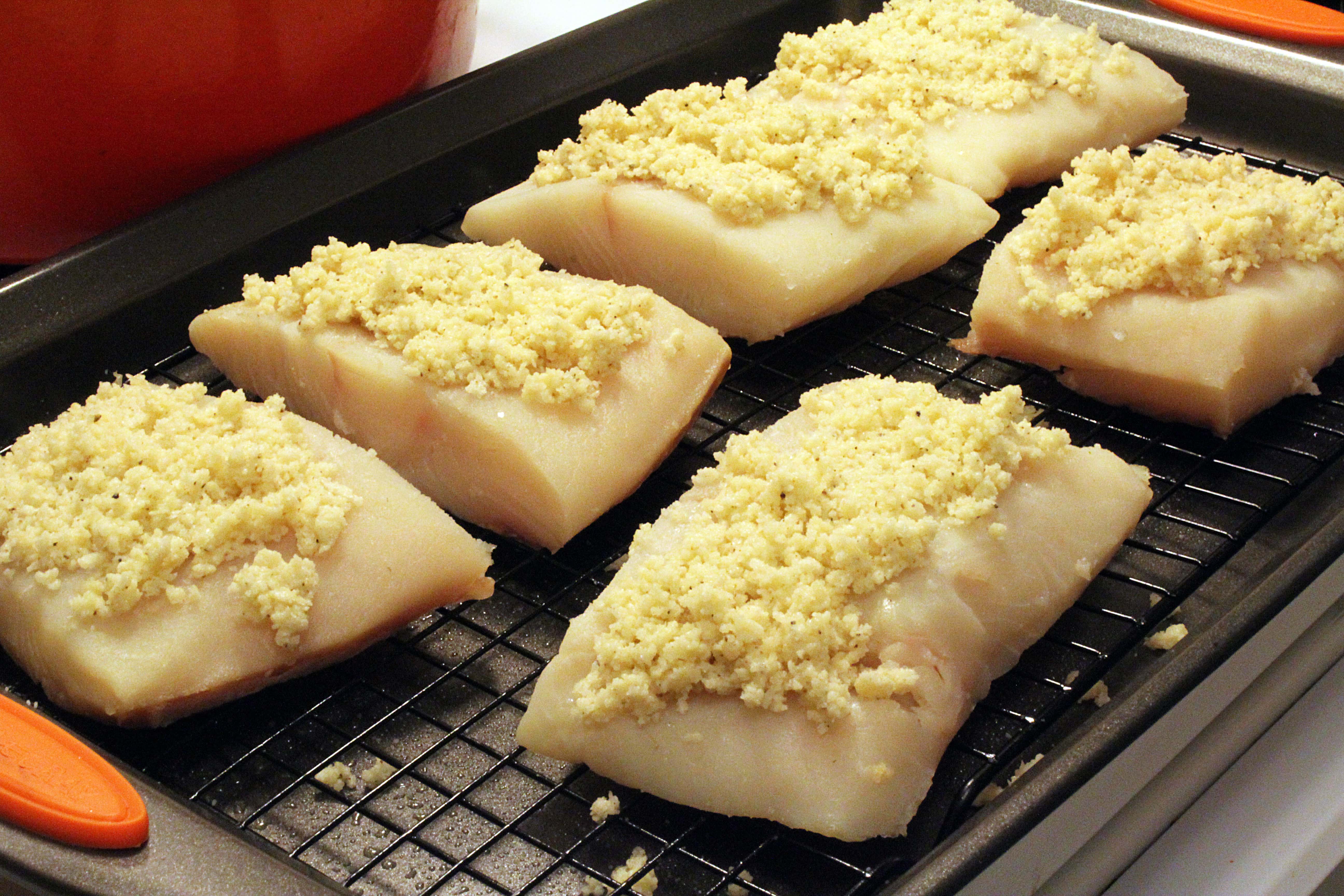 When you're ready to cook the fish, bake it for 10-15 minutes until the top is lightly brown and the fish is firm and cooked through but not dry - if you have smaller pieces of fish yours won't take as long!
When the fish is done, pull it out of the oven and immediately spoon some of the dill sauce over the fish so it can get nice and warm.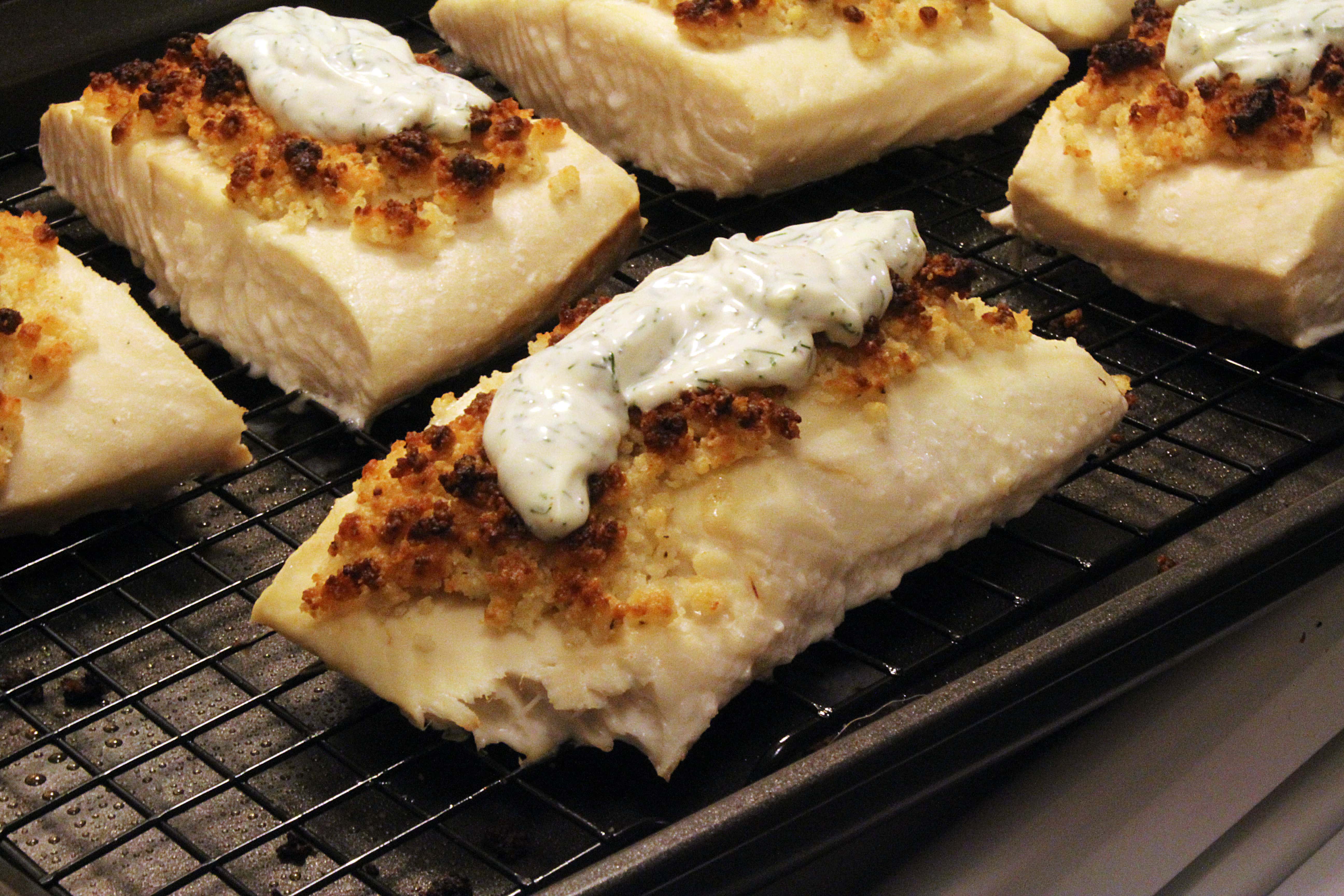 Then, transfer the pieces of fish to a platter (or to individual plates if that's how you roll) and top each piece with more fresh dill.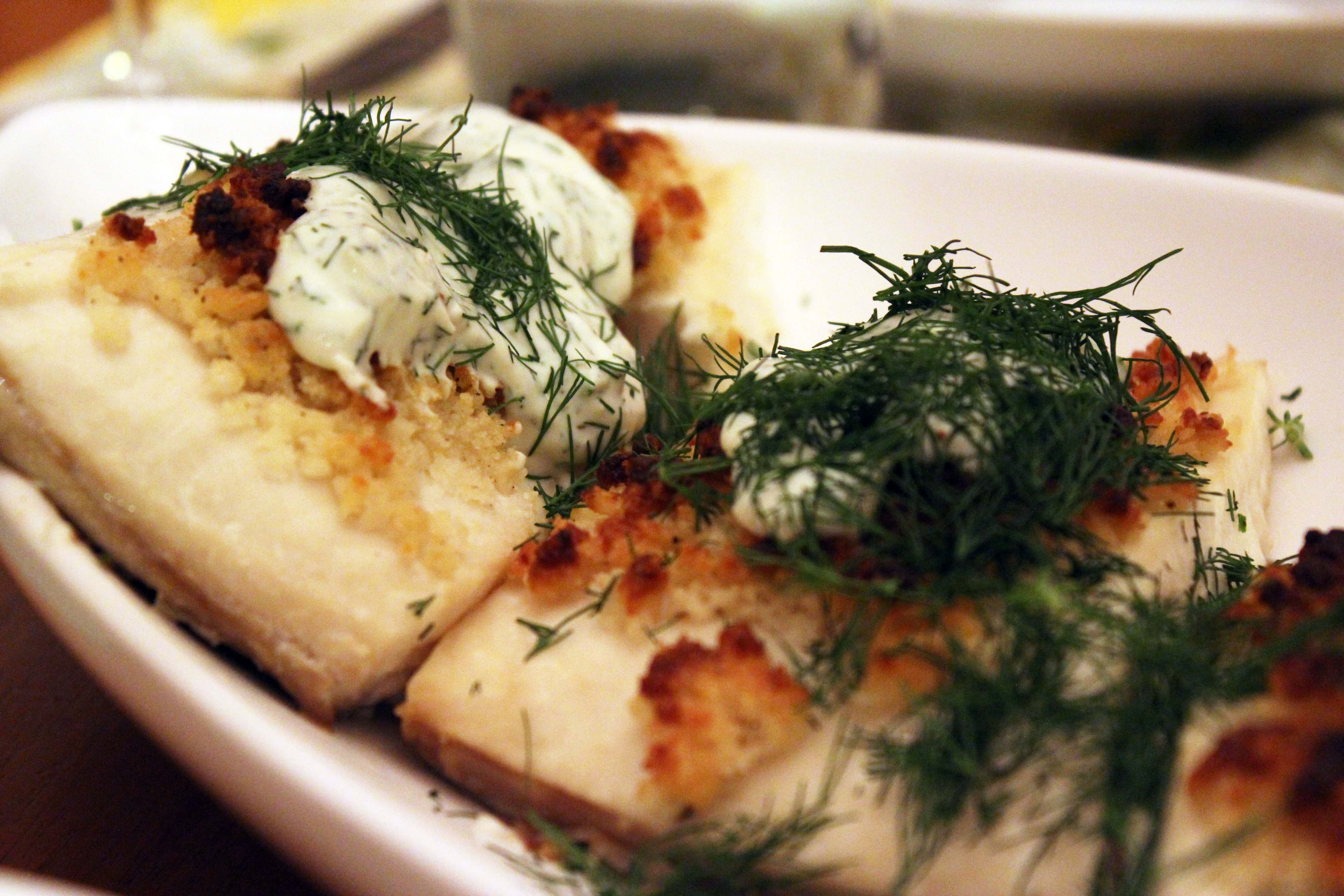 GLORY that looks delicious. I served this so simply with roasted broccoli and cauliflower and steamed potatoes - the fish didn't need anything to take away from how delicious it was!
Serve this with extra dill sauce and the naked, zested lemon cut into wedges, and THAT'S IT. Promise.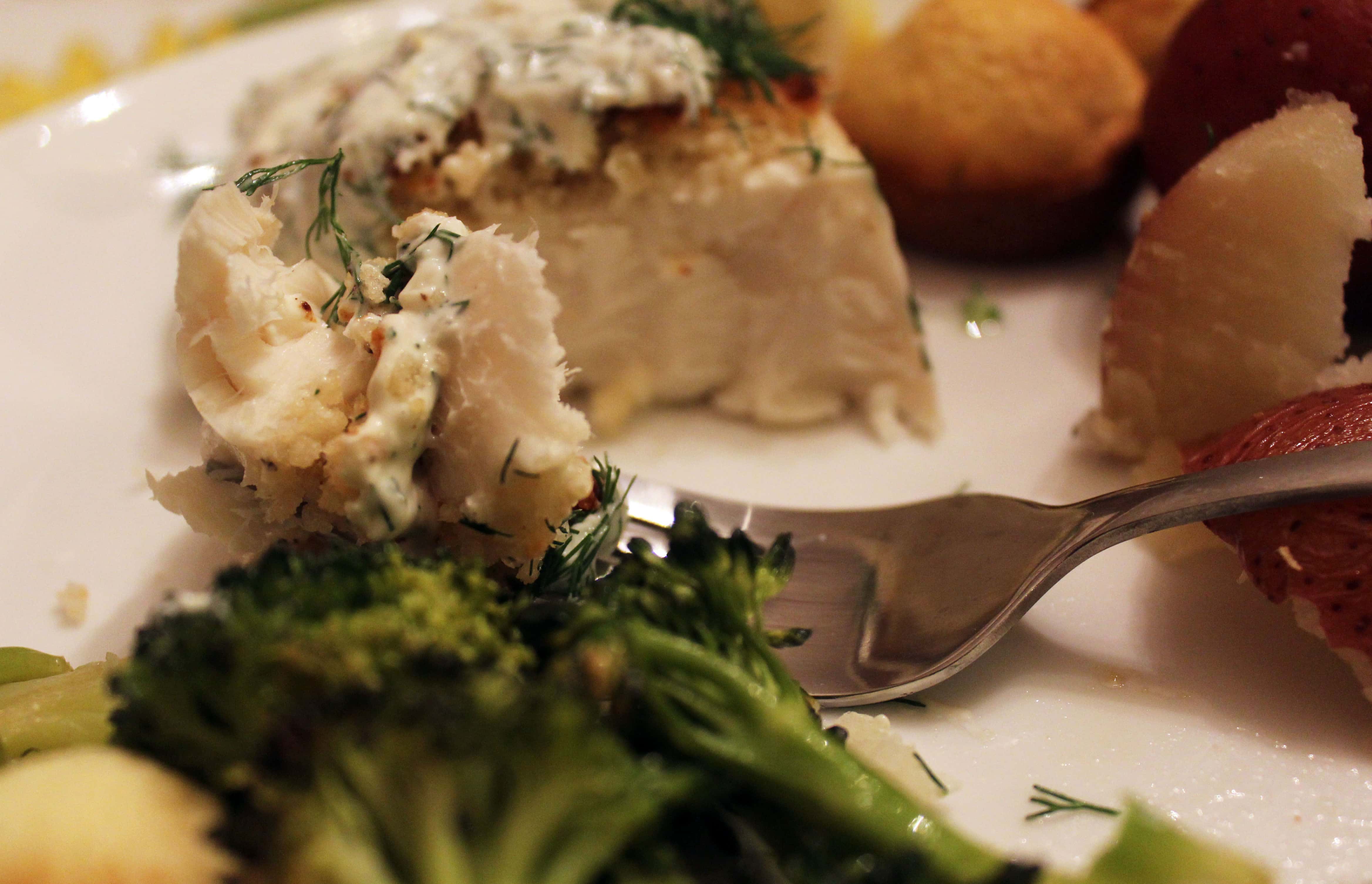 Parmesan Crusted Fish with Creamy Dill Sauce
Ingredients
FOR THE SAUCE

½

cup

sour cream

¼

cup

mayonnaise

2

tablespoons

heavy cream

1

lemon

zested

1

clove

minced garlic

2

tablespoons

chopped fresh dill

plus more for serving

salt and pepper

to taste

FOR THE FISH

4

filets

4-6 oz each firm thick white fish such as halibut

1

tablespoon

melted butter

½

cup

panko bread crumbs

½

cup

grated parmesan cheese

pepper and lemon wedges

to serve
Instructions
For the sauce, combine the sour cream, mayo, cream, lemon zest, garlic, and dill in a small bowl. Taste, and add salt, pepper, and more dill as you'd like.

Set the sauce aside while you prepare the fish.

Preheat the oven to 400ºF.

Pat both sides of the fish dry with paper towels, and sprinkle both sides with salt. Place the fish on a broiler pan with rack, or on a baking rack set inside a baking sheet.

Combine the melted butter, panko, and parmesan in a bowl with a fork. Add a big sprinkle of pepper and stir together.

Divide the panko mixture evenly on top of fish and press lightly to form a crust on the top of each piece of fish.

Bake the fish for 10-15 minutes (depending on how thick your fish is) until fish is cooked through and flaky and the crust has browned.

Spoon some of the dill sauce over the fish to warm it, then top the whole mess with extra fresh dill.

Serve the fish with extra dill sauce and lemon wedges.

People will love you—promise.
Nutrition