This is kind of my apology for the galette from Monday. Not a real apology, because that would indicate that I was really sorry, but a .... if you don't like tons of buttery pastry with your veggies we can still be friends ... kind of apology.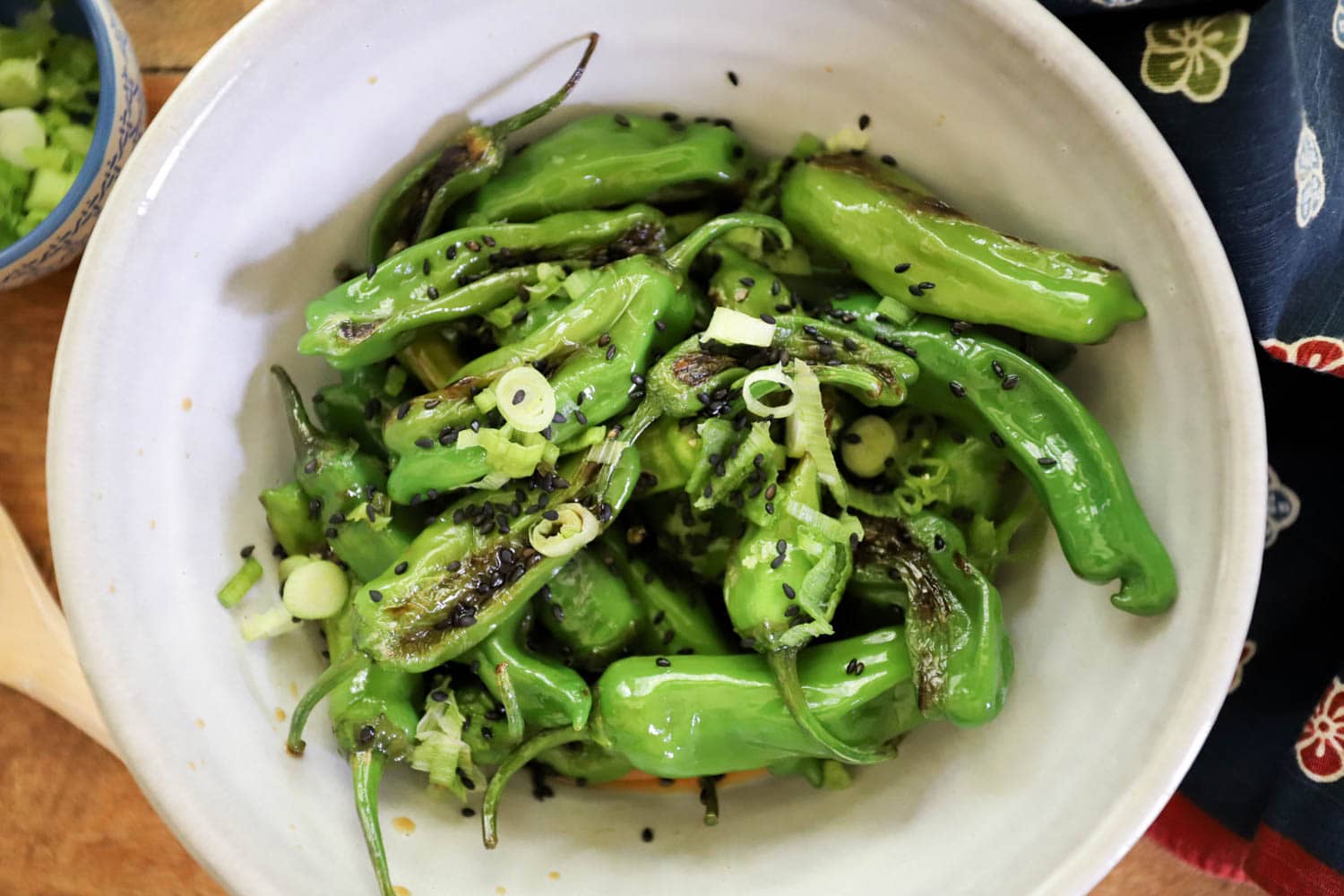 Shishito peppers! Let's talk. They're small green bell peppers eaten often in Asia that are having a MOMENT in the US right now, and have been for a few years. I've seen them for several seasons now at Trader Joe's, and this summer they've been everywhere at our farmer's market, which is my favorite way to buy anything ever, for tons of reasons. Our favorite chain Korean BBQ place in NYC (is there a more redneck thing to type?) has a fried shishito appetizer that we get every single time we are there, and a new rooftop bar in Greenville also has a fried version, BUT their peppers are fried in a super thick batter, and I wanted this to be a way healthier snack or side dish.
Like I said, I see these often as appetizers on menus, but they make a wonderful side dish. I prepared these for a snack, so I left the stems on for maximum dunkability and so we could eat them standing up because duh. When I make them as part of our dinner, however, I cut the stems off before I throw the peppers in the pan so we aren't messing with garbage on our plates - same as when I cook shrimp. Tails are pretty, but annoying.
But these peppers! They're blistered quickly in a super hot pan with just a tiny bit of oil. They're drowned in a tangy, salty, sliiiiightly fishy sauce that is just delicious. I use this powdered dashi that I find at the Japanese food store in Greenville, but you can use some dashes of fish sauce or leave out the ingredient entirely for a vegan/vegetarian option. The flavor becomes fuller and with more umami, not overwhelmingly fishy at all. Add more if you like the hint of seafood that is in lots of Asian dishes!
For this dish you'll need a bunch of shishito peppers. The sauce is soy sauce, rice vinegar, sugar, and dashi, and toppings are sesame seeds and green onion. I've also topped this with salty pickled ginger (the bright red kind, not the kind from sushi restaurants) and fish flakes, which we love, but I didn't want to go nuts with ingredients that aren't commonly used outside of Asia.
Make the dressing by whisking all of the ingredients together or shaking them in a jar, then setting the dressing aside while you work on the peppers.
For the peppers, preheat a skillet to medium-high for about 10 minutes with a drizzle of oil - we want the skillet to be super hot when we add the peppers.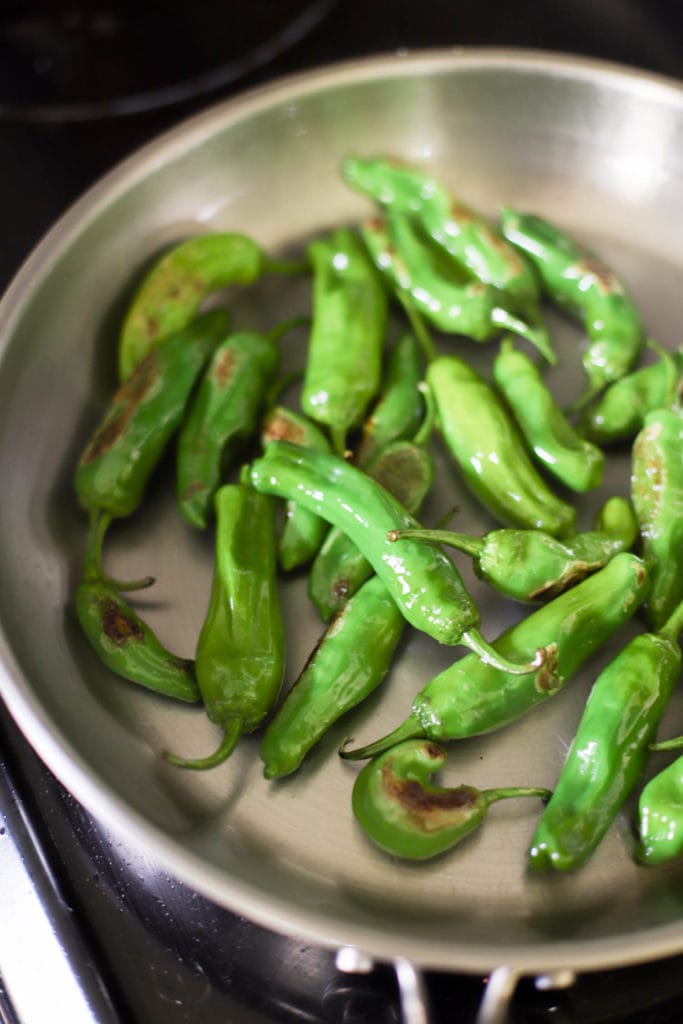 When the oil is hot, add the peppers and let them sit for about 2 minutes until the bits touching the pan become very dark. Stir or flip the peppers around for one minute more, then pour half of the sauce into the skillet. Toss the sauce with the peppers and turn the heat off.
Pour the peppers with any sauce into a bowl, then top with the remaining sauce, scallions, and sesame seeds. I have these black toasted seeds, but any sesame seeds you have work well!
Gah, I can't tell you how wonderful these are. They're so fresh and light but really full of deep flavor from the soy and dashi. If it's a new ingredient for you I'd highly recommend buying it and testing it out in a few Asian-inspired recipes. I serve these as-is with a little plate on the side for discarding the stems, and we chomp on them like shrimp cocktail. I've also had them with ginger chicken and rice for dinner, an am thinking that slicing them over salads with the extra sauce for salmon wouldn't be the worst thing either.
The fact that these literally take 10 minutes to make isn't the worst thing in the world either, you know?
Blistered Shishitos with Dashi Soy Sauce
Ingredients
¼

pound

shishito peppers

2

tablespoons

soy sauce

1

tablespoon

rice vinegar

1

teaspoon

sugar

¼

teaspoon

dried soup dashi or fish sauce

1

scallion

thinly sliced

1

teaspoon

toasted sesame seeds
Instructions
Preheat a large skillet to medium-high heat with a drizzle of oil.

In a small dish, combine the soy sauce, rice vinegar, sugar, and dashi together until very well mixed.

When the skillet is very hot, add the peppers in one layer and let them sizzle and blister for 2 minutes. Flip the peppers, and let cook for one minute more with out disturbing, then pour half of the sauce into the skillet. Toss to coat the peppers, and turn the heat off the skillet.

Pour the peppers and sauce into a bowl. Pour over the rest of the dashi sauce and top with scallions and sesame seeds. Serve as an appetizer or side dish. Enjoy!
Notes
I also like to top this with bonito (fish flakes for topping, not to dissolve in stock) and salty bright red pickled ginger.
When I make this for a side dish I cut the stems off before pan-frying the peppers to make it easier to eat from a plate.
Here is the dashi that I use in this and tons of other Asian-style recipes: http://amzn.to/2ir3gac