Crockpot Chicken Gnocchi Soup is just like chicken and dumplings with gnocchi as the dumplings! I use bone in, skin on chicken pieces for tons of flavor, but any chicken you have or like works perfectly in this great make ahead winter slow cooker recipe. Make a super easy kale salad to go with this if you'd like!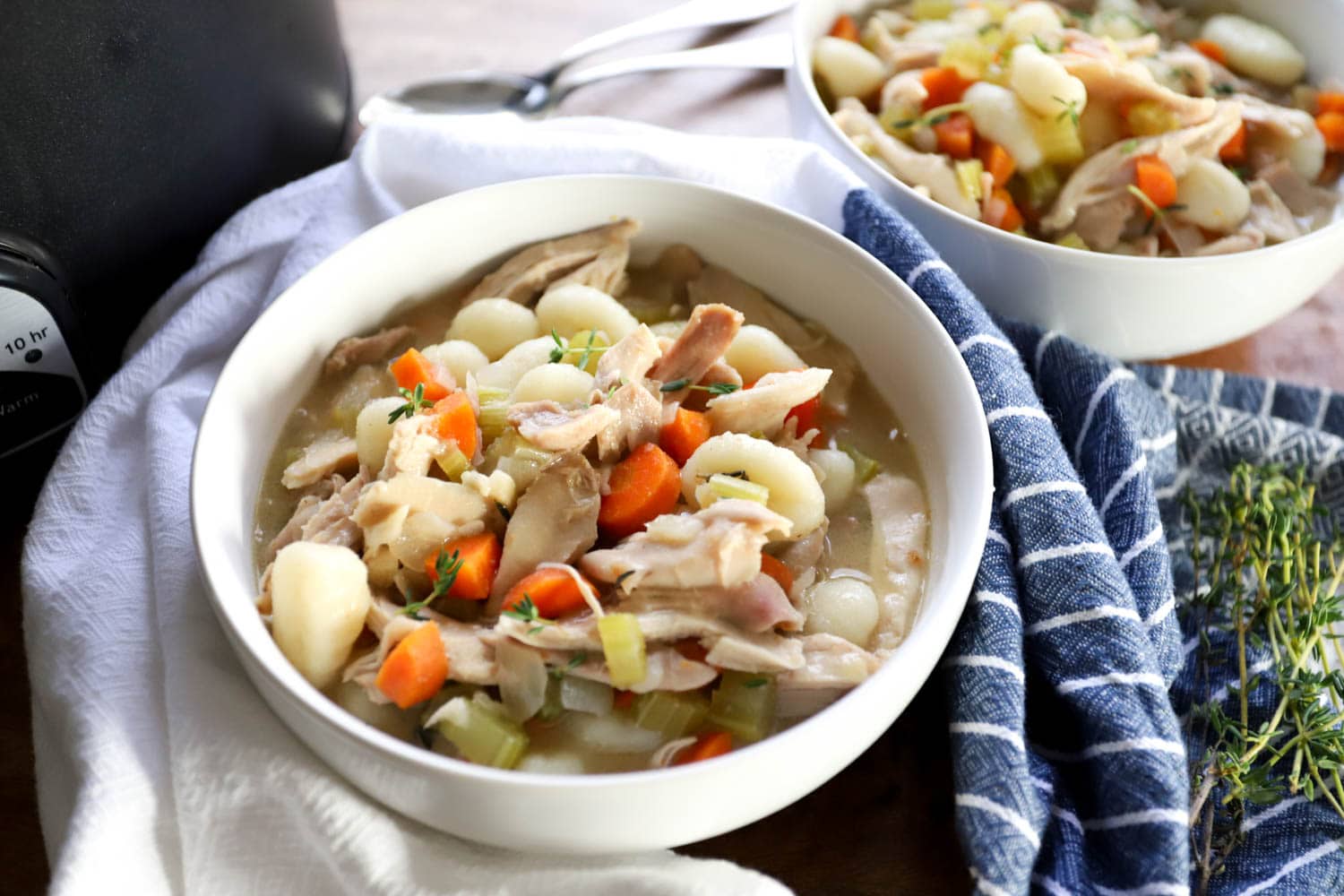 Because literally no one that I know has time to make dumplings this time of year, and I know people who cook a lot. I cook a lot!
But sometimes cooking to eat is different than long laborious project meals, which are SO much fun but also this time of year maybe not so much. BUT (imma see if I can start every sentence with that word), we still obviously want the food that tastes like it took 8 hours and a touch of your sanity to create, you know? At least I do. Food that cooks for a long time tastes wonderful, has deep flavors, and is so comforting when it's a stew or soup like this is.
Foods like slow cooker chicken and dumplings with GNOCCHI for a little "open package, dump in" energy.
Enter, this: We take a TINY bit of effort by using bone-in, skin-on chicken which cooks beautifully in the slow cooker without becoming dry or tough. Shredding the chicken takes all of 10 minutes, and is probably the most laborious part of this entire dish. We more than make up for that effort with packaged gnocchi which, guess what, are dumplings.
The idea to use gnocchi in chicken and dumpling soup was Jay's and it was an inspired one. They cook for about 30 minutes at the end of the cooking process, and hold up so well with the veggies, chicken, and velvety sauce. Beck loved the idea of this, and guzzled some of the soup, but refused to touch a carrot or piece of celery because they were "together." Apologies, princess.
Crazy toddler preferences aside, the flavors here are mild and familiar, another win for this time of year when there might be some not-as-adventurous eaters around your table. The perfect meal, really.
Crockpot Chicken Gnocchi Soup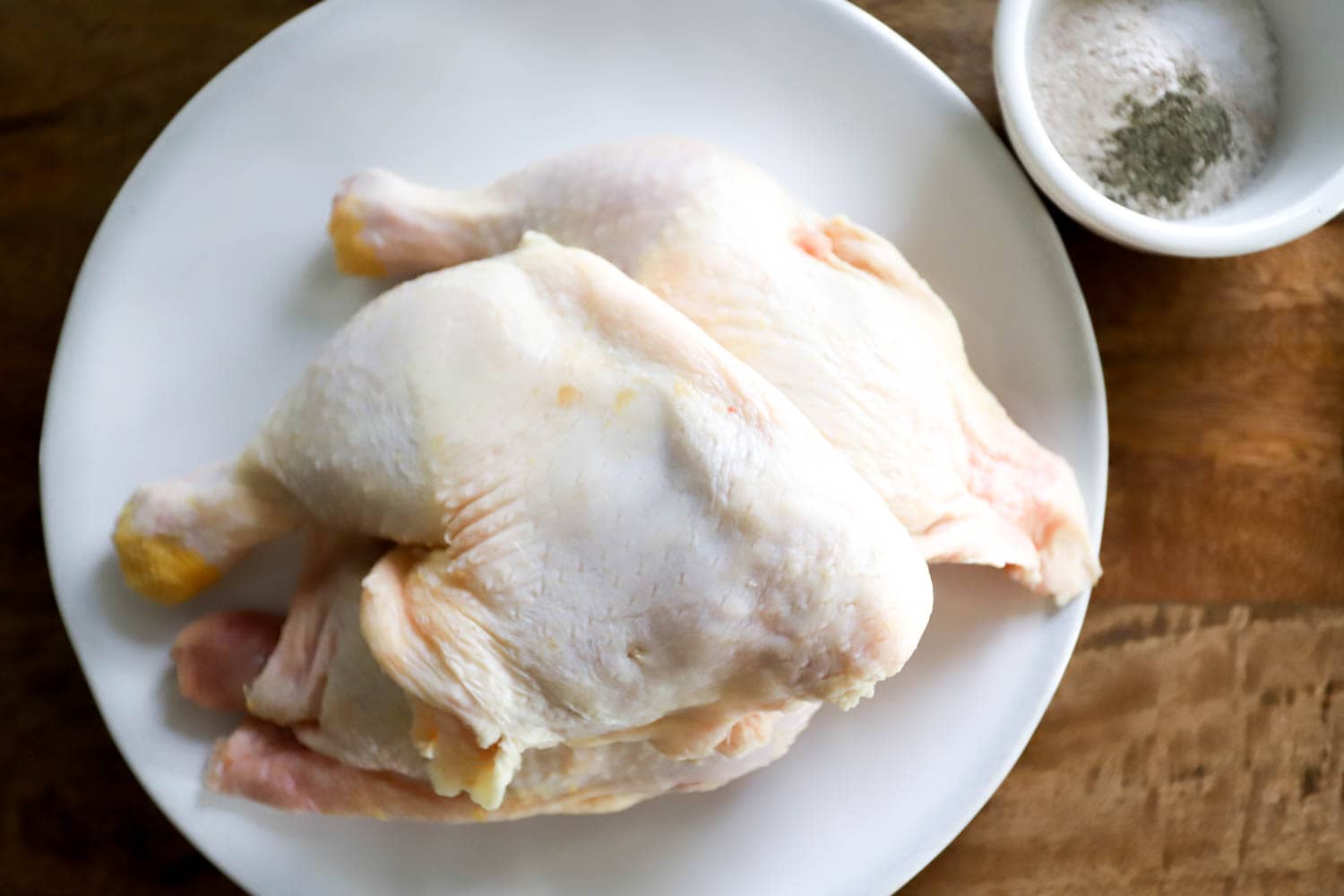 You need some chicken. I used bone-in, skin-on leg quarters, which was the thigh and drumstick. If you like just white meat that's fine, if you like a mix that's fine too. I went all dark meat because the calories saved (it's not many, look it up) in dark v white meat when you remove the skin isn't worth what I lose in flavor. But, use any chicken you like! If boneless, skinless is more your thing, you'll just need an hour or so less cooking time for your chicken, which isn't a bad at thing at all.
The chicken will be coated in flour, salt, and pepper to give it flavor and thicken the sauce slightly. Then we have onion, garlic, celery, carrot, chicken stock, gnocchi, and thyme. That's it! I had fresh Thyme because I had been getting ready for Thanksgiving, but dried thyme works just as well here. You may need some extra salt and pepper before serving, but other than that this is all we need for the entire dish.
Start by making a bed in the bottom of your slow cooker with the veggies.
Then, combine the flour, salt, and pepper on a plate or shallow dish, and dredge the chicken on both sides with the flour.
Shake off any extra flour, then place the chicken on top of the veggies and sprinkle the thyme over everything.
Cover the slow cooker, and let the dish cook on HIGH for 3 hours or LOW for 6-8 hours depending on your day and work situation. When the cooking time is up, the veggies should be tender and the chicken falling off the bone.
Take the chicken out of the slow cooker and let it cook for a few minutes so you can handle it. While the chicken is cooling, add the gnocchi to the veggies and stock and stir them into the soup. Cover the slow cooker again and turn to HIGH (if it isn't already). Let the gnocchi cook in the chicken and dumpling soup for 20-30 minutes.
While the gnocchi is cooking, use your fingers or forks to remove the bones, skin, and any fat from the chicken. Shred the chicken meat into large chunks.
After 30 minutes, taste one of the gnocchi to be sure it is cooked through. Let the gnocchi cook longer if needed until they're soft all the way through, then return the chicken to the slow cooker to heat back through for just a few minutes. While this is happening, taste the chicken and dumplings and add more salt or pepper to your preference - this will depend on how salty the chicken stock you used was, so don't be shy adding several pinches of salt and pepper to the mixture!
Slow Cooker Chicken Gnocchi Soup
The magic here is that the dumplings thicken the stock and veggie juices, and the flavors from the chicken and thyme infuse the whole dish and it tastes like a big hug, which we all need. It's also magical that there was no measuring or kneading or dumpling-ing besides the eating of said dumplings, amirite?
Thick, creamy chicken gnocchi soup without any dairy, tender veggies and chicken, garlic + thyme + gnocchi to bring everything together. Try this this weekend for a big game, Sunday night to console yourself that Monday is indeed happening, and all season long. It is SO good.
Enjoy!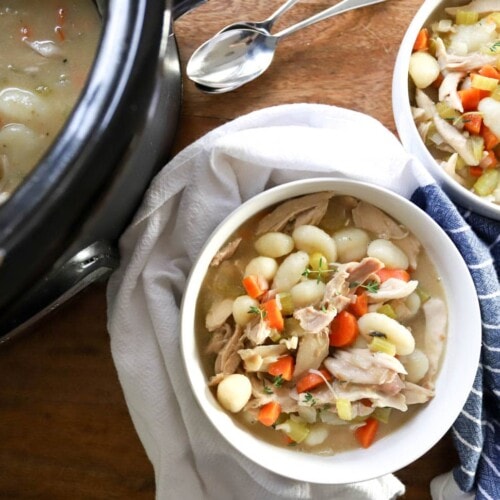 Super Easy Slow Cooker Chicken and Dumplings (with gnocchi!)
The best slow cooker chicken gnocchi soup! This is just like classic chicken and dumplings but lightened up and super easy with the help of packaged gnocchi.
Ingredients
3

stalks celery

diced

3

medium carrots

trimmed and diced

1

medium onion

peeled, trimmed, and diced

2

cloves

garlic

minced

2 ½

pounds

bone-in

skin-on chicken pieces, preferably dark meat

½

cup

flour

½

teaspoon

pepper

plus more for seasoning

1

teaspoon

salt

plus more for seasoning

1

cup

chicken stock

2

teaspoons

fresh thyme

1

pound

packaged gnocchi
Instructions
Layer the celery, carrot, onion, and garlic in the bottom of a slow cooker.

In a dish, combine the flour, salt, and pepper. Dredge the chicken on all sides in the flour mixture, then place on top of the veggies in the slow cooker. Pour in the stock and sprinkle with the thyme leaves.

Cover the slow cooker and cook on HIGH for 3 hours or LOW for 6-8 hours depending on your schedule. When the cooking time is over, the chicken should shred very easily. Remove the chicken from the slow cooker and add the gnocchi. Stir the gnocchi into the vegetable mixture and cover; cook on high for 30 minutes.

While the gnocchi is cooking, remove the skin and bones from the chicken and tear into bite-sized chunks.

After 30 minutes, taste a gnocchi to be sure it is cooked through. If it is too chewy in the center, cook for 15 minutes or until cooked through.

Add the chicken back to the slow cooker and taste; add salt and pepper to your preference until the dish is very flavorful.

If at any point the soup becomes very thick, splash in more stock to thin to your liking.

Serve with extra thyme on top, if desired. Enjoy!
Notes
Gluten Free Chicken and Dumplings Variation: Use cornstarch instead of flour for dredging and choose gluten free gnocchi. Always check labels for hidden gluten!