Super easy banana bread with olive oil and just 7 ingredients! This is the best ever moist banana bread, Hawaiian style banana bread, that you'll make again and again. It's become a 100% go-to recipe for a meal prep snack for the week or potluck brunch item.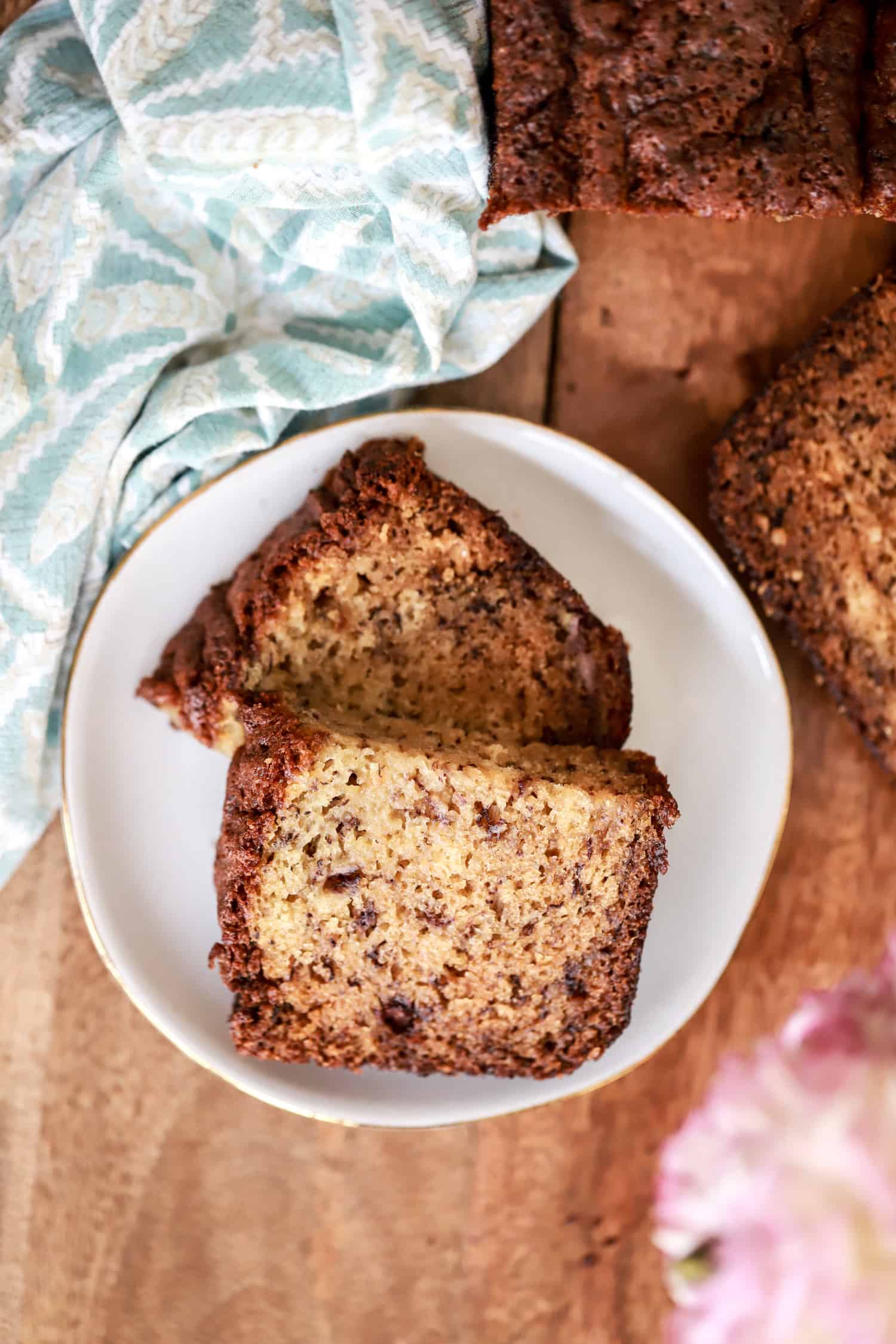 YUMYUMYUM.
I would like it to be known how freaking excellent this olive oil banana bread is. I've been adding olive oil to lots of baked goods recently, for the main reason that I Don't Usually Have Other Oil In The House. I don't know why, I just don't think to buy it regularly like other ingredients.
I love butter based baked goods (that was weirdly hard to type) with a fiery passion, but I don't have a ton of ~regular~ recipes that use oil, so I don't tend to keep it on hand.
Olive oil, though, duh. SO, this recipe was found in a little bit of panic when I wanted to make some banana bread and looked up "banana bread with 2 bananas" because that's the number I had, and this Bon Appetit recipe popped right up.
This version is BA's version of Julia's banana bread from Julia's Banana Bread Treehouse in Hawaii. It is ultra sweet, moist, and tender. There is zero dryness, no crumbly bits, just really perfect banana bread made with olive oil
This is one of those super moist banana bread recipes that works with 2 or 3 bananas, comes together with no mixer or lots of effort, and an hour later DAYUM that house smells good. I've made this probably 5 times over the last few months out of sheer love for the recipe, and it's been perfect every single time.
Olive Oil Banana Bread Ingredients
We need! flour, baking soda, kosher salt, eggs, sugar, olive oil, and bananas.
The original recipe calls for 1 cup of mashed banana, but we are for sure not measuring our banana. I have used 2 very large bananas and 3 medium bananas, both which make about 1 ¼ cup mashed banana, and it works perfectly every single time.
I use VERY ripe bananas for banana bread, the more brown and freckly the better. No need to worry or cut off brown spots; they come with the territory of very ripe bananas. If yours start to get really brown, you can keep them in the fridge or freezer until you'd like to make banana bread. The bananas will turn black, but that's just a color shift, nothing wrong with the banana itself.
How Do You Keep Banana Bread Moist?
The key to making this banana bread super moist is all the moisture we add + not too much flour. The eggs, sugar, bananas, and olive oil work together to make this a really tender moist banana bread. Even with a longer cook time, this recipe will never turn out dry.
Method
Start by preheating the oven to 350F and spraying a loaf pan with cooking spray. This is a recipe for a large loaf of banana bread, so if you have a medium loaf pan you may need to make this in two batches.
9x5x3 inches or larger is the dimensions to aim for for your loaf pan.
For this banana bread, I make it in one bowl and don't bother mixing the dry ingredients first. To start, mash the bananas in the bottom of a mixing bowl, then add in the oil, sugar, and eggs. I use a whisk or fork to make everything really smooth at this step.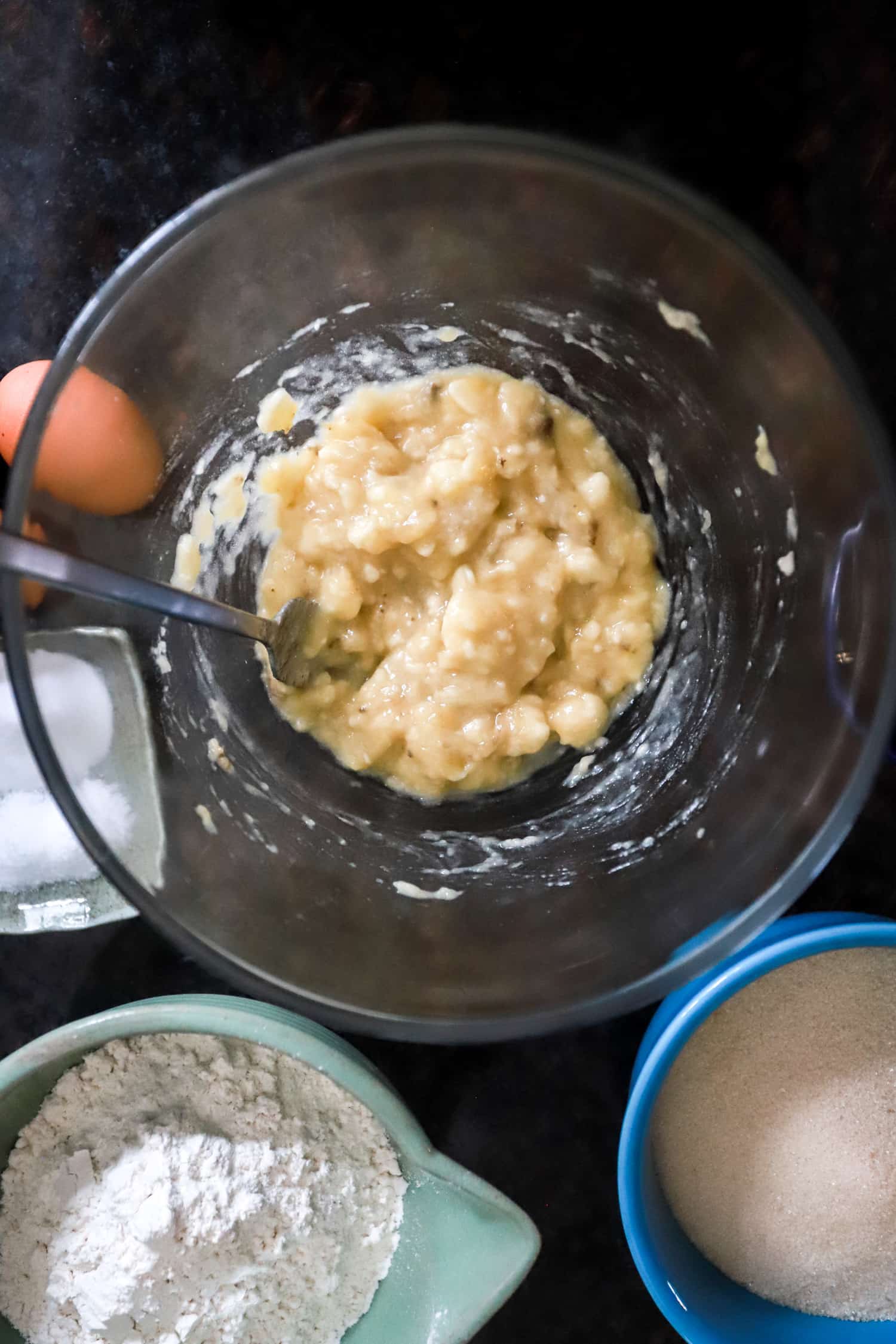 When the wet ingredients are combined, add the flour, baking soda, and salt to the bowl. Stir together until a loose batter forms, and pour the banana bread batter into the loaf pan.
Bake the banana bread for 65-70 minutes until a toothpick or tester comes out clean, and here's our olive oil banana bread!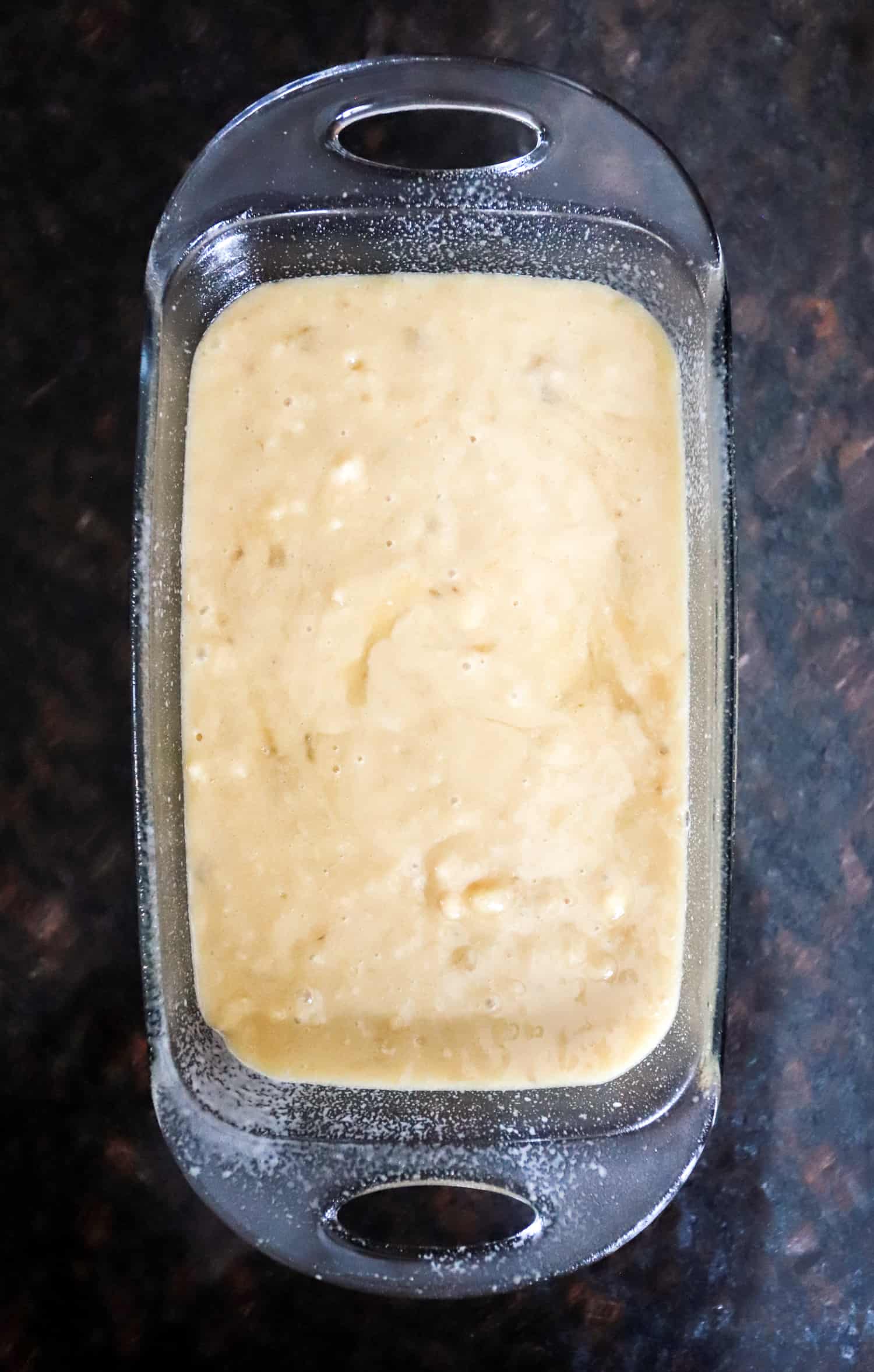 FRIENDS. I can't tell you how delicious this is. The olive oil gives a tiny bit of a crust on the outside of the banana bread. The inside is super cakey and tender, like the banana walnut bread from Starbucks but so much better.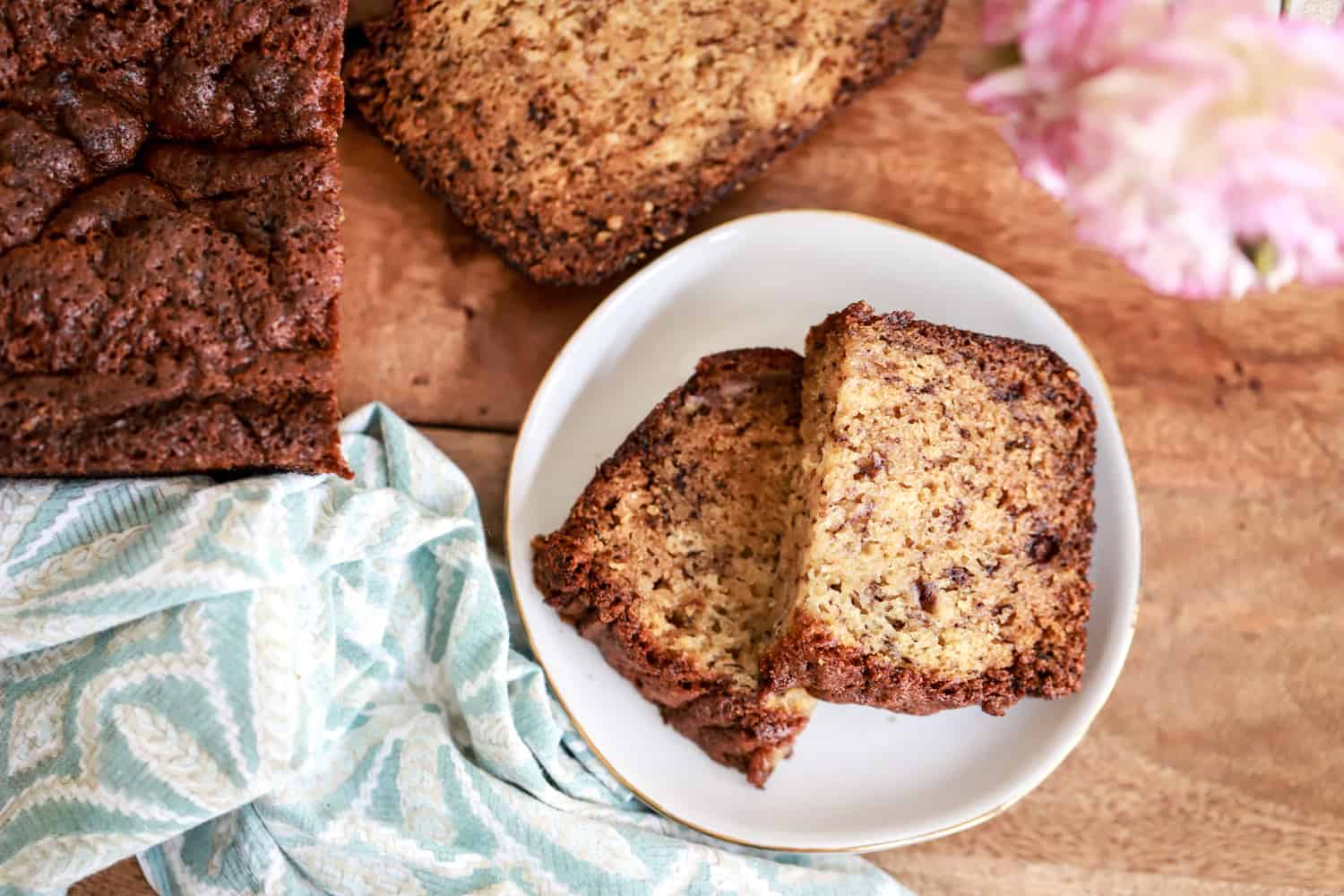 Let the banana bread cool in the loaf pan for about 15 minutes, then gently turn it out onto a cooling rack to cool completely. Slicing while still slightly warm is TOTALLY a good thing. Do that.
The olive oil gives this banana bread a "it tastes like it's from a bakery" quality that just absolutely can't be matched. It's a really, really good recipe.
Storage and Prep
I've kept this on the counter, eating it throughout the week, for 5 days or so, and there has been no mold OR drying out, so in a regular storage container on the counter is my preferred method of storage.
This can also be made way in advance and wrapped then bagged and frozen, just let the banana bread thaw in the fridge or on the counter overnight before you'd like to keep it. I love making two loaves of breads like this and keeping one in the freezer for a weekend when friends will be in town or a beach vacation.
Despite making a ton of banana bread in the pandemic like everyone else, this is far and away our favorite banana bread. I hope you try it, and I hope you love it!
PS, if you have even more bananas, this healthy banana bread with oatmeal and chocolate chips is seriously delicious as well.
Easy Olive Oil Banana Bread
The best ever banana bread made with olive oil! This recipe is totally foolproof and comes together in about an hour.
Ingredients
2

large or 3 medium very ripe bananas

1 ½

cups

sugar

¾

cup

olive oil

3

large eggs

1 ¾

cups

all-purpose flour

1 ½

teaspoons

baking soda

¾

teaspoon

kosher salt
Instructions
Preheat the oven to 350F and spray a loaf pan with cooking spray.

In a large mixing bowl, mash the bananas with a fork until mostly smooth.

Add the sugar, oil, and eggs to the banana mixture. Use the fork or a whisk to combine until smooth.

Add the flour, baking soda, and salt to the bowl all at once. Gently mix in until just combined. Transfer the banana bread batter to the loaf pan.

Bake the banana bread for 65-70 minutes until very brown and a toothpick or cake tester comes out clean when inserted into the center of the banana bread.

Let the banana bread cool on a rack in the loaf pan for 15 minutes, then gently turn onto a cooling rack. Slice and serve, die a thousand happy deaths. Enjoy!
Notes
Feel free to use any cooking oil you like if you don't enjoy cooking with olive oil. Canola oil or vegetable oil would work well in this recipe.
Adapted from Bon Apetit.