Delicious, super easy flatbread pizza recipe with goat cheese and caramelized onions! Tons of texture, flavor, and options to customize storebought flatbread pizzas! Caramelizing the onions takes a bit of time, but after that these flatbreads are done in 15 minutes.
Ok, let's talk flatbread pizza recipes: For years and years and years this was one of our late-night go-to dinners, back in the days when there were no kids and yoga at 7pm on a Tuesday BEFORE eating dinner and going out to trivia and then work at 7am the next day seemed totally normal.
Because it was, sigh.
This particular version of flatbread pizza is SO good, a little elevated (although a kid-friendly equally yummy fake pizza is this pizza quesadilla which we love!), and so simple to make. Caramelize some onions, grab some sundried tomato pesto, cheese, olives, DONE.
This recipe, in all reality, was the first thing I ever made for Jay - yep, a storebought flatbread pizza situation.
At the time, I was traveling a ton for work, doing a lot of tradeshows, and they often took place in Gaylord Convention Centers. I happen to love that line of hotels because the restaurants are all really good, no surprise where my loyalty lies.
There was this "flatbread" that I ordered in several cities, and honestly looking back I'm pretty sure it was some ingredients broiled on a tortilla that cost $17 because #hotelprices.
THAT SAID, I recreated it at home often and have now been doing so for ELEVEN YEARS (the passage of time is wild), so trust me when I say that this is 1. very worth it and 2. very good.
First: Easy Caramelized Onions
The main "prep" in this recipe is to caramelize the onions. I do this WAY in advance - a few days or earlier in the morning, so that when I want to make this flatbread it's really done in record time.
To caramelize the onions, thinly slice two medium onions.
Add the onions to a small skillet with 2 tablespoons of butter and ½ teaspoon kosher salt.
Turn the heat to LOW, and let the onions very slowly start to cook. Stir every 10 minutes or so until the onions are golden and soft.
Depending on the heat of your pan, this can take anywhere from 45 minutes to 2 hours (I know, wide variation). I tend to keep the heat super low and really let the onions take a long time, but they can also be done faster with higher heat (medium low or so) and stirring more often.
No matter what, stir at least every 10 minutes, more often if the onions are sizzling, to prevent browning at the edges or sticking to the pan.
Goat Cheese Flatbread Ingredients
NOW that our onions are caramelized (again, do this way in advance), time for more ingredients.
Here we have storebought flatbreads (garlic naan, to be precise), sundried tomato pesto, goat cheese, mozzarella, olives, capers, and the delicious, sweet, soft caramelized onions.
Ingredient Notes and Variations
This is one of those super versatile recipes that can really be made anyway you'd like. There are endless variations of flatbread pizza recipes, and here the main components are the caramelized onions, sundried tomatoes, and goat cheese.
Any flatbread or even a tortilla can be used for these flatbreads. Look for flatbreads about 7-8 inches in diameter. I love garlic and other flavors, but plain are delicious too!
Cheese: We're going for a combo of tangy goat cheese and melty mild white cheese. Provolone, mozzarella, and fontina all work great for the melty factor.
I love olives AND capers in this, Jay hates olives, maybe you only have one, you get it. Just a little sprinkle of one or two briney ingredients is the goal here. Use one or both!
Sundried tomatoes OR sundried tomato pesto work great here. The pesto gives a little more "pizza sauce" vibe, and sundried tomatoes give more chunky texture. The flavor is the important part, and both are delicious!
If you'd like to add some meat to these, crispy bits of pancetta or strips of prosciutto (just tear it right onto the flatbread) are lovely with the goat cheese.
Extra Note: Substitute for Sun Dried Tomatoes
Maybe overly simplistic, but slow roasting cherry tomatoes like I do in this grain bowl is a GREAT substitute for sundried tomatoes.
I often make a big batch of these (like...while you caramelize onions maybe!) and keep them sealed in the fridge all week. They're great for topping salads, pasta, or flatbread pizza!
Step By Step Instructions
Let's flatbread! First, remembering that we've already caramelized the onions and gathered up the ingredients.
Next, preheat the broiler to HIGH and arrange an oven rack about 8 inches from the top of your oven.
Now, layer the ingredients for flatbread. First, sundried tomato pesto and caramelized onions (if using sundried tomato chunks put them on after the onions and use the onions as a sauce base).
Next, grated mozzarella, a few crumbles of goat cheese, and a sprinkle of capers and/or olives. I like to lightly smash and tear olives when I use them on pizza so that there aren't any large bites of olives that overpower the other flavors.
Once your flatbread pizzas are built (and, again, can do this in advance!) a quick broil in the oven is all they need, since the toppings are already fully cooked. Broil the flatbreads for 2-3 minutes, keeping a CAREFUL eye on them (broilers are nuts, seriously), until they're golden brown to your liking.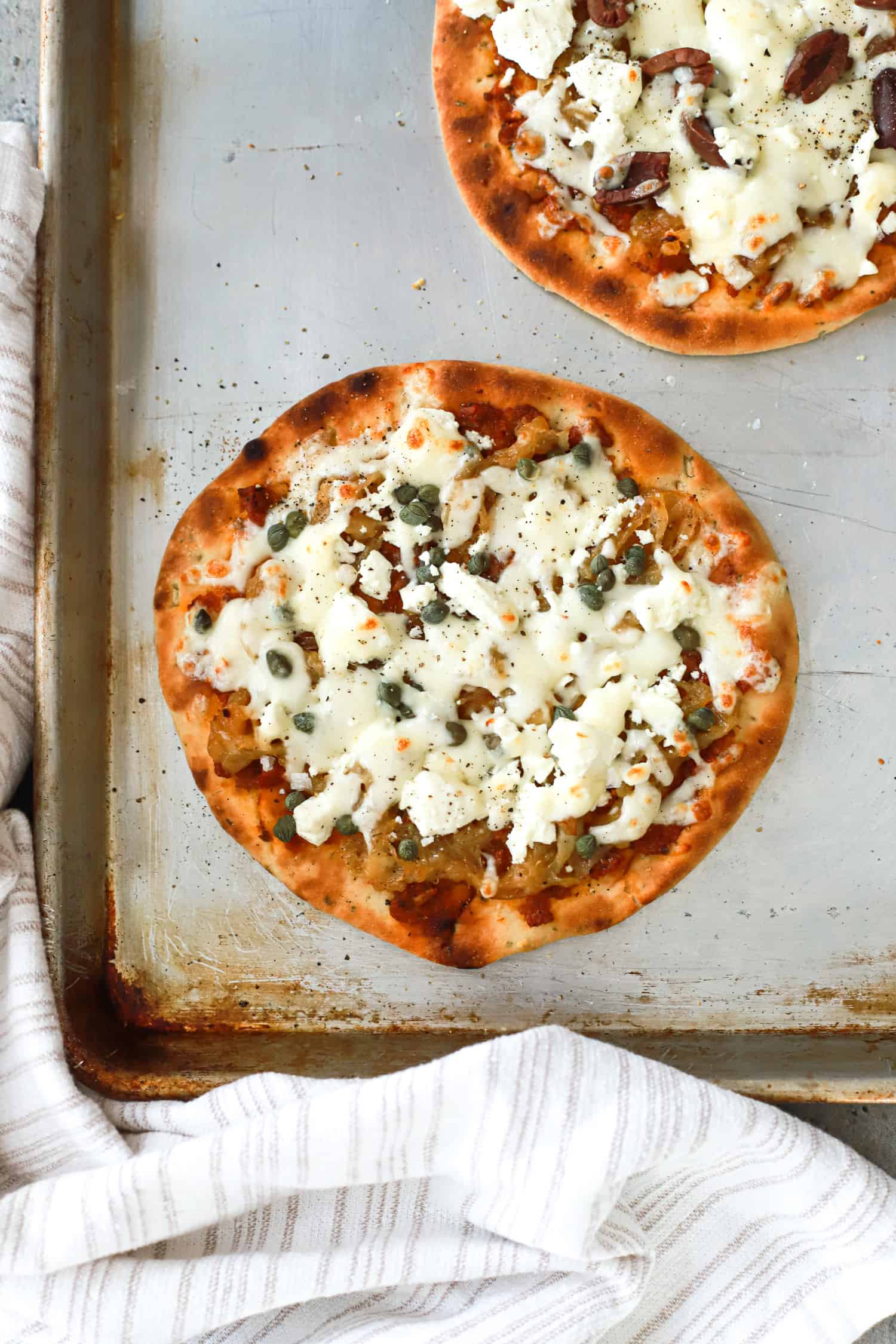 I broil just until the mozzarella is melty and slightly golden; that means the other toppings will be warm and slightly soft.
Serving Suggestions
These are just so, so good. They're practically foolproof, the combo of flavors is DELICIOUS, and they come together so quickly.
I serve these alone for a quick lunch or with a kale salad or green salad for a more complete meal.
Drizzling this flatbread with balsamic glaze right before serving would NOT be a bad thing.
Topping with arugula or microgreens would also not be a bad thing.
I hope you love these! They're a wonderful quick meal, can be customized anyway you like, and are just YUMMY, which is what we need always.
Goat Cheese Flatbread Pizza
Delicious, super simple goat cheese flatbread pizza! Caramelized onions, goat cheese, olives, YES.
Ingredients
2

medium onions

thinly sliced

2

tablespoons

butter

½

teaspoon

kosher salt

2

flatbreads

7-8 inches in diameter

2

tablespoons

sundried tomato pesto OR sundried tomatoes

chopped and drained

2

ounces

crumbled goat cheese

2

ounces

freshly grated mozzarella cheese

12

crushed and torn kalamata olives OR 2 teaspoons drained capers
Instructions
Caramelize the onions (this can be done a few days in advance): add the onions, butter, and salt to a small skillet over low heat. Cook, stirring every 10 minutes, for about an hour until the onions are very soft and golden but not browned at the edges like fajita veggies. We're looking for a more jammy texture. Cook time may be longer or shorter depending on your pan and your stove, but take your time and let the magic happen.

Assemble the flatbreads. Preheat the broiler to HIGH and arrange the oven rack about 8 inches from the broiler.

Layer the flatbreads with half each of the sundried tomato pesto (or pieces), caramelized onions, goat cheese, mozzarella cheese, and olives and/or capers. Use all the ingredients between the two flatbreads.

Broil the flatbreads for 2-3 minutes until the cheese is melted and bubbly. Cut into wedges, devour, happy dance.
Notes
Use any kind of onions you like to caramelize. I highly suggest doing this in advance as part of a meal prep; they take a little bit of time but are fairly hands off and you can do lots of other things while they very slowly wilt down.
Sub the mozzarella with any white, mild melty cheese you like. Fontina and provolone work great!
I like olives AND capers on this flatbread, but feel free to use just one.
Slow roasted cherry tomatoes are a great substitute for sun dried tomatoes. To do this, roast 1 pint halved cherry tomatoes drizzled with 1 tablespoon olive oil and sprinkled with ½ teaspoon salt and ½ teaspoon sugar for about an hour at 300F until wilted and browned at the edges. YUM.
Any store-bought naan or flatbread will work for this recipe, even tortillas in a pinch.
More Easy Lunch Recipes