Don't leave, I promise you'll like it.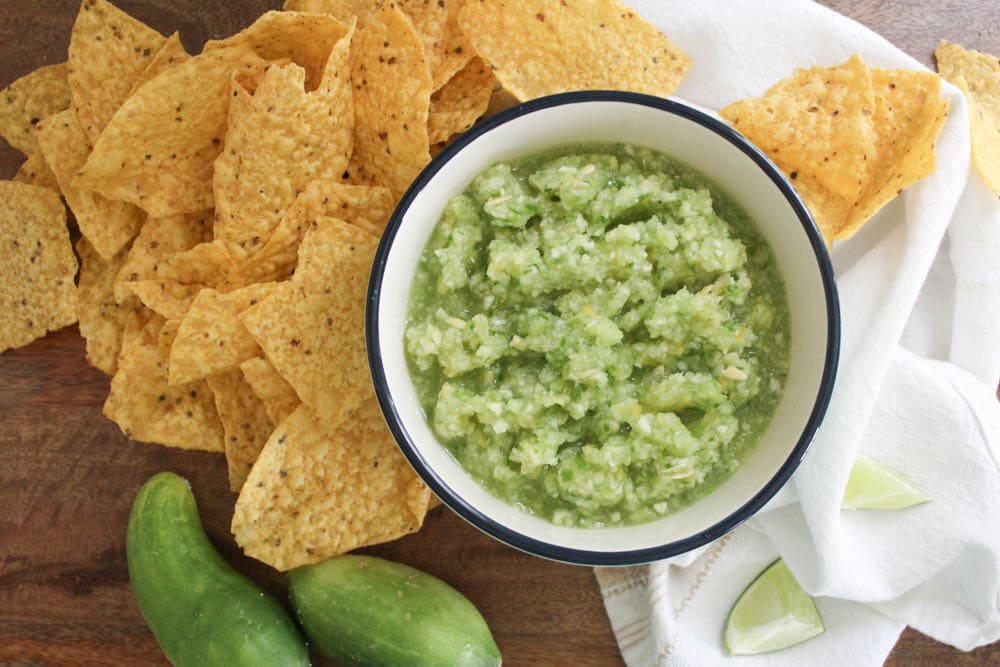 I made us salsa! Actually I made some other people salsa, last weekend when we went to a no-kids pool party and it was the best thing ever. People deserve to not be fearful of their children dying in the water while they enjoy themselves at least once per year, I'm sure of it. Maybe twice.
So, to celebrate, I blended up some of the crazy farmer's market stuff we had going on and called it salsa.
I was actually going to make green tomato salsa which also sounds delicious BUT I was reserving the green tomatoes for something else and the cucumbers are just insane right now. So! Salsa it was. The result was cool and refreshing but spicy and tangy from the pepper and the lime. I went for it hardcore and used the entire jalapeno and this was SPICY, but that of course depends on your jalapeno and your definition of spicy. I opted out of cilantro because I'm not sure about it with apple and some people are SO against cilantro existing in the world, you know?
You need some cucumbers (this is 3 funny cukes, but I wrote 2 medium cucumbers in the recipe in case you can't find one the shape and size of a lime), an apple, a scallion, a lime, one clove of garlic, a jalapeno, some salt, sugar, and cumin. That's it!
The method is to chop up everything into big chunks, squeeze the lime juice into the food processor with the veggies and spices, and blend.
I did this because I don't love things that are pico-textured on chips, I find that it gets everywhere and is hard to get a bite with all of the flavors in it. If you don't have a food processor or like really chunky salsa feel free to hand chop everything! I pureed this until it was the consistency of...salsa? Restaurant salsa, you could say. Process this as much or as little as you'd like to get a texture you enjoy.
Then! Taste. Probably some more salt, maybe some more sugar depending on how sweet your apple was. I wanted this tart and spicy, so I kept my sugar minimal but added in a whole teaspoon and then some of salt.
You can eat this right away, you can eat this in an hour, you can eat this in 3 days. It's vegan so it'll be fine in the sun, it's spicy and refreshing all at once and the cucumber and apple are such a fun surprise for summer.
Here's your weekend snack, enjoy it!
Cucumber Apple Salsa
Ingredients
2

medium cucumbers

roughly chopped

1

apple

roughly chopped

1

scallion

cut into 3 pieces

1

jalapeno

cut into 3 pieces (take out the seeds and white parts if you'd prefer the salsa to not be too spicy)

1

lime

juiced

1

clove

garlic

peeled

¼

teaspoon

cumin

1

teaspoon

salt

plus more if needed

1

tablespoon

sugar

plus more if needed

chips

for serving
Instructions
Place all ingredients in a food processor. Process until somewhat smooth with a few large pieces remaining. Taste, and add more salt or sugar until the salsa is very flavorful.

Serve immediately with chips, or keep in the fridge for up to 4 days.

Enjoy!