Perfect for summer garden zucchini or year round, these Chinese ground beef and zucchini bowls are SO good. Quick and easy, make-your-own-takeout style, and who doesn't love a rice bowl? No one is the answer. PS, if you have extra zucchini it'll turn into hibachi vegetables perfectly!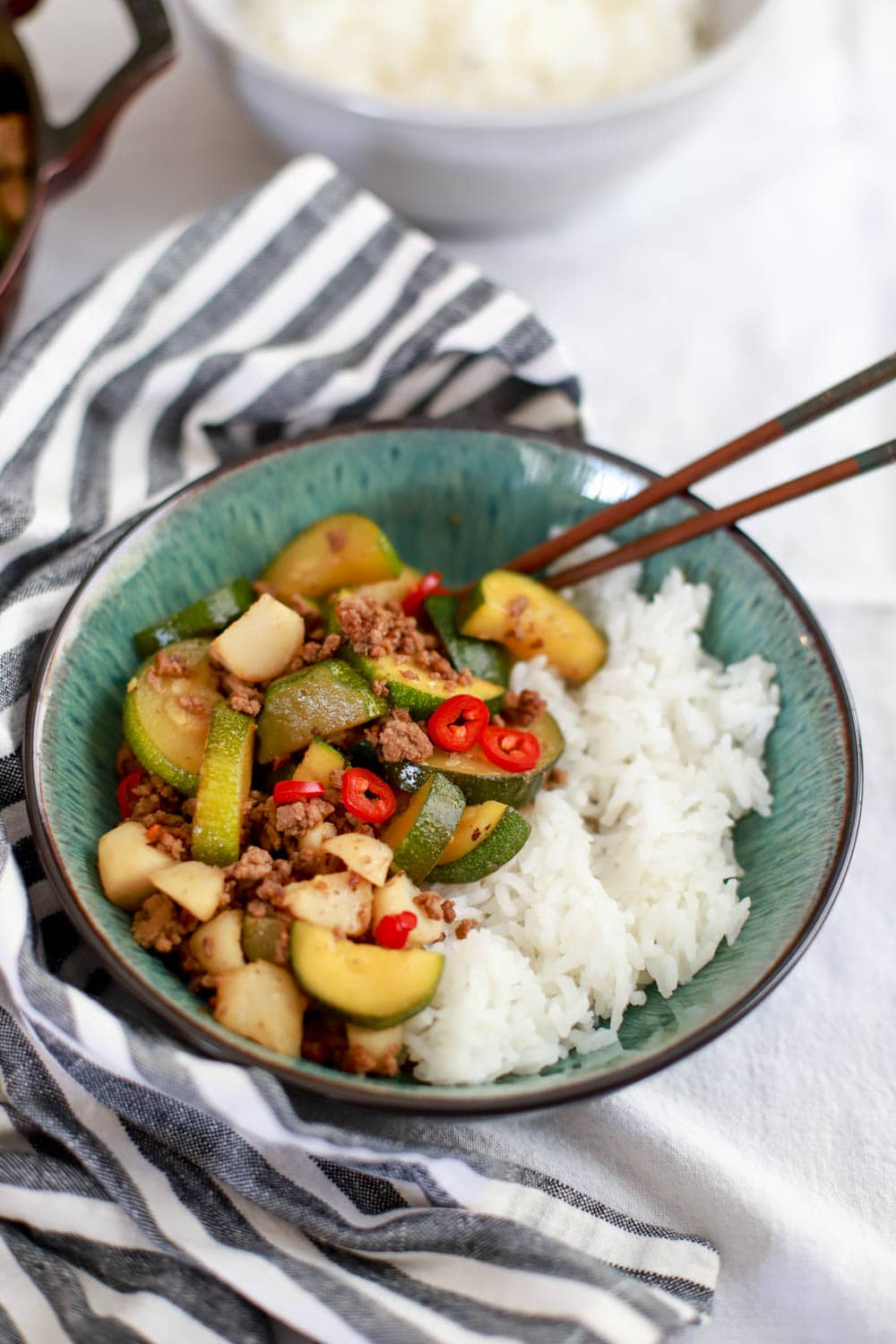 Oh hey, easy dinners that light up my life.
Are bowls over, or are we still good with everything we make going in shallow bowls with lots of toppings? Please say bowls aren't over.
These particular bowls are exceptionally delicious. We're working with a yummy brown sauce that comes together so quickly thanks to a Microplane grater that eliminates chopping of teeny things AND can get little kids involved.
Then, we have ground beef, zucchini from your summer garden (or, like, the store), and crunchy water chestnuts mainly because I adore them. This is one of those "regular" meals that is also highly flavorful and a perfect weeknight dinner.
Chinese Beef With Vegetables
To start! Sauce. I make the sauce first and have it ready while I make the rest of the dinner. This sauce has a soy and rice vinegar base, some water + cornstarch to lend a nice gravy consistency, and ginger, garlic, and brown sugar for tons of flavor. This brown sauce, by the way, can be used in kitchen-sink types of stir fries or dinners all the time! I love it.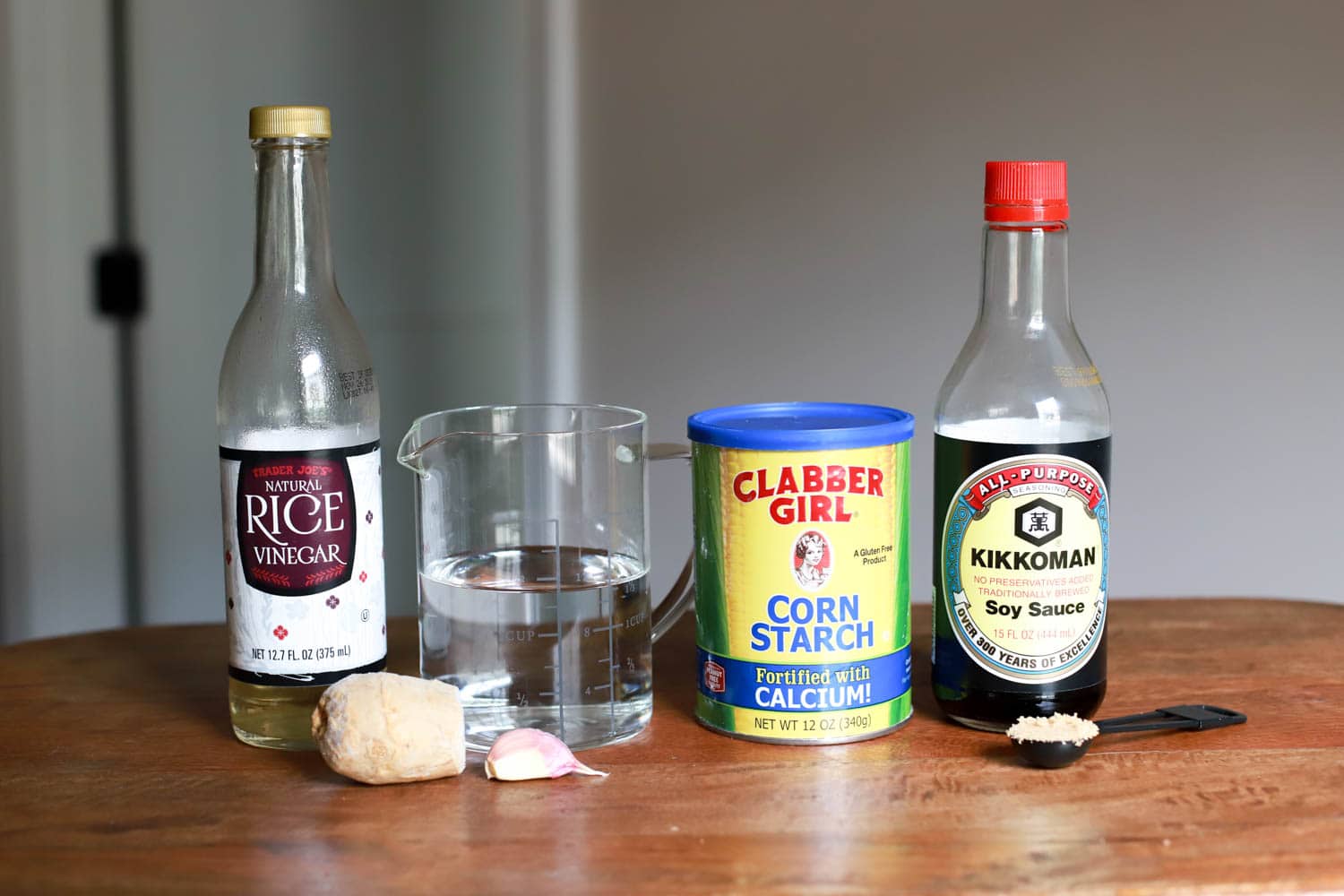 Zesting helper, hayoh! Check out this kid's safety glove set that Microplane sent Beck! She was SO obsessed that she had her own. It took some convincing to explain to her that it didn't need to be kept in her clothes drawer (yummy garlic glove next to the undies, no thanks), but we managed.
I measure the liquids, Beck grates the garlic and ginger right in!
How to Store Fresh Ginger:
I keep my fresh ginger in the freezer and grate it directly into things without peeling it. There's no need to peel garlic unless you just...want to? I've never noticed any difference in texture when I use the smallest grater/zester. The frozen texture almost melts the ginger and skin together, there's no toughness or anything.
When the sauce is whisked together, start preheating a large skillet (this staub, you know the drill) to medium-high heat with some oil while you prep the rest of the ingredients. One thinly sliced red pepper, two medium zucchini, and one little can of chopped water chestnuts that you'll drain. And beef! One pound of ground beef.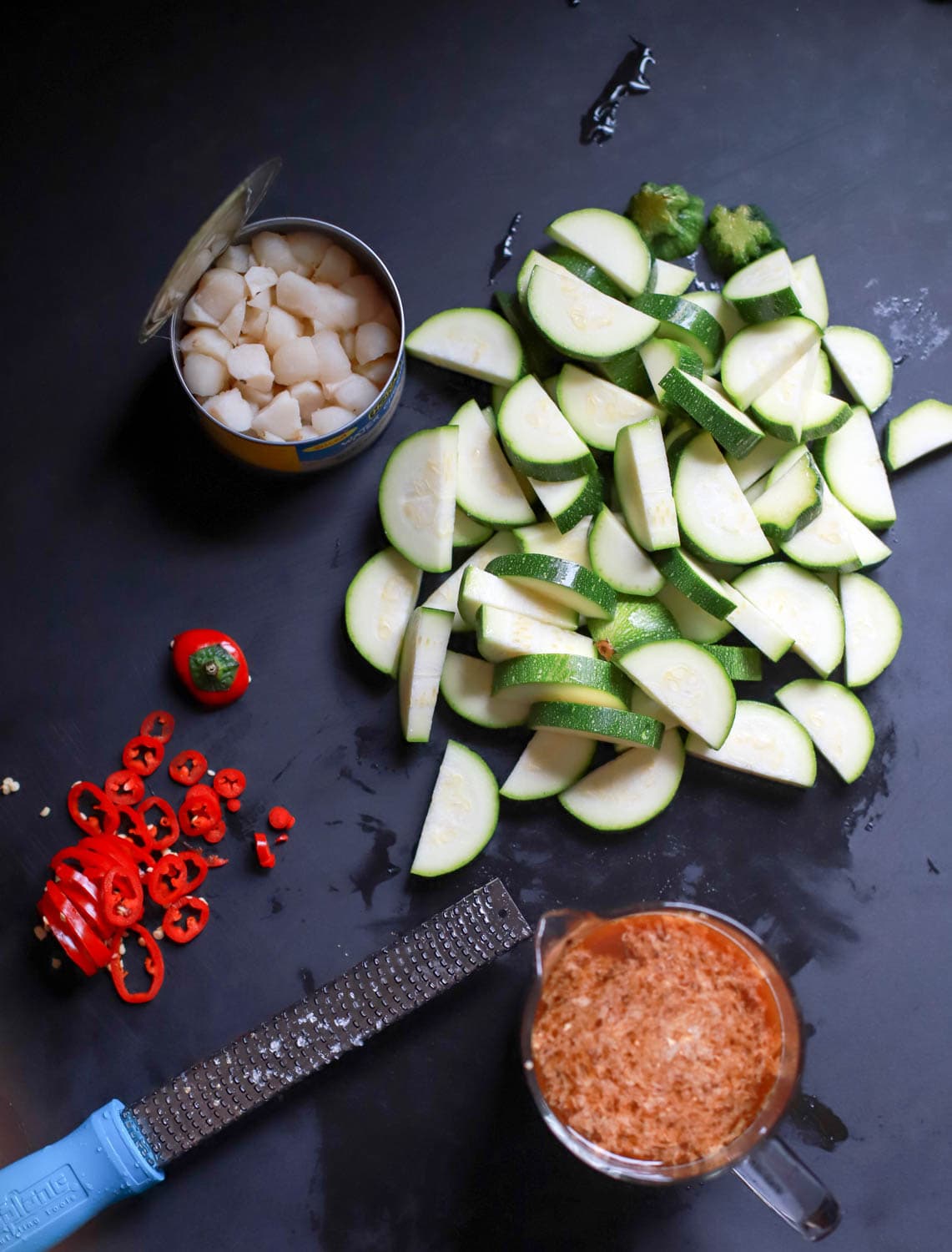 When the sauce and the veggies are prepped and the pan is hot, add the beef and get cooking! Cook the beef for about 7 minutes until it's browned and cooked through. Use a spoon to break the beef into small bits as you go.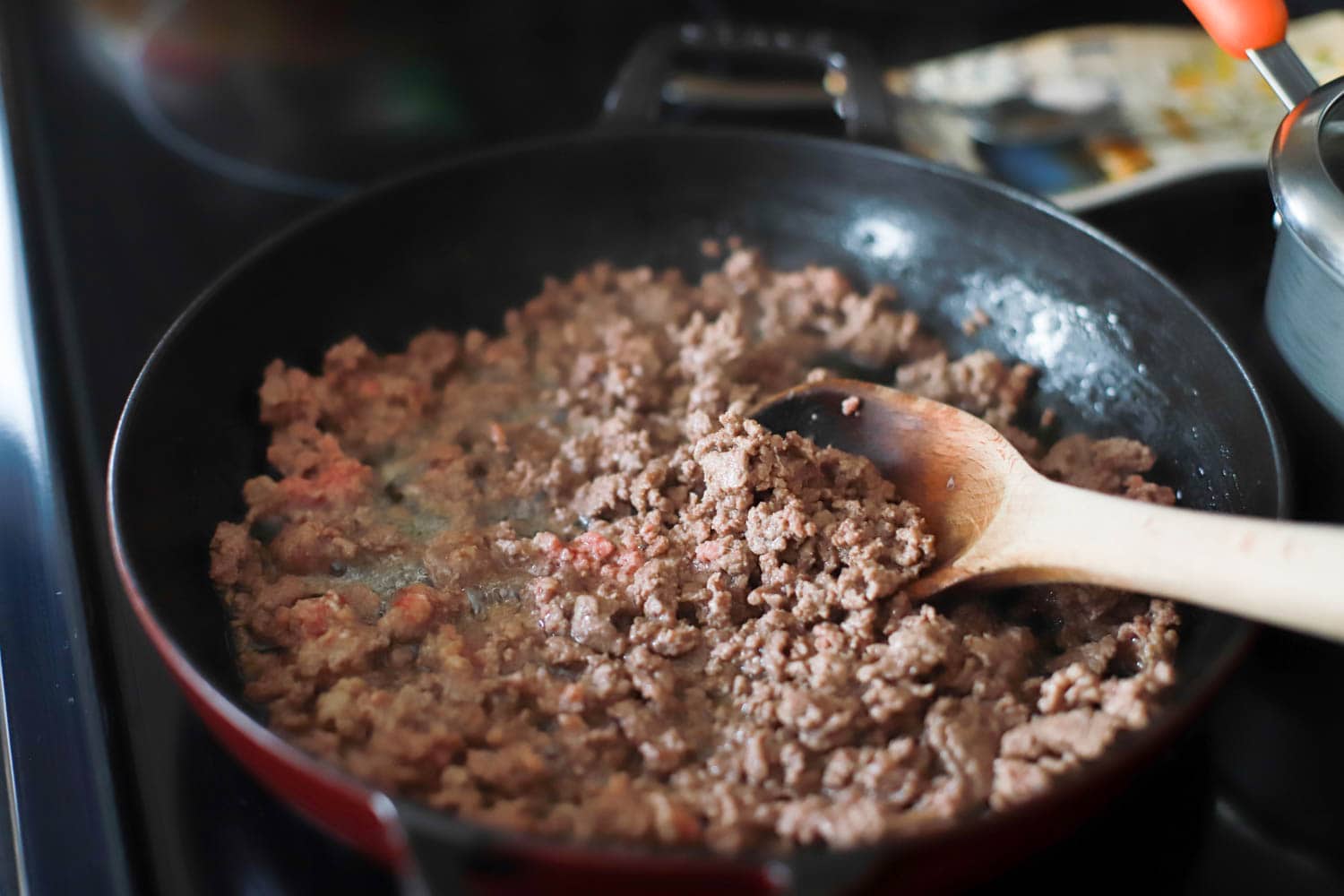 Then! Add the zucchini and half the red chili pepper. Stir the veggies into the beef for about three minutes, just to soften them.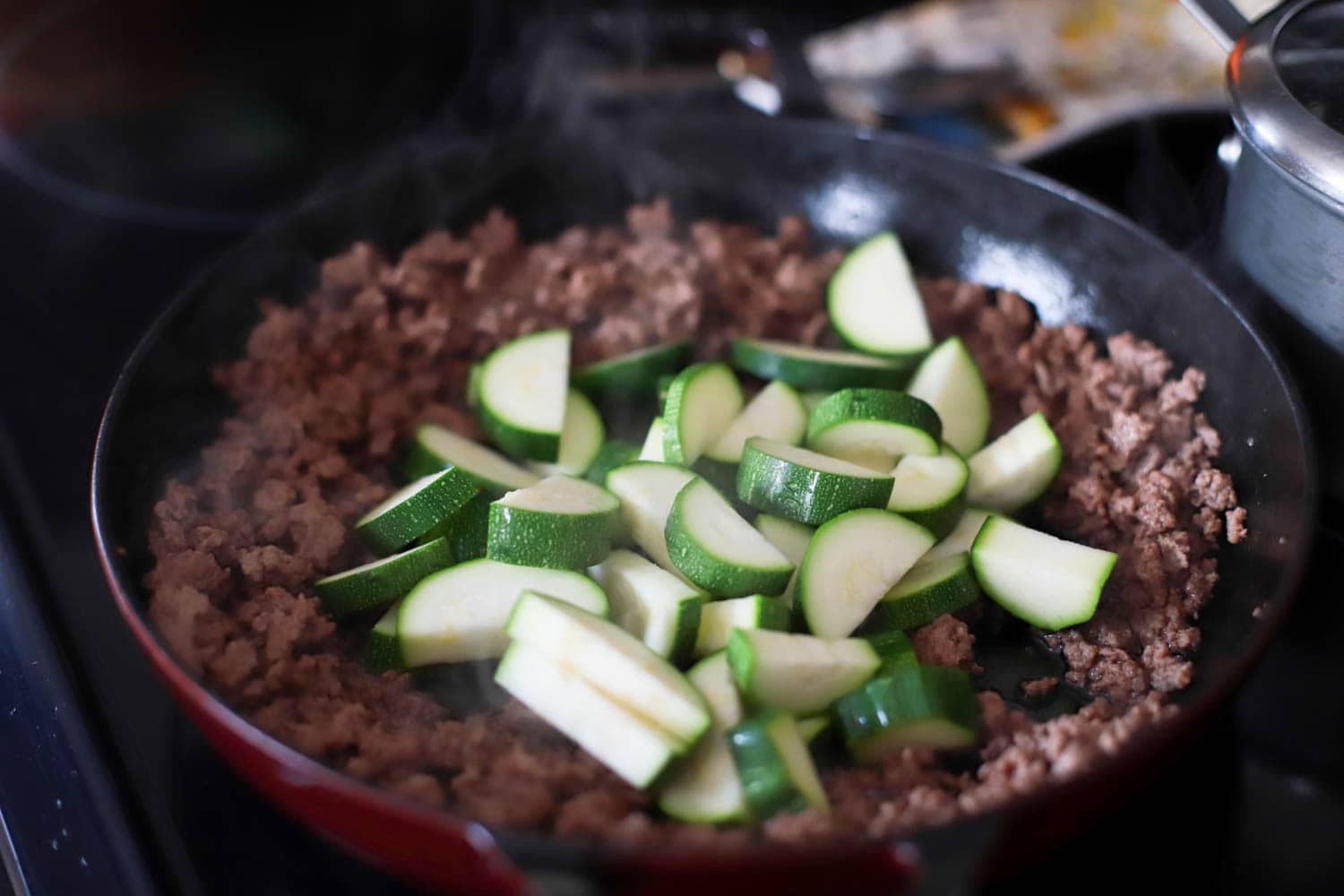 Sauce! Pour it in and let it come to a bubble. This will thicken the sauce.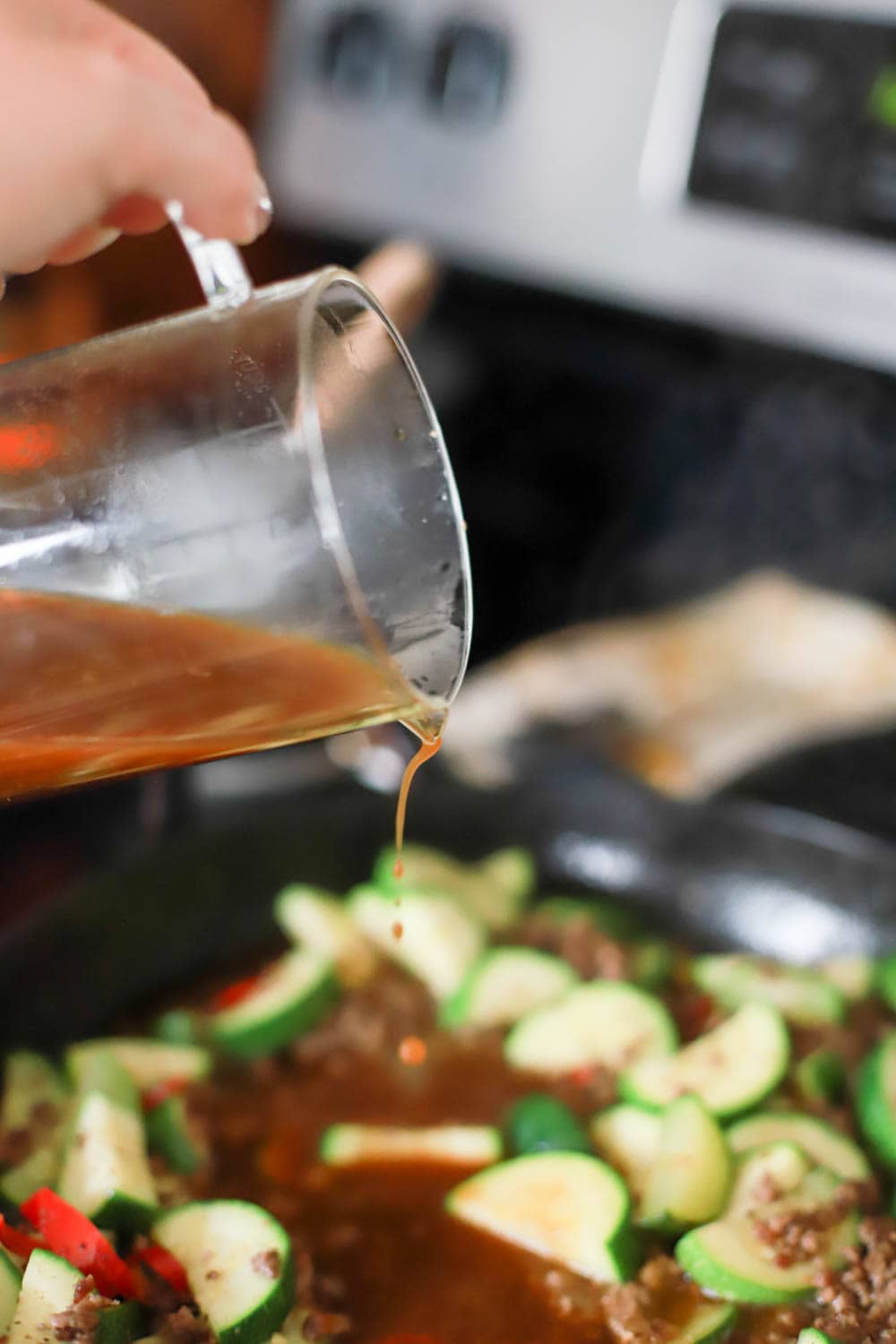 Last, stir in the water chestnuts and let the ground beef and zucchini sauce simmer for 5-10 minutes, uncovered, to thicken and reduce a bit more. When the zucchini is just barely tender, it's done!
I serve this with white rice and the rest of the sliced red peppers on top. I like the combo of fresh + cooked peppers in the dish, but you can feel free to cook them all OR use them all raw! It's your dinner, after all.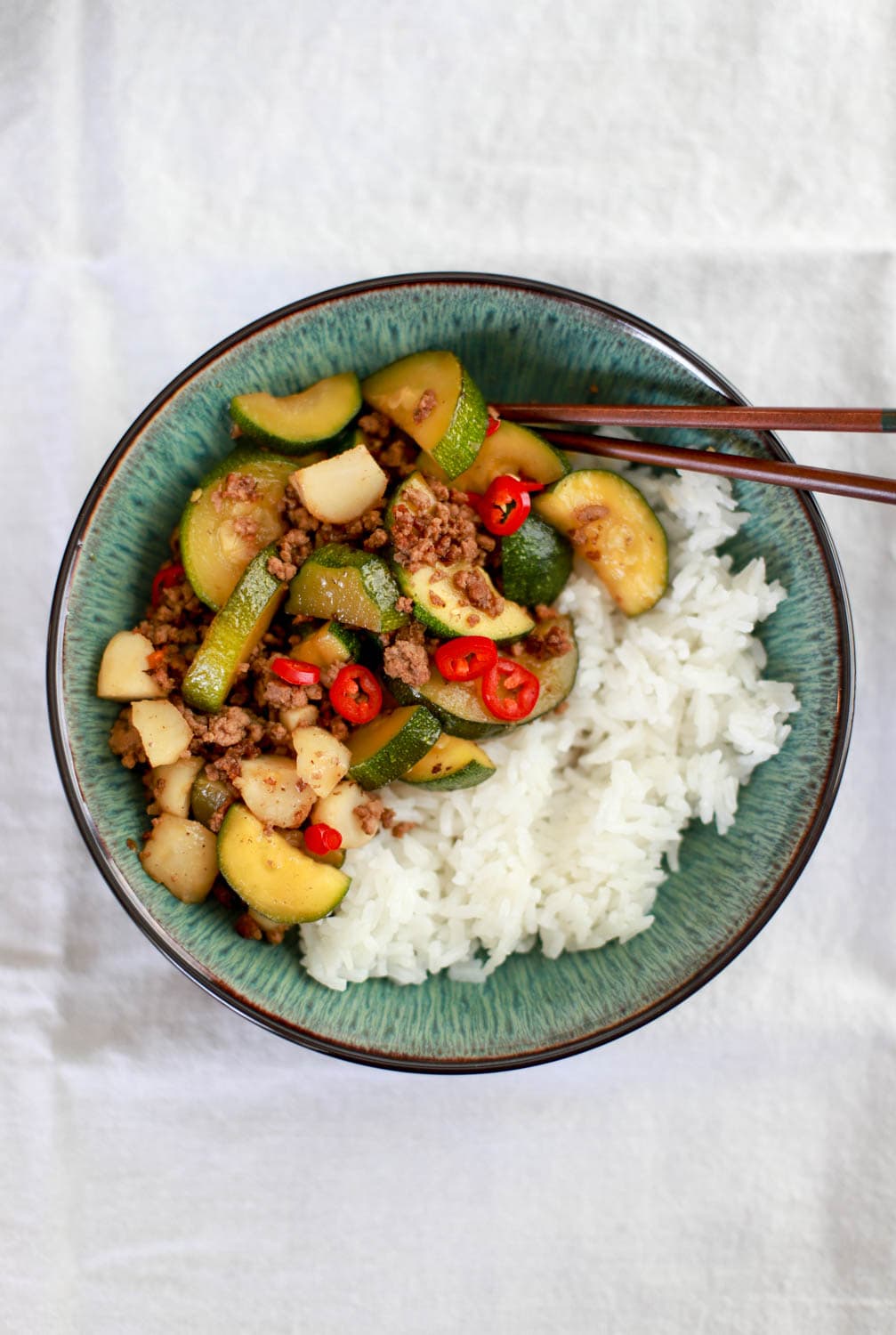 YUM. This is what I would call a "regular" dinner, but these zucchini beef bowls are 100% not boring or bland. The flavors from the grated ginger and garlic run through the entire dish so nicely, and the zucchini gets almost creamy as it cooks.
When the zucchini pops off in the summer next time and you're all WHAT DO I USE THIS FOR, here's your answer.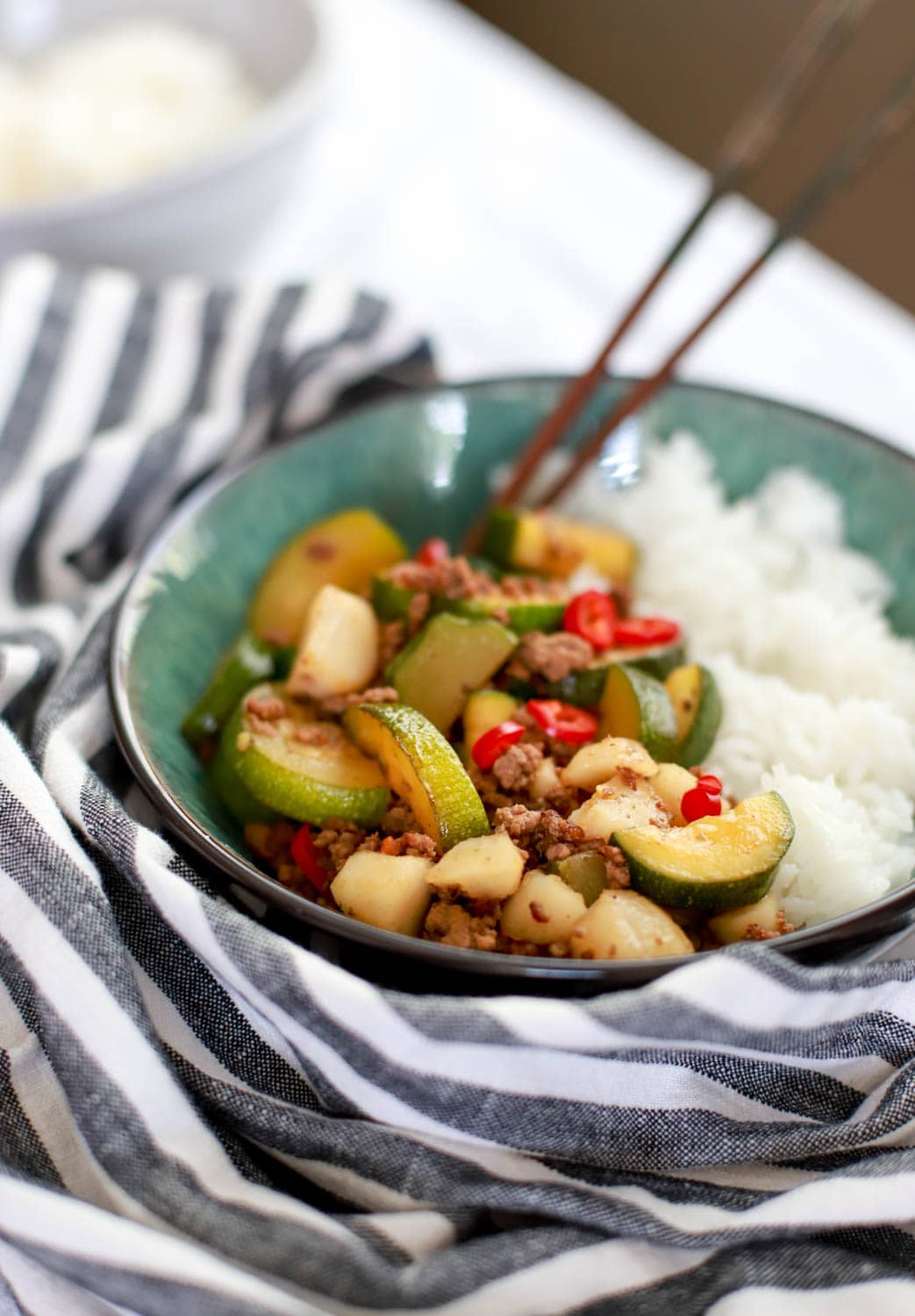 Enjoy!
Chinese Beef with Zucchini Bowls
Chinese beef and zucchini rice bowls are so delicious and come together in just half an hour with a yummy brown sauce to tie everything together. The perfect easy dinner!
Ingredients
1 ½

cups

cold water

1

tablespoon

cornstarch

1

tablespoon

rice vinegar

⅓

cup

soy sauce

1

teaspoon

brown sugar

¼

teaspoon

grated fresh ginger

about 6 grates

1

clove

garlic

grated

1

pound

ground beef

2

medium zucchini

sliced

1

red chili pepper

thinly sliced

5

ounces

diced water chestnuts

drained

cooked white rice

optional, for serving
Instructions
Whisk together the water, cornstarch, vinegar, soy sauce, and sugar until smooth.

Grate

the ginger and garlic directly into the sauce, and set aside.

Preheat a

large pan

to medium-high heat with a drizzle of oil. Add the beef and cook for about 7 minutes and cook, stirring, until browned and crumbly.

Add the zucchini and half of the chili pepper to the pan. Stir for 3 minutes to soften the veggies.

Pour the sauce into the pan and let come to a bubble. Add the water chestnuts.

Simmer the sauce for 5-10 minutes more, uncovered, until reduced slightly and the zucchini is soft. Serve over rice with the rest of the sliced red chilies. Enjoy!
Notes
I start the rice before I start the rest of the dish so everything is ready about the same time.
For the sauce, I whisk all of the liquids together, then use my Microplane to zest the garlic and ginger right into the sauce.
Feel free to use any veggies you like in this! Anything quick-cooking like yellow squash, bell peppers, or sliced bok choy would be great.
This is the Staub pan in these pictures. I use it nearly every day and it works so well for so many things.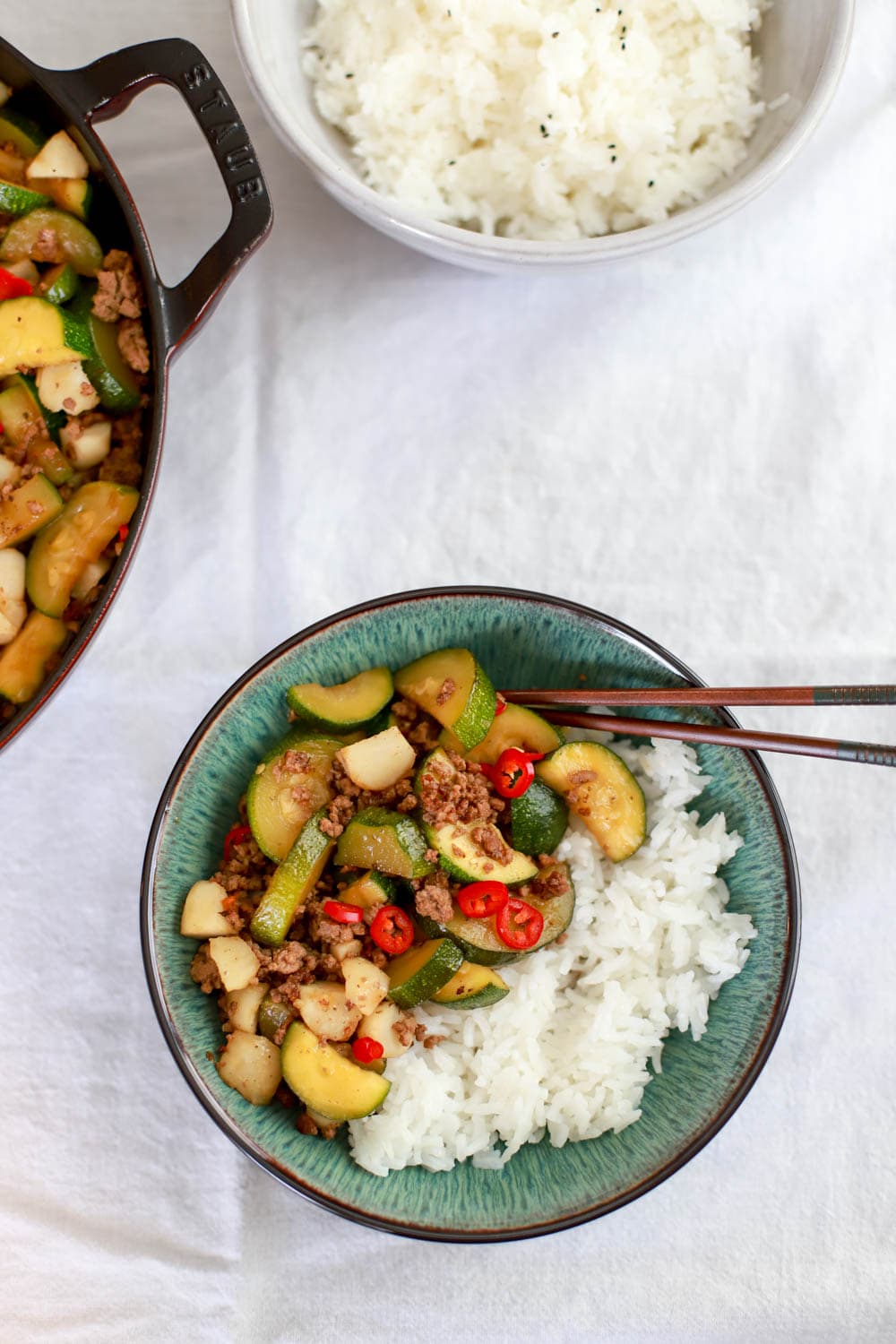 This recipe was first published in June 2019 and was last updated February 2021.