Ok so here's our next recipe for the Super Bowl.
It's this weekend! What are you doing for it? What are you making? And, most importantly, why is the Monday after the Super Bowl not a national holiday?
This is a real question.
The other real question is HOW would you like to eat this beer cheese? The eating it two ways kind of happened as an accident - I wanted this to be more like hotdish - a casserole topped with tater tots, kind of like an awesomely ghetto shepherd's pie. So I did that, but then the tots all sank into the cheese while it baked, which was delicious but not appetizer-ish enough for a big sporting event, imo. SO we have two options: both start with beer cheese and kielbasa and kraut. One involves baking tots right on top and eating this on plates for the best most unhealthy dinner of. your. life. The other option involves keeping the tots and cheese separate and serving it like a dip. You can also skip the tots completely and serve the cheese with pretzels like a good German.
But you might not be German, so you might not care about being a good one.
For the beer cheese base you need kielbasa, onion, garlic, flour, beer, chicken stock, american cheese, sharp cheddar, hot sauce, smoked paprika, deli mustard, seasoned salt, and sour kraut. Then for topping or dipping you need frozen tater tots or pretzels. On the cheese - this is American cheese singles cut into pieces. You can also use Velveeta or off-brand fake cheese, you just need SOMETHING that is super duper processed to make this creamy. I know its gross, but it works really well. Trust me.
Ok so since there are different ways to do this, you might need to go ahead and preheat your oven and bake the tots per the instructions so that you'll have them ready when the beer cheese is ready. Or not! Depends on if you're baking them in the actual cheese or not. Handle that, and preheat a large skillet to medium-high heat. While that's happening, prep your ingredients - chop onion, mince garlic, grate cheese, chop kielbasa. I use half of a sausage for this.
When the skillet is hot, add the sausage and let it brown for 3-5 minutes, stirring every 90 seconds or so.
When the kielbasa is brown, move it to the edges of the skillet and add the onion and garlic. Stir that together for just a minute until you can smell the garlic.
Now, to thicken the sauce sprinkle flour over everything - it'll get a little clumpy, but it'll smooth out when you add the liquids.
Pour in the beer, and stir everything together - this will deglaze the pan and start to create a base sauce for the cheese.
Let the beer reduce by half, then pour in the stock and keep stirring.
When the stock sizzles, add the cheese! Stir THAT into the sauce to melt it. Beer + cheese = life.
Now, keep stirring everything together to melt the cheese, then add the mustard, spices, and ⅓ of the can of sauerkraut.
Taste the mixture and WOW. So delicious. You can actually eat this as is, but I like to bake it a bit first to really meld the flavors, even if I'm not going the casserole route. SO. If you are going to serve this as a dip, pop it in the oven for 10 minutes, then serve with tots or pretzels for dipping! If you'd like to make this as a casserole, however, scatter frozen tots all over the cheese, then bake the dish for 30 minutes to brown the tots.
Then that's it! Now you just pick how you serve.
Plates for dinner:
Or with tots on the side for dipping with extra kraut on top. I threw on some scallions for a ... vegetable. To make it healthy. I'm telling you, guys, the base for this is just so delicious, that there is NO wrong way to serve this. It's one of those great balanced dishes with the fatty flavorful cheese cut with the kraut and the kind of sweet + meaty sausage....it just goes together beautifully.
Beer cheese for the super bowl. Make it happen.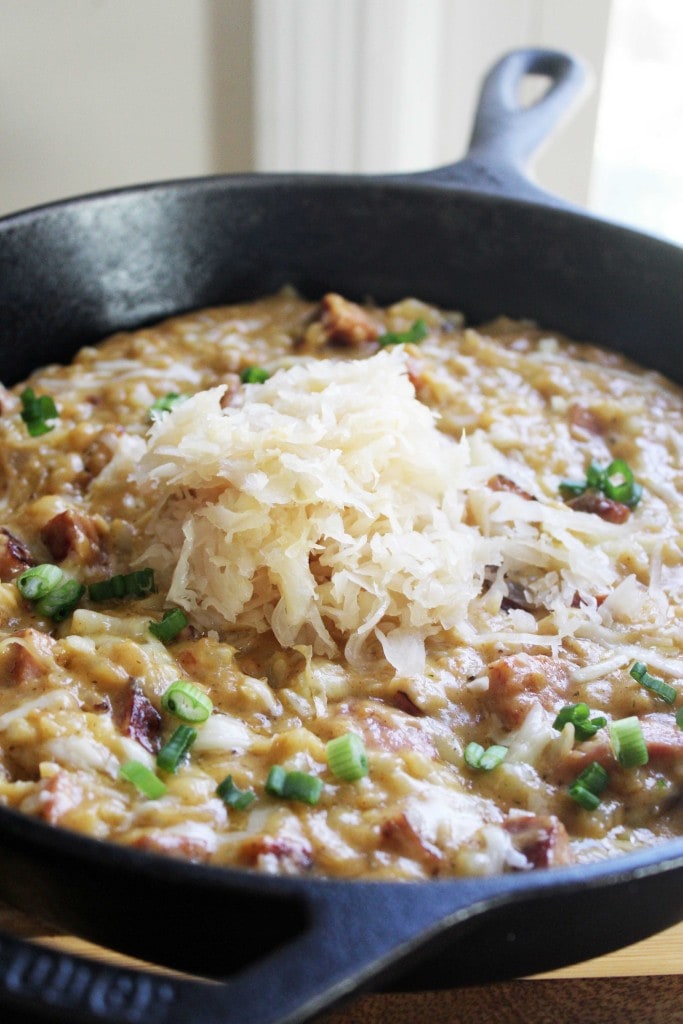 OH AND ALSO OMG you could totally bake this with pasta for a German-style mac and cheese. Right?!!
The end.
Beer Cheese with Kielbasa
Ingredients
6

ounces

Kielbasa or other smoked sausage

chopped (½ sausage, about 8 inches)

½

onion

chopped

3

cloves

garlic

minced

2

tablespoons

flour

6

ounces

beer

2

cups

chicken stock

6

ounces

grated sharp cheddar

4

ounces

American cheese or Velveeta

chopped

1

tablespoon

hot sauce

½

teaspoon

smoked paprika

2

tablespoons

spicy brown mustard

½

teaspoon

seasoned salt

7

ounces

about half a can drained sauerkraut

3

cups

frozen tater tots

optional

pretzels for serving

optional

sliced scallions for garnish

optional
Instructions
Preheat oven to 400F. If serving as an appetizer, prepare tots to package directions for dipping.

Preheat a large ovenproof skillet to medium-high heat. Add the kielbasa and cook for 5 minutes, stirring occasionally, until browned on all sides. Scoot the sausage to the edges of the pan and add the onion and garlic. Cook for 3 minutes, stirring, then sprinkle the flour over the whole skillet. Stir the flour into the sausage/onion mixture for one minute. Pour in the beer and stir to combine. When the beer has reduced by half, pour in the stock. When the stock bubbles and the sauce thickens, add the cheeses, mustard, hot sauce, and spices. Stir to combine and reduce the heat to low. When the cheese melts, taste and adjust seasoning. Add ½ of the kraut to the skillet.

Preparation 1 (appetizer): Bake the beer cheese skillet for 10 minutes until bubbly, then serve with tots or pretzels for dipping. Garnish with scallions and more sauerkraut.

Preparation 2 (casserole): Top the beer cheese with frozen tater tots. Bake at 400F for 30 minutes until the tots are browned and cooked through. Top with the rest of the sauerkraut and serve with scallions for garnish as a main dish.

No matter how you make this, ENJOY!
Nutrition