OMG finally Friday.
You know what's dumb?
Today is Jay's last day of work. He's taking a new job, and to celebrate I'm taking Monday/Tuesday off and we're having a staycation in which I'll cook a lot and make him do yard work.
It'll be great. For me. The problem with that is that, in order to take said staycation, I've been SLAMMED this week trying to get ready to miss Monday and Tuesday. It's like....now I HAVE to take time off to make up for the insanity that I created trying to take time off?
That makes no sense at all.
You know what does make sense, though? These little babies. They're SUPER simple, and epically delicious. Do you need to know any more than that? Nope, you don't.
Here's what you need: jalapenos, half a brick of cream cheese, bacon, seasoning salt, and garlic. You could actually leave out the seasoning salt and garlic, and these would still be as delicious. Three ingredients!
First, mix the cream cheese, minced garlic, and ½ teaspoon or so of seasoning salt together in a bowl - I find that using a fork helps move things along nicely, but you can use a spoon! If the cream cheese is super firm from the fridge just microwave it for 10 seconds or so, no worries.
So for the peppers, we wanna lop off the tops...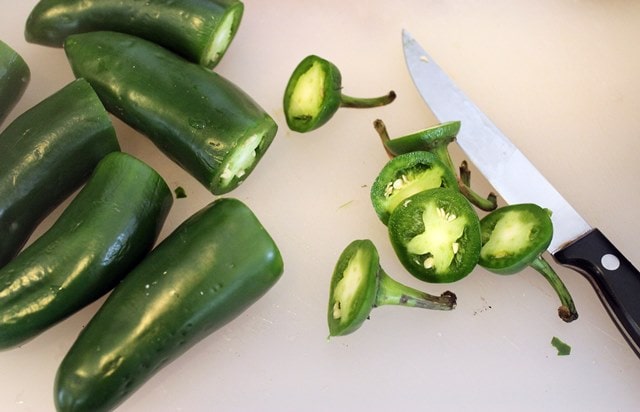 ...then cut them in half and take out the seeds and ribs, trying DESPERATELY to remember not to touch our eyes.
I forget every time.
Then, you have a decision to make. You can leave the .... halves...whole...(you know what I mean), or you can cut them in half to make quarters for a more bite-sized presentation. I did some of each because I'm indecisive.
To assemble, just scoop a bit of the cream cheese mixture into each pepper segment.
Then, cut the bacon into halves or thirds - I had long, thin bacon, which is ideal. Thick bacon doesn't wrap and hold as well. I find that for the ¼ pepper bites, ⅓ piece thin bacon is plenty, and ½ piece bacon is great for the halves.
Wrap the bacon tightly around the pepper, stretching it as you go.
Then, secure the whole thing with a toothpick!
Aaaaand here we have a plate of bacon-wrapped jalapenos ready to be grilled.
You can cook these any way you like, really. You can broil them, then flip them, then broil them some more, you can bake them on a wire rack set inside a baking sheet at 400F for 15 minutes or so, OR you can grill them! All we're doing is cooking the bacon, so do that any way you'd like.
I love a grilled flavor on these - just watch out for flare-ups!
Cooking time all depends on the method you use and how hot your grill/oven/pan is. These took about 10 minutes to be nice and crispy.
And that's it! A quick, easy, DELICIOUS appetizer. You can wrap these waayyyy in advance, too, and just cook them whenever you'd like to eat them.
Yum!
Have a happy weekend - these are great weekend food!
Bacon-Wrapped Jalapeno Bites
Ingredients
6

jalapenos

stemmed, seeded, and cut into quarters

4

ounces

softened cream cheese

8

slices

bacon

cut into thirds

1

clove

minced garlic

½

teaspoon

seasoned salt
Instructions
Combine the cream cheese, garlic, and seasoned salt.

Scoop a bit of cream cheese into each jalapeno segment, then wrap with a bit of bacon and secure with a toothpick.

Grill or broil until the bacon is cooked and crispy. Enjoy!
Nutrition
This is so yummy that I included it in this week's Weekend Potluck. It's this cute thing where blogs from EVERYWHERE can submit recipes to share with others – it's so fun to check out new things!