Because apparently we are a sick house and I only want to eat broth-based things ever.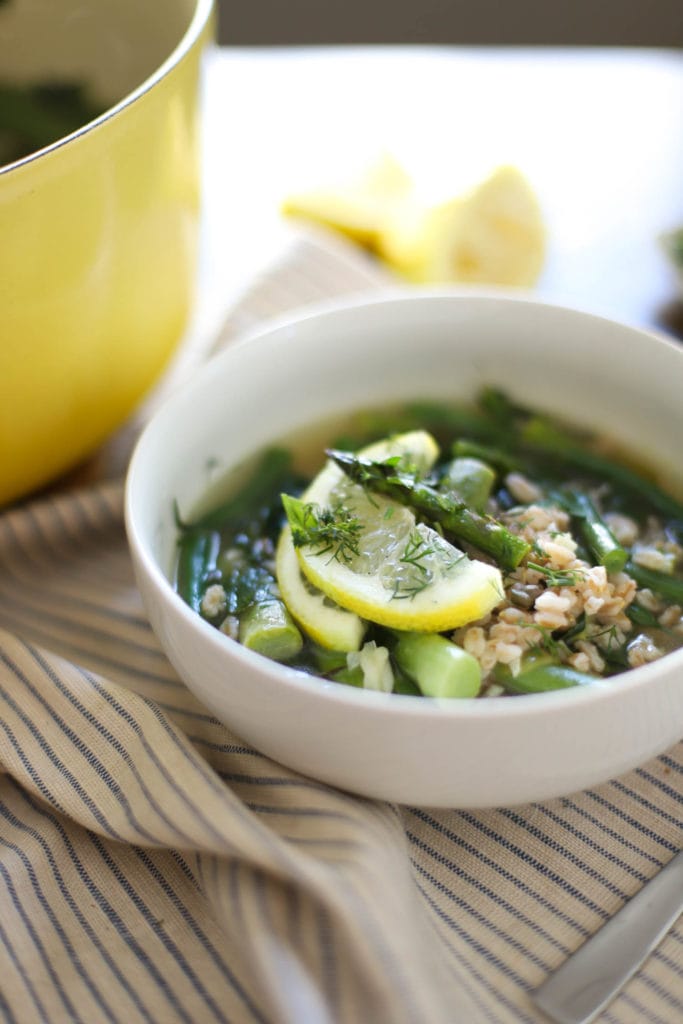 Our week of healing is going well, thanks to incredible amounts of support from our friends and family and narcotics for Jay. I, on the other hand, have gotten some kind of cold-on-top-of-a-cold and can't stop craving salty brothy things to make my throat feel better and my nose unclog slightly. Doing a surgery recovery with a toddler while sick and doing regular work has been a struggle; we feel like we.just.can't.quite. catch up on sleep and housework, but we're getting there, one day at a time.
The good news is that the Porta Potty was picked up from our FRONT YARD where it has been for nearly 6 months, so small victories, you know?
So this soup is part three in the "let's eat green stuff" accidental spring series - we had a salad, then pasta, and now this soup! I adore farro for the texture, it's so chewy and holds up well in soups; I buy the quick cooking kind at Trader Joe's. With that, this entire soup comes together in less than half an hour, and fresh herbs and lemon spritzes all over the place wake up the entire bowl for the warm weather. As a bonus, this recipe is vegan if you use veggie stock and dairy free + probably gluten free and paleo and Whole30 friendly if you check labels carefully, which I don't.
We start with a pile 'o healthy stuff (probably should copyright that): green beans, asparagus, spinach, green onions, garlic, lemon, farro, and chicken stock. I use it for the flavor, but vegetable broth works just as well. Separate the white parts and green parts of the scallions; we use them at different parts of the recipe.
Start with some olive oil in the bottom of a soup pot over medium heat. Add the white and light green parts of the scallions with the garlic, and stir for two minutes until the garlic and onion are fragrant.
To the pot, add in all of the stock and water - or all stock if you have extra on hand; I just wanted the recipe to be written so you need one full box of stock. Pour the farro into the stock and garlic mixture and cover the soup pot. Reduce the heat to medium-low (or low if your oven is very hot) and simmer the farro as the package directs until it's al dente - tender but not mushy. To prevent the farro from overcooking, remove the lid and move on to the next step about two minutes before it's totally cooked.
When the farro is cooked, add the asparagus and green beans to the pot. Increase the heat to medium to bring the stock to a bubble, and simmer the veggies for 5-7 minutes (uncovered) until they are bright green and tender.
Then, we finish the soup in the last minute or so, and serve! Chop up the spinach and zest the lemon, then add the spinach, lemon zest, and scallion greens to the soup with the juice of half the lemon. Stir and taste the soup; add as much salt and pepper as you'd like until it's very flavorful. Cut the rest of the lemon into wedges for serving.
Now, chop up some herbs, anything you have or like (dill is particularly delicious here), and serve the soup topped with fresh herbs, extra lemon, and maybe a drizzle of fancy olive oil if you're feeling fancy.
And, done! So delicious, so simple, so comforting and healthy for yucky-feeling spring days. This gets a little thicker as it sits from the starch in the farro, so if you'd like to keep this for leftovers or make it in advance I'd suggest making the farro separately and stirring it into the soup right before serving. That would be a great meal prep idea; making the soup and farro on Sunday and having this all week for lunches. With bread for dunking, obviously.
Enjoy this! It's a perfect way to throw some green stuff into your diet and celebrate the fresh herbs we are finally so lucky to have.
Print
Spring Veggie and Farro Soup
---
Prep Time:

10 minutes

Cook Time:

25 minutes

Total Time:

35 minutes

Yield:

Serves

4

-

6

1

x
Scale
Ingredients
4

scallions, sliced, white and green parts separated

4

cloves garlic, minced

4 cups

chicken stock

2 cups

water

1 cup

quick-cooking farro

1/2

pound green beans, cut into

1

-inch pieces

1/2

pound asparagus, cut into

1

-inch pieces

2 cups

spinach, chopped

1

lemon, zested

1/4 cup

chopped fresh herbs
salt and pepper, to taste
---
Instructions
Preheat a soup pot to medium heat with a drizzle of olive oil. Add the white part of the scallions and the garlic. Cook for two minutes, stirring.
Add the stock, water, and farro to the pot. Reduce the heat to medium-low and cover the pot; simmer the farro for 10 minutes until tender but not totally cooked through (more or less time based on your farro's package directions). Uncover the pot and add the asparagus and green beans. Simmer the veggies for 5-7 minutes until bright green and tender.
Add the spinach, green parts of the scallions, lemon zest, and juice from half of the lemon to the soup. Stir to combine and taste; add salt and pepper to your preference until the soup is very flavorful.
Cut the other half of the lemon into wedges. Serve the soup topped with the fresh herbs, a drizzle of olive oil, and extra lemon wedges.
Enjoy!
Notes
This soup is dairy free. Vegan if vegetable stock is used, gluten free depending on your ingredients. Adjust to your dietary needs!