This wild rice soup has sausage in it for extra oomph and flavor in the chilly months! This is one of my favorite meal prep soups and can be frozen as well - make a double batch and enjoy the gift to your future self when you thaw out your already-made dinner! This soup is thickened with cornstarch instead of a flour to make it a gluten free soup recipe. HIGHLY recommend a batch of no-knead bread to go with this.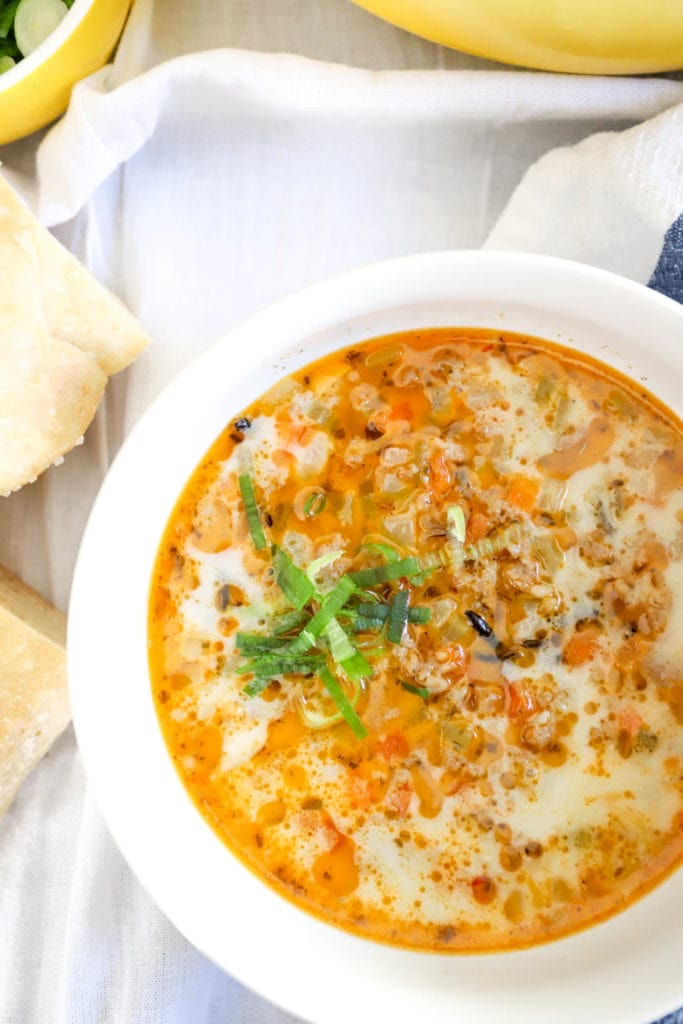 It's FREEZING here.
No, but really. Multiple nights under 30 degrees F this week = the natives are LOSING it. We live in South Carolina, after all. The south. Warm. Stuffy. No fall. Lots of summer. Sweat. Humidity. You get it.
So when it's this cold (and, yes, I know some of you have way colder lives than this, I understand how different climates work), and dark at 4pm, and we're decorating for Christmas between snuggling with our newborn and battling our toddler, we totally completely absolutely for sure need a perfect easy soup to get us through the winter.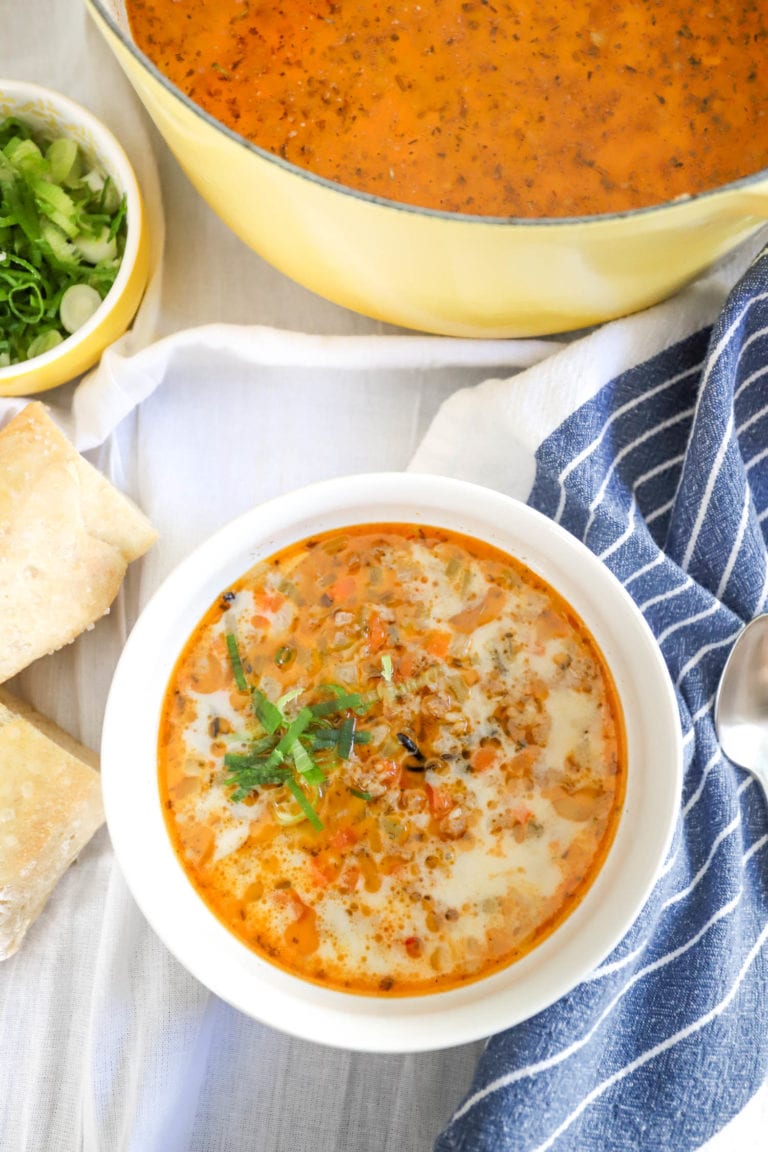 Sausage Soup Recipe
This sausage soup recipe is similar in flavor to the sausage rice casserole from Jay's youth, but with a broth base and just a little bit of cream and cornstarch to thicken things up. We use real wild rice for that chewy whole grain texture, and the added bonus of simmering the soup for long enough to cook the rice (about an hour) is that the house smells GREAT while this is cooking. I use local sausage in soup, but you can use any kind you like or even ground chicken to keep this super light.
In addition to sausage and wild rice (not a blend, just wild rice), you'll need onion, carrot, and celery, then veggie or chicken stock for the soup base. Flavors come from garlic, oregano, and rosemary, and cornstarch and heavy cream thicken the soup after it cooks.
The reason I use cornstarch instead of flour here is that I find it dissolves a little better than flour AND that makes this a gluten free soup recipe!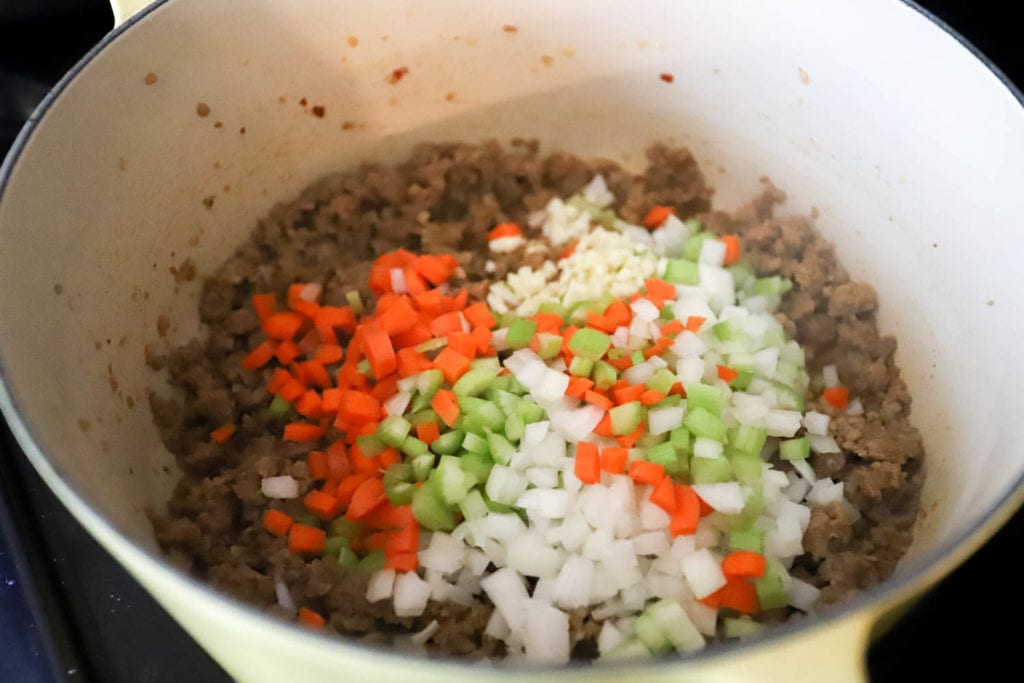 Start by browning the sausage in a large soup pot with a bit of olive oil and chopping the veggies. When the sausage is brown and crumbly (break it up with a spoon as you go), add the carrot, celery, onion, and garlic to the pot.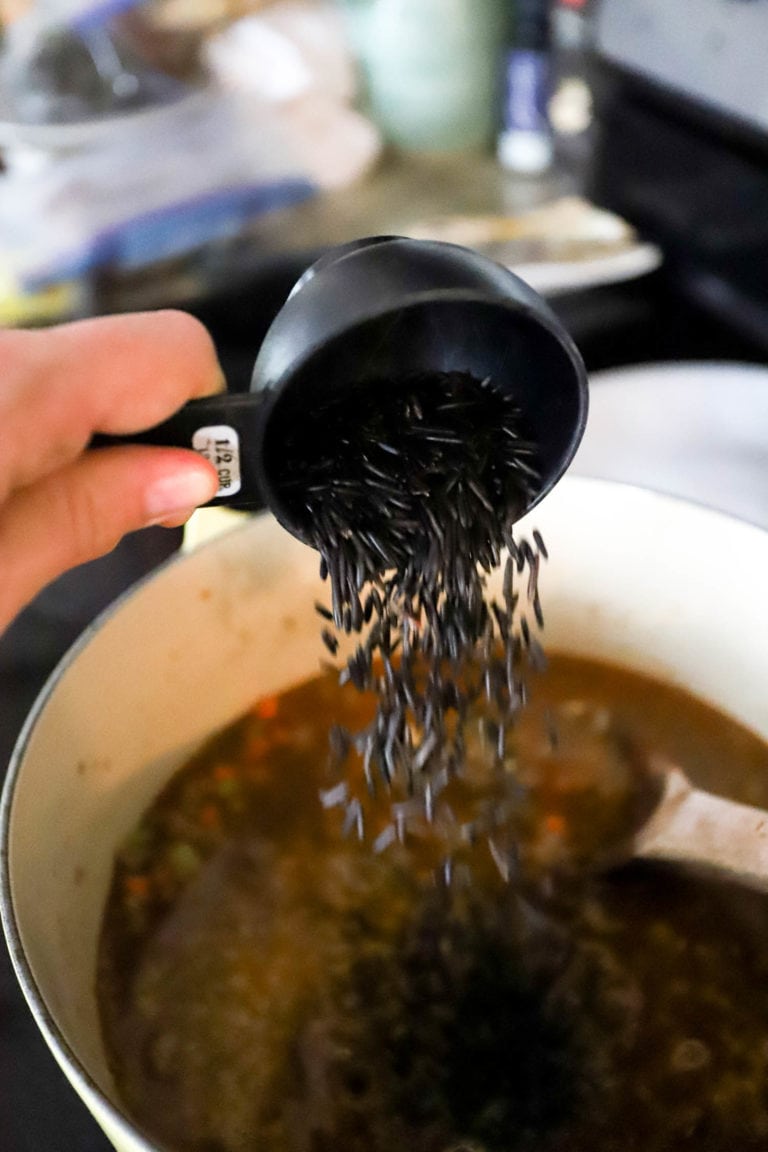 Stir the veggies into the sausage to soften them for about five minutes, then add the stock, rice, and spices.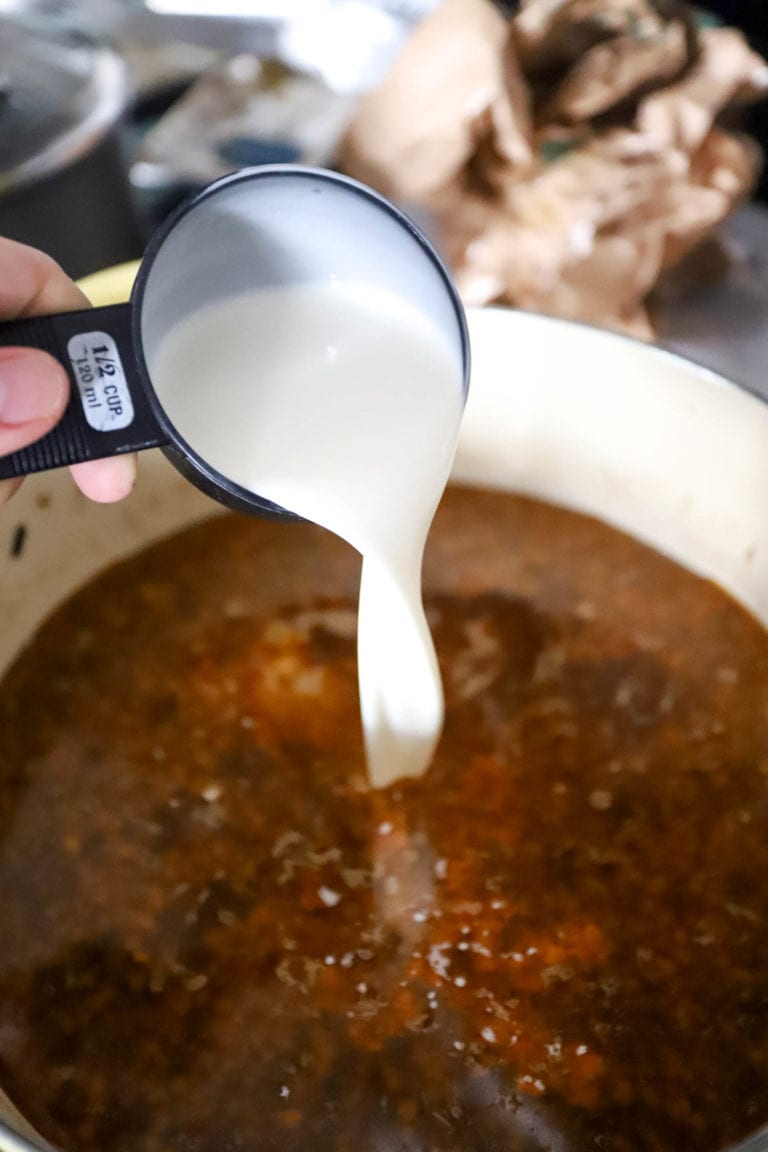 Cover the pot and reduce the heat to low. Simmer the wild rice soup for 45 minutes to an hour or until the rice is tender. If you have a rice blend or a parcooked rice (quick-cooking label or similar), the cook time might be shorter for your rice. Taste the soup every 20 minutes or so to check on the rice and add sprinkles of salt to enhance the flavor while the soup cooks. When the rice is tender, whisk the cornstarch into the heavy cream and add it to the soup.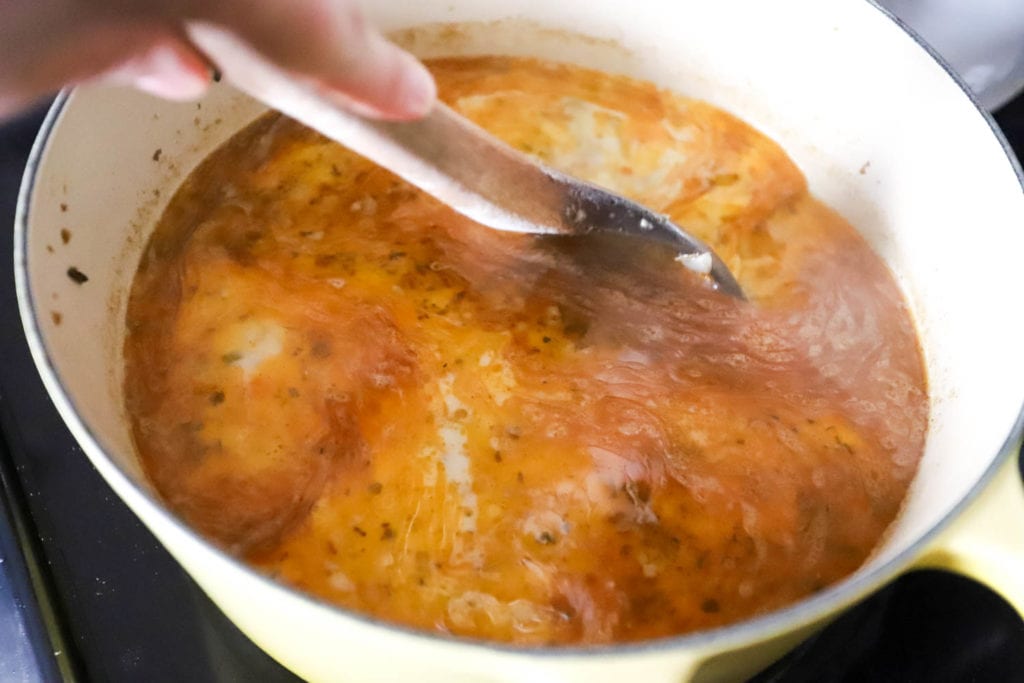 Stir the cream mixture into the soup and increase the heat to medium-high. Bring the soup back to a boil uncovered to thicken the soup just slightly with the cornstarch. Taste again for seasoning, and eat!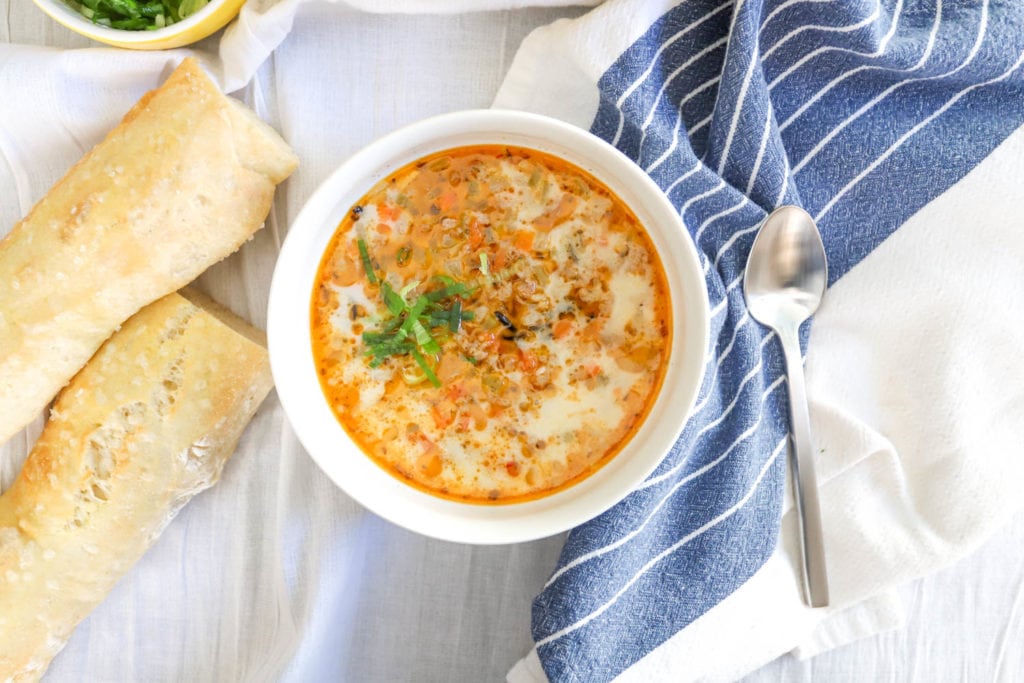 Bread for dunking, obviously. Scallions or anything fresh and green on top is a nice touch.
This isn't a fancy soup, and I love it that way. It does take some time to simmer to be sure the rice is cooked through, but beyond that and a bit of chopping this is super simple. The end result will be just slightly thick from the cornstarch, but mostly brothy and sausage-y in the best possible way.
Make this for dinner tonight or this weekend to warm you up!
Sausage Wild Rice Soup
A perfect soup for winter, brothy and creamy at the same time, hearty from rice and sausage. Sausage in soup adds tons of flavor and this soup freezes really well! Perfect for busy holiday days and cold nights.
Ingredients
1

pound

bulk sausage

we like spicy!

1

medium carrot

diced

2

stalks celery

diced

½

medium onion

diced

2

cloves

garlic

minced

½

teaspoon

dried rosemary

½

teaspoon

dried oregano

½

cup

wild rice

4

cups

vegetable or chicken stock

2

cups

water

½

teaspoon

salt

plus more as needed

2

tablespoons

cornstarch

½

cup

heavy cream
Instructions
Preheat a large soup pot to medium-high with a drizzle of olive oil. Add the sausage and cook until crumbly and brown, breaking it up with a spoon as you go.

Add the carrot, celery, onion, and garlic to the sausage. Stir to combine and cook the veggies for about 5 minutes. Add the oregano, rosemary, salt, wild rice, stock, and water to the pot. Stir everything together and cover the pot. Reduce the heat to low and let the soup simmer for about an hour, checking it every 20 minutes, until the rice is cooked through and tender. Each time you stir the soup, taste the broth and add a few pinches of salt as needed.

When the rice is tender, whisk the cream with the cornstarch to create a slurry. Pour the mixture into the soup and increase the heat to medium-high. Let the soup bubble uncovered for a few minutes to thicken slightly.

Serve with something green on top, if you'd like. Enjoy!
Notes
This is really really good with some 4-ingredient no-knead bread!
I like this with any sausage - chicken or turkey sausage work really well here, or even chorizo for a slightly different flavor profile!