Have you watched Ugly Delicious?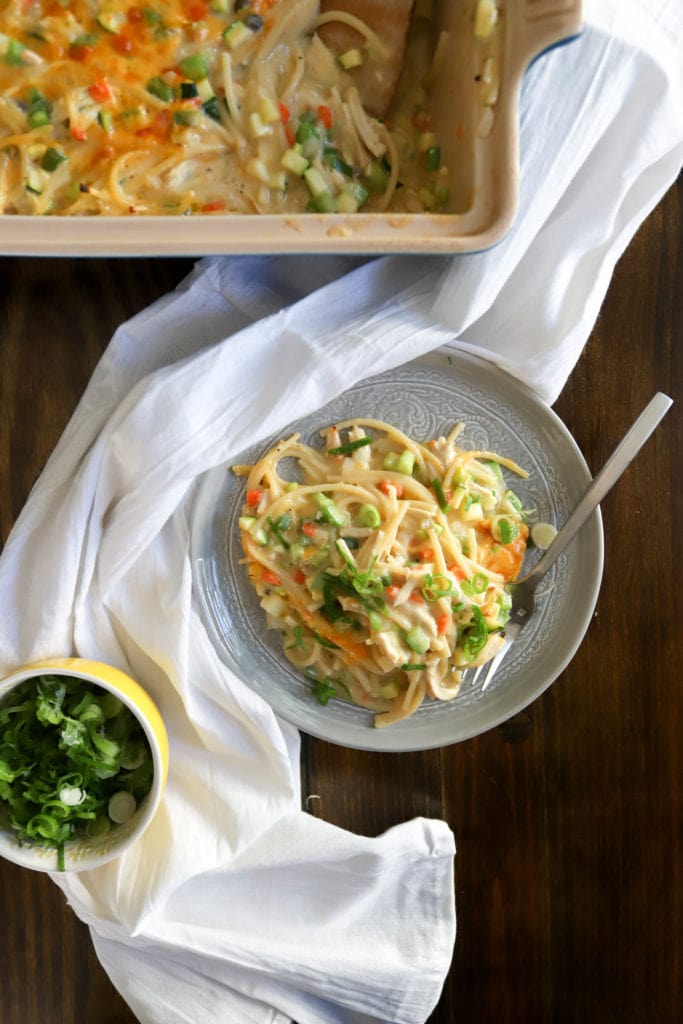 This is kind of that. It's the food we're supposed to turn our noses up at, food of a different era, the dirty little secret of food. It's a casserole with cream of mushroom AND cream of chicken soup, it's not particularly attractive, and it's utterly delicious.
I actually made this cheesy baked chicken noodle casserole years ago based on The Pioneer Woman's recipe. I've made it off and on for the last ten or so years, usually pulling it out for family vacations or special events that call for easy comfort food. Specifically, I froze a batch of this when I was pregnant with both of my kids, and we had it on our first night home (the day they both were born) with each of them. So, to say that this casserole holds some meaning to me is an understatement.
The main meaning of this casserole is SALT AND CHEESE, but I've added lots of extra veggies in this version. We cook the noodles about halfway and then keep the veggies raw so that they don't get too mushy when we bake the casserole. This does yield a little bit of a soupy casserole, but I find that to be delicious, and the casserole sets up once it sits a bit after baking.
Ugly or not, you absolutely want to eat noodles baked with chicken, cheese, vegetables, and a creamy gravy. Right? Right.
...