We need to add more comfort food to our repertoire, now and always, but ESPECIALLY on weeks when it might rain all weekend and be "cold" in the 50s. Yes, yes we do.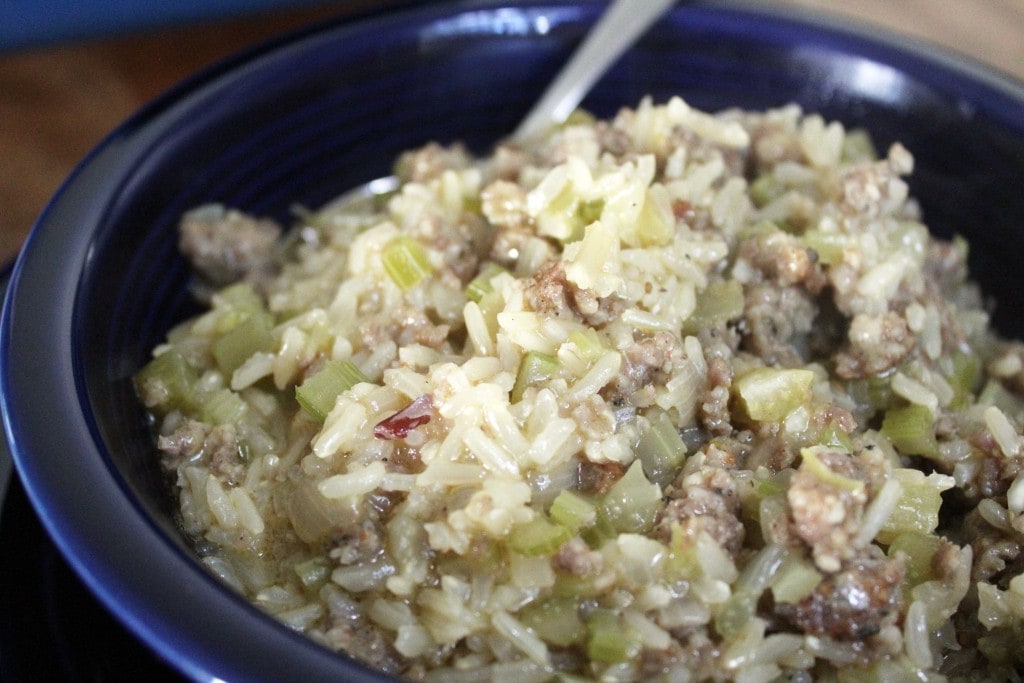 This recipe was sent to me by my mother-in-law after I texted her something like "Jay says there used to be some kind of a rice celery bake that you made, was that real?" Apparently it is. Boom, recipe in inbox. This is one of those throwback cream-of-whatever kinds of recipes that everyyyyyone used to make for weeknight dinner types of deals. Except for my family, which didn't really groove on casseroles.
Me, however? I love it. Jay, however, is all "but we are trying to eat healthier, right?" and I'm all "no, NO. we are eating all the carbs," and he's all "but I used to be faaaaat" and I'm all "I'm eating for twoooooo," and then I realize that I cook 97% of the things in this house anyway and why are we even having this conversation and then I make what I want.
But, in this case, I used brown rice so it's healthy, ok? OK!
When I actually made this recipe for the first time after learning about it, I used this recipe as my guide and then modified it based on what I had in my cabinets and what I wanted to achieve. My version is below, but check out the original recipe too if you'd like!
You need sausage, celery, onion, chicken stock, cream of something soup (celery, chicken, or mushroom would all be fine), brown rice, and crushed red pepper. All of these ingredients can be modified to suit your tastes: any kind of cream-of that you'd like, white or brown rice, hot or mild sausage, you know. I've used Italian and regular breakfast sausage and both are great! Chicken or tofu sausage would be great too for a healthier and/or vegetarian option.
Now, you can 100% make this a few days in advance, then just bake it before you'd like to eat. If you'd like to cook it right away, however, preheat the oven to 350F. Then, preheat a large skillet to medium-high and add the sausage. Cook the sausage for about 10 minutes until it's brown and crumbly and cooked through.
While the sausage is working, finely chop the celery...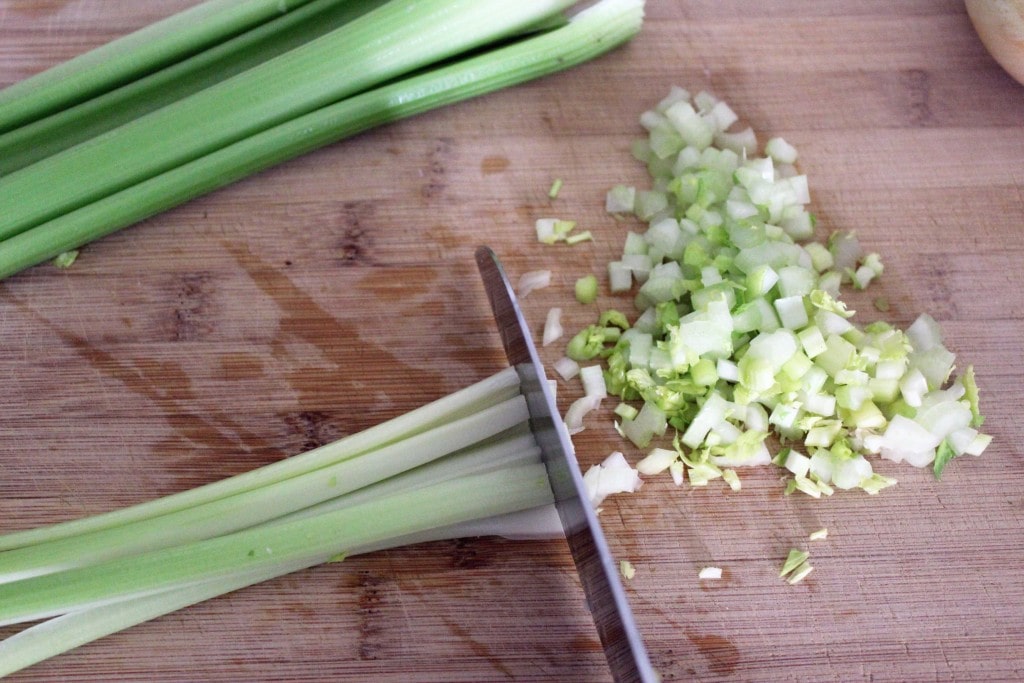 ...and the onion.
When the veggies are prepped and the sausage is brown, add the celery and onion to the skillet. Stir everything together for about 5 more minutes to soften the veggies slightly.
Now, everything gets mixed together! Add the raw rice, the stock, cream-of-whatevs soup, and sausage mixture to a big casserole dish.
You could of course do this step in a bowl, but that seems like an unnecessary dirtying of another dish, right?
Stir everything together, and we're ready to bake. Besides the raw rice this looks pretty great.
Now, cover the casserole tightly with foil so that the rice steams while the casserole bakes. Bake the casserole for 1 hour or maybe a little bit longer until the rice is cooked through - open the foil to taste it after 1 hour - then let the casserole rest for 15 minutes before you serve it.
And that's it! Easy, simple, hugely flavorful, and so comforting. If, for whatever reason, the rice ISN'T done after 1 hour, just let the casserole keep cooking for 10 minutes or so until the rice is soft. If the casserole is very dry, add a little bit more water. These measurements have worked on a few brands of white and brown rice, though, so you should be good to go!
Welcome, fall. Make this soon, and enjoy! Whoa - wouldn't a chopped apple stirred into this be great? Like stuffing that you can eat all year...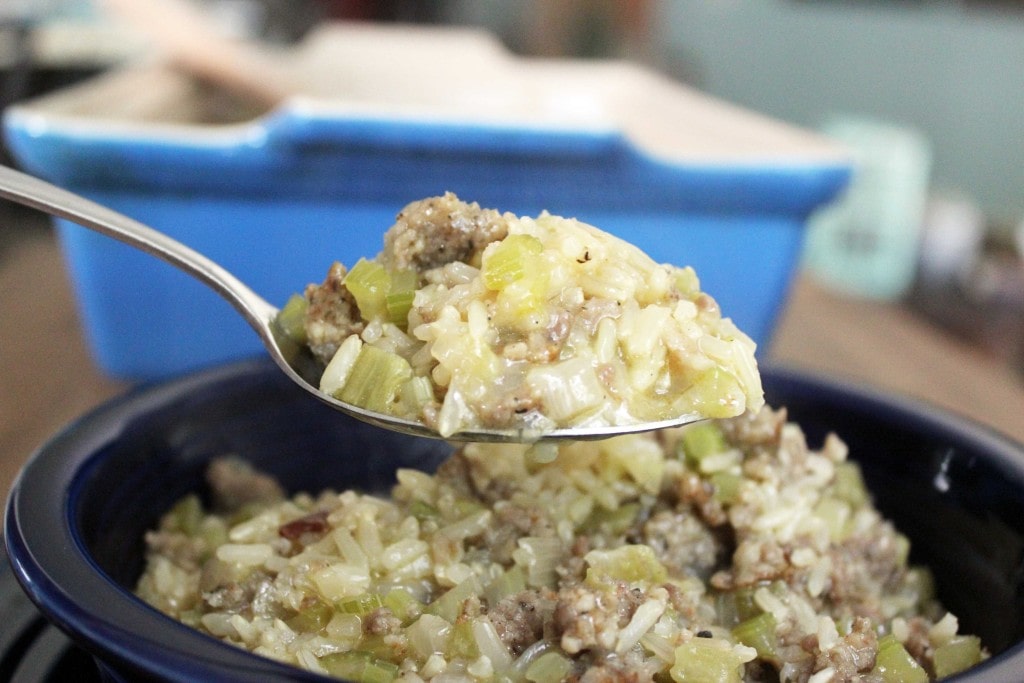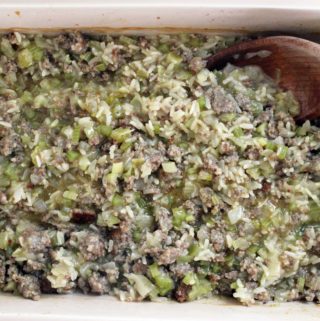 Sausage Celery Rice Casserole
Ingredients
1

pound

bulk sausage

any kind you like

3

stalks celery

finely chopped

1

medium onion

finely chopped

1

cup

quick cooking brown rice

1 ¾

cups

chicken stock

1

can

13 ounces or so cream of celery, mushroom, or chicken soup

½

teaspoon

crushed red pepper flakes

optional
Instructions
Preheat the oven to 350F. In a skillet, cook and brown the sausage for 10 minutes over medium-high heat until browned and cooked through. Add the onion and celery and cook for 3 more minutes until slightly soft.

In the bottom of a large casserole dish, combine the stock, soup, rice, and sausage mixture. Add the crushed red pepper flakes if using. Stir together, and smooth out the top.

Cover the casserole tightly with foil and bake for 1 hour, then taste the rice for doneness. If the rice is cooked through, remove from the oven and let sit, covered, for 15 minutes until serving. Add a bit more cooking time if needed, or a splash of extra stock if the rice is uncooked and the casserole is very dry.

Serve in shallow bowls, and enjoy!
Notes
If you use hot sausage skip the red pepper flakes - you won't need them! If you'd like to use regular white rice feel free, and if you use regular brown rice (that takes longer to cook), add about ½ cup extra water or stock to the casserole before cooking, and keep in mind that the rice may not cook quite as quickly. Just taste it before you take it out of the oven, and add more liquid and/or cooking time if needed to finish the rice!
Nutrition