Helloooo Monday.
Don't get all huffy by the fact that I'm offering Brussels on a Monday. I PROMISE, this is not mushy stinky bitter awful Brussels that we used to have. Not "we," my parents would never dream of such a thing.
What IS it about these little guys? Everyone on the earth seems to be inundated with a serious PTSD-esque memory of them, and then now all of a sudden they're all over trendy restaurant menus, but they're crispy or baconed-up or whatevs.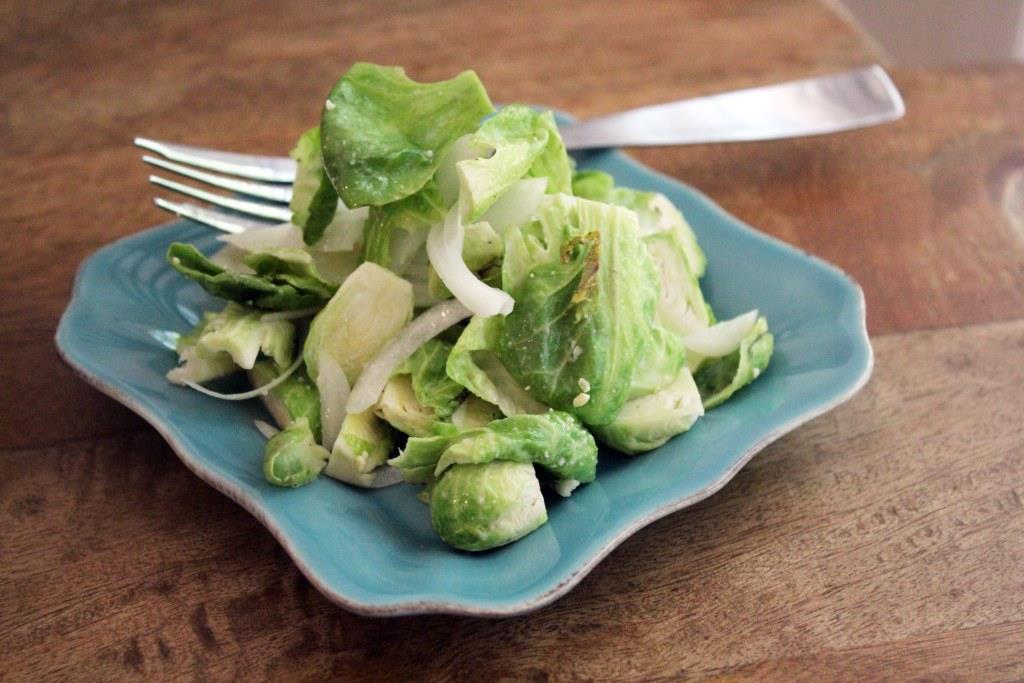 Raw is your new favorite way to eat them, promise. Because, when all is said and done, Brussels are cabbage, right? Raw cabbage = slaw. This is basically slaw with Caesar dressing and sexy fried capers on top. Let's get after it.
You obviously need brussels sprouts. You need onion and capers, too. For the dressing, olive oil, lemon, salt/pepper, garlic, anchovy paste, and parmesan round out the list. You'll notice here that there are two kinds of parm: I use the jarred kind for the dressing and the fancy stuff for garnish, but you can use just one kind - whatever you have on hand will taste great.
First, let's make the dressing. Add the parm, anchovy paste, olive oil, and garlic to a small blender or food processor. Then zest the lemon directly into the mixture.
Squeeze in the juice of half the lemon, too!
Now, add a pinch of salt and pepper and we're ready to blend. Whir the dressing all together and taste it: if you'd like a tangier dressing add a little more of the lemon juice, and adjust any of the other flavors to make it taste exactly like you think Caesar dressing should taste! If you don't want to use a machine to make the dressing you can also mince the garlic really finely and whisk everything together - up to you.
Let the dressing sit while you fry the capers. Add them to a skillet over medium-high heat with a drizzle of olive oil, and fry away! The capers will sizzle in the hot oil, cook them for 3-5 minutes until they've darkened just a little bit.
Let the capers drain on paper towels while you assemble the rest of the salad.
Thinly slice the onion.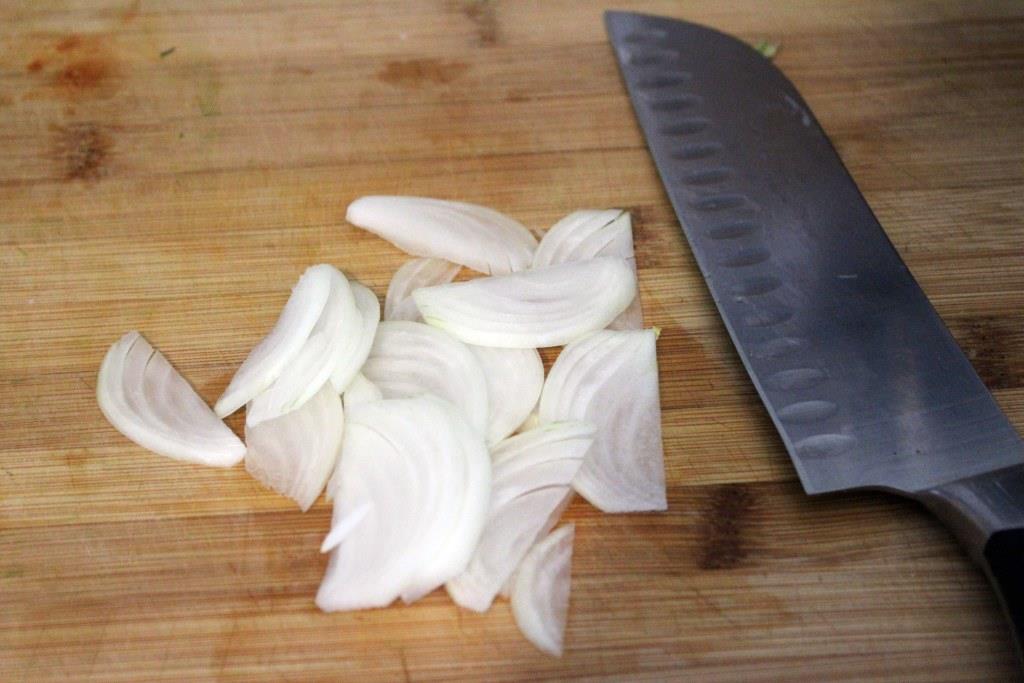 For the brussels, I like to take off the little end, then peel off the outer layers like little lettuce leaves - they're so pretty! Then, when I get to the inside of the sprout I just halve or quarter what's left to make little bite sized sprout pieces.
Now, we've got dressing, capers, sprouts, and onion. Salad time. Add the onion and sprouts to a big bowl.
Then pour a leeetle bit of the dressing over top - just a tablespoon or two at first.
Toss the salad together and taste it: add more dressing if you'd like at this point.
Now, we serve. Top the whole mess with extra parm and the crispy capers, and GO. TO. TOWN.
You will absolutely love this, guys. It's nothing like cooked Brussels, so more like a slaw that tastes like Caesar which is SO good.
Trust me.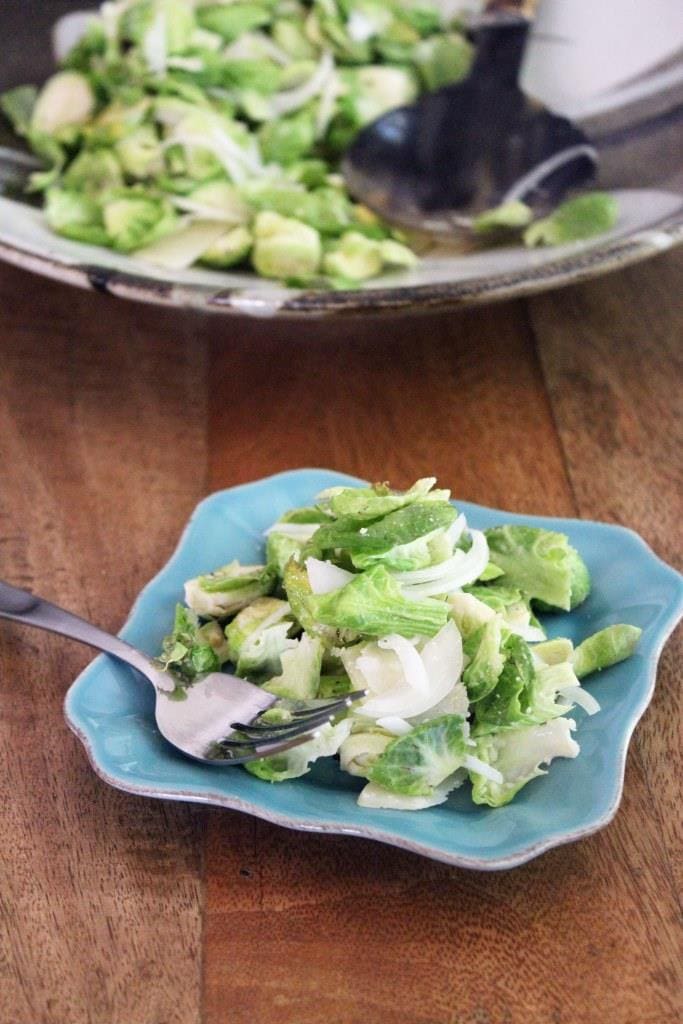 Raw Brussels Caesar + Crispy Capers
Ingredients
FOR THE SALAD
2

pints

brussels sprouts

1

tablespoon

capers

½

small onion

thinly sliced

Caesar dressing

your favorite brand or from the recipe below

extra parmesan cheese

for garnish
FOR THE DRESSING
zest and juice of 1 lemon

1

small garlic clove

2

tablespoons

grated parmesan cheese

2

teaspoons

anchovy paste

salt and pepper

¼

cup

olive oil

plus more of needed
Instructions
For the dressing, combine all ingredients in a small food processor or blender. Use half the lemon juice at first. Taste the dressing, and adjust salt, pepper, and lemon juice to your taste. If dressing is too thick, add a splash of water or olive oil.

To fry the capers, add the capers and a drizzle of olive oil to a skillet over medium-high heat. Fry for 3-5 minutes until darkened, then drain on paper towels.

To prepare the brussels sprouts, trim off the ends and separate the outer leaves. When the leaves become too teeny to peel off, halve or quarter the insides of the sprouts to bite sized pieces.

To make the salad, combine the sprout leaves and cores, the onion, and 2 tablespoons of the dressing. Toss to coat the veggies in the dressing, adding more if you'd like. Garnish with extra parmesan and the crispy capers.
Nutrition