One of my favorite super easy recipes, originally published in 2016 right after the birth of our first child. Easy broccoli cheese soup using broccoli slaw for no-fuss vegetarian soup in a hurry. If you think about it in advance, make a batch of the easiest no-knead bread for dunking!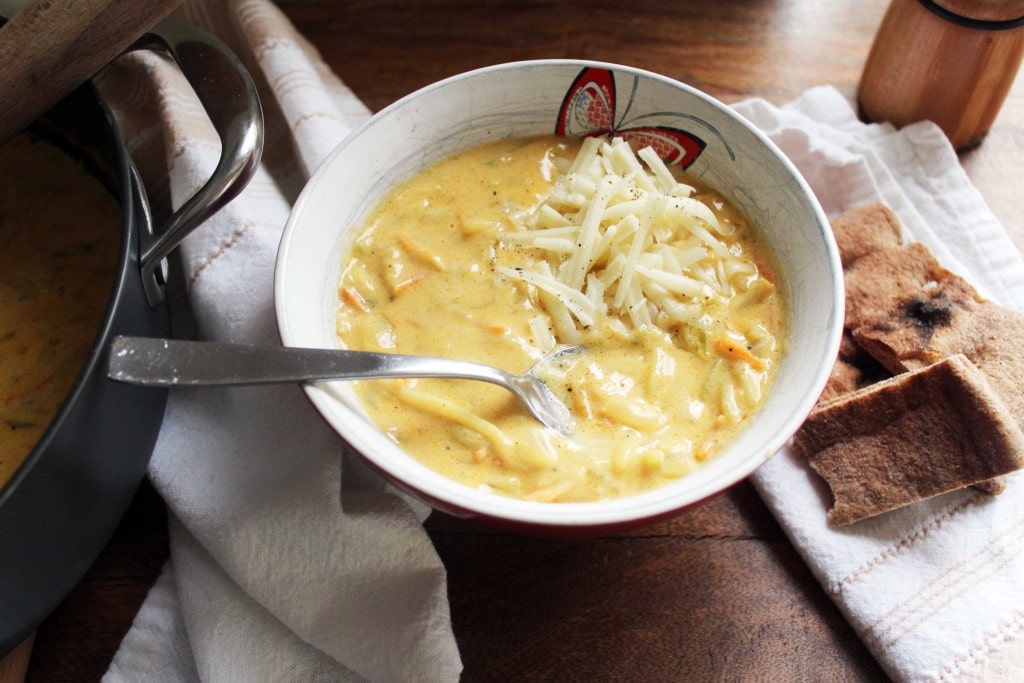 I thought about calling this New Mom Broccoli Cheddar Soup, but that seemed....I don't know, people need quick-cooking food whether or not they have kids, right?
This, I have to say, is one of the more inspired things I've done recently in a recipe. Jay is all about the chopped salads, as you know, and is always buying these random bags of pre-chopped veggies but then we never quiiiite eat them in time. I hate throwing away food, and this bag of broccoli slaw was looking really sad to me a few weeks ago, so I made it into soup. The thing is, though, is that since the broccoli is pre-chopped there is no blender involved, we just end up with a really legit texture to our soup. AND there are carrots in the mixture which add some nice flavor and color to the whole shtick.
You do have to chop an onion and garlic but...you could totally skip those two ingredients and just use the broccoli, I won't tell anyone.
Broccoli Slaw Soup Recipe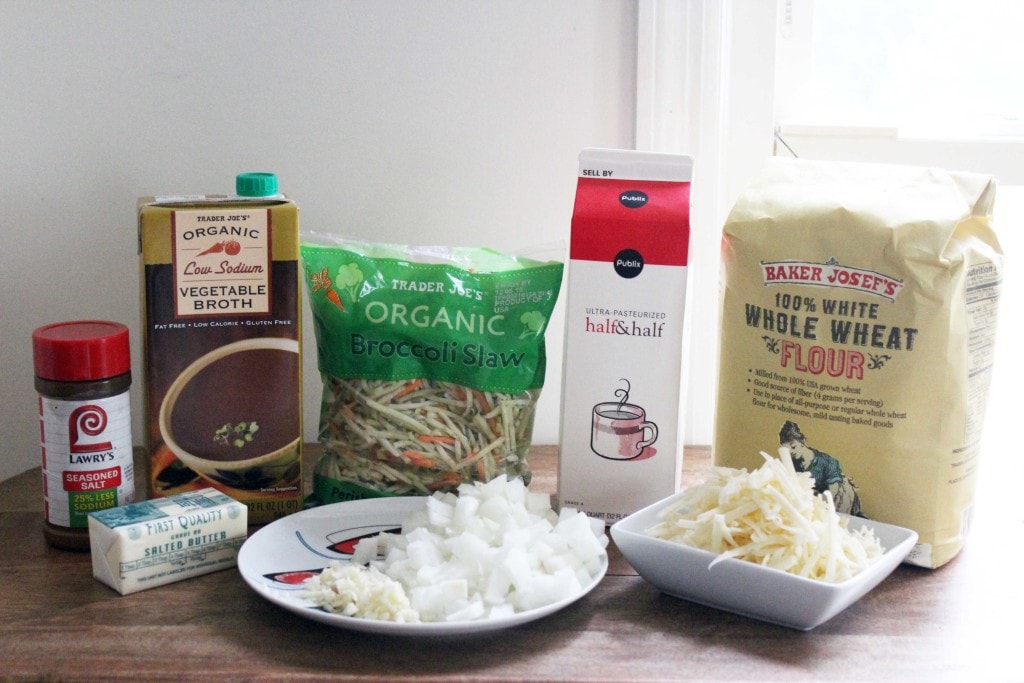 For this you'll need butter, onion, garlic, a bag of broccoli slaw, flour, seasoned salt, vegetable broth, half and half, and sharp grated cheddar.
Is Broccoli Slaw The Same As Coleslaw?
Not quite! Coleslaw mix and broccoli slaw mix can both be used for a raw slaw, either with a mayo or vinegar based dressing. Coleslaw, though, has a cabbage base and broccoli slaw is made with shredded broccoli. Both mixes usually include carrot!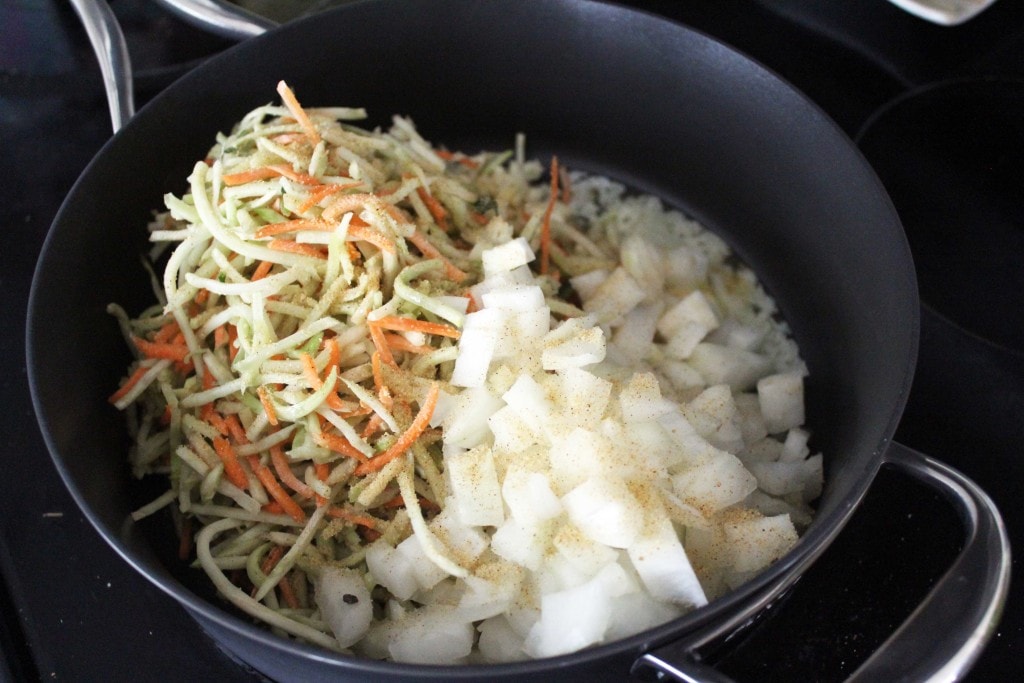 So, with the prep work all done (you can do it ahead of time and then build the soup whenever you want to eat, or when you have a few minutes to cook), add the butter, onion, garlic, broccoli slaw, and seasoned salt to the bottom of a pot over medium-high heat.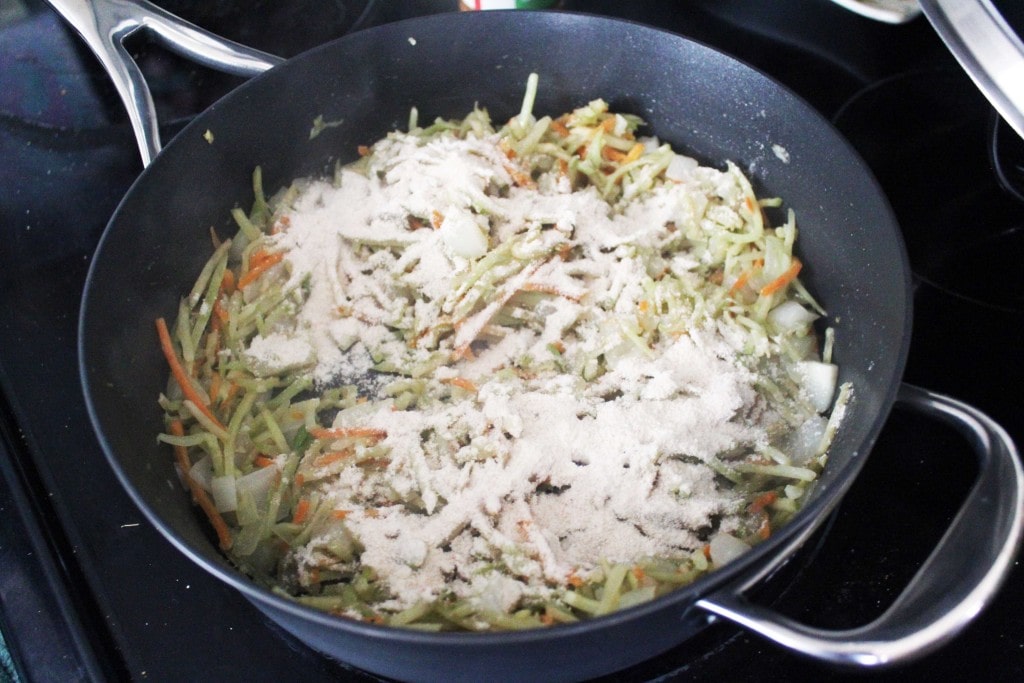 Stir the veggies together for 10 minutes or so until they start to soften, then sprinkle the flour over the mixture. Stir the flour into the veggies for 1 minute - it might seem a little clumpy, but we'll thin it out with the stock!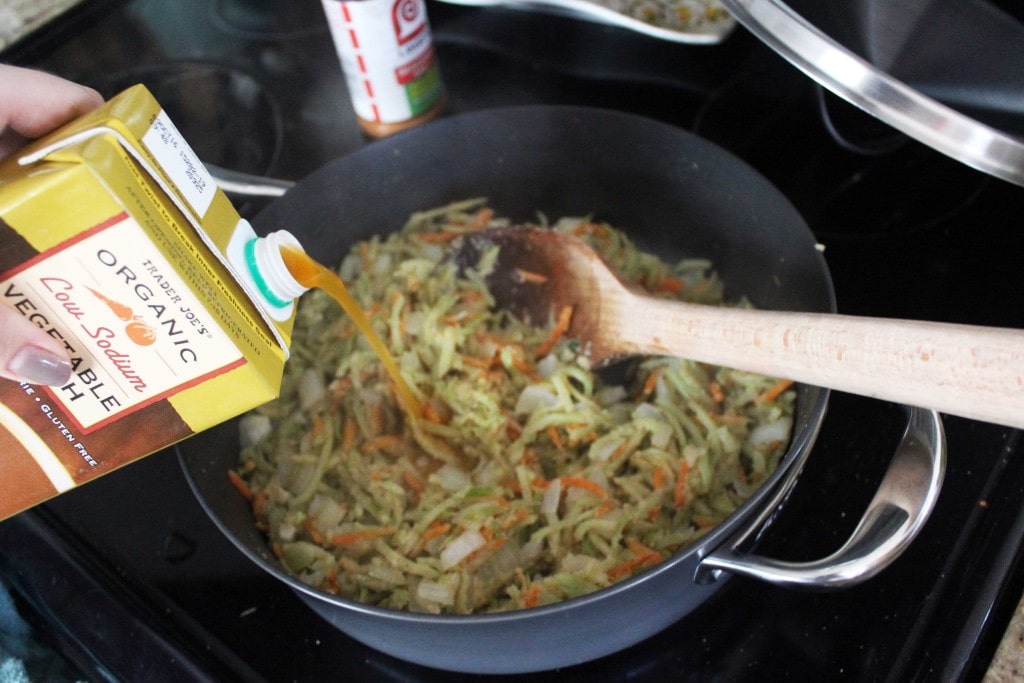 When the flour has cooked into the veggies, pour in the stock and half and half. Stir while you're doing this so the liquid mixes with the flour and thickens.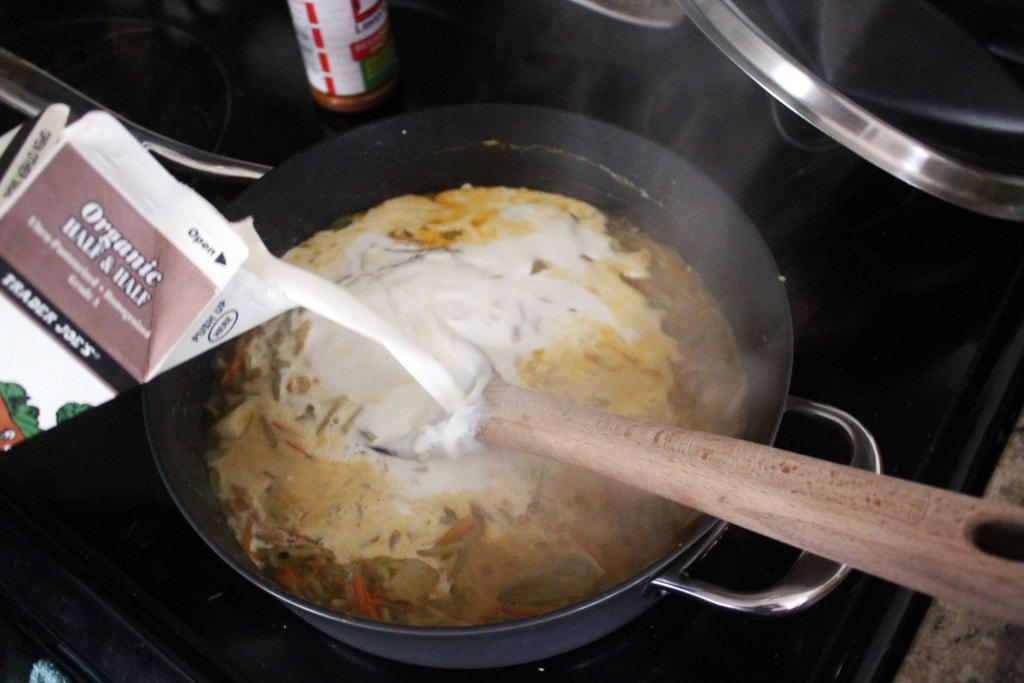 Now, let the soup simmer for 10 minutes or so to really soften the veggies. Turn the heat down to low or medium low so it doesn't bubble too much. If the soup gets super thick, just add in a little bit more stock to thin it out.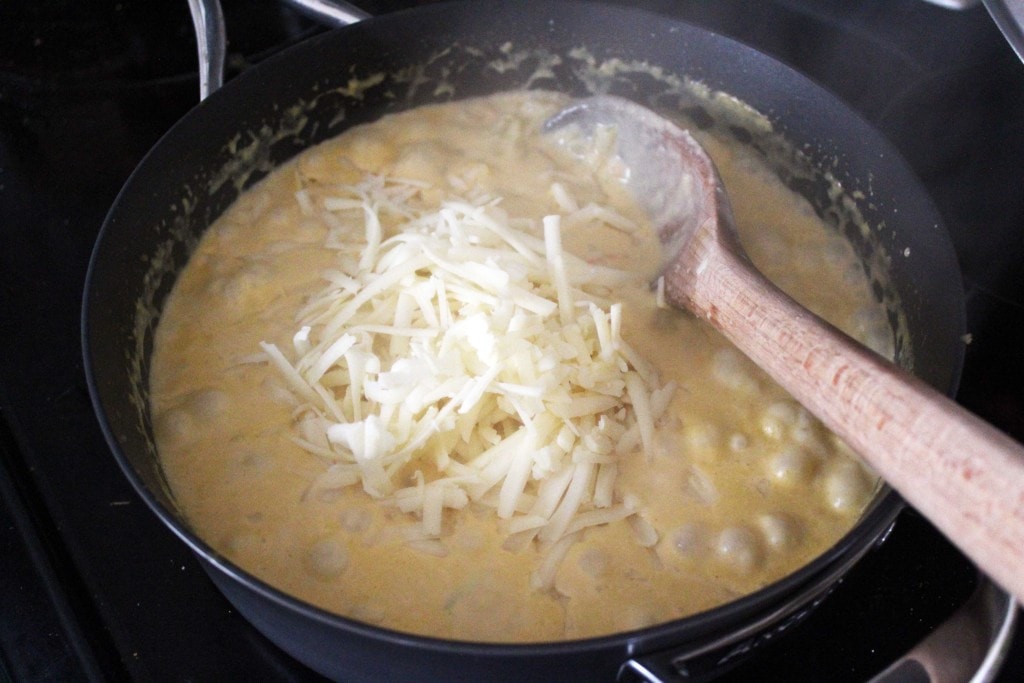 When you'd like to serve, stir in the cheddar and add some black pepper to the soup. Taste and add some more of any of the spices if you'd like - I went for some more flavor here.
Let the cheddar melt, then taste the soup and add more pepper or seasoned salt - whatever you think it needs. You can also add some cayenne pepper if you'd like to make this a little bit spicy!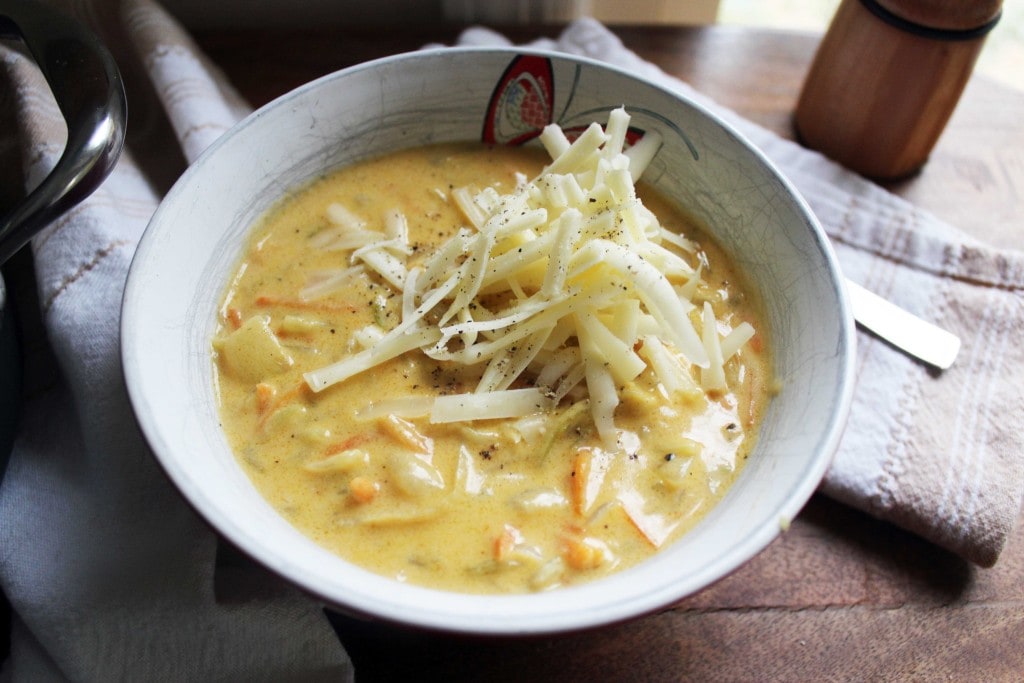 SOUP. For you!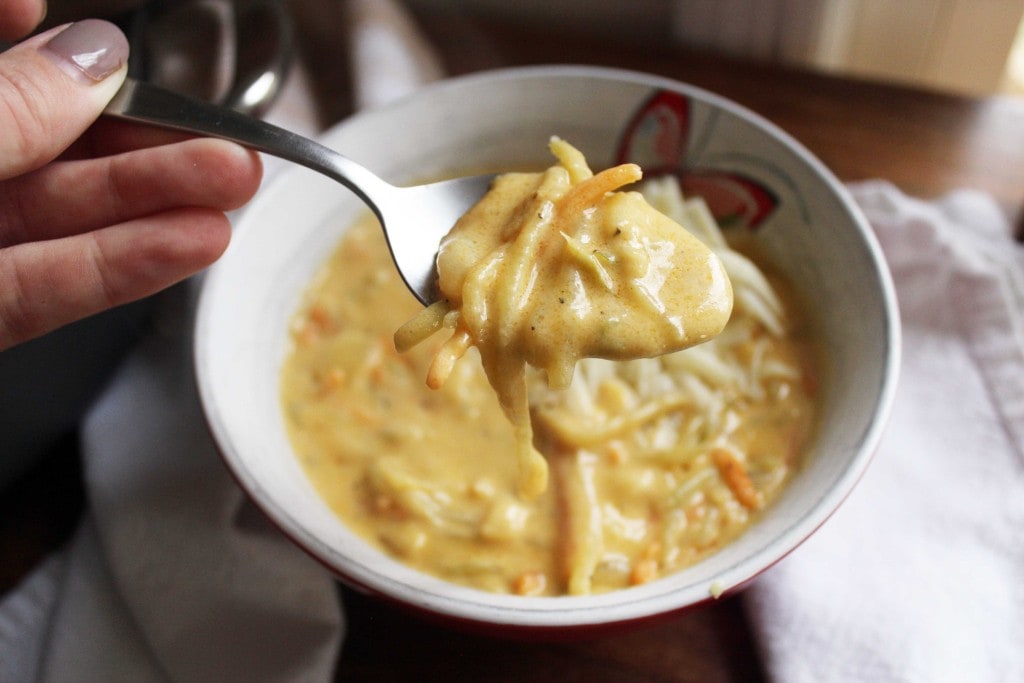 I love the texture here from the broccoli slaw, and the vegetable stock and sharp cheddar in this work together to make almost a briney taste as if you'd added wine or beer to the soup, which you could also do if you were feeling fancy!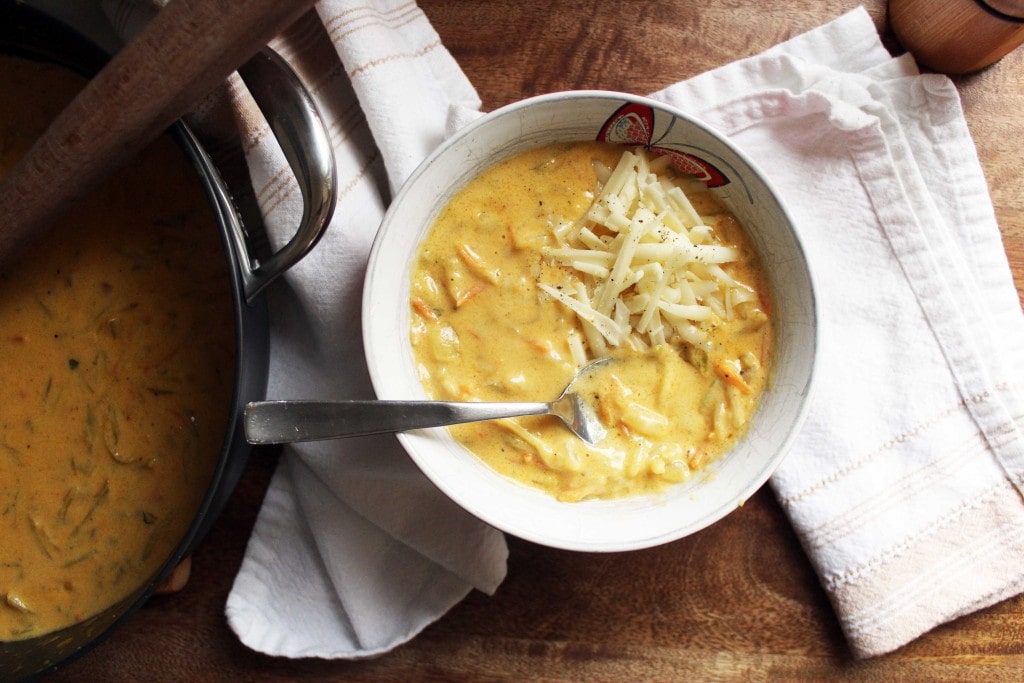 I really think that with the prep of the onion/garlic/cheddar that you can get this soup ready in 30 minutes, but I did the chopping and grating earlier in the day then made the soup.
Chopping the onion and garlic + grating the cheese could easily be a 10-minute meal prep that you do on the weekend, and then this soup can be ready in closer to 20 minutes.
If you want to make the entire soup ahead of time you can do that too, it'll be fine on the stovetop or in the fridge until you'd like to eat, just turn the heat to low to let it reheat gently.
Enjoy this! It's the quick broccoli cheese soup we need for all seasons of life.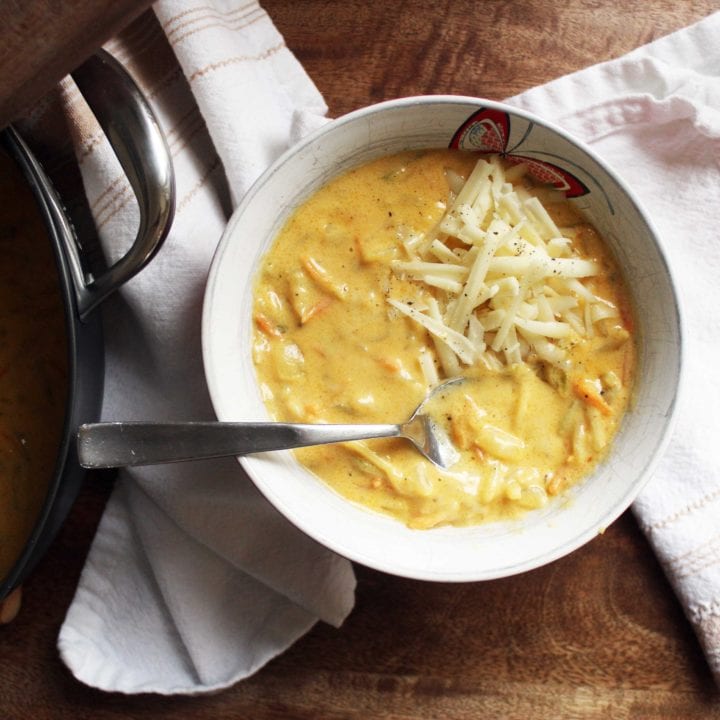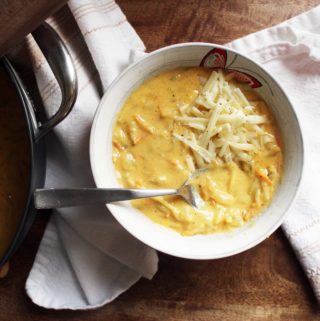 Quick Broccoli Slaw Soup
Super easy broccoli cheese soup recipe made with a bag of broccoli slaw! Just 30 minutes to the best ever vegetarian soup, thanks to storebought broccoli slaw mix.
Ingredients
2

tablespoons

butter

1

medium onion

diced

3

cloves

garlic

minced

1

bag broccoli slaw

1

tablespoon

flour

1

teaspoon

seasoned salt

2

cups

vegetable stock

1

cup

half and half

1

cup

4 ounces grated sharp cheddar cheese, plus more if desired for garnish

pepper

to taste

bread

if desired, for dunking and serving
Instructions
Preheat a soup pot to medium-high heat. Add the butter, onion, garlic, and broccoli mixture to the pot. Cook stirring, for 10 minutes until the veggies are soft. Sprinkle the flour and the seasoned salt over the veggie mixture. Stir for 1 minute more to coat the vegetables in the flour.

Slowly pour the vegetable stock and half and half into the pot, stirring as you do so to incorporate the flour. Reduce the heat to low and let the soup simmer for 5-10 minutes to thicken and soften the veggies. If the soup becomes very thick, add more vegetable stock.

Right before serving, stir in the cheddar. Taste the soup and add black pepper to taste and more seasoned salt if needed.

Serve hot with bread and extra cheddar on top. Enjoy!
Notes
Gluten Free: To make this gluten free, skip the flour and mix 2 teaspoons cornstarch with ½ cup of cold stock. Add this mixture when you add the stock and half and half to thicken the soup without flour.