Ok, so we know that I don't like to bake. I don't like measuring things, it takes kind of a long time, and then I have leftovers that I eat and then feel fat.
The good news is, extra wine or pasta NEVER make me feel fat. So.
I wanted to bake something because we had friends coming into town last weekend and I was making brunch, which rarely happens, AND my sister has a massive rosemary busy AND I love fresh rosemary more than most flavors so....I thought in my brain that shortbread would be yummy. I used this recipe and adapted it for the flavors I wanted to incorporate, and one hour later there was shortbread. This is a SUPER simple recipe that's quite delicious.
You need butter, powdered sugar, flour, a teaspoon of water, and salt for the basic shortbread. Then, we flavor with fresh rosemary and lemon zest. You could use orange zest, other herbs, vanilla...sky's the limit on how to flavor these bad boys!
First, add the sugar, flour, and salt to a food processor. Pulse it a few times to combine.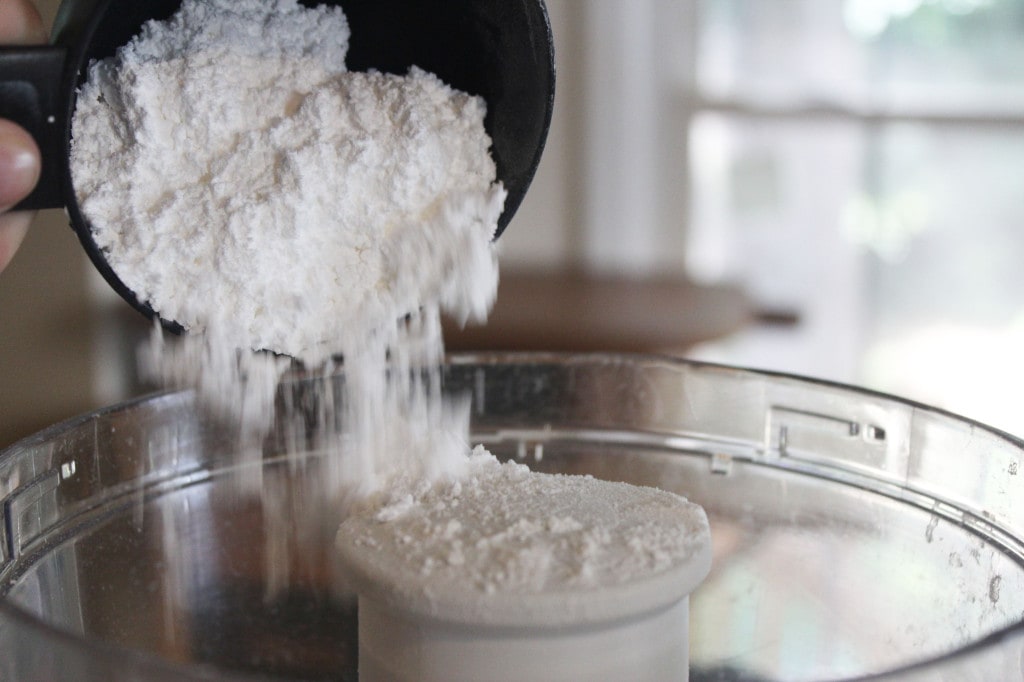 Then, use your fingers to strip the leaves off the rosemary stem into the flour mixture.
And add the lemon zest, water, and butter.
Now, whir everything all together! Most of the dough will be in one big ball. When that happens, we're good to go.
Grab the dough with your hands (scrape up any little bits!) and move it to a piece of plastic wrap.
Then, roll the dough into a long log.
I know, I know.
Wrap the dough up like a piece of candy, then stick it in the fridge for 30 minutes or more - you can make this dough a few days in advance and bake it whenever you'd like to.
When the dough has chilled and you're ready to bake, preheat the oven to 375F and cut the dough into cookie-shaped pieces. I just sliced the original form I'd made, but you can roll these out and cut any shapes you like!
Place the cookies on a sheet pan about 2 inches apart.
Bake the cookies for 12-14 minutes JUST until they turn barely golden on the bottom but are still pale on top.
Remove the cookies from the pan to cool, and make a really pretty set up for brunch with all your cute wedding stuff from Pottery Barn.
Then, munch.
As per the usual, the combo of rosemary with something sweet is just delicious, and these were GONE super quick. No leftovers, which left more room for wine.
Try these the next time you need to "really" bake something.
Lemon Rosemary Shortbread Cookies
---
2 cups

all-purpose flour

½ teaspoon

salt

½ cup

plus 2 tablespoons powdered sugar

1 cup

butter (

2

sticks), softened

2

sprigs of rosemary, stem removed
zest of

1

lemon

1 teaspoon

water
---
Instructions
In a food processor, pulse the flour, salt, and sugar together to combine. Add the butter, rosemary leaves, water, and lemon zest and pulse until a dough forms. Remove the dough to a piece of plastic wrap with your hands and roll into a log. Cover the dough tightly with the plastic wrap, and refrigerate for at least 30 minutes.
When ready to bake, preheat the oven to 375F. Slice the dough into rounds for cookies (or roll out into any shape you like!) and place on a baking sheet with parchment paper or silicone mat.
Bake the cookies for 12-14 minutes until just barely golden on the bottom. Remove from the pan and let cool completely.
Enjoy!
Prep Time:

5

Cook Time:

15