This is so stinking delicious.
Today, we are making chicken. Teriyaki chicken, just like they make in Japan, just like I ate in the high school cafeteria for lunch, but allllll on our own like big kids.
You're going to be obsessed. I've been using this Japanese cookbook all the time as it has some of my total favorites in it, and this recipe is no exception: it's simple, works every time, and has very few ingredients. You DO need to get on board with Mirin for this one, I'm afraid. Mirin is kind of like cooking wine but doesn't have alcohol in it and is kind of briny and sweet and makes Japanese things taste Japanese which I realize makes no sense but you just need to trust me. I've seen it in lots of regular grocery stories, BUT if you don't have it that's ok too. The original recipe calls for sake which I use if I have it. Today, though, it's good old white wine.
Let's teriyaki!
For the sauce, you'll need white wine or sake, mirin, soy sauce, and sugar. Done.
Then, some kind of chicken! Any kind you like. I like boneless, skinless chicken breasts cut in half to make thin cutlets, but any cut of chicken or REALLY any protein that you like is delicious with this sauce. With the chicken I serve white rice and veggies that I saute for 5 minutes with some soy sauce, but you can do any sides you like here!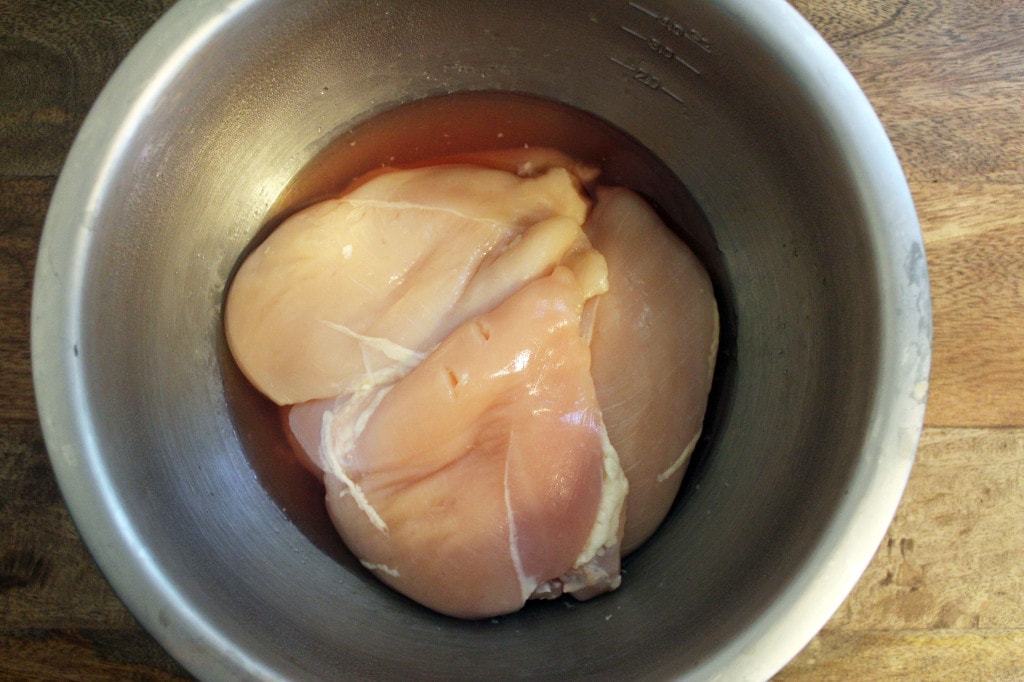 We're gonna make the sauce first. Put all the ingredients in a teensy pan, then bring the liquid to a boil, then turn off. Easy! It doesn't look like a ton of sauce, but it's a strong flavor, so a little goes a long way.
Now, for the chicken. You can cook the chicken any way you like, but I like a pan seared piece of chicken with the sauce coating the whole thing. NOM. To do that, preheat a skillet to medium-high heat with a drizzle of oil, then add the chicken.
These are super thin pieces, so they take about 4 minutes on each side. When the chicken browns, flip them over! Golden and gorgeous.
Now, when the chicken is about 2 minutes away from being done, pour in a small amount of the sauce, then move the chicken around and flip it to coat in the sauce. The sauce should bubble and reduce; the chicken is done when there isn't any liquid left in the pan, just sauce coating the chicken.
Teriyaki! This is such a lovely flavor, and, like I said, can be used with any protein or veggies that you like.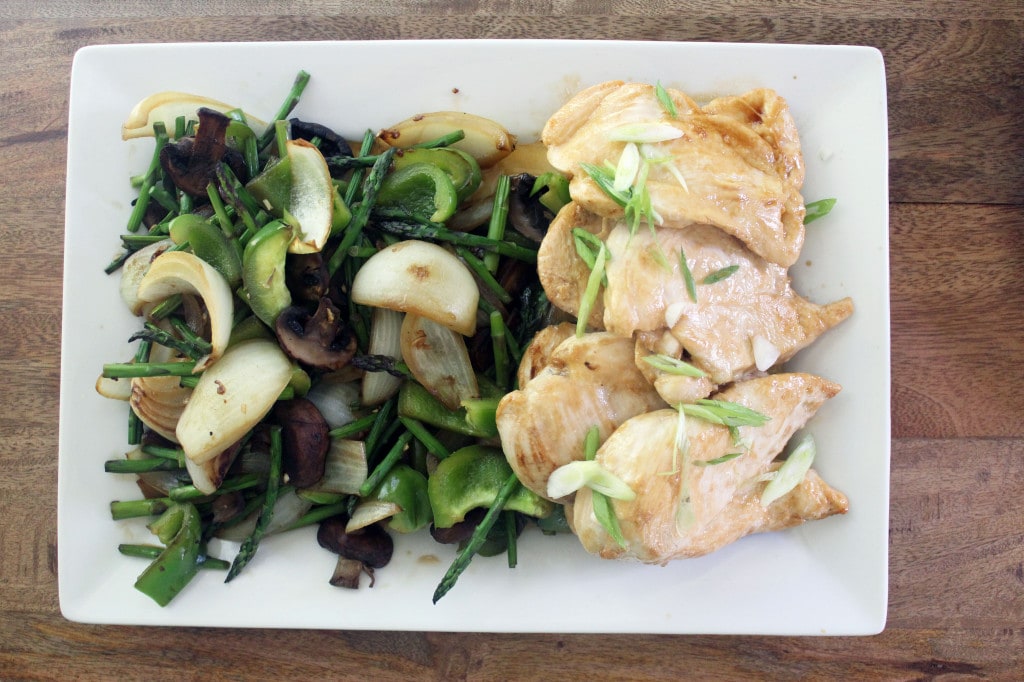 I like extra sauce on the side for drizzling and dipping, and this is a sexy Monday dinner if there ever was one, doncha think?
1

pound thin-cut chicken breasts

2 tablespoons

sugar

4 tablespoons

sake or dry white wine

4 tablespoons

mirin

8 tablespoons

soy sauce
sliced scallions, optional, for garnish
rice, veggies, or other sides, for serving
---
Instructions
Add the sugar, sake, mirin, and soy sauce to a small skillet over medium heat. Let come to a bubble, and when the sauce boils turn the heat off. The sauce will thicken slightly.
For the chicken, preheat a skillet to medium-high heat with a drizzle of oil. Sear the chicken on both sides for 2 minutes each, then pour 2 tablespoons of the sauce into the skillet. Toss the sauce with the chicken and cook until the sauce coats the chicken and the chicken is cooked through.
Serve as desired with extra sauce for drizzling and dipping.
Notes
This sauce is delicious on any protein that you enjoy - make a double batch and it'll be good in the fridge for several weeks.
You may also grill your chicken or protein of choice. Simply grill the chicken as usual, brushing the sauce over the meat beginning halfway through cooking.
Prep Time:

5

Cook Time:

20