This is SO perfect for a Monday. It is simple, delicious, and goes with anything.
My sister and her husband actually made us some chicken like this ages ago, and we couldn't get over how wonderful it was, why we hadn't done it before, and how stupid-easy it can be if you keep pesto around, which we usually do. The method is so simple: grill some chicken on one side. Flip it, then spread pesto on the grilled side. The chicken finishes cooking through on the second side while the pesto warms just a little bit, and the end result is charred grilled flavor mixed with bright fresh herbs from the pesto.
I actually pulled up my entire basil plant last week and made TONS of pesto. I have a bunch in the freezer now, I gave some to friends, and I made THIS for a friend who just had a baby. I let the chicken cool then sliced it so it could be eaten one-handed, and packaged it with some salad, quinoa, and garlic bread. It was perfect because the chicken is great cold over salad or warmed as a hot meal. Leftovers that feel not like leftovers, that kind of thing.
Let's get the easiest recipe ever going. Chicken, salt, pepper, pesto. Probably some oil or cooking spray for the grill. PS you OF COURSE do not need to make your own pesto, and PPS you can totally make this in a skillet if you aren't feeling grilling tonight. Options!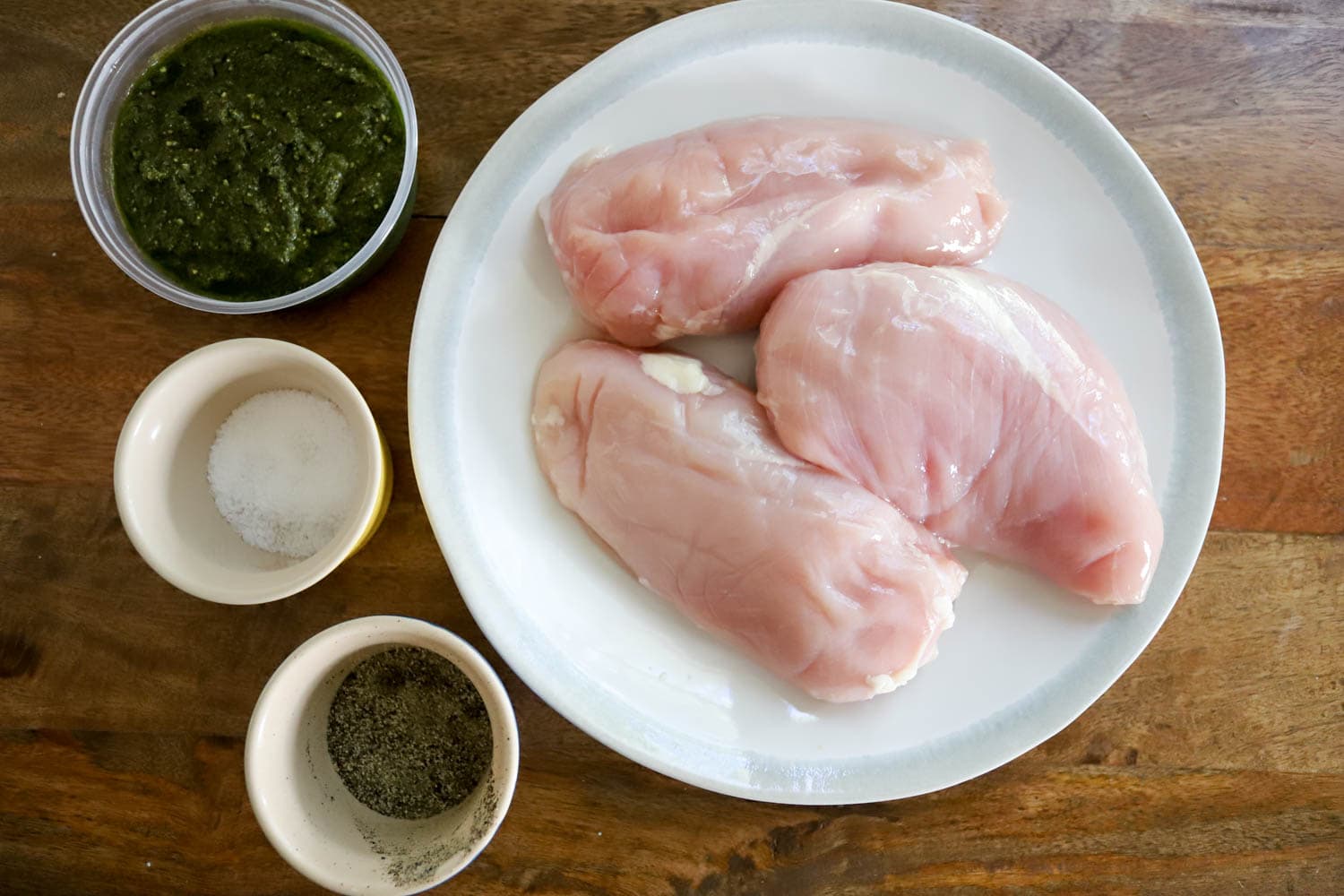 First, preheat the grill/grill pan to a medium temperature and sprinkle the chicken with salt and pepper. These are whole chicken breasts so the idea is that the grill shouldn't burn the chicken before it cooks all the way through. We are only flipping this one time, too, so the first side will take some time to cook half or more of the piece of chicken.
When the grill is hot, place the chicken on the grill and let it cook! These pieces of chicken were 1.5 to 2 inches thick, so they cooked on the first side for about 20 minutes, then on the second side for 15 minutes more. If your pieces of chicken are thinner they'll cook faster, and you can of course split the pieces of chicken like cutlets to make the cook time more like 7 minutes per side.
When the chicken is ready to flip you'll see the meat starting to cook up the sides of the breast and the first side will have dark grill marks and be nice and crusty.
Flip the chicken, then immediately spread each piece with a few tablespoons of pesto - enough to make a nice layer maybe ¼ inch thick.
Let the chicken finish cooking on the second side, not moving it, and then done! Super simple and delicious pesto chicken.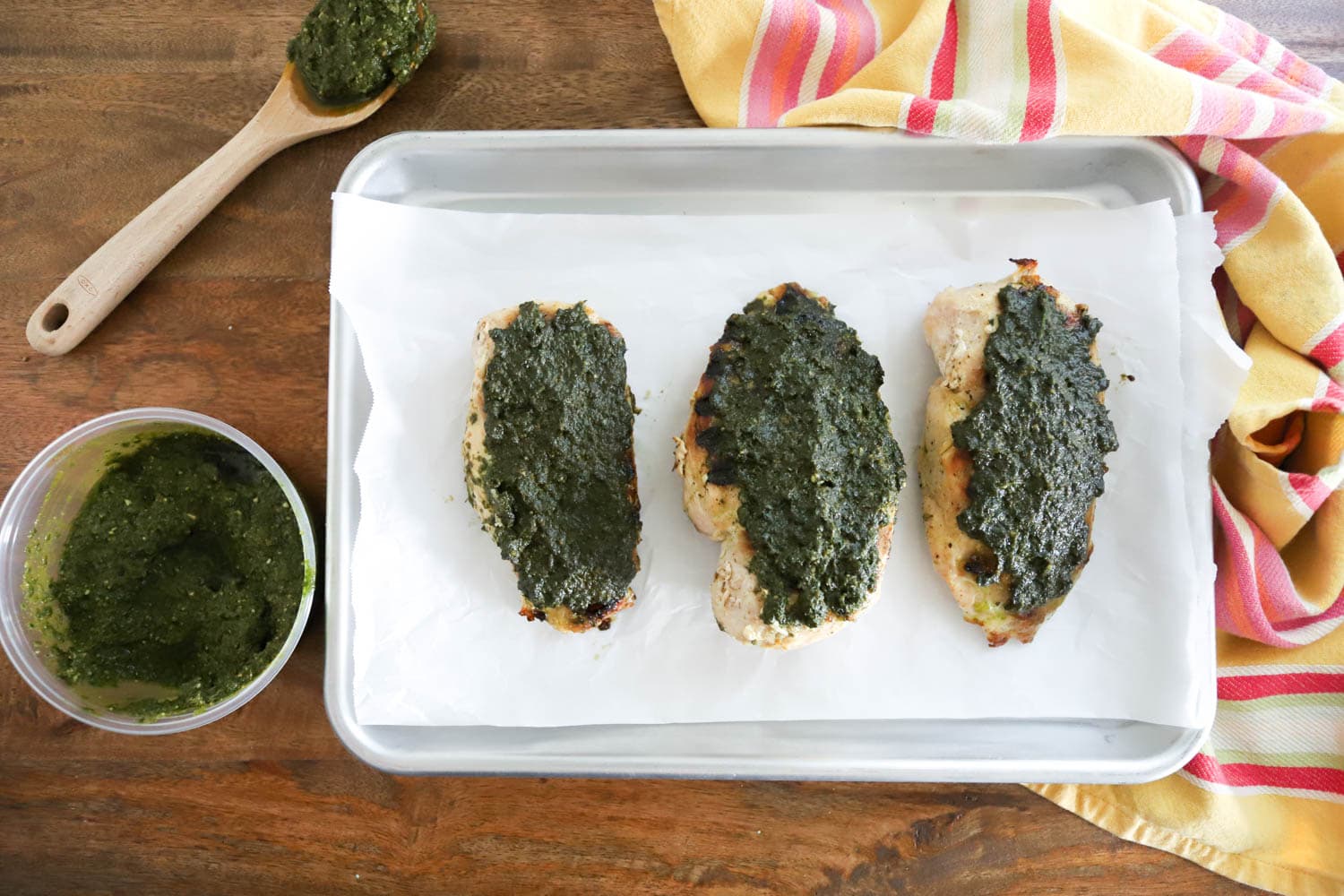 I know this is almost embarrassingly easy, but I love dishes like this for weeknights that don't require a ton of thought or prep. You could easily grill bread and veggies and make an entire meal on the grill, or cook some rice while the chicken is grilling, throw together a salad, and call it dinner. The leftovers are great on main dish salads, shredded in pita, or sliced on a grilled cheese wouldn't be terrible at all, amirite?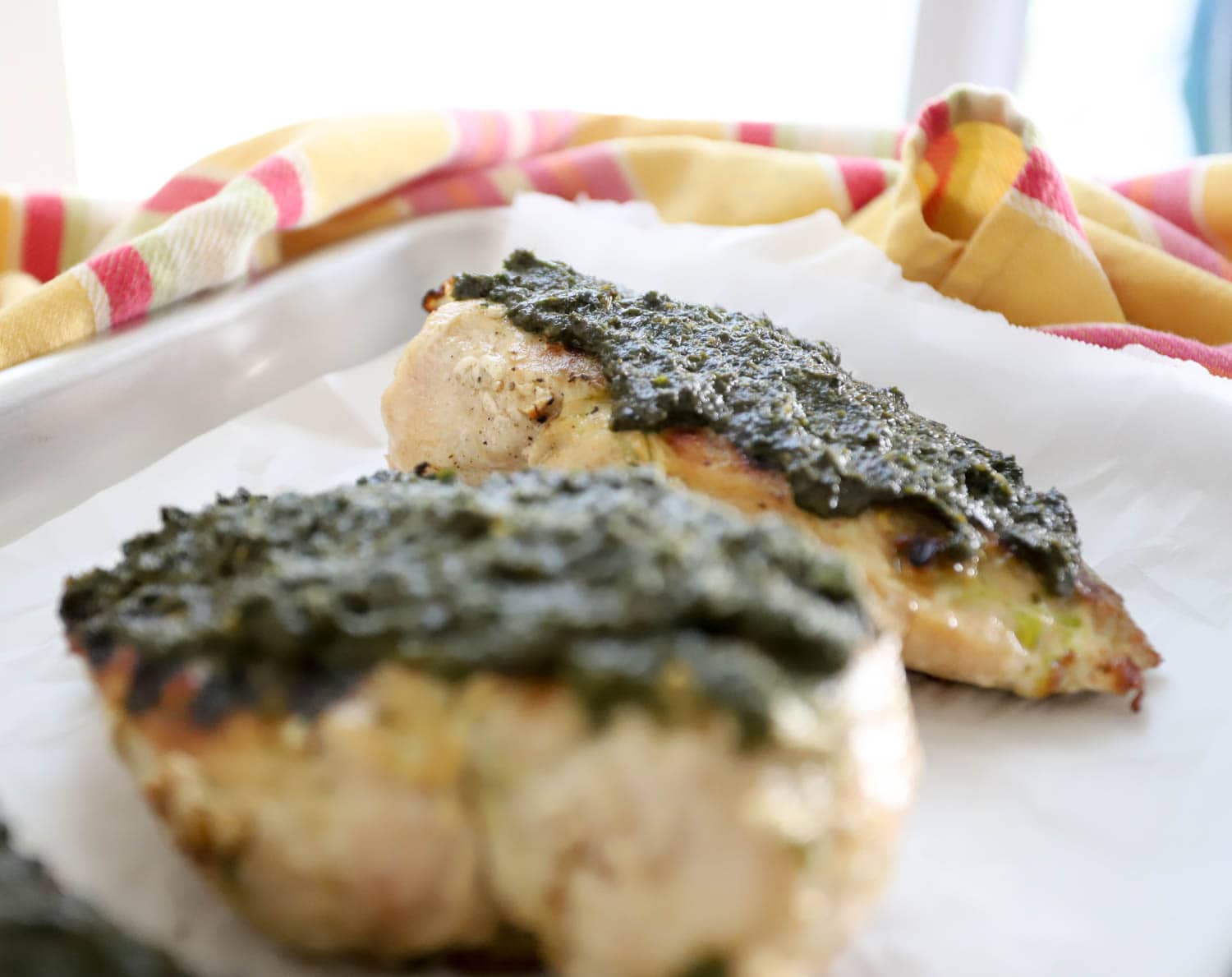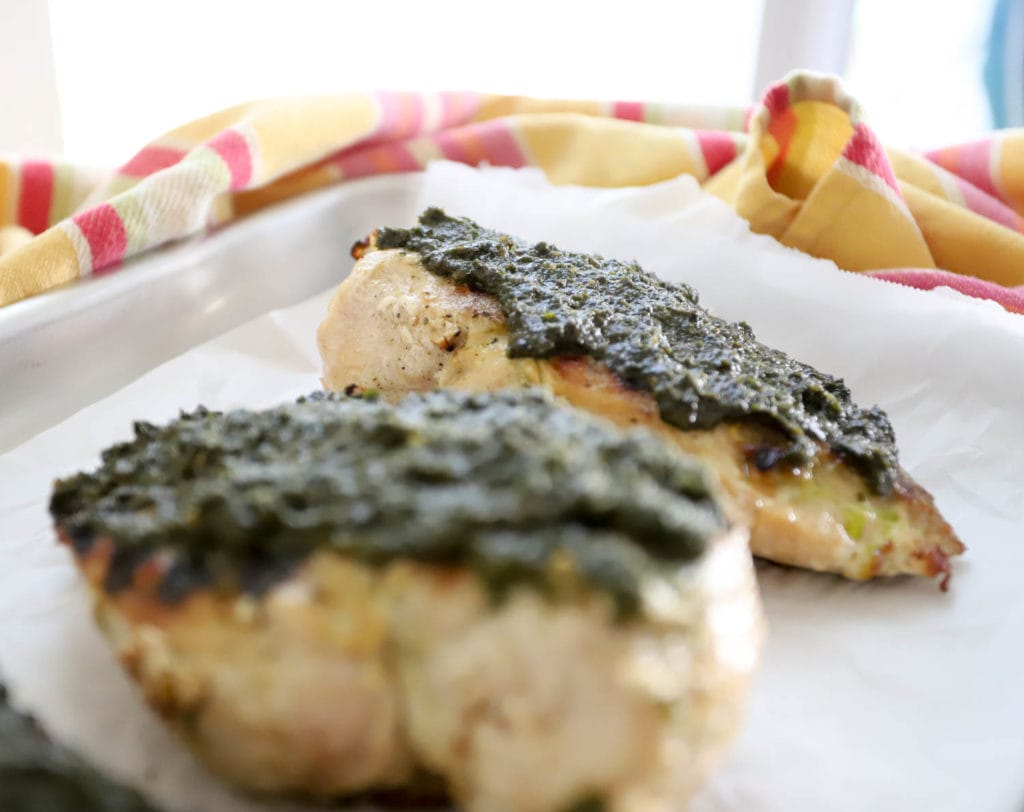 Perfect for Monday, or any other day. Enjoy!
Grilled Pesto Chicken
Ingredients
boneless

skinless chicken breasts

prepared pesto

salt

pepper

oil for the grill
Instructions
Preheat a grill or grill pan to medium heat and oil the grill. Sprinkle as many pieces of chicken as you are using with salt and pepper.

When the grill is hot, place the chicken on the grill and let it cook over halfway without disturbing it, about 20 minutes for 2-inch thick pieces of chicken.

Flip the chicken and spread about 2 tablespoons of pesto on each piece, enough to form a coating of pesto. Let the chicken finish cooking through on the second side without disturbing it, 10-15 minutes.

Serve the chicken immediately with your favorite dinner. Enjoy!
Notes
I portion one large chicken breast (anything over 8 ounces) for two people. How many people you are serving will dictate how much chicken and pesto you need.
For quicker cook time, cut the pieces of chicken in half through the breast to form 2 thinner pieces. Chicken an inch or less thick will cook through in a little less than half the time.