Ugh, I don't know what to call anything anymore. So I'll just spend a decade tell you about everything, mmkay?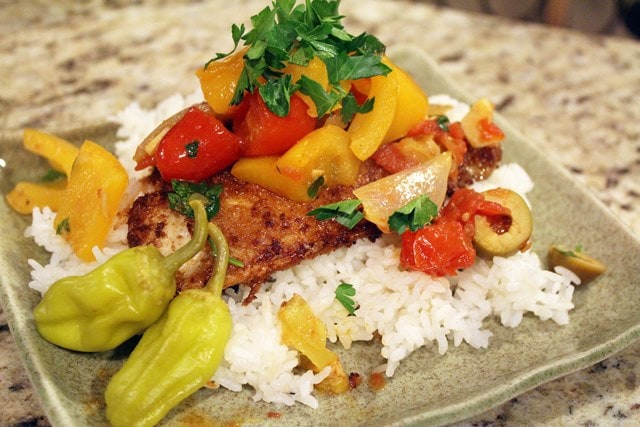 This is fish. Fried SO lightly that it's practically healthy. Seriously. Then it has a tomato sauce that is sweet and tangy and spicy. It has 2 kinds of peppers and olives and onions and parsley and it is SO DANG GOOD.
Seriously. I made this then two days later made the exact same sauce and ate it over pasta. So...there's that.
You're gonna wanna make this, though. It's just slightly different than a standard marinara, and SO good. OH OH OH! And you can print the recipe at the bottom of the post if you want. Go look at it right now. See? SEE? What do you think? Is that good? Helpful? Please say yes.
For this beauty, here's what you need:
Fish. Some kind of white fish. This was cod. it was frozen, then I thawed it out. Seriously - try not to freak out. You'll also need cooking spray and bread crumbs for the fish - whatever kind you like!
You also need olives - any kind you like.
Then, you need a handful of cherry tomatoes, half an onion, a bell pepper, sugar, white wine, tomato paste, garlic, canned tomatoes (just half a can or so), and the STAR: Peperoncini peppers. They're so good, and add a great tang and spice to this dish. You need butter and olive oil, too.
Also, you need fresh parsley.
First, preheat a large skillet with a drizzle of olive oil. When the olive oil is heated, add the onion chunks. They should sizzle!
Let the onion sizzle for 1 minute, then add the bell pepper. I used yellow, but you can use whatever color you like!
While the veggies are cooking, peel and chop the garlic.
After the veggies have just slightly softened, add the tomato paste and garlic to the pan, and reduce the heat slightly so the garlic doesn't burn.
Then, add the cherry tomatoes.
If you're using whole canned tomatoes, use your fingers to gently crush them into small bits, then add the canned tomatoes, their juices, and the white wine to the sauce.
Yum! Stir all that together and let it gently come to a bubble, then add the sugar.
Drain the olives and cut them in half if they're very large.
When the tomato sauce has reduced by about half, add the olives and stir. Taste the sauce! Add a sprinkle of salt, if you'd like. Reduce the heat so the sauce is simmering gently.
Now, let's prep the rest of the ingredients and get the fish ready! Cut the stems off the pickled peppers and slice them.
Then roughly chop the parsley.
Preheat a pan with a few pats of butter to medium-high heat. For the fish, spray it with cooking spray on both sides and sprinkle it lightly with salt.
Then gently dredge it in the bread crumbs.
Press the bread crumbs into the fish on both sides so you create a nice crust!
When the butter has melted, fry the fish on each side for 3 - 5 minutes until the bread crumbs are crispy and the fish is cooked through.
While the fish is cooking, add the parsley and pickled peppers to the sauce, then stir everything together.
AND, if you want the sauce to be super tangy and spicy, add 1 - 2 tablespoons of juice from the peperoncini. I'm telling you, it's GREAT. A super duper wonderful addition.
And that's it! I served this over rice, and it was delicious. Just heap a piece of crispy fish over rice..
...then top it with some of the veggies and sauce.
Then, naturally, I added extra parsley because it adds such a great freshness to the sweet and tangy tomato sauce.
And that's it! Grab some boxed wine, and you're good to go.
Enjoy this one!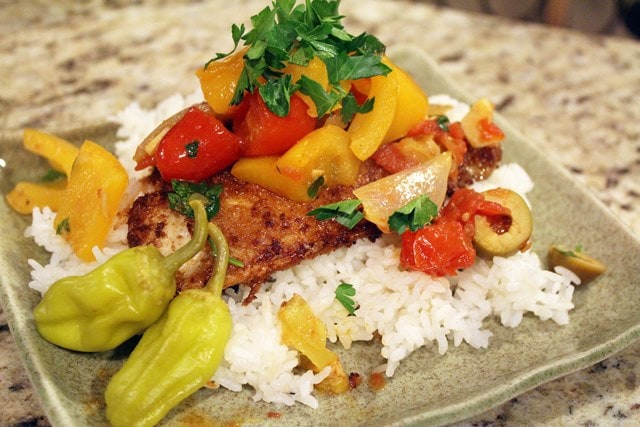 Crispy Fish with Spanish-Style Spicy Tomato Sauce
---
Prep Time:

15

Cook Time:

25

Total Time:

40 minutes
Scale
Ingredients
2

filets white fish, 4 - 6 oz each
cooking spray such as Pam
salt, to taste

1/2 cup

bread crumbs (your choice, I used a combo of panko and regular)

2 tablespoons

butter

1 tablespoon

olive oil

1/2

large onion, cut into wedges

1

sweet bell pepper, cut into chunks

1 tablespoon

tomato paste

3

cloves garlic, peeled and chopped

1 cup

cherry tomatoes, halved

1/2 cup

canned tomatoes in juice (whole or diced)

1 cup

white wine

1 teaspoon

sugar

1/4 cup

olives, your choice, drained and halved

1/2 cup

peperoncini peppers, thinly sliced, plus extra for serving

1/4 cup

fresh parsley leaves, chopped, plus more for serving
white rice, for serving
---
Instructions
Preheat a large pan to medium-high heat for the sauce with the olive oil. Add the bell pepper and onion and cook for 3 minutes, stirring, until just sizzling and starting to brown.
Add the tomato paste and the garlic and stir to coat the veggies in the tomato paste. Reduce the heat slightly so the garlic doesn't burn. Add the cherry tomatoes, the white wine, and the canned tomatoes with their juices, breaking up whole canned tomatoes with your fingers or a wooden spoon.
Add the sugar, and stir to combine together. Let the sauce simmer for 5 minutes to allow the veggies to cook and the fresh tomatoes to wilt.
Add the olives and stir to combine. Taste the sauce, and add more salt if you'd like. Reduce the heat to low and allow to simmer while you prepare the fish.
For the fish, preheat a skillet to medium-high heat with the butter. Spray the fish with cooking spray on both sides and sprinkle in salt, then dredge in the bread crumbs. Use your fingers to press the crumbs into the cooking spray coating to form a crust.
When the butter foams and turns slightly brown, lightly fry the fish on both sides for 3 - 5 minutes each side until the bread crumbs are crispy and the fish is cooked through.
Right before serving, add the sliced banana peppers and the parsley to the tomato sauce. Stir, and taste the sauce once more. I added a splash of the peperoncini liquid to the sauce to add more tang and spice.
To serve, place a piece of fish over a serving of hot white rice. Spoon some veggies and sauce over the fish, then top with extra parsley if you'd like. Serve with extra pickled peppers alongside, too!
This is so yummy that I included it in this week's Weekend Potluck. It's this cute thing where blogs from EVERYWHERE can submit recipes to share with others – it's so fun to check out new things!