Welcome to the easiest breakfast in the world. We've been trying to make a better effort to actually EAT breakfast these days, and, as you can imagine, eating a healthy, quick breakfast is a lot easier when there are things around that are healthy and quick.
Like this casserole! My method is: make on Saturday, bake on Sunday, enjoy for Sunday brunch. THEN, leftovers are just microwaved in wedges all week, and it's perfect. Love a good breakfast that reheats well too, amirite?
The inspiration for this, if you can call it that, came from two things. First, Jay loves eggs and I could really take them or leave them. UNLESS they're baked in something like a quiche. Or this tortilla casserole! Eggs are cheap and great for you, so I want to use them more but also want to, you know, enjoy them. Because otherwise what's the point? Then, we had a package of tortillas that someone had opened from the bottom and then stuck back in the fridge gaping open so half of each of the tortillas was rock hard and kind of crispy, while the "inside the package" half was still basically tortilla-like. And I hate throwing food away. SO! We made a casserole that soaks eggs and half and half into old tortillas and brings them right back to life. You obviously don't HAVE to use ancient tortillas.
For the casserole, you'll need tortillas that fit inside a pie plate, baking dish, or skillet. I used a cast iron skillet that was a teensy bit smaller than my tortillas and just wedged them in and it was perfect. Then you'll need eggs, half and half, grated cheddar (note HOW lazy I am right here), hot sauce, and sausage. You can skip the sausage for a vegetarian version, or use Mexican chorizo if you have any of that on hand - that would be DELICIOUS.
First, we'll get the sausage ready. We just need to crumble it, cook it and drain it.
Like so.
Then, mix the eggs, half and half, and hot sauce in a bowl.
To make kind of a custard-like mixture.
Now, we layer! Start with a tortilla in the bottom of the dish you're using - the skillet you used for the sausage might be perfect! Mine broke because of the sad tale I already told you.
Then, add ⅓ of the sausage over the tortilla followed by a small handful of cheese.
Then, pour over just a leeeetle bit of cheddar. Not too much! We want a lot leftover for the top of the casserole.
Now repeat that two more times: tortilla, sausage, cheese, custard, until you've used all of the sausage and have some cheese and egg mixture left. Top THAT with a tortilla. Pour any and all leftover egg mixture on top of the final tortilla.
Then, top that with some more cheese!
Now, we cover this with foil and either let it sit in the fridge overnight or on the counter until you're ready to bake it. You can bake it right now, but if you wake up, make casserole, and immediately bake it it just kind of feels like you're showing off, right? In any event, when you do want to cook this, do so at 400F. Bake the dish covered for the first 30 minutes, then uncovered for 10-15 minutes more until it's nice and golden on top.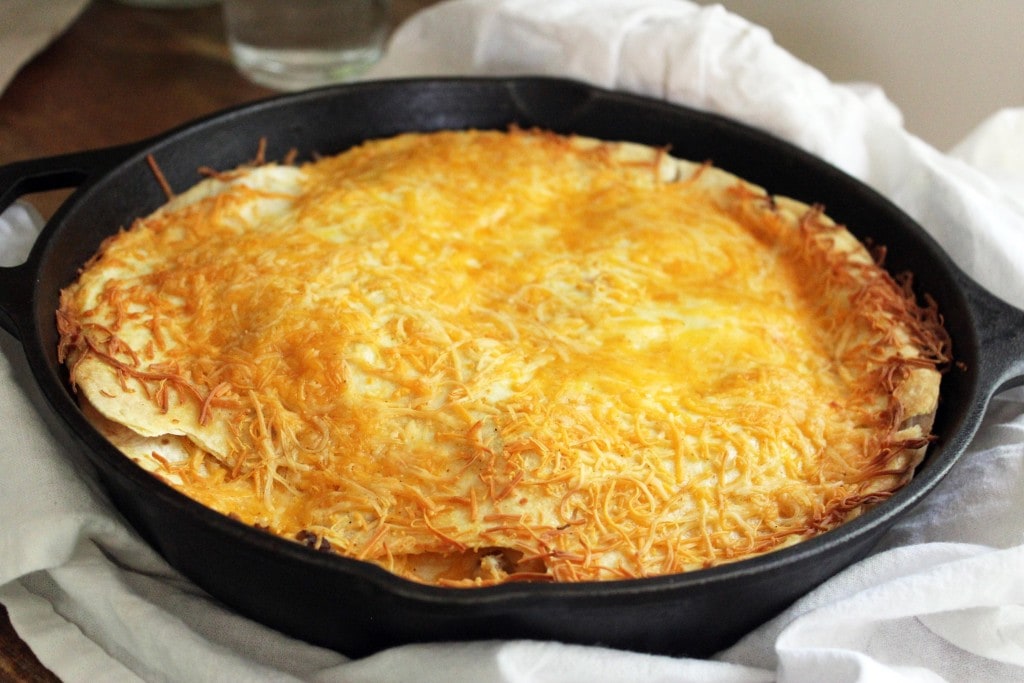 Let the casserole rest for a few minutes, cut it into wedges, and serve!
You will be OBSESSED with this. You could add salsa/sour cream/cilantro/lime or any other Mexican-ish toppings you'd like, but I'd DEFINITELY say that avocado and extra hot sauce are a must, along with some fruit because it's effing breakfast, y'all.
Then, eat! Look how GOOEY this is, kids. So ridiculous and easy to the max. It's filling, and you could make it even healthier by using all egg whites AND whole wheat tortillas, but, again, that's just showing off.
OR! Fajita veggies griddled with the sausage? That could totes be happening next.
And, if you happen to find yourself with some lovely flowers and want to put this casserole in front of them, it'll look extra pretty.
Keep this in mind for your next brunch, and make extra to have for the entire week. You'll love it!
Tortilla Breakfast Casserole
Ingredients
4

burrito-sized tortillas

2

links Italian sausage

breakfast sausage, or chorizo, casings removed

1

cup

half and half

5

eggs

Mexican-style hot sauce

to taste

2

cups

shredded cheddar cheese or Mexican cheese blend

fresh avocado

cilantro, and fruit, optional for serving
Instructions
In an oven-proof skillet about the same size as the tortillas, cook and crumble the sausage over medium-high heat until browned. Remove the sausage from the skillet and set aside.

In a bowl, combine the eggs, half and half, and as much hot sauce as you'd like to form a custard.

Assemble the casserole: In the skillet you used to cook the sausage, layer a tortilla, ⅓ of the sausage, a small handful of cheese, and a bit of the custard mixture. Repeat with the remaining ingredients, using all the sausage but saving some custard and some cheese for the very top of the casserole. After the 4th tortilla has been placed over the sausage, pour the rest of the custard over the casserole and top with the remaining cheese.

Cover the casserole tightly with foil and place in the fridge overnight if not baking immediately.

When ready to bake, preheat the oven to 400F and bake the casserole for 30 minutes covered, then remove the foil and bake for 10-15 minutes more until the casserole is set. Let the casserole rest out of the oven for 10 minutes, then cut into wedges and serve.

Enjoy!
Notes
If you don't have an oven-proof skillet, just cook the sausage separately and layer the casserole in a round baking dish.
Nutrition