We went to the beach last weekend.
From Wednesday night - Sunday morning, and it was probably the best time we've had all year.
Not really, we've had a pretty great year. This trip, though...it was kind of our last do-nothing-hurrah before 5 weeks of very intense class/work/yoga/wedding planning. We have a LOT to do in the next month, so escaping it all for a few days was exactly what we needed.
We went to Sullivan's Island, SC, and, naturally, ate a lot. I know - shocking.
We love Sullivan's - it's right outside of Charleston, only three hours away from home, and is quiet without being boring. We were SUPER bummed to leave on Sunday, so I'm spending the week filtering through pictures of all the food we ate to show you! FUN, and it also means that around 9:30 in the morning I get ready for lunch. Excellent.
This is Dunleavy's - one of the very few (mayyyyybe ten total?) restaurants and bars on the island. I'd never been, but Jay and our friends that we were staying with had, and it came highly recommended!
Also, it had the shortest wait for lunch at 1:30pm....there were other places we would have tried too, but when we don't have a real plan we go for convenience.
First, be aware that, even with an Irish name, this is totally a beach bar. Little-to-no AC, NO CREDIT CARDS ACCEPTED, and....decor that reminds me of a beach bar? I don't know. You decide. This place is super small and super local, which was great for us! We walked here from our house so we were already sweaty, but if you're looking for a cool, quiet environment you might want to wander elsewhere.
Dunleavy's is seat-yourself, so when we walked in we hovered over a couple who appeared to be done for a few minutes, then snagged their table. Because of the no-hostess situation, we waited for 12 full minutes before having our order taken. Not a huge deal, because the service was great once we got a server, but kind of annoying because we were thirsty. Luckily, we got over it and ordered fun beers (they have a great list!) when our server arrived.
For food, you know I usually like to eat somewhere a few times and order lots of things but....we weren't terribly hungry, and we were only there for 4 days. So, we ordered two things and nothing more. Sorry! My personal opinion is that if two things can be this excellent, other things on the menu likely are. If I were a gamblin' woman and all that.
First, we ordered wings. WINGS! We love 'em. These were baked then grilled, and for our "flavor" we went with Ranch Dry Rub with hot sauce on the side. This was a great choice. The hot sauce was HOT enough for my angst-loving fiancee, and the ranch rub was fun and different. Dunleavy's could very well open a packet of dressing mix and throw it on baked wings but....it didn't matter? Still so delicious. The dressings appeared made in-house, too, which is always a good sign in my book.
For our entree, we ordered the special - a mahi wrap. I wanted seafood so....we went for it. On sandwiches, side options include chips, pasta salad, and potato salad. I thought chips might be fries (Irish Pub assumption?), but they were Lays or something similar. I'm not above bagged chips, but I was a bit surprised by this considering that everything else seemed fresh and homemade.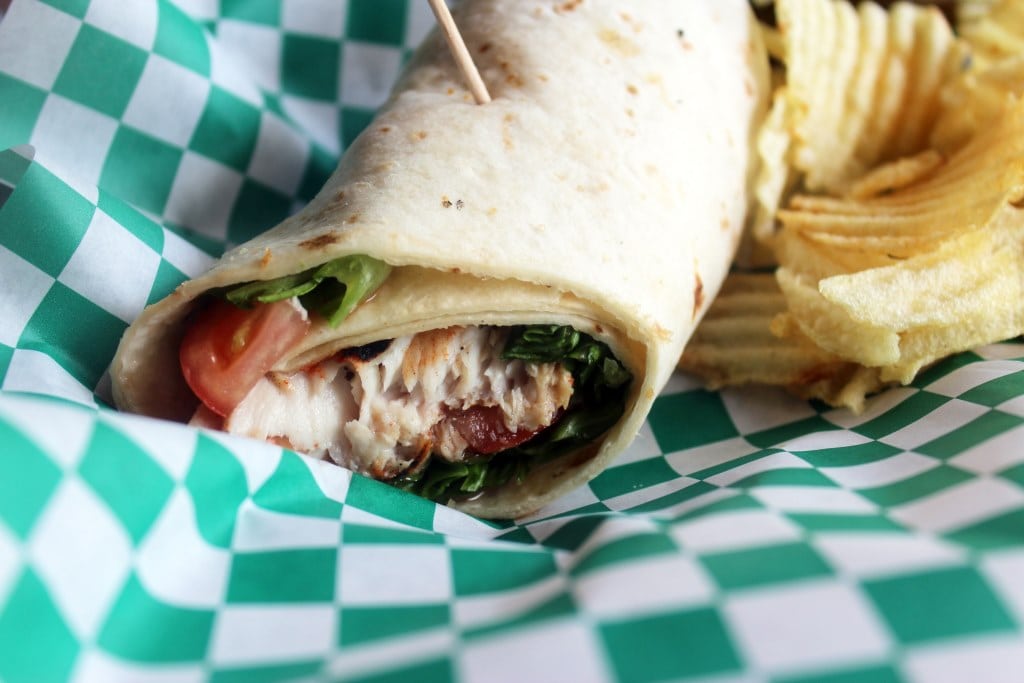 The wrap itself was GREAT. Super fresh, with no tartar sauce in sight. Instead, hot sauce! The grilled mahi with fresh veg and hot sauce were GREAT together, and I sort of wished we weren't sharing our meal.
Overall, this was a great experience, and the food was delicious and affordable. We'll be back next year for sure!
This joint doesn't seem to have a website, but you can give them some love on Urbanspoon or Facebook. Also, in my googling I found that they host a charity Polar Bear Swim each January first - how cool is that! Last year the proceeds from the event went to SC Special Olympics - a great cause, and what seems like a sweet excuse to drink all day before jumping in freezing water. I don't get it, but if it raises money, why not? Props to Dunleavy's for participating in something so great.