You know that thing where your husband goes shopping with you and purchases bananas because OMG HE LOVES THEM SO MUCH and then doesn't eat a single one and then they turn black but they've been in the fridge so you're pretty sure they won't hurt anyone so you decide to make banana bread?
Marriage note: Jay can't be trusted in a grocery store. Former fat kid stuff. Not good for the wallet or relationship.
Anyway, we bought these bananas then WENT TO HAWAII. Of course. And they totes turned black, but I'm pretty sure that was because they were in the way top of the fridge which tends to freeze things. Then I moved them and they thawed?
Anyway. I peeled one and they were fine, and I remember my mom making banana bread with black bananas as a kid. Because the apple doesn't fall far. So off to Google I went! I wanted something moderately healthy and with not many ingredients because I'm lazy. I found THIS LINK and basically followed the recipe exactly, except for a few alterations noted below. The entire Ambitious Kitchen blog is stellar, so you're going to want to head over there and find a gazillion new recipes to try ASAP, mmkay?
Let's make bread.
You need bananas! The recipe says 1 heaping cup, I used 4 small bananas. Near-death color optional. You also need cinnamon, baking soda and powder, an egg, applesauce (takes the place of oil, butter, AND extra sugar. boom.), oatmeal, whole wheat flour, milk (or half and half if you're like me, no biggie), honey, and vanilla. Basic stuff, guys. I bought whole wheat flour because I'd never used it before, and DAYUM nice nutty flavor and easy to work with.
Preheat yo oven to 350F, and let's get to it. Mash the bananas first! These were brown, but didn't taste a BIT different than they should have, so calm down and be respectful of my right to consume the food I purchase even if it's beyond the realm of being anywhere close to aesthetically pleasing. Gotta be me.
To the bananas, add the honey, applesauce, and egg.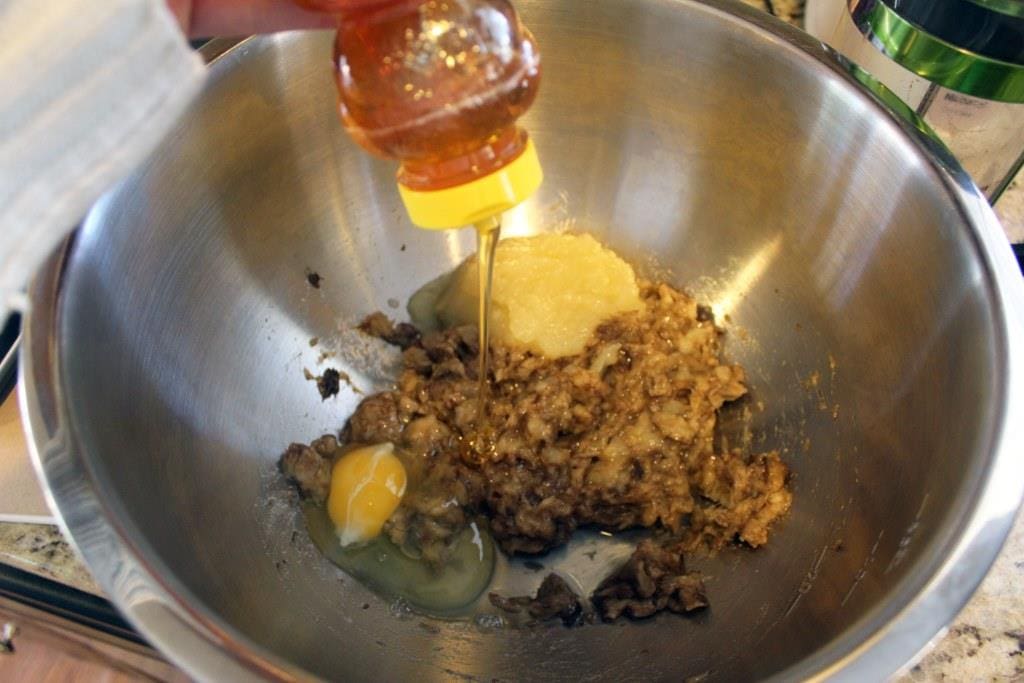 Then add the milk and vanilla, and stir everything to combine it really well and beat the egg a bit. A spoon or whisk is fine for this job, no need to disturb the mixer.
Then, dump in the dry ingredients! The oatmeal....
...then everything else. The recipe says to combine try ingredients separately, but I couldn't be bothered. I dumped them all in, then really gently mixed the dry ingredients together over top of the banana mixture.
Then I stirred everything together just until smooth and combined.
OH AND ALSO. My mom always put chocolate chips in her banana bread, and she doesn't weigh enough to donate blood. SO I FIGURE that if I start adding chocolate to all my baked goods I might shrink right down. Long story short: add some chocolate chips or nuts here if you want. It's good.
Now, pour the batter into a loaf pan sprayed with cooking spray. Sprinkle some oats over the top if you'd like - they're super pretty.
Then we bake! Holy moly, friends. 60-70 minutes in the oven until a toothpick or fork slid into the center comes out clean. You don't even KNOW what the smell is like in your house. It's perfect. So cozy and wonderful.
Take this out of the oven and let cool in the pan to firm up just a bit for 5-10 minutes.
Then remove from the pan and let cool completely, orrrrrr you can totes slice while it's still warm.
Which is exactly what I did. You will LOVE this, friends. Super moist and decadent with whole ingredients that aren't expensive or fancy. Also....pieces grilled in some butter for dessert with a sprinkle of cinnamon? Not a terrible idea AT ALL.
Thanks Monique, for the recipe! It's a full-on fav in our house now.
Whole Wheat Oatmeal Banana Bread
---
Prep Time:

10

Cook Time:

65

Total Time:

1 hour 15 minutes
Scale
Ingredients
1

heaping cup mashed banana (

3

-

4

small bananas, very ripe)

1/3 cup

honey

1/3 cup

applesauce (I just used one individual cup which is closer to

1/2 cup

and the recipe turned out perfectly)

1 teaspoon

vanilla

1

egg

3/4 cup

milk (almond, coconut, half and half...whatevs)

1.5

cups whole wheat flour

1 cup

rolled oats

1.5 teaspoons

baking powder

3/4 teaspoon

baking soda

1/4 teaspoon

salt

1 teaspoon

ground cinnamon

1/2 cup

dark chocolate chips, optional
---
Instructions
Preheat the oven to 350F and spray a loaf pan with cooking spray.
In a large bowl combine the banana, applesauce, honey, egg, milk, and vanilla until creamy. Make a well in the center of the wet ingredients and add the remaining ingredients, reserving a few oats for sprinkling over the top if you'd like. Combine the dry ingredients gently, then fold into the wet mixture until just mixed. Pour into a loaf pan and sprinkle with extra oats.
Bake for 60-70 minutes until a toothpick inserted in the center of the loaf comes out clean. Let cool for 5 minutes in the pan, then remove from the pan to a rack to cool completely before covering or slicing and serving.
Shared at
Weekend Potluck
!