So now that we're officially past the unofficial first weekend of summer we can definitely start eating foods like this every day for dinner and all weekend drenched in rose, right?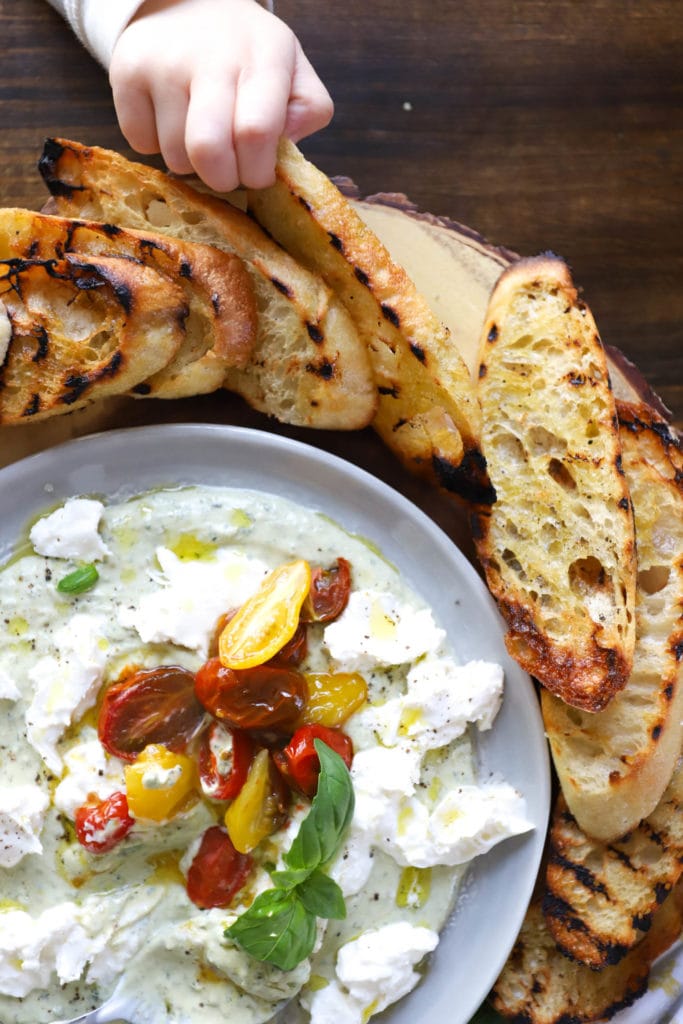 You get me.
Did you have any fun at all this weekend? It poured here all day yesterday and we spent Saturday and Sunday doing house project after house project because our addition is almost-basically-will-never-be-fully DONE, but done enough that we're in it and frankly if the contractor never does his final few items then he never gets his final million dollars and that's fiiiiiiine with us, you know? So we're in the new space, it's bright and fresh and clean and we are SO happy with it, and with that came a gazillion small and large organizing tasks, moving things around, hanging things on walls, all of the things. It's far from done, but we did a ton of work on it this weekend and then tons of TV watching yesterday with Beck including her first experience with Moana, which was super special and fun. I'm not sure she grasped much of the story, but every time Moana made any kind of a sad face, Beck was certain "she just misses her Mama!"
So! Now that we used a holiday weekend to do chores, we are READY for summer. We're kicking off our June with a baby sprinkle on Saturday for my bff Heather, and this is going to feature prominently on a very-massive cheese board that I have planned. I've made this a few times already in the spring, and have never had any leftovers, which is how I gauge the success of a new dish. The summer flavors scream at you in the best possible way: a quick pesto yogurt dip, creamy burrata torn over top, roasted cherry tomatoes for tang and to round out the caprese feel of the dish. Olive oil, salt and pepper top the dish AND the bread that I highly recommend grilling - grilling all of the things all summer is the name of our game.
I keep pesto in my fridge almost all of the time, so once I gather my ingredients I roast the tomatoes, mix up the pesto dip, grill the bread, and assemble the dish. The entire thing can be made and assembled in advance, just keep the tomatoes separate until you're ready to serve. Grilled bread is great freshly off the grill, of course, but you can always skip that step or do it in advance, no worries either way.
Start by preheating the oven to 400F, then halve the tomatoes. Arrange them on a baking sheet, and drizzle them with a bit of olive oil. Sprinkle the tomatoes with salt and sugar, then stick them in the oven and roast them for 20 minutes. See also: my favorite topping for salads and chicken and fish and life.
While the tomatoes are roasting, we make the quickest ever yogurt pesto sauce. I'm a big believer in full fat yogurt, but use anything you'd like here.
Mix the yogurt, pesto, and a few pinches of salt. Taste it and adjust the seasoning if you'd like until it's very flavorful.
If you're grilling the bread, now is a great time to do that as well. I use this indoor grill pan when I'm not grilling anything else and drizzle/sprinkle the bread with olive oil/salt/pepper, then grill over medium-high heat until there are grill marks on both sides of the bread.
When the tomatoes are roasted, I place the burrata on some paper towels to dry, then gather up the rest of my ingredients: pesto dip goes first on a plate. Then, I tear the burrata right over the pesto dip and drizzle the whole plate with oil then sprinkle the dish with salt and pepper.
The roasted tomatoes and fresh basil go right on top, bread cozies up for a snuggle, and LOOK AT IT.
It's glorious.
This is creamy, bright, fresh, light-but-decadent, and the combination of flavors and textures from the various layers in the dish are so delicious. This is a great time to use any kind of fancy oil and flaky/crunchy salt you may have; the more flavor the better.
I think the rain will stop soon. I think the house will feel vaguely finished and not covered with dust at some point. I feel the change of seasons and new projects and adventures and all of those things should start with this dish asap. It's palate-cleansing from the inside out.
Enjoy!
Yogurt Pesto Dip with Burrata + Roasted Tomatoes
Ingredients
2

cups

cherry tomatoes

halved

½

teaspoon

salt

½

teaspoon

sugar

2

tablespoons

olive oil

5

ounces

plain full-fat yogurt

2

tablespoons

prepared pesto

4

ounces

burrata

patted dry with paper towels

Grilled bread

fresh basil, salt and pepper for serving
Instructions
Preheat the oven to 400F and arrange the tomatoes on a small baking sheet. Sprinkle with the salt and sugar and drizzle with the olive oil.

Roast the tomatoes for 20 minutes until wilted slightly. This can be done in advance.

Meanwhile, mix the pesto with the yogurt. Taste, and add a few pinches of salt to your preference.

Assemble the dish. Spread the pesto yogurt in a shallow bowl or plate. Tear the burrata over the top into bite-sized pieces, dripping the cream from the inside over the pesto as you go.

Sprinkle the burrata with salt and pepper and add a few drops of olive oil to the plate if you'd like. Garnish with fresh basil.

Top with the roasted tomatoes and serve with grilled bread. Enjoy!