Yummy vegan pasta salad is the perfect summer side dish! I make this with any seasonal veggies I have on hand, pine nuts, and lots of fresh herbs and lemon vinaigrette for brightness. Change up the veggies, pasta shape, and herbs each time for a fresh take on this yummy, healthy side dish!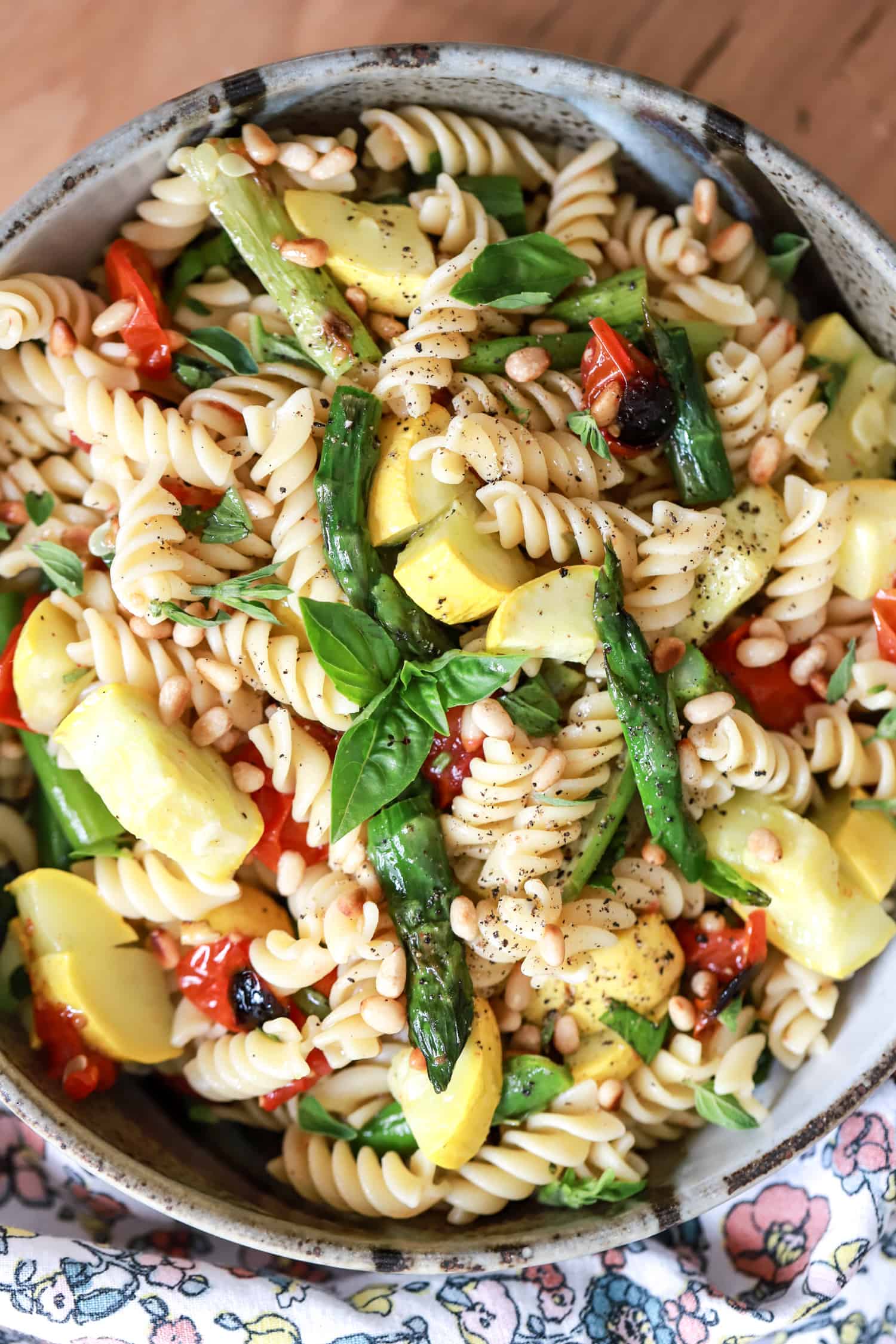 I just finished the book Hello, Summer and tbh want to start all recipes like this with OH, HELLO SUMMER, but it feels kind of redundant.
Know that I'm thinking it, though.
This is, to me, the pasta salad to end all pasta salads. It's light, fresh, and full of summery flavors. I love that it's vegan because lots of different types of eaters can eat it, and almost every aspect of it can be switched up based on what you have on hand. Different nuts, veggies, fresh herbs, it all works.
Lemon Vinaigrette
The dressing is super simple here, and delicious enough to be used on any salad you like. I use just oil, lemon, garlic, salt, pepper, and sugar. A few pinches of dried herbs such as oregano or dill would be delicious to change the flavors a bit!
Make the dressing by shaking all the ingredients together in a jar, or whisk together in a dish. For prep, the dressing can be made up to a week in advance.
Pasta Salad Ingredients
The ingredients for this dish are also super simple, summery, and versatile. I like to use different colors of veggies, and asparagus, squash, and cherry tomatoes work really well together.
If you'd like to change up the veggies, anything that is somewhat soft and cooks at around the same time as the above veggies will work great! Eggplant, zucchini, fennel, or thin green beans would all be delicious.
Method
Like most pasta salads, it's sort of 1. dressing, 2. stuff, 3. noodles, 4. mix.
To make this go really quickly, I boil the pasta, then drain it and let it cool slightly while I work on the veggies.
I broil the veggies for this pasta salad because I love the charred edges AND broiled veggies are done super quickly.
Place the veggies on a sheet pan and drizzle them with olive oil and salt. Preheat the broiler to HIGH and broil the veggies for 5-10 minutes, about 8 inches away from the top of the oven.
The time for broiling will depend a lot on your oven and where the rack is placed, so set a timer and check the veggies after 5 minutes, then every 2 minutes after that until they're done: soft and dark in places but still with some texture and body.
Once the pasta and veggies are done I let them sit for about 10 minutes to cool slightly. You can also go ahead and mix everything up and stick it in the fridge to cool together.
When you're ready to assemble the pasta salad, add the noodles, veggies, pine nuts, and basil to a big bowl.
Pour over about half of the dressing, taste, stir, repeat, etc.
The vegan pasta salad should be super flavorful and coated in the dressing but not swimming in it, either. It's totally up to you how much you use; I start with about half of this batch then add a little more right before serving for a fresh flavor.
What To Serve With Vegan Pasta Salad
Um, hi, YUM. I love this because it's so light and fresh but can for sure be made into a whole vegan meal if you'd like. It's also not terrible alongside some marinated grilled chicken, roasted carrots, and focaccia for a really special summer dinner.
Summer potluck, meal prep lunches, though; this pasta salad is alllll we need to keep us going.
Meal Prep and Storage
I've made this and eaten it right away still slightly warm, which was honestly delicious. I'm into a room temperature pasta salad situation, always.
For prep, you could make this entire dish in advance and serve it cold or at room temperature. It may wilt a little bit as it sits, so you could also store the veggies and pasta together, undressed, then add the pine nuts, basil, and dressing right before serving.
When I make this in advance I always add the basil right before serving since it tends to brown a bit, and I drizzle on some more dressing to gloss up the entire dish.
This pasta salad will be delicious in the fridge as leftovers or meal prep for at least 3 days, maybe longer if it doesn't get eaten before then.
Make this soon, and enjoy!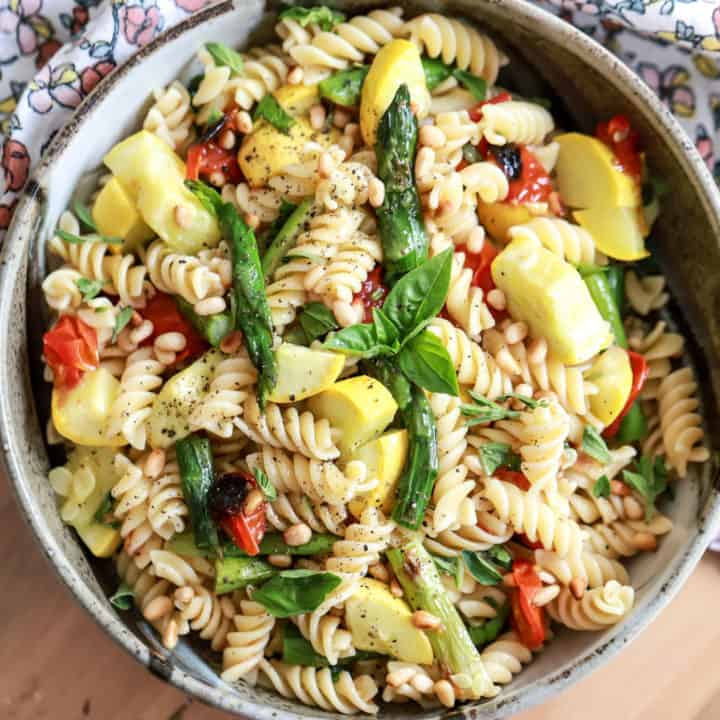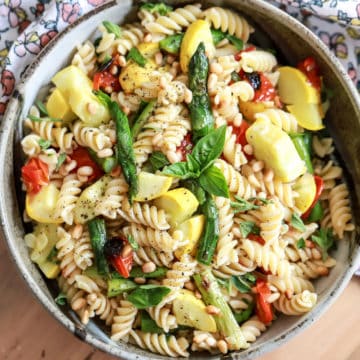 Vegan Pasta Salad with Roasted Veggies
Super flavorful pasta salad that is totally vegan! Easy to make in advance and versatile; use any pasta or veggies you have on hand. The perfect side dish for all summer long!
Ingredients
Pasta Salad
8

ounces

short pasta

cooked to al dente in salted water

2

tablespoons

olive oil

8

ounces

asparagus

cut into 2-inch pieces

1

cup

cherry tomatoes

halved

1

yellow squash

cut into bite-sized pieces

3

tablespoons

toasted pine nuts

¼

cup

fresh basil leaves or other herbs

salt and pepper
Dressing
⅓

cup

olive oil

2

lemons

juiced (about ¼ cup lemon juice)

1

clove

garlic

finely minced or pressed

2

teaspoons

kosher salt

1 ½

teaspoons

sugar

black pepper
Instructions
Note: For timing, I usually start the water to boil for the pasta, then broil the veggies and make the dressing while the veggies are broiling and the pasta is boiling. When I do it that way, this pasta salad is done in about 45 minutes.

Dressing: Shake all ingredients together in a jar or whisk together in a bowl. Taste, and add more salt, sugar, or pepper if you'd like. Set aside until ready to use.

Pasta Salad: Preheat the broiler and arrange the veggies on a sheet pan. Drizzle with the oil and sprinkle with salt. Broil the veggies for 5-10 minutes about 8 inches away from the broiler until slightly charred in places.

Allow the cooked, drained pasta and the broiled veggies to cool for 5-10 minutes, if you have time.

To assemble, add the pasta, veggies, pine nuts, and basil to a large bowl. Pour over about half of the dressing and stir to combine. Taste, and add more dressing to your preference.

Serve immediately or chill covered. Right before serving, season additionally with a little more dressing, pepper, and more herbs, if you'd like. Enjoy!
Notes
Mix it up! Use any nuts, veggies, fresh herbs, or pasta shape you like. This is a great use-up for small amounts of ingredients, and can be different each time.
The dressing for this is fairly salty as it's going to be flavoring lots of pasta and veggies. Don't stress if tasting the dressing on its own is very salty.