Gahhhh I just can't stop with the fresh summer flavors. They're too good, you know? In this case we're loving on cucumbers - our yard went bonkers with them pretty early in the summer and, while the plants are a little dry and sad now, we're still getting a few per week and loving it. Beck has discovered DIP! and loves to basically eat sour cream while holding a cucumber, which I'm pretty sure counts as a vegetable, right?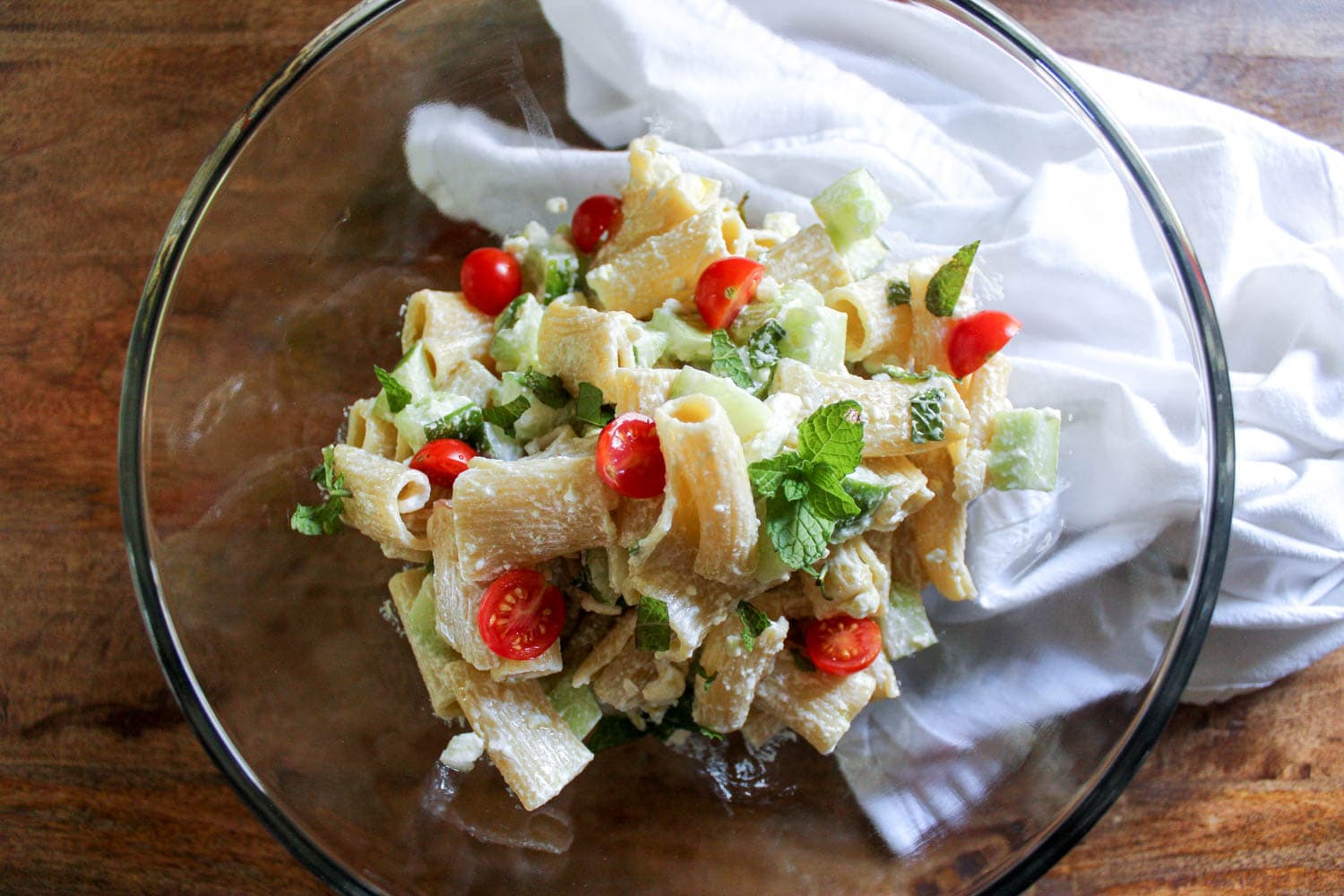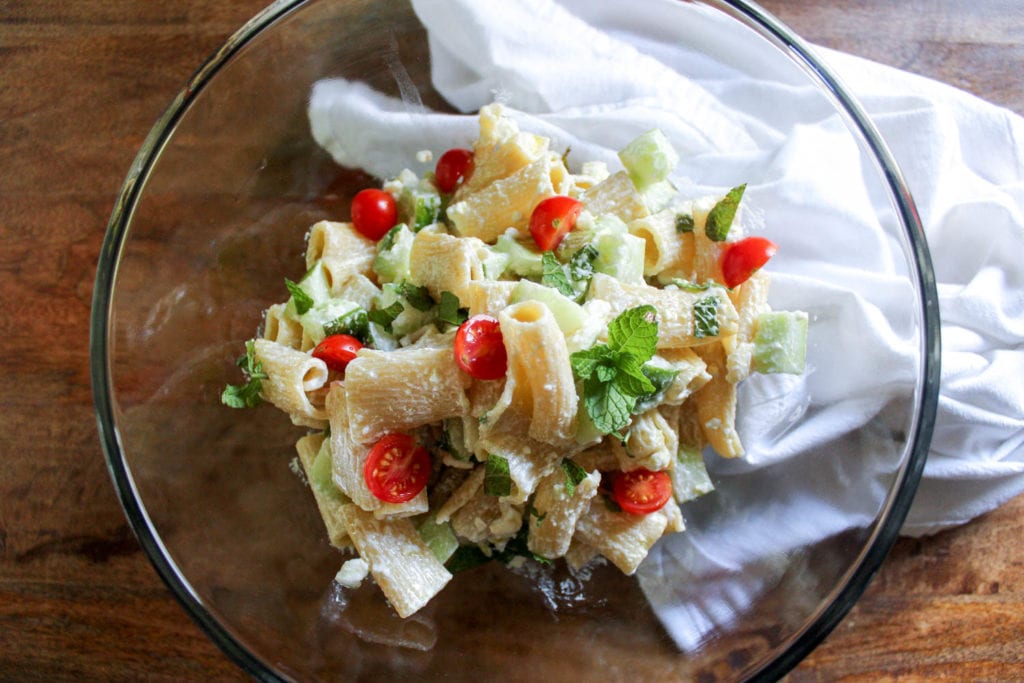 I made this salad a few weeks ago for our neighborhood block party, and am super obsessed with the flavor combination. I love that so many cultures have a yogurt-based dip to serve with spicy or warmer flavors, and if it includes feta I'm a thousand percent in. The flavors here are pretty classic tzatziki with let's say a Persian flair - mint and cumin to add extra flavor to the dish. I decided to make the flavors into a pasta salad because I love a fancy-ish pasta salad at a potluck and everyone loves pasta, right?
Jay just told me about a low carb diet he was reading about where not eating this stuff will cure cancer and I'm thinking...how much do I care about that? He's probably not wrong, but pasta feels so right.
So we make it for a potluck, we only have a little bit, and we use yogurt and olive oil in the dressing because healthy fats.
You need! Pasta, cucumber, mint, and feta. The dressing is yogurt, olive oil, white vinegar, sugar, cumin, garlic, and a pinch or two of salt. I garnished this with cherry tomatoes from our yard because they are SO wonderful this year - but you can leave them out if you don't have any.
First, make the dressing. Whisk all of the ingredients together and taste: add salt or a touch more sugar to your preference. The dressing won't be terribly smooth because olive oil and yogurt don't love each other, so just stir until the consistence is relatively even and call it a day. While you're working on the prep, cook the pasta to package directions in salted water, then drain it.
Next, chop the cucumber and mint and crumble the feta. My cucumber had a ton of huge seeds so I scraped them out, but it's not necessary unless your cuke seems particularly watery.
When the pasta is cooked and has cooled a bit, add it to a large bowl with the feta, mint, and cucumbers.
Pour all of the dressing on top, and stir!
Now, of course, taste the dish and see if you'd like to add a bit more salt or pepper to the dish.
Top with extra mint and halved cherry tomatoes, and done!
I love this because it feels familiar because pasta and most people know what tzatziki is, but putting them together is delicious and a nice change from traditional pasta salads, which always seem to be either lemon-based Greek or creamy southern-style at the functions I attend. Neither are bad at all, quite the opposite, but different pasta salad flavors can't hurt anything, right?
You get it. Enjoy!
Tzatziki Pasta Salad
Ingredients
12

ounces

short-cut pasta

cooked to package directions and cooled slightly

1

medium cucumber

diced

6

ounces

feta

crumbled

¼

cup

mint

chopped

1

handful cherry tomatoes

halved

½

cup

Greek yogurt

¼

cup

olive oil

1

tablespoon

white vinegar

½

teaspoon

sugar

¼

teaspoon

cumin

1

clove

garlic

minced
Instructions
Place the cooled pasta in a large bowl with the cucumber, feta, and mint.

In a small dish, whisk together the yogurt, oil, vinegar, sugar, cumin, and a pinch of salt. Taste, and season additionally if desired.

Pour the dressing all over the pasta and veggies. Stir gently to combine and taste; add more salt to the salad if needed.

Garnish with extra mint and the cherry tomatoes. Enjoy!