Happy Friday! As promised yesterday, I'm going to share with you two very yummy things that you can make together or separately this weekend for a super duper delicious meal!
The first is twice baked potatoes, which are just delicious. They can be made long before the actual meal then just heated up, and they can be flavored a thousand different ways!
Mine have roasted garlic and sage, which are basically amazing.
Plus, potatoes are delicious and cheap, so you can make them for a huge crowd of people and not feel poor or stressed or weird.
Anyway.
Here's what you need!
4 Potatoes (½ potato per person plus a few extra halves is plenty - increase the recipe as you see fit!)
1 whole head garlic
Olive Oil
Salt and Pepper
1 stick butter, divided
½ cup milk or half and half
2 tablespoons chopped herbs - I used sage and rosemary, but whatever you like is just fine!
First, we roast the potatoes and garlic all at once. For the garlic, wrap it tightly in tin foil - it can go in the oven with the potatoes!
Then, grab olive oil, salt, and potatoes. Wash the potatoes well before you roast them; we're eating the skins of these bad boys!
Lay the potatoes on a baking sheet or roasting pan, then drizzle them with olive oil - a teaspoon or so for every 2 potatoes.
Sprinkle the potatoes with lots of salt - I like kosher because it gives a nice crust to the skins, but whatever you have is just fine!
Now, rub the potatoes all over like boobs, stress balls, or anything else inappropriate that you enjoy fondling. Let the jokes begin!
Now, the potatoes and garlic are ready to cook. Heat the oven to 400F and bake the potatoes and garlic for 45 minutes to 1 hour until the potatoes are soft but not totally cooked through - they're going back in the oven later, remember!
When the potatoes are cooked remove them and the garlic from the oven. Unwrap the garlic and let it and the potatoes cool until you can handle them. You might need to scamper off and watch some Food Network or something while this happens.
When the potatoes are cool, slice them in half and use a spoon to scoop out the insides, but leave a ¼ inch or so rim of potato around the edge - we're making little butter boats, essentially. Yum.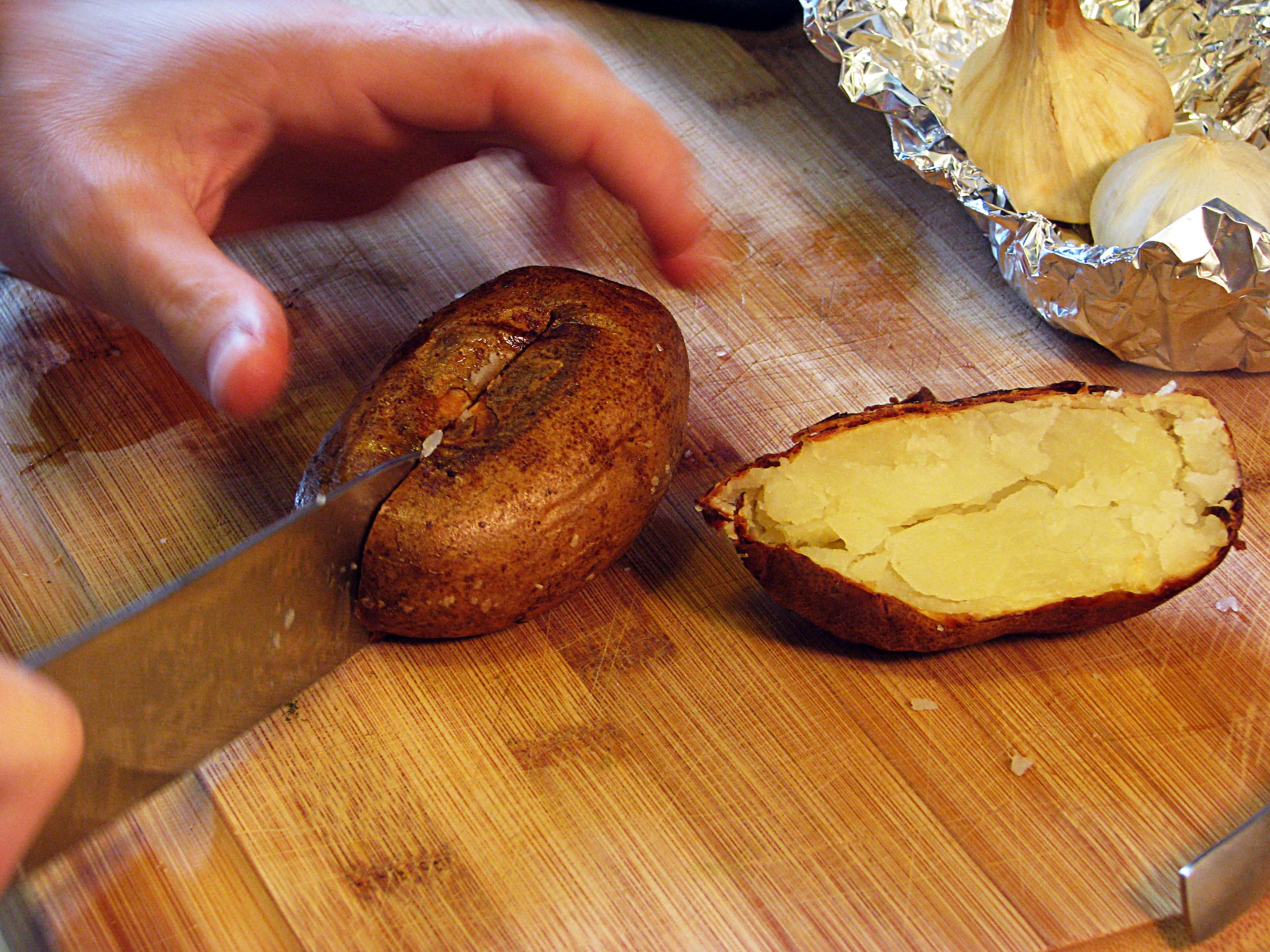 Once all the potato centers are in a bowl, add ½ stick of butter and a nice sprinkle of salt and pepper to the bowl. Then, cut the head of garlic in half and squish all the roasted garlic into the potato mixture.
Then, add the milk! I start with a dash and add more after I do some mashing until the potatoes are light and creamy but not runny.
Now, using a potato masher or fork, mash the potatoes as much as you'd like. I like chunky mashed potatoes, but you can make yours super creamy if you'd like!
Yayyyy potatoes! Taste the filling and add more salt or milk if you'd like. Then, spoon the filling back into the potato skins and place them in a deep baking dish.
At this point you could cover and refrigerate the potatoes for up to 3 days - no worries! When you're ready to cook and serve them, preheat your oven to 375F and proceed with the steps below:
Then, it's onto the butter! Chop up whatever herbs you're using so they'll be ready, then melt the other half stick of butter with the herbs over low heat into a small pan.
Well, that's not gross at all, is it? It's delicious, in fact.
Oh, use salted butter. Unless you don't want to, then don't.
But I do.
Let the butter heat gently for about 5 minutes - the herbs will infuse their flavors and everything will be perfect and delicious.
That's perfect! When the butter is melted but not browned, drizzle it over the potatoes in their baking dish.
Thank you Tiny Baby Jesus for butter. And potatoes.
Is butter a carb?
Anyway.
Heat the potatoes in the oven at 375F until they're warmed through and lightly golden on top - don't cook the heck out of them, just 20 minutes or so. Stick your finger in the center of one if you're not sure if they're hot enough.
But, don't tell anyone I told you to do that.
And that's it! The herbs can be switched up in any way and these are a fabulous take-along dish for a potluck or a side dish for a great grilled steak or chicken dinner.
Enjoy!