Got some leftover turkey? Make a skillet turkey pot pie with a no-fuss puff pastry crust! Just a few ingredients, creamy sauce, and leftover turkey has a whole new life! If you haven't picked a turkey recipe yet, this foolproof 4-ingredient roast turkey is delicious!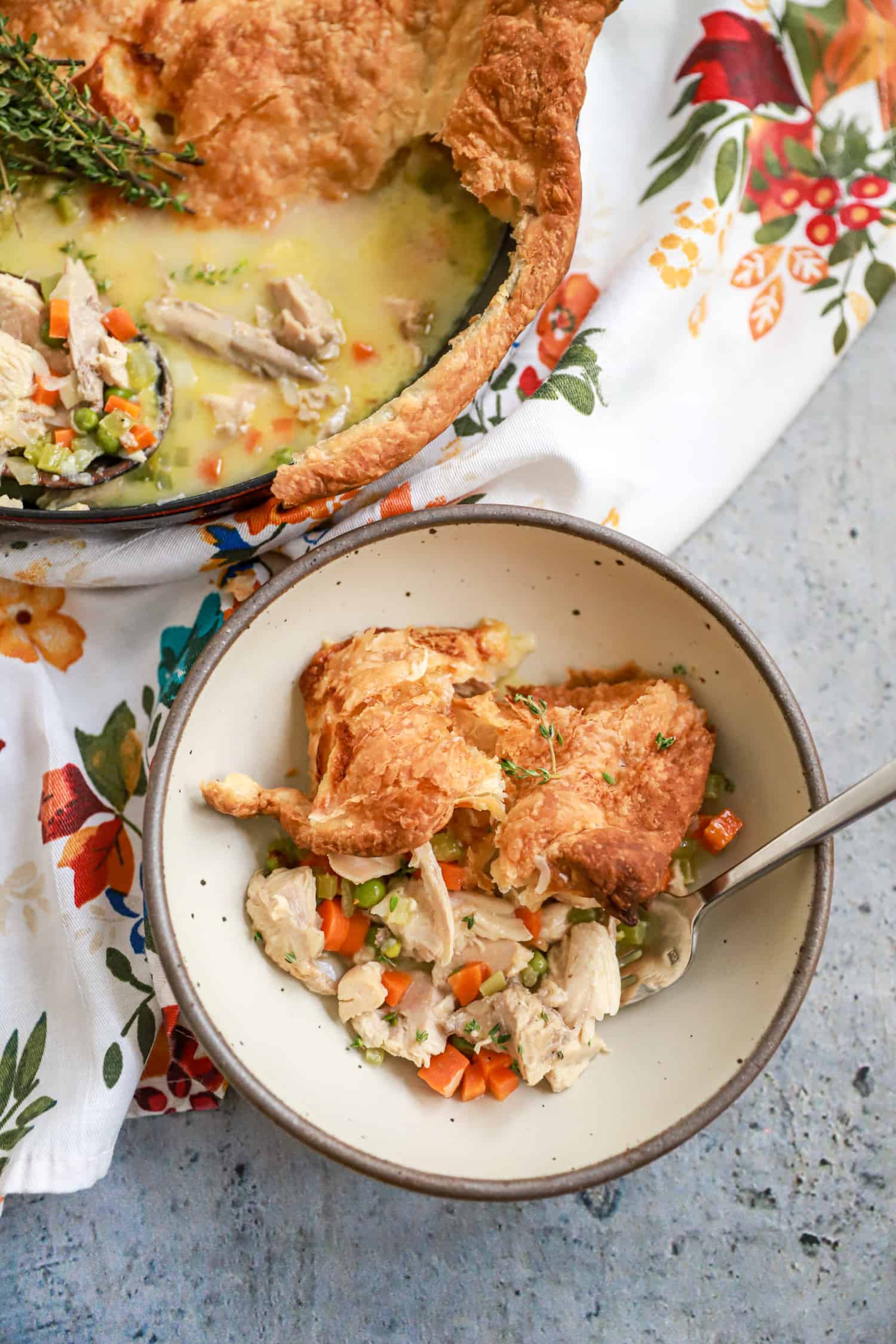 I heard Alison Roman say in a video earlier this week that, if we're being honest, we're all really here for side dishes and not really the turkey at Thanksgiving.
That is me. That is exactly where I stand.
I don't know if it's a lifetime of dry turkey, not loving meat, REALLY liking casseroles, but I really love Thanksgiving side dishes, and I'm really meh on turkey. I like it fresh in a small serving, and that's about it.
SO THEN what do we do with turkey leftovers? We don't want to waste them, but leftover turkey plain or microwaved isn't really that fabulous to me.
Enter: Turkey Pot Pie with Leftover Turkey.
I make it almost exactly like a chicken pot pie (so you could use rotisserie chicken in this exact recipe!), but with leftover turkey and a sheet of puff pastry so we aren't messing with making our own pastry. Let's be honest, by the time we're dealing with leftovers we very well may have done enough baking for the week, right?
Right.
Recipe Notes and Variations
I make this very simply, in my favorite Staub braiser. Sauté some veggies, add some flour then stock then cream (mmmmm) to make a gravy, then stir in the leftover turkey. Top THAT with a sheet of puff pastry, bake, and done!
It's super simple, super foolproof and the puff pastry just makes everything so simple and BETTER.
You can absolutely use leftover shredded chicken for this recipe if you don't have any turkey, or cook 2 large chicken breasts and shred them before adding them to the recipe.
This would also be delicious as a vegetarian pot pie with an added large chopped potato and extra of the other veggies instead of chicken or turkey.
If you don't have a large stovetop-to-oven baking dish, make the filling, then transfer it to a baking dish before topping with the puff pastry, baking, and serving. A large cast iron skillet works really well for this recipe to avoid having to use a stovetop skillet and separate baking dish.
Turkey Pot Pie with puff pastry and leftover gravy: If you have leftover gravy, sub ½ cup stock for ½ cup gravy. YUM and yum.
Turkey Pot Pie FAQs
Can You Freeze Turkey Pot Pie With Puff Pastry?
YES! But, to me, it feels redundant to thaw puff pastry and then re-freeze it. Instead, make the filling and store it in the freezer in a baking dish, then when you'd like to bake the pot pie thaw the puff pastry, drape it over the baking dish (it's OK if the filling is still frozen), and bake!

PRO TIP TO AVOID SHATTERED BAKING DISHES: When baking things from frozen, place the dish in a COLD oven, turn the oven on to the desired temperature, and let the dish and casserole filling warm gently as the oven heats up.
Can You Use Puff Pastry As The Base of a Pie?
You can! In this case, I don't do a top and bottom crust - I don't think it's necessary. I like the crispy golden brown top that puff pastry gets, so I skip a bottom crust in most pot pies.
Ingredients
I love these ingredients because they're so simple and all the veggies last forever in the fridge.
Onion, celery, and carrots to start.
Butter and flour to make a little paste.
Stock and cream get thick from the flour to make gravy.
Turkey and peas round the whole thing out.
Puff pastry brushed with melted butter bakes golden brown with verrrrry little effort on our post-Thanksgiving selves.
Ingredient Variations
Veggies: Feel free to use 2 cups of frozen mixed vegetables instead of the onions/celery/carrots. They work great and don't need to be thawed in advance.
For a gluten free version, skip the flour and whisk 2 teaspoons cornstarch into the COLD stock before adding it to the skillet.
If you don't have puff pastry, a premade pie crust (or homemade!) rolled out to the width of your baking dish works fine.
Step By Step Instructions
Timing Pro Tip: The most important thing here is to have the puff pastry thawed - at least for 30 minutes out of the freezer before you can work with it without it breaking. I usually get the puff pastry out first, then chop veggies/shred turkey, and make the filling.
Before you start cooking, preheat the oven to 425F.
Once you're ready to cook, start with the veggies. In a large skillet over medium heat, add the butter, onion, celery, and carrots with 1 teaspoon of salt and pepper. Bring the skillet to medium heat and saute for 5-10 minutes until the veggies are soft and some of the liquid has evaporated.
Stir the veggie mixture every few minutes while this is happening.
When the veggies are soft, sprinkle the flour over the skillet and stir it into the veggies for just one minute to form a paste and cook out a little bit so it doesn't taste like raw flour.
Next, slowly pour the stock into the skillet, stirring as you go, so the stock can incorporate into the flour/butter and thicken.
At this point, the mixture should bubble as you pour in the stock and not get lumpy - stir a little faster and turn the heat down if that starts to happen.
Last, add the cream, turkey, and frozen peas to the skillet. Stir everything together and taste: add more salt and pepper to your preference until the mixture is very flavorful.
Now the filling is done: turn the heat off the skillet and either transfer the mixture to a baking dish, or grab the puff pastry to put it over the skillet.
Puff Pastry Crust Tips
If your dish is very large, sprinkle a large surface with flour and use a rolling pin (or just your fingers) to roll the puff pastry into a shape and size just slightly larger than the dish you are using. If your baking dish is slightly smaller, the puff pastry may already be the right size.
Once the puff pastry is the size you'd like it to be, carefully transfer it to the top of your baking dish, pressing any excess around the edges so the pastry doesn't sink into the filling. It's OK if some holes develop in the pastry - that happens sometimes and you're still a good person.
If your puff pastry managed to stay intact (this is apparently an area of struggle for me), cut one or two small slits in the top of the puff pastry for steam to escape during cooking.
Melt the last tablespoon of butter and brush it all over the top of the pastry. This optional, but helps the puff pastry get shiny and golden as it bakes.
Bake the turkey pot pie for 30 minutes until the puff pastry is very golden brown and puffed up. YUM.
HAHAHAHAHAHAHAHA just look how profesh this looks. Here's the thing, though: the puff pastry did it's thing, puffed up, there was a hole in it that filling seeped out of. It's fine. It's absolutely delicious, and re-shooting a recipe to make it prettier is not very on brand for me.
Let the pot pie cool for about 10 minutes, then scoop it into shallow bowls and eat.
I love this because it is the perfect one-dish dinner, uses up some leftovers, has some veggies, just really all good things.
Make Ahead and Leftover Storage Tips
The only thing I'd do in advance here is the filling. You can make the filling all the way and store it in the fridge, then transfer it to a baking dish and top with the puff pastry right before baking.
Leftovers keep in the fridge for several days and are delicious rewarmed in the microwave. If you'd like, you can put just a piece of the puff pastry crust on a baking sheet and bake it at 350F for 5-10 minutes to crisp it back up.
I hope you love this! If you have even more turkey, I really like leftover turkey salad for a cold dip/salad/sandwich lunch in the days after Thanksgiving.
Easy Turkey Pot Pie with Puff Pastry
Take that leftover turkey and turn it into something new! Creamy sauce, veggies, and crispy puff pastry to round out the whole thing. YUM.
Ingredients
2

tablespoons

butter

divided

½

onion

finely diced

2

ribs celery

finely diced

2

carrots

finely diced

1

teaspoon

kosher salt

black pepper

2

tablespoons

flour

2

cups

chicken or turkey stock

½

cup

heavy cream

3

cups

shredded turkey meat

½

cup

frozen peas

1

sheet puff pastry

thawed for at least 30 minutes on the counter
Instructions
Before starting, be sure the puff pastry is out of the freezer thawing while you prepare the filling of the pot pie. Preheat the oven to 425F and heat a large ovenproof skillet to medium heat on the stovetop.

Add 2 tablespoons of the butter and the onion, celery, and carrots to the skillet with the salt and several grinds of pepper. Stir for about 5 minutes to soften the veggies and release some of the liquid.

Sprinkle the flour all over the vegetables and stir for one minute more, then slowly stream in the stock, stirring the entire time to combine the flour with the stock and thicken the mixture.

Let the stock mixture come to a bubble, then stir in the cream, turkey, and peas. Taste for seasoning and add more salt and pepper to your preference, then turn the heat off the skillet.

If needed, stretch or roll the puff pastry, using flour to prevent sticking, to roughly the size of the dish you are using. Drape the pastry over the entire dish, pressing the edges to the baking dish to prevent it from falling into the mixture.

Melt the remaining tablespoon of butter and brush it over the puff pastry. Cut a small slit in the pastry to allow steam to escape. Place the entire dish in the oven and bake for 30 minutes or until the pastry is golden brown and puffy all over.

Let the pot pie rest for 10 minutes then use a large spoon to scoop servings of pot pie and puff pastry into shallow bowls. Enjoy!
Notes
I make this dish in a large braising dish that can go on the stovetop and into the oven. If you don't have that kind of dish, prepare the filling as directed then transfer it to a baking dish, then proceed with placing the puff pastry and butter over top, then baking as directed.
If you prefer, use 2 cups of frozen mixed veggies instead of the onions/carrots/celery.
Any kind of leftover turkey OR chicken works in this recipe, or you can use a whole rotisserie chicken, shredded with skin/bones removed.
To make this gluten free, skip the flour and instead whisk 2 teaspoons cornstarch into the stock before adding it to the veggies. It will thicken the mixture once it comes to a boil.
Easy Turkey Recipes
Turkey recipes are so personal to everyone BUT, if you're looking for a great turkey recipe, here are some of my favorites!