I'm continuing this thing where we eat fun food on Mondays because UGH MONDAYS.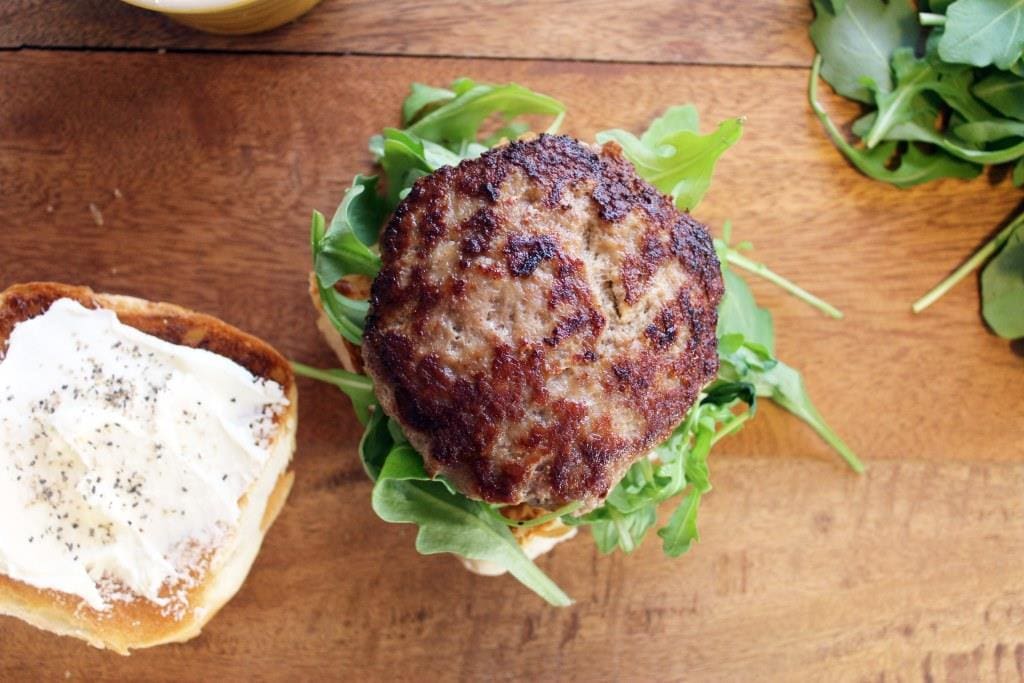 I'm trying to have a happy attitude. I think I need to try harder.
How was your weekend? I went to Nashville for work with my bff and am moderately bummed to be back BUT Friday is my birthday (one year older and slightly heavier and childless! reason to celebrate!) and we're going to the beach for a friend's wedding shower and it's going to be a GREAT week once we get past 3 more days of nights in the 30s.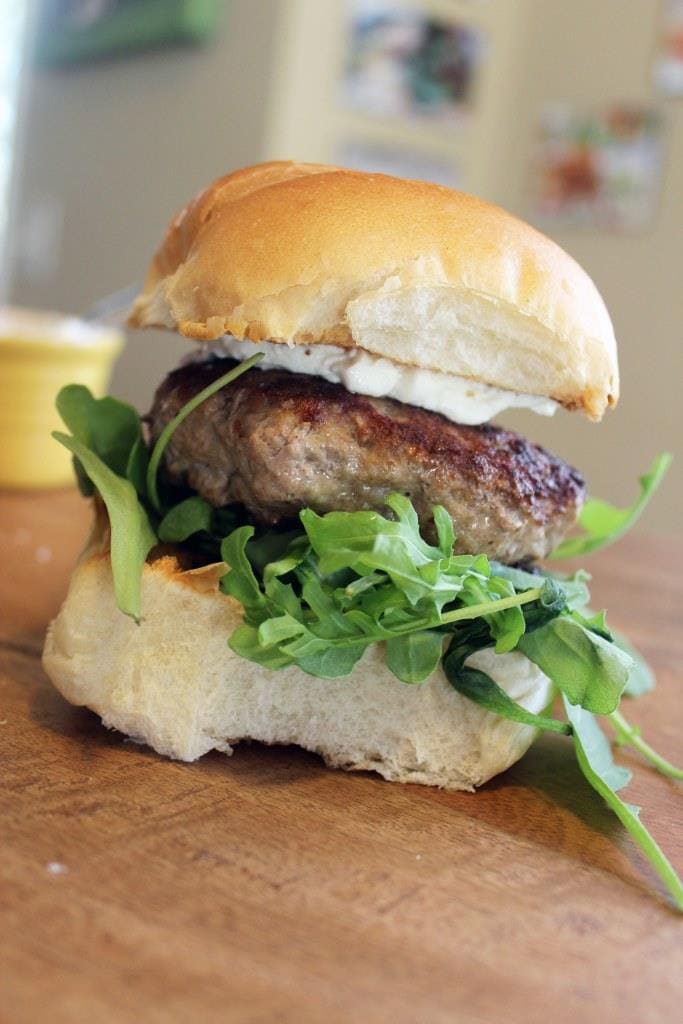 Seriously, March. Get it together.
Let's make burgers. Back in February Jay and I had dinner after a show we produced at a place in Durham that I can't remember the name of even though I've been there thrice. Jay got a turkey burger with arugula and goat cheese and I got some cruddy chicken sandwich and only wanted to eat his dinner. My dinner was cruddy because I got a chicken sandwich grilled instead of fried which is just silly, so my own fault.
In 6 weeks, though, I haven't been able to get that turkey burger out of my mind. It was SUPER flavorful, moderately healthy, and juicy in the best possible way.
So I made us one.
You can make turkey burgers too! For Monday! Or St. Patrick's day! Or for any day! They're totes easy. Require about 20 minutes. Done and done.
You need ground turkey, seasoned salt, onion powder, and garlic powder for the burgers. Then goat cheese, arugula, and burger buns to assemble. Easy! I used 94/6 ground turkey instead of all white meat turkey. This blend adds a leeeetle bit of fat but not a ton, and avoids the common issue of a dry turkey burger. If you're insistent on using all white ground turkey, pay careful attention to stop cooking the burgers JUST when they're cooked through to avoid dryness.
First, we'll start the burgers. Preheat a large skillet (cast iron if you have one!) to medium-high heat with a drizzle of olive oil. Add the ground meat to a bowl with the seasonings.
Then, use your fingers to gently mix the meat with the seasonings, then form 3 equal patties. ⅓ pound burgers! Necessary with turkey.
When the oil is hot (should be by the time you make the patties), place the burgers in the skillet and leave them alone while they cook and firm up on the first side. Be gentle! Turkey can get a bit....flacid....so just be careful and take your time.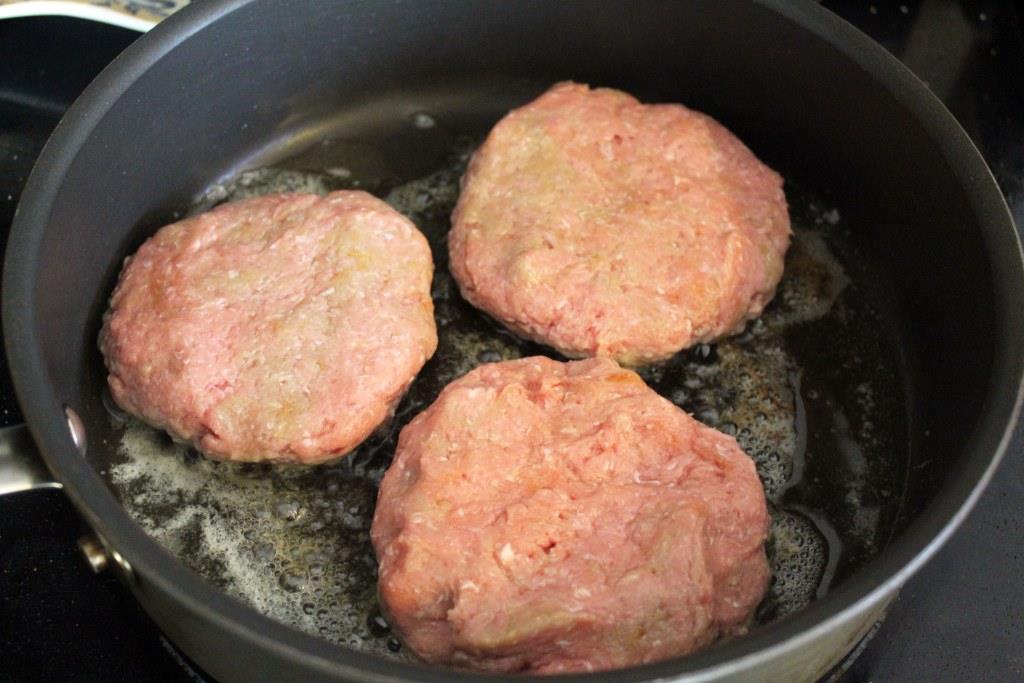 Cook the burgers for 5-7 minutes on the first side, then flip them. Look how gorgeous!
While the burgers are cooking, toast the burger buns and mash the goat cheese lightly with a fork to soften it.
When the burgers are done, we build! Goat cheese on the top of the bun. Salt and pepper if you'd like. Arugula on the bun bottom.
Then burger.
BURGER.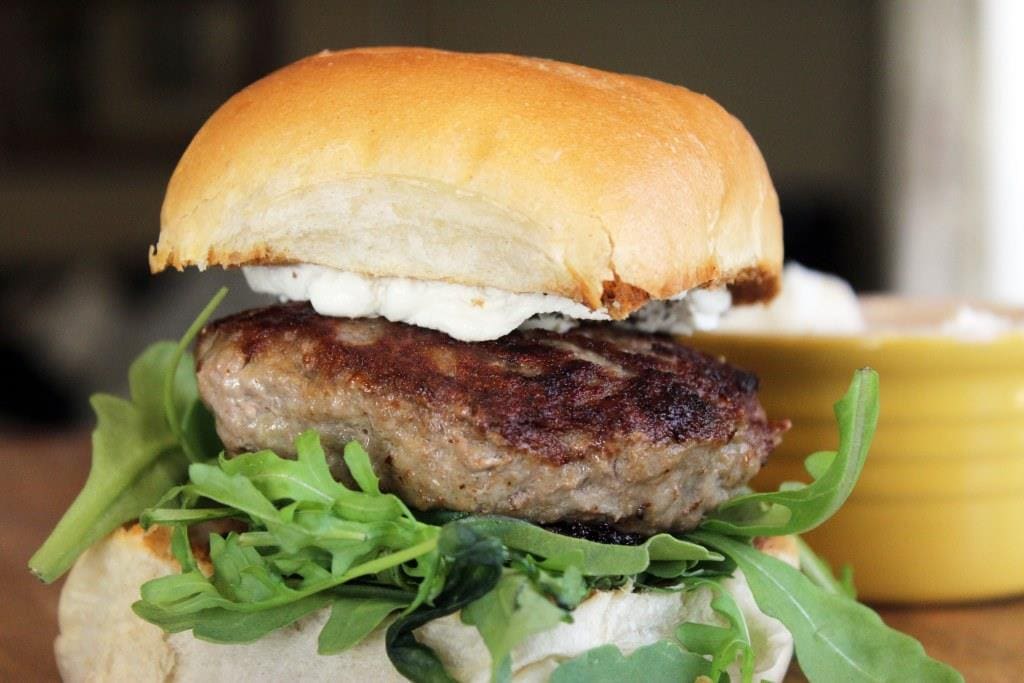 That's IT, guys. There's nothing more to say about how delicious these are other than UGH. Want, need, that sort of thing. The seasonings to the meat add a great kick, and the arugula and goat cheese are perfect with turkey.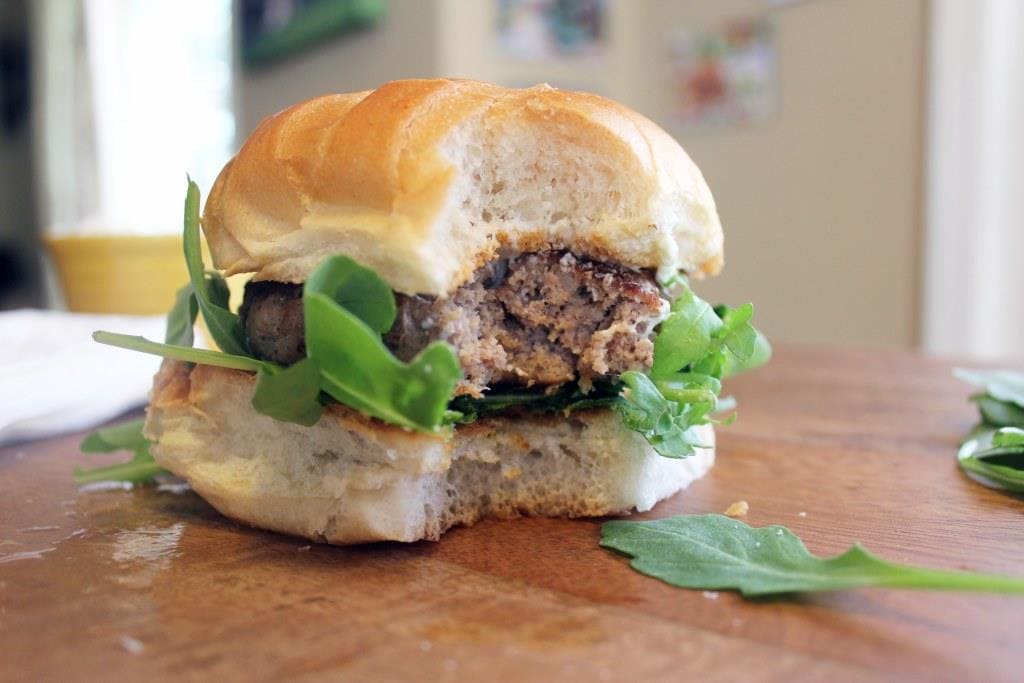 Make these. It'll turn Monday around.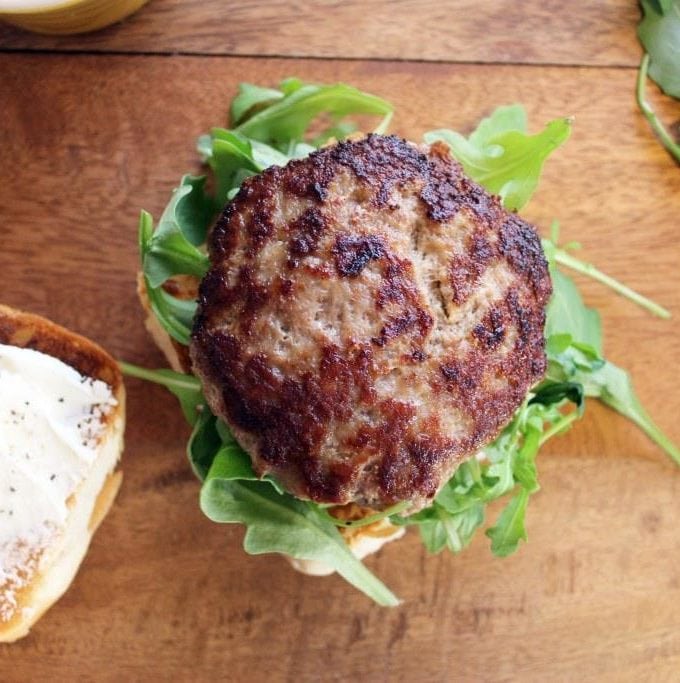 Turkey Burgers with Arugula and Goat Cheese
---
1

pound ground turkey

1 teaspoon

seasoned salt

1 teaspoon

garlic powder

1 teaspoon

onion powder

3 ounces

softened goat cheese

1 ½ cups

arugula
salt and pepper, if desired

3

hamburger buns, toasted
---
Instructions
Preheat a large skillet to medium-high heat with a drizzle of olive oil. Gently combine the turkey with the seasoned salt, onion powder, and garlic powder. Form the meat mixture into 3 even patties.
Add the burgers to the hot skillet and cook for 5-7 minutes on each side, turning once, until the burgers are golden on the outside and just cooked through on the inside.
To assemble, place ½ cup arugula on the bottom half of the hamburger bun. Top the arugula with a cooked burger. Spread 1 ounce softened goat cheese on the burger top and sprinkle with salt and pepper if desired. Eat!
Prep Time:

5

Cook Time:

15
Shared with Weekend Potluck.