Happy New Year (again)!
Does today feel like...the kind of lamer part of a new year? Like...the party is over, the long weekend is over, now we're in it. Gotta practice what we preach and actually go to the gym and eat the veggies and start being a better person and THIS is why I don't make resolutions. I have nothing to fail at today! Except parenting, but that isn't exclusive to this year or this month anymore now, is it?
Moving on.
This soup. I know you didn't eat greens and peas on Friday because you were probably eating pizza or burgers or something else to help ease the booze from Thursday night, right? Also it didn't really get cold here until yesterday, so soup was dumb until right this very instant. But whether or not you already ate your New Year food, you can have it again today! We all need a little bit more prosperity and luck, right?
This soup is a 30-minute deal, unless you cook your own black-eyeds like I did, in which case it's like a 3 day affair but YOU CAN USE CANNED B-E PEAS. Do that, for your own sake. I know it's so totally healthy and economical to boil your own beans, but honestly it's a massive pain in the ass. I did it this time but I'm a big believer in canned beans, so there. See also: it took me 3 days to make this soup because I have a newborn and don't sleep and kept forgetting that I intended to make this, much less photograph it and write about it.
For this soup, you need black-eyed peas, DUH. This is about ⅔ cup dried then cooked, or 2 cans drained. Not rinsed! Canned beans give a great thickness to soups, so take advantage of that. You'll also need butter, ground turkey, onion, garlic, smoked paprika, dried thyme, whole or diced canned tomatoes, chopped kale, and chicken broth. Nothing tough, but lots of flavor and nutrition going on here! I used ground white meat turkey in this, but a mix of white and dark would be lovely too - whatever you can find!
First, melt some butter in a medium-sized soup pot, 3-6 quarts or something like that. Medium-high heat. Then, add the turkey and break it up with a spoon, letting it sizzle, breaking it up more, until it's browned all over.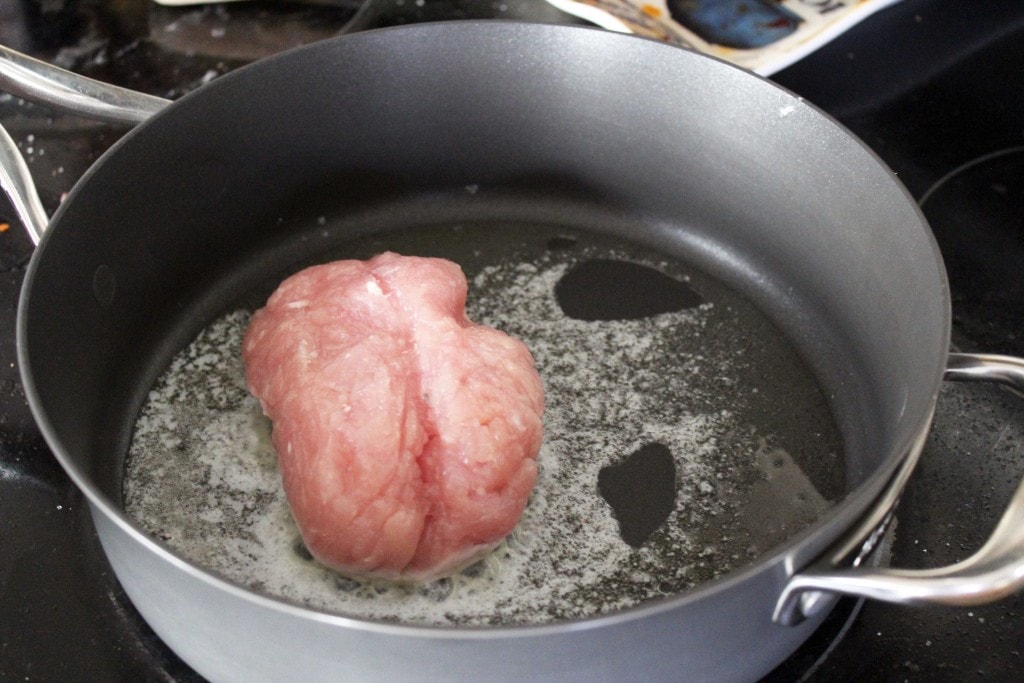 While the turkey is working, dice the onion and mince the garlic.
When the turkey is cooked through and browned, add the onion and garlic to the pan.
Stir the veg into the meat for about 3 minutes to let it cook, then add the thyme and smoked paprika. Not too much of each! Just ½ teaspoon or so, a little sprinkle of each.
Now, tomatoes! I like whole and to crush them with my hands, but you can use crushed tomatoes or diced - whatever you prefer.
When the tomatoes are in, add the stock, black-eyed peas, and the kale.
Stir everything together, then cover the soup for 10 minutes or so to wilt the kale and let the flavors start to meld. If you have some time you can turn the heat way down and let the dish simmer for 30 minutes or even longer, but if you're in a hurry just keep the heat high and simmer for less time. Easy.
When the kale has wilted, taste the soup and add salt - just a sprinkle at a time until you think the soup tastes right. If you cook your own black-eyed peas you'll need to add a good bit of salt, so don't be shy! Bland beans are the worst kind of food. Tied with bland greens - two things you risk having in ONE EFFING DINNER, so watch that. During this simmering time, feel free to add more stock as needed to keep the soup soupy - just a splash at a time to keep it pretty thin.
Right before you serve, add the rest of the butter and stir it right in.
Taste one more time, add salt ooonnnneeee more time if you need to, and serve!
Now, of course this soup could be served year-round, but I do love a teensy bit of New Year's tradition, even if it's taking the wrong kind of green and stuffing it into a soup with a non-pork product...it just kind of works! But, even if you don't make this today or even this month - try it soon, and enjoy!
The end.
Turkey and Black-eyed Pea Soup w/ Kale and Tomatoes
Ingredients
3

tablespoons

butter

divided

½

pound

ground turkey

1

small onion

diced

4

cloves

garlic

minced

½

teaspoon

smoked paprika

½

teaspoon

dried thyme

28

ounces

canned whole tomatoes in juice

½

cup

chicken stock

plus more if needed

3

cups

chopped kale

2

cups

cooked black-eyed peas

or 2 15 ounce cans, drained

salt

to taste
Instructions
Melt 1 tablespoon butter in a soup pot over medium-high heat. When the butter foams, add the ground turkey and cook for 7-10 minutes, breaking up with a spoon until the turkey is browned and cooked through.

Add the onion, garlic, smoked paprika, and thyme. Cook for 3 minutes more to soften the onion and garlic. Add the tomatoes and use your hands or a spoon to crush them slightly. Add the chicken stock and let the soup simmer for 5 minutes, then add the kale and black-eyed peas.

Stir the kale and peas into the soup and cover the pot. Let the soup simmer for 10-15 minutes until the kale is wilted, then taste the soup and add salt to your taste. If the soup is thick add more stock ¼ cup at a time as needed to thin out the soup.

Serve as desired, and enjoy!
Notes
This is a quick-cooking soup, but is more delicious as it sits. Make it the day before you'd like to eat it and leave it in the fridge, or cook it in the morning and let it sit at room temperature, then reheat on the stovetop when you're ready to eat!
Nutrition