This has to be our answer to Monday.
Healthy to offset any damage we did over the weekend. Flavorful so that we aren't so sad to be eating plain chicken breast with steamed veggies. Vegetarian for Monday or any day. Vegan, too. Also. Coconut curry drizzle.
Is there anything else to say, really? Besides the fact that I'm catering a big event at city hall tonight and am super nervous and also have spent two days making brownie bites at an incredibly slow pace? You should know that, I think.
But this quinoa. It's simple, delicious, and healthy. What could possibly be wrong with it? I served this cold as a salad, but the bites I tried right after it was cooked when it was still a little bit warm were great too, so eat this at any temperature that floats your boat! The GREAT thing about this is that you could make the quinoa way ahead of time and keep it in the fridge, then just toss the veggies and seasonings in whenever you feel like eating this for an even faster version.
The ingredients are nice and simple. I know you can make curry paste yourself, but the jarred stuff is really good these days, so I say go for it. This is kind of a fake Thai dish anyway, so who cares? It's Monday. You need quinoa - that's our base! You also need a can of cold coconut milk, Thai curry paste, Thai seasoning blend, asparagus, half a jalapeno, cucumber, basil, a lime, and some cherry tomatoes. We need the coconut milk cold so we can separate and use it for two different things. I stuck mine in the fridge overnight in the can, but if you forget just put the can in the freezer for a few minutes.
See? The coconut meat rises to the top and the water is on the bottom.
So, scoop out the flesh and set it aside in a small bow.
Then, pour the coconut water from the bottom of the jar into a large measuring cup. Then, add water to the coconut liquid to create enough liquid to cook the quinoa. Eg, I made 2 cups quinoa and needed 4 cups liquid, so I just added water to the coconut water until I had 4 cups. Duh. Then, add the quinoa to the liquid mixture in a pan and cook the quinoa to the package directions. When the quinoa is done, set it aside uncovered to cool for awhile.
While the quinoa is cooking, we'll prep our other ingredients! The asparagus is the only veg we're cooking, so let's blanch that first. Fill a skillet with water and bring it to a simmer. While that's happening, cut the asparagus into 1-inch or so pieces.
When the water simmers, add the asparagus for 90 seconds.
Then, take the asparagus out and set it aside to cool.
To recap: we have quinoa cooking and asparagus cooling. Let's move on to the drizzle! Zest the lime, and cut it in half.
Then, add the curry paste to the coconut flesh that you reserved.
Squeeze in the juice of half the lime...
....then stir the sauce together! Taste. Decide to add some spice.
Sriracha! Grab it. Add some. Stir again. You can also add another spoonful of curry paste if you'd like a stronger curry flavor - all curry pastes are different, so play around with yours a bit!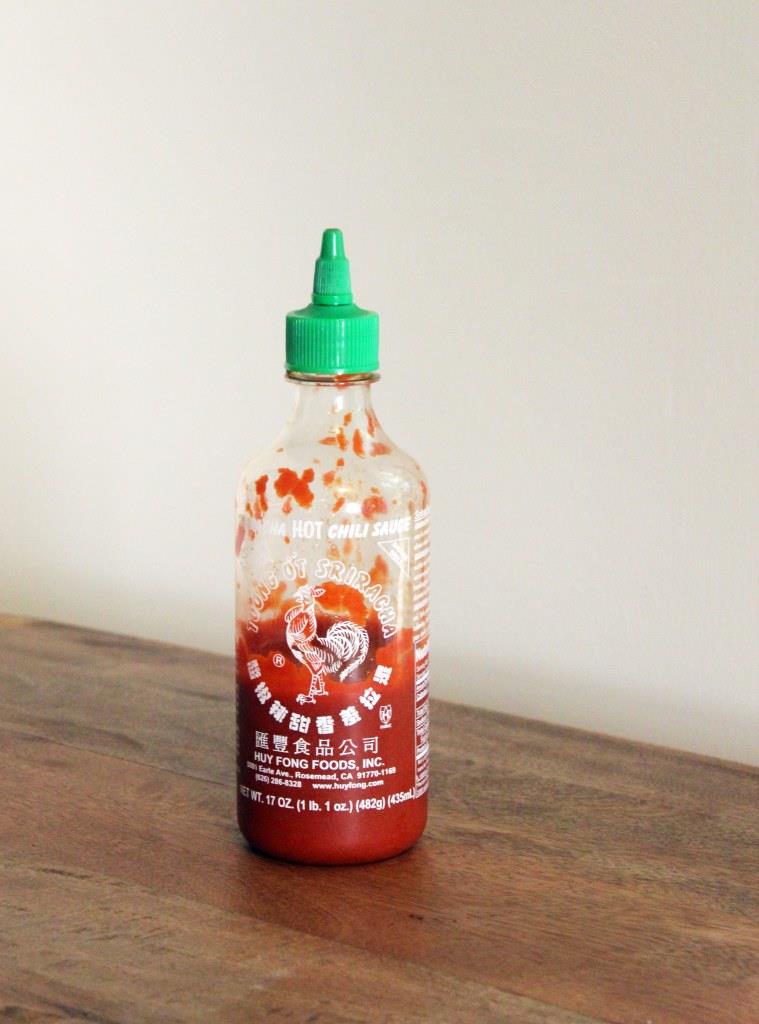 Now, let's prep the veggies. Cut the jalapeno into thin strips, then cut the strips into little bits. If you like heat you could use a whole pepper or leave the seeds in, but I was making this for a group and didn't want the dish to be too spicy. Up to you!
Then, cut the tomatoes in half or quarters if they're really large.
Annnnnd, do the same with the cucumber. Just a rough dice. Now, we have sauce. We have cooked quinoa. We have cooled asparagus and prepped raw veggies. Tear the basil gently into smaller pieces, too.
To the quinoa, add the lime zest, the rest of the lime juice, jalapeno, Thai spice, and a sprinkle of salt. Stir that together, and taste: add more salt if you'd like.
Now, add the veggies to the quinoa.
Stir everything gently, and taste one more time for seasoning. This isn't a super heavily flavored dish, we just want to be able to taste everything lightly at this point. Pretty!
BUT THEN THE FLAVOR COMES. In the form of red curry drizzle, which you drip over the top of this beauty right before serving. I drizzle a little over the dish and then serve the rest in a bowl with a little spoon so that everyone can drizzle to their little hearts' content.
Now, friends. Please observe these colors, and imagine in your face red Thai curry but this is cold and lime-ish and spicy and just REALLY a cool flavor. I've learned that if we do a vegan dish like this but add coconut cream to it people REALLY don't mind that there ain't no meat or butter, ya know? So delicious.
What I really like about this is that we're getting our veggies fo sho, but there's protein from the quinoa, which is important at every meal and something vegans especially can struggle with. Quinoa is the PERFECT fix for protein-seekers, and if you don't like it you should try to learn? I get mine at Trader Joe's or Marshall's, which often have the best prices.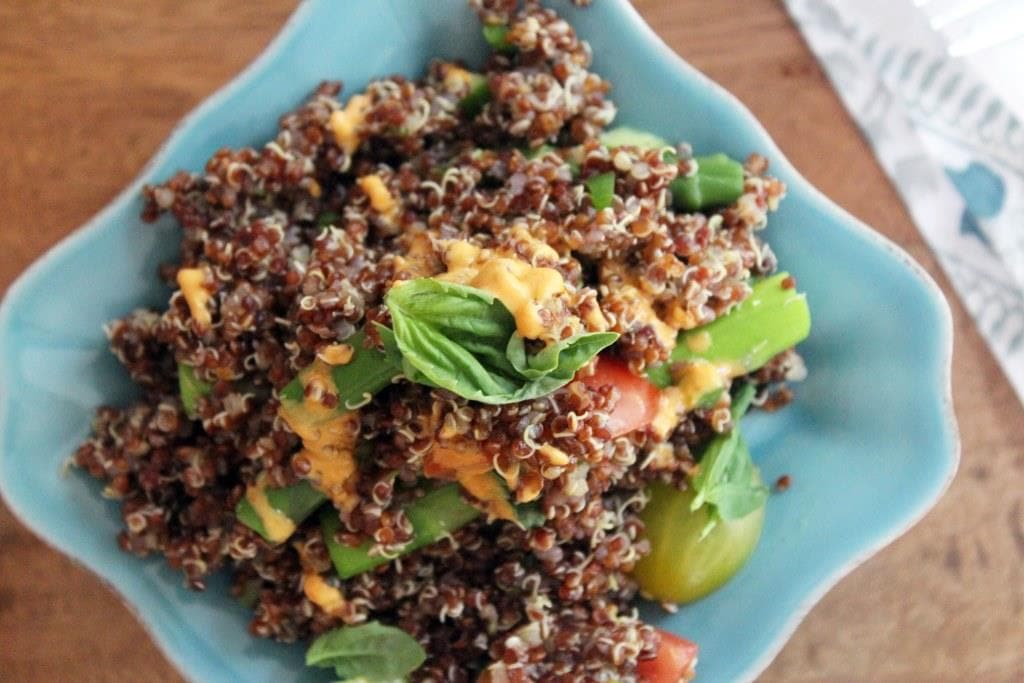 This makes a big batch, so feel free to halve it, or make the entire batch TONIGHT and have it around for the whole week!
PS I know limes are expensive because of the drug lords. Use lemon or splurge for one lime and move on. You'll love this regardless.
Enjoy this!
Thai Quinoa Salad with Red Curry Drizzle
Ingredients
2

cups

uncooked quinoa

1

can coconut milk

chilled overnight in the fridge or in the freezer for 30 minutes

1

tablespoon

red curry paste

plus more if desired

1

teaspoon

Thai curry seasoning blend

optional

1

small bunch asparagus

cut into 1-inch pieces

½

jalapeno

finely chopped

1

medium cucumber

chopped

1

cup

loosely packed basil leaves

torn

1

lime

zested

1

cup

cherry tomatoes

halved or quartered if large

sriracha

to taste
Instructions
Separate the coconut milk. In a small bowl, combine the flesh (thick white part) of the coconut milk with the juice of half the lime and the curry paste to form a sauce. Taste, and add more curry paste or sriracha if you'd like. Set the sauce aside.

Add the coconut water (liquid from the coconut milk) to a measuring cup and add enough water to the liquid to create enough liquid to cook the quinoa to package directions. Cook the quinoa and coconut water mixture to package directions and set aside to cool for a few minutes.

While the quinoa is cooking, bring a skillet of water to a simmer, and cook the asparagus for 90 seconds, then remove from the water and set aside to cool.

When the quinoa is cooked and has cooled slightly, add the minced jalapeno, Thai seasoning, lime zest, the rest of the lime juice, and a sprinkle of salt to the quinoa. Stir, and taste: add more salt if you'd like. Add the tomatoes, cucumber, asparagus, and basil. Stir gently to incorporate the veggies, and taste once more for seasoning.

Serve with the curry drizzle over top and some sriracha, if you'd like.

Enjoy!
Notes
If you don't have a Thai seasoning blend just leave it out - the other seasonings will be plenty!
If you like a stronger citrus flavor, use two limes: one in the drizzle and one in the quinoa.
Nutrition