Super yummy Thai Squid Salad recipe with vermicelli rice noodles and tons of crunchy vegetables. The Thai salad dressing here is sweet, savory, and punchy from lots of lime juice. I make the dressing and chop the veggies in advance, then sear the calamari while cooking the rice vermicelli noodles for a super quick low carb weeknight main dish salad dinner!
LUNCH!
Or dinner. Or part of dinner.
A lot of times we're total go-outers on weekends for lunch - it's a good time for Beck, we like restaurants, and when it's nice we love sitting outside at one of the gazillion options Greenville has for outdoor dining. BUT, in an effort to save money and keep things simpler with the baby, we've been doing more of that at home too - fun lunches on weekends that are a little bit fancy but still healthy and easy to make, because anything complicated totally defeats the purpose of eating in, right?
So this Thai Calamari salad recipe. Super healthy, full of flavor, can be prepped in stages based on what kind of time you're working with. The Thai salad dressing is really the kicker, and you can swap out veggies, seafood, nuts, WHATEVER based on what you have on hand, what you like, what you feel like - you're the boss!
Just make a version of this soon, is my point.
Thai Salad Dressing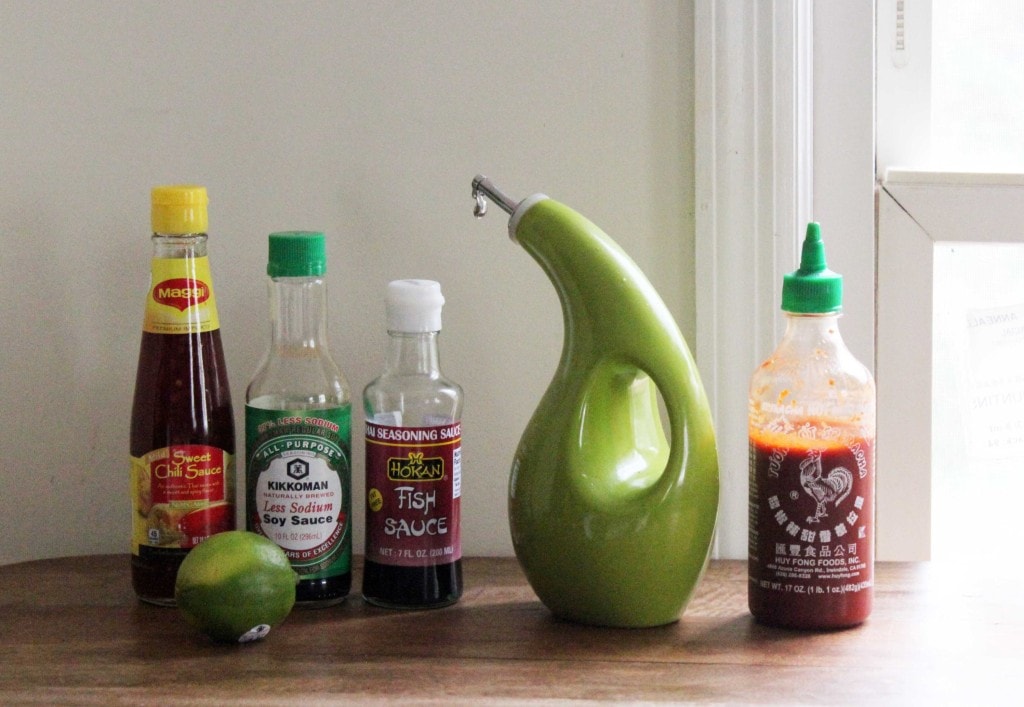 The dressing is made with sweet chili sauce, soy sauce, fish sauce, lime, olive oil, and sriracha. Now, fish sauce is one of those quintessential Thai ingredients, and you can find it everywhere. It makes things taste decidedly Thai but smells awful. It doesn't taste awful! Buy it and try it if you've never used it. The flavor is more "funky soy" and less "I can't deal with this it's too weird," promise.
For the dressing, put all the ingredients in a jar, shake shake shake, taste, and add any extra of the ingredients if you'd like - more chili sauce for sweetness, sriracha for spice, etc.
Now, Thai squid salad ingredients! We have squid! I find them at Fresh Market, which is like a local Whole Foods. Just bodies, cleaned, no tentacles, though of course you can eat those if they come on them! I've also seen these frozen in bags at Asian specialty stores/aisles. If you're using whole calamari, prep them by slicing the bodies into rings.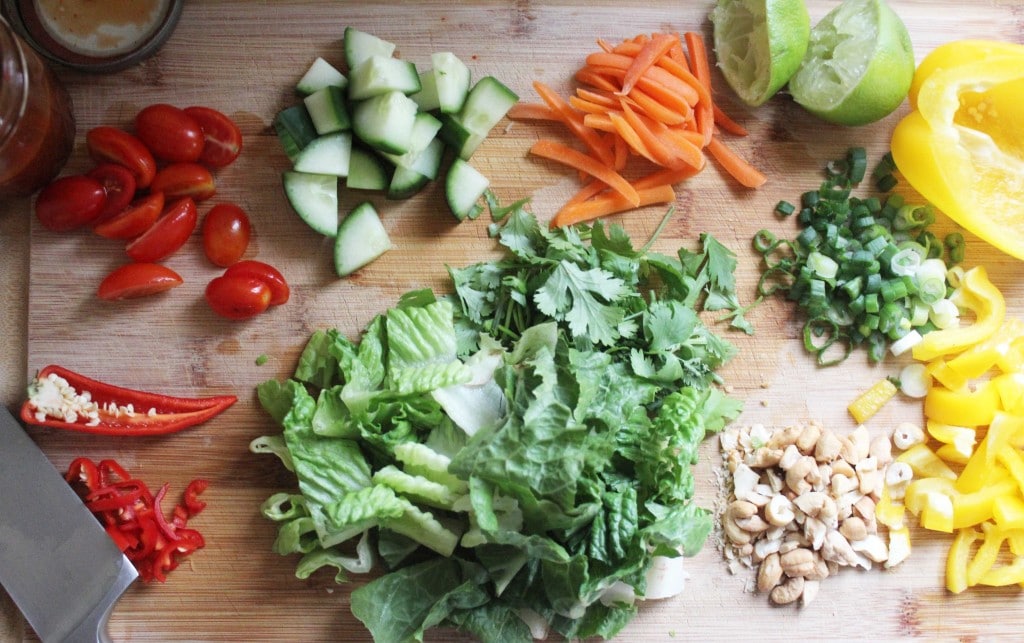 Then we have lettuce, cilantro, scallion, cucumber, a red jalapeno, yellow bell pepper, tomatoes of any kind, carrots cut into matchsticks, cashews, and vermicelli rice noodles. These veggies can be swapped in and out based on what you have, and I love prepping the veggies and dressing in advance, then cooking the calamari and rice noodles right at the last minute for a super quick meal.
Cooking Rice Vermicelli Noodles
For the noodles, follow the instructions for "cooking." Some say to soak in cold water, warm water, boil, whatever - get them soft.
Drain the noodles and pour a little bit of the dressing on them. The noodles basically marinate while you fix the rest of the salad, which is GREAT.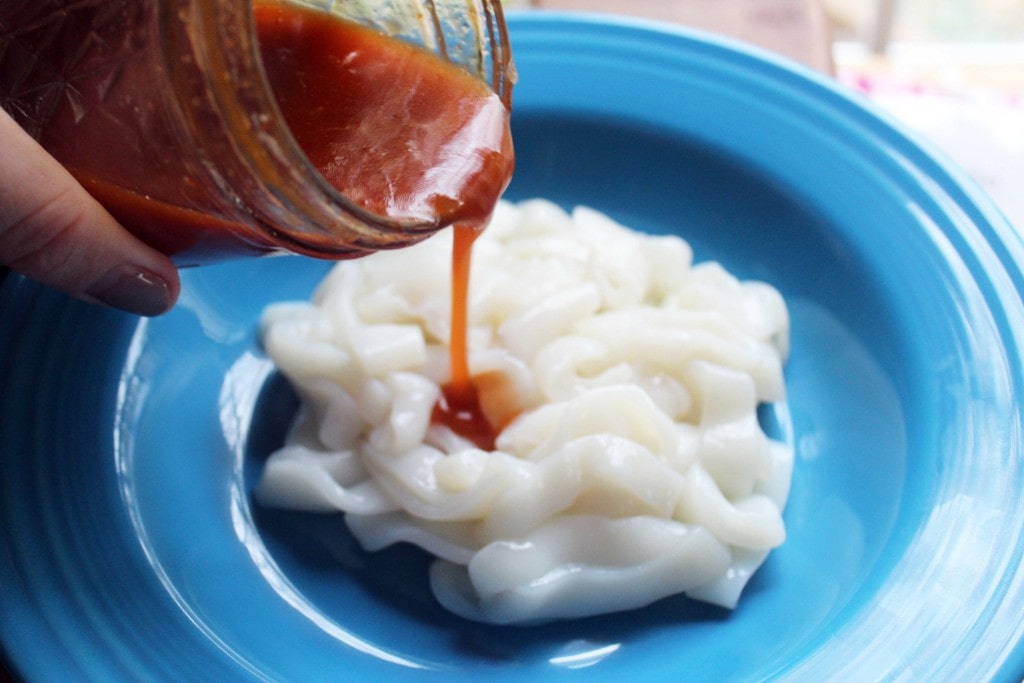 Same for the squid! Pour some of the dressing over it too, then let it sit for 10 minutes or so while you heat up a really hot skillet.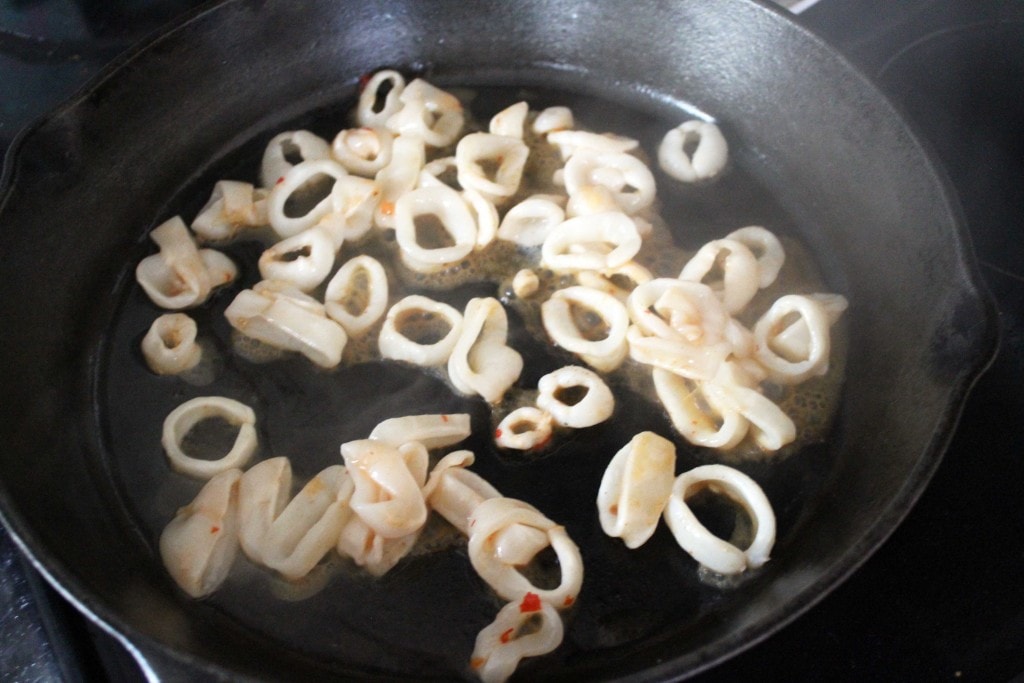 When the skillet is hot, add a drizzle of oil and the squid. It'll cook for just 2 minutes or so on each side - overcooked squid is tough and chewy and awful, so go towards undercooked, which is still totally safe to eat. Brown each side, take out of skillet.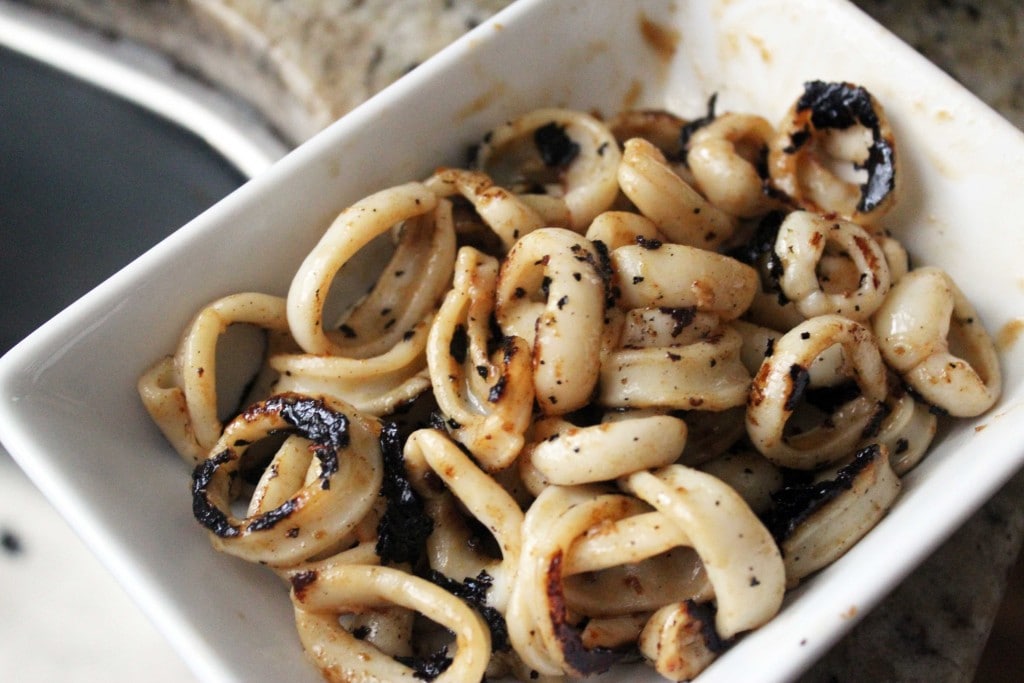 YUM. These charred black bits give tons of flavor to the squid salad.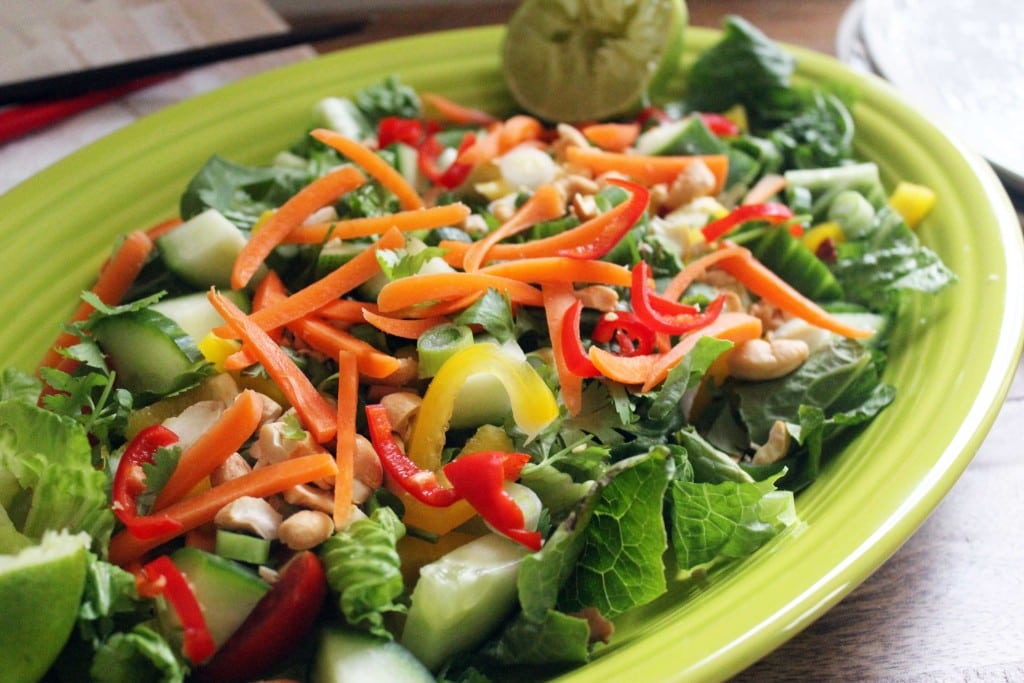 So at this point we have prepped veggies, noodles in dressing, cooked squid, and some extra salad dressing. Make a nice bed of all the veggies and the cashews first - that alone is gorgeous!
Then, add some of the noodles on top.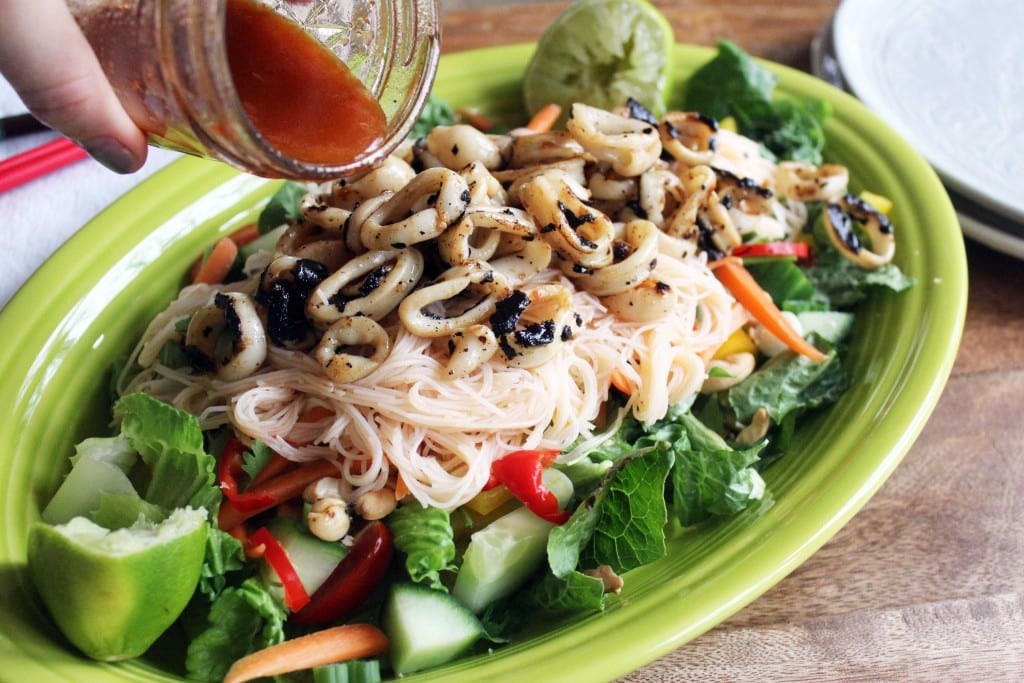 Then top THAT with the squid, and drizzle some dressing over everything.
I mean, my lands. The rice noodles are super light, and the fats in this dish are healthy from the olive oil and cashews. Squid provides lean protein, we have tons of fiber and vitamins from the veg, and WHAT'S NOT TO LIKE?
I mean, really. Add some Thai-inspired guac and we've got ourselves a feast!
I hope you adore this Thai calamari salad! It's slightly different but super restaurant-tasting and so delicious + fun to make things like this at home. Make this soon, make it over and over, and enjoy!
Thai Squid Salad
Easy Thai squid salad with a lime fish sauce vinaigrette that is just to die for. LOVE this low carb Thai salad - it's your own takeout at home!
Ingredients
FOR THE DRESSING

¼

cup

sweet chili sauce

2

tablespoons

soy sauce

1

teaspoon

fish sauce

1

lime

juiced

2

tablespoons

olive oil

1

tablespoon

sriracha

FOR THE SALAD

½

package rice vermicelli noodles

softened or "cooked" to package directions

½

pound

squid

cleaned and cut into rings

8

cups

chopped lettuce or other salad greens

¼

cup

cilantro leaves

1

scallion

sliced

½

cup

chopped cucumber

1

yellow bell pepper

diced

1

medium carrot

cut into matchsticks or grated

½

cup

cherry tomatoes

halved

1

red jalapeno

sliced

¼

cup

cashews

roughly chopped
Instructions
Drain the noodles and pour 2 tablespoons dressing over them. Toss to coat.

Pour 2 tablespoons of the dressing over the calimari. Let sit while you preheat a large skillet to medium-high heat.

Prep the salad ingredients. Layer the lettuce, cilantro, cucumber, chili pepper, bell pepper, scallion, carrot, tomatoes, and cashews on plates.

When the skillet is very hot, drizzle in some oil and cook the calamari for about 2 minutes on each side until well browned and cooked through. Remove from the skillet.

Top the prepared salads with the noodles, calamari, and drizzle everything with extra dressing. Enjoy!
Notes
The salad ingredients are suggestions! Feel free to swap out any ingredients that you don't have, add avocado or other veggies - anything.
If you aren't into calamari, feel free to sub shrimp, chicken, tofu, or any protein you love.