Omg so. I got a new computer, and then my recipe plugin FULLY stopped working, and now I can't post any new recipes until I find a new one which takes 9,837 years because I liked the one I was using and don't know why it won't work anymore but apparently whoever created it stopped supporting it over a year ago. So it sucks, they all suck, and I have a ton of fun new food for you for next week!
See also: omg new computer so much fun but time consuming, right?
So! Because I'm stressed by alllll these new feelings we need something comforting for dinner tonight. Something like this Sausage Celery Rice Casserole, which Jay grew up eating and, while it's totally not an every week occurrence, I make sometimes for that nostalgic stuff-from-cans feeling. In a good way.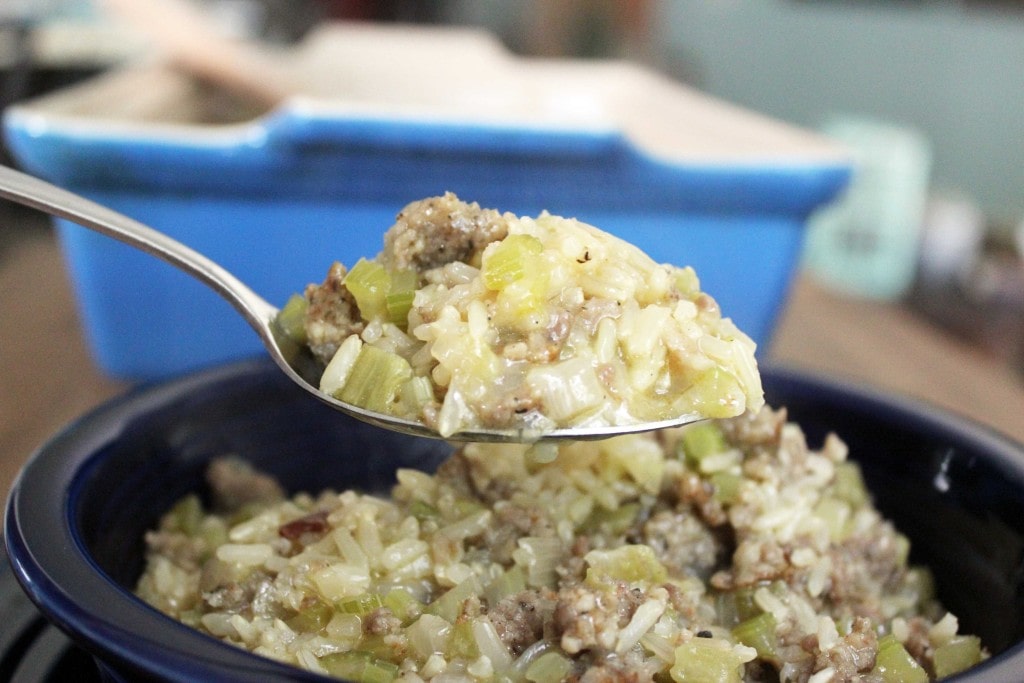 Make it, enjoy it, get super excited for a new recipe format. Right.
Print
Sausage Celery Rice Casserole
---
Total Time:

1 hour 20 minutes
1

pound bulk sausage, any kind you like

3

stalks celery, finely chopped

1

medium onion, finely chopped

1 cup

quick cooking brown rice

1 ¾ cups

chicken stock

1

can (13 ounces or so) cream of celery, mushroom, or chicken soup

½ teaspoon

crushed red pepper flakes, optional
---
Instructions
Preheat the oven to 350F. In a skillet, cook and brown the sausage for 10 minutes over medium-high heat until browned and cooked through. Add the onion and celery and cook for 3 more minutes until slightly soft.
In the bottom of a large casserole dish, combine the stock, soup, rice, and sausage mixture. Add the crushed red pepper flakes if using. Stir together, and smooth out the top.
Cover the casserole tightly with foil and bake for 1 hour, then taste the rice for doneness. If the rice is cooked through, remove from the oven and let sit, covered, for 15 minutes until serving. Add a bit more cooking time if needed, or a splash of extra stock if the rice is uncooked and the casserole is very dry.
Serve in shallow bowls, and enjoy!
Notes
If you use hot sausage skip the red pepper flakes - you won't need them! If you'd like to use regular white rice feel free, and if you use regular brown rice (that takes longer to cook), add about ½ cup extra water or stock to the casserole before cooking, and keep in mind that the rice may not cook quite as quickly. Just taste it before you take it out of the oven, and add more liquid and/or cooking time if needed to finish the rice!
Prep Time:

20

Cook Time:

60