This is kind of my apology for the galette from Monday. Not a real apology, because that would indicate that I was really sorry, but a .... if you don't like tons of buttery pastry with your veggies we can still be friends ... kind of apology.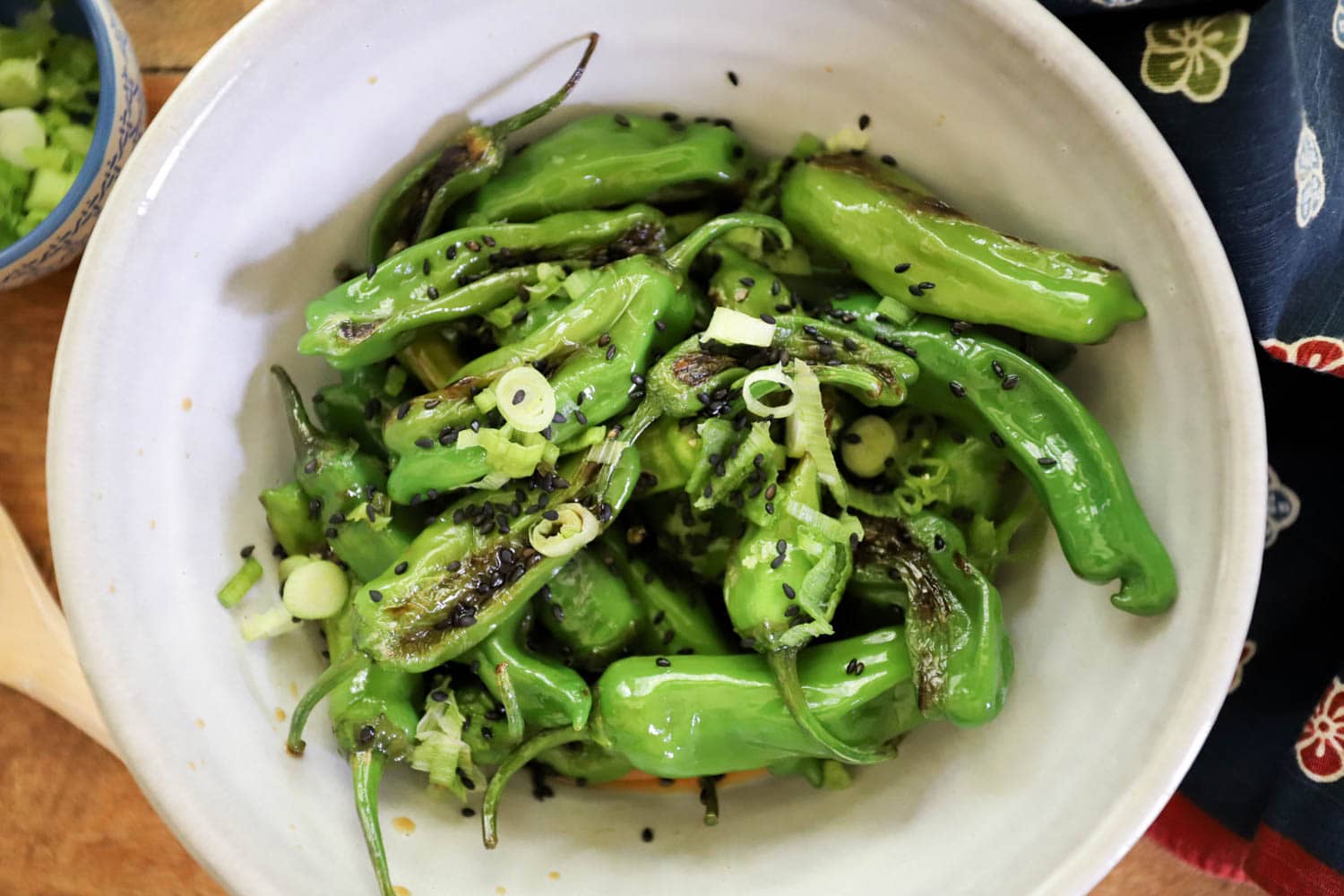 Shishito peppers! Let's talk. They're small green bell peppers eaten often in Asia that are having a MOMENT in the US right now, and have been for a few years. I've seen them for several seasons now at Trader Joe's, and this summer they've been everywhere at our farmer's market, which is my favorite way to buy anything ever, for tons of reasons. Our favorite chain Korean BBQ place in NYC (is there a more redneck thing to type?) has a fried shishito appetizer that we get every single time we are there, and a new rooftop bar in Greenville also has a fried version, BUT their peppers are fried in a super thick batter, and I wanted this to be a way healthier snack or side dish.
Like I said, I see these often as appetizers on menus, but they make a wonderful side dish. I prepared these for a snack, so I left the stems on for maximum dunkability and so we could eat them standing up because duh. When I make them as part of our dinner, however, I cut the stems off before I throw the peppers in the pan so we aren't messing with garbage on our plates - same as when I cook shrimp. Tails are pretty, but annoying.
But these peppers! They're blistered quickly in a super hot pan with just a tiny bit of oil. They're drowned in a tangy, salty, sliiiiightly fishy sauce that is just delicious. I use this powdered dashi that I find at the Japanese food store in Greenville, but you can use some dashes of fish sauce or leave out the ingredient entirely for a vegan/vegetarian option. The flavor becomes fuller and with more umami, not overwhelmingly fishy at all. Add more if you like the hint of seafood that is in lots of Asian dishes!
...