Hello Oktoberfest! This pork schnitzel recipe has a quick side dish of cabbage and apples and is one of our favorite fall dinners. Bread extra pork chops for meal prep and keep them in the freezer, too!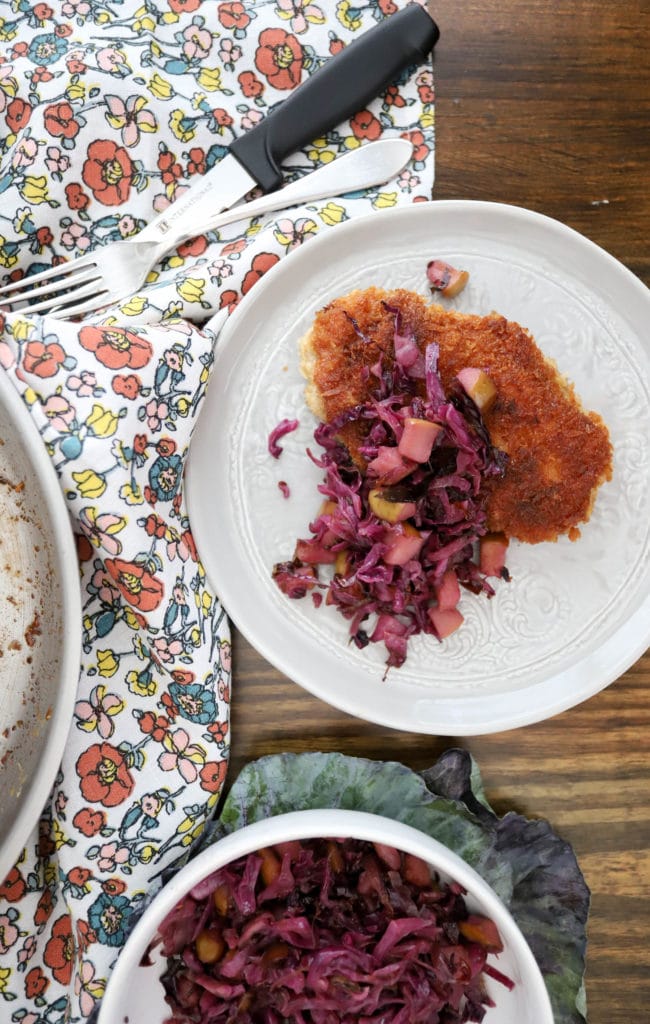 HAPPY OCTOBER WE MADE IT.
To the fourth quarter, to the months that have a shot at being cold (mid-80s here all this week in case you were wondering), and mayyyyyybe to the month that our son is born! My family has decided, very scientifically, that it makes sense for this child to be born on the 26th. Their reasoning is that my dad and Jay have 26th birthdays (different months, but it counts). This actually works really well for me too for a few reasons. First, October 26 is my last day of work, so having the baby sooner would be a pain for my boss and not great for my clients that week. I'll also be 38 weeks and one day pregnant at that point so it'll be safe to deliver AND I'll be allowed to deliver at the birth center - if this kid comes out before 37 weeks they kick us to the hospital. Finally, I don't want the baby to be born on Halloween which I realize is dumb and doesn't matter but I've found that if I focus on dumb wishes instead of...please don't have anything major or life-threatening wrong with you...I sleep better at night.
So, all this to say, the baby will definitely not be born on October 26, but wouldn't that be fun?
...