This super yummy recipe for stewed cabbage has just a few ingredients and is so simple to make! I love this on a weeknight for a quick veggie side dish with some grilled maple chicken, but we've made this for Thanksgiving and everyone loves it as a holiday side dish as well!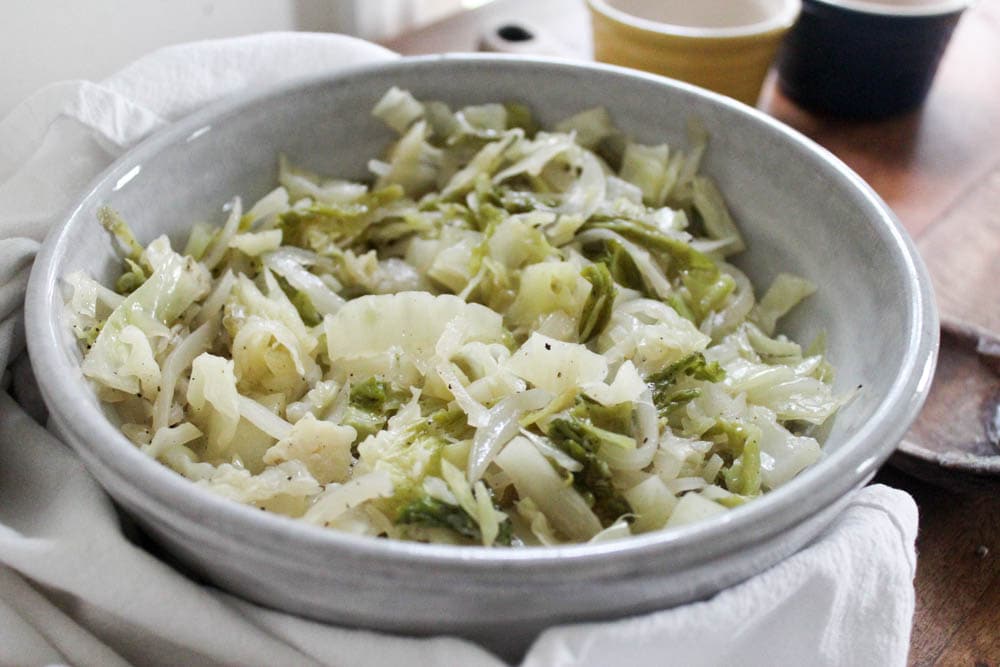 Oh hey! There are a few teeny tidbits you should know. First, last night I dreamed that my incredibly tiny sister Emily had decided to lose some weight because she met some PhD (?) students who were very thin but younger than her and she decided that she needed to lose weight. We were in some sort of a convenience store and I went full WHAT IS WRONG WITH YOU and she got really mad and yelled to our grandparents (?) that I am so mean to her. Then she proceeded to say "it's just the best because once I lose this weight I can set a new goal and lose more!" and then in this convenience store with our grandparents I made her repeat the word anorexia to me the same way I do with Beck when we are working on new words. I'm going to have to call Emily and work....something...out.
All that to say. My sister married a guy named Ben who has a similar essence to Jay. Buzzed head, hipster glasses, casual style. And when Beck was learning to talk and figuring out that more people than just Mama and Daddy existed she referred to Ben as DAH!!! in pictures. Because they look the same but not.
And so now that you know that, you can know that when I did some kind of "what do we eat with cabbage?" query online a few weeks ago when I had 3 heads inexplicably in my fridge, Emily chimed in with BEN LOVES CABBAGE, he chimed in with a link to a recipe similar to this, and that is the story of why we are having a very simple but flavorful and delicious stewed cabbage side dish today.  
It's a pretty classic southern thing, and everyone has their own version of it, but the short and sweet is that you chop up cabbage, cook it down in some flavorful liquid, and when it's super tender and flavorful douse it with salt and pepper. Some people steam theirs for health purposes, some people add spices or herbs, use different kinds of cabbage, tons of options. I think anything cooked with onion, butter, salt, and pepper is a winner, so I went that route.
...