This is the easiest strawberry pie without jello! Just 5 ingredients, a little bit of sugar, and this is the easy, rustic, foolproof strawberry pie you've been waiting for.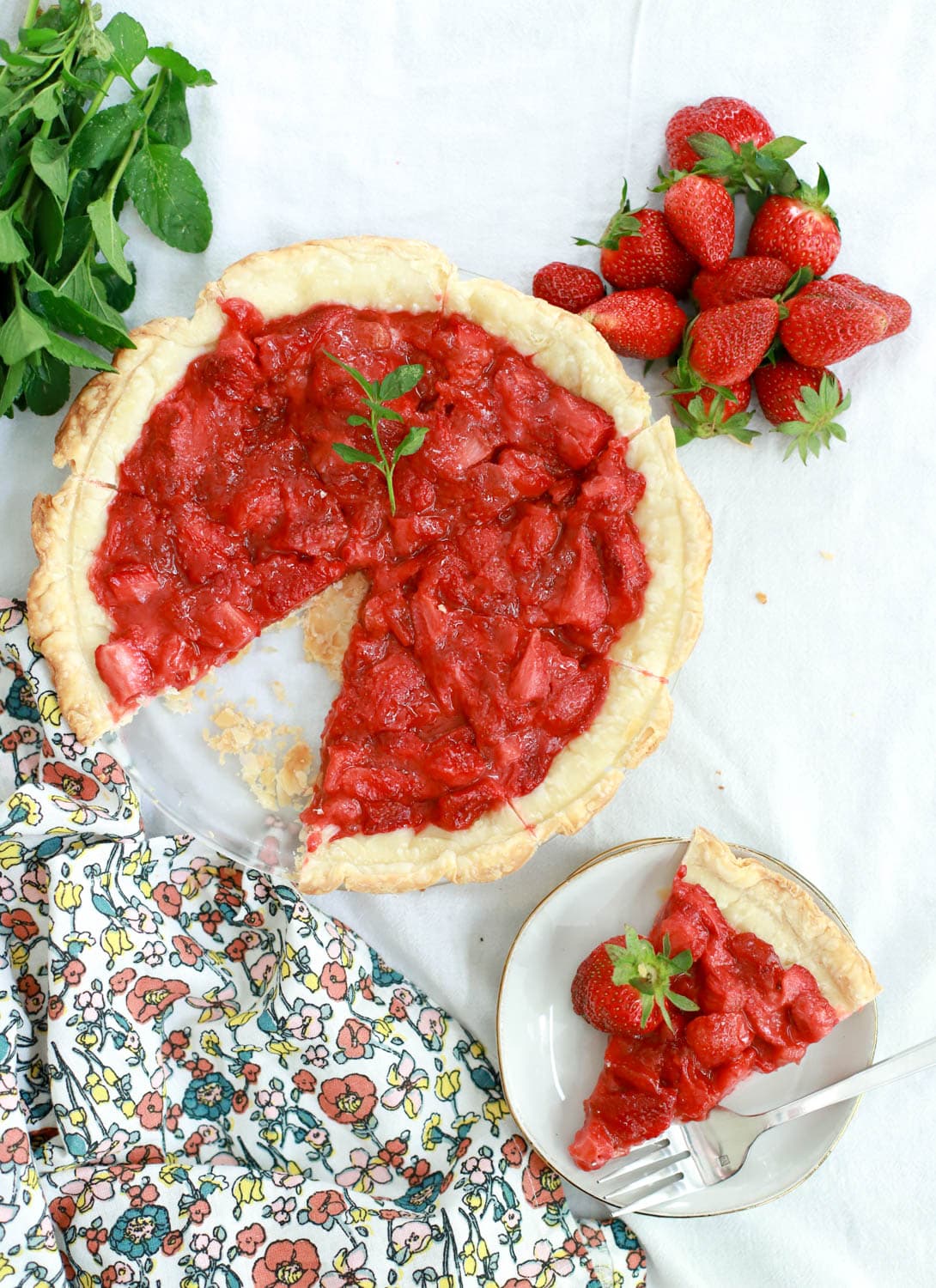 Here's a story.
(you're like, we hate food blogger stories)
I know, I know, but my literal job is to help people make connections so we're doing this the therapist way. By forcing you to connect with me. Clearly.
Strawberry season started here a few weeks ago, and I was like PERFECT TIME TO TEST A STRAWBERRY PIE RECIPE FOR MOTHER'S DAY.
But then, like, time passed. I'm in the thick of "bored yet busy lots of ideas nothing happening" Quarantine Brain. So I finally read a bunch of recipes and created a map for what I wanted to do, got the ingredients, things going great.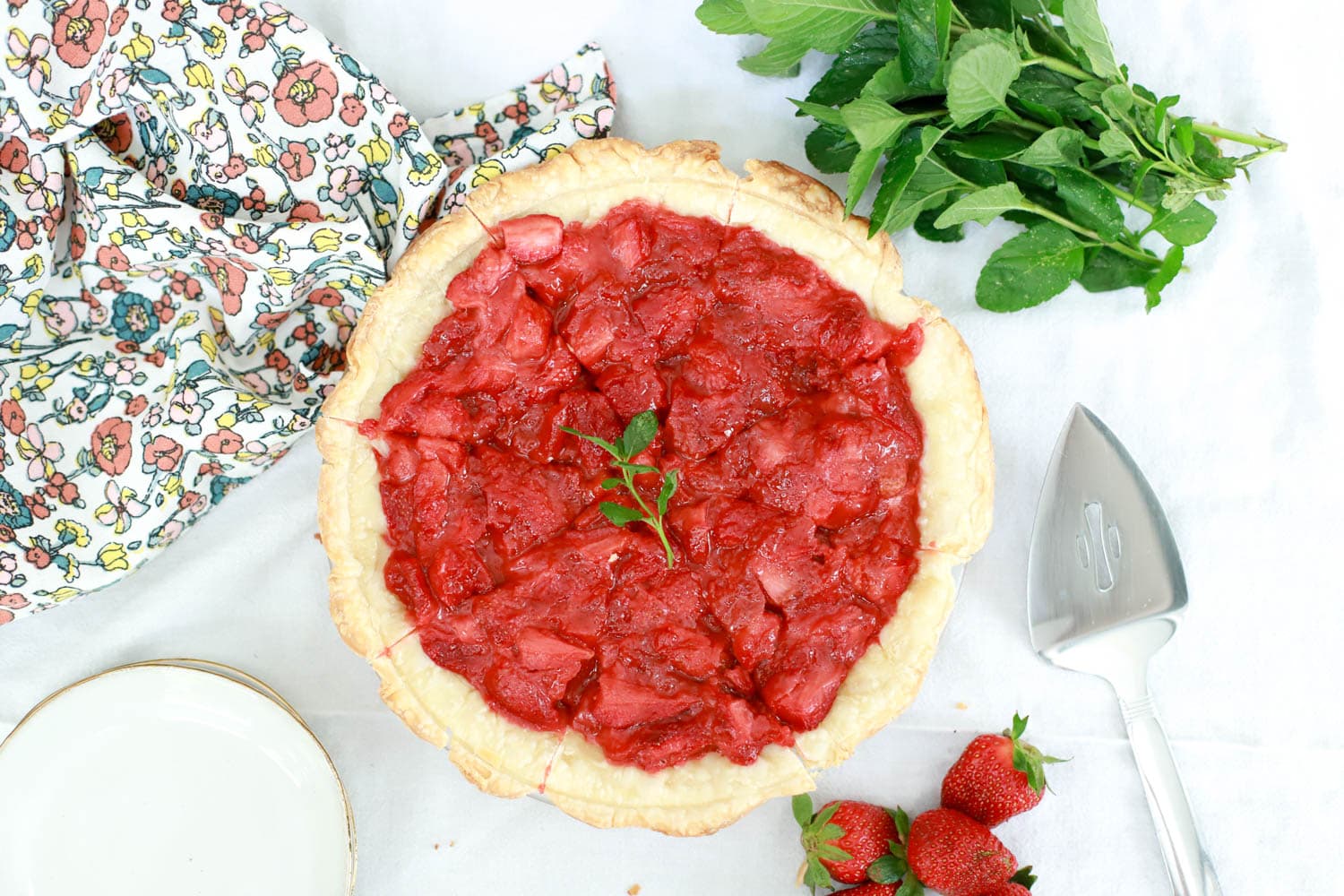 But then the crust I bought just...I messed it up, somehow. Took it out of the pan while parbaking, considered making this a cobbler, some kind of free-form galette, it was just shrinking and breaking and disastrous.
Thought about calling the whole thing off because I'm not a real food blogger, this should have been started months ago, no one cares, and on and on down THAT pitiful rabbit hole.
But then I said NO. Because this is the perfect quarantine strawberry pie. It did not come out beautifully. I wish it had but you know what? Sometimes I read food blogs and they are SO beautiful and SO cheerful and SO perfect and it's just a lot for me.
Definitely Use A Storebought Crust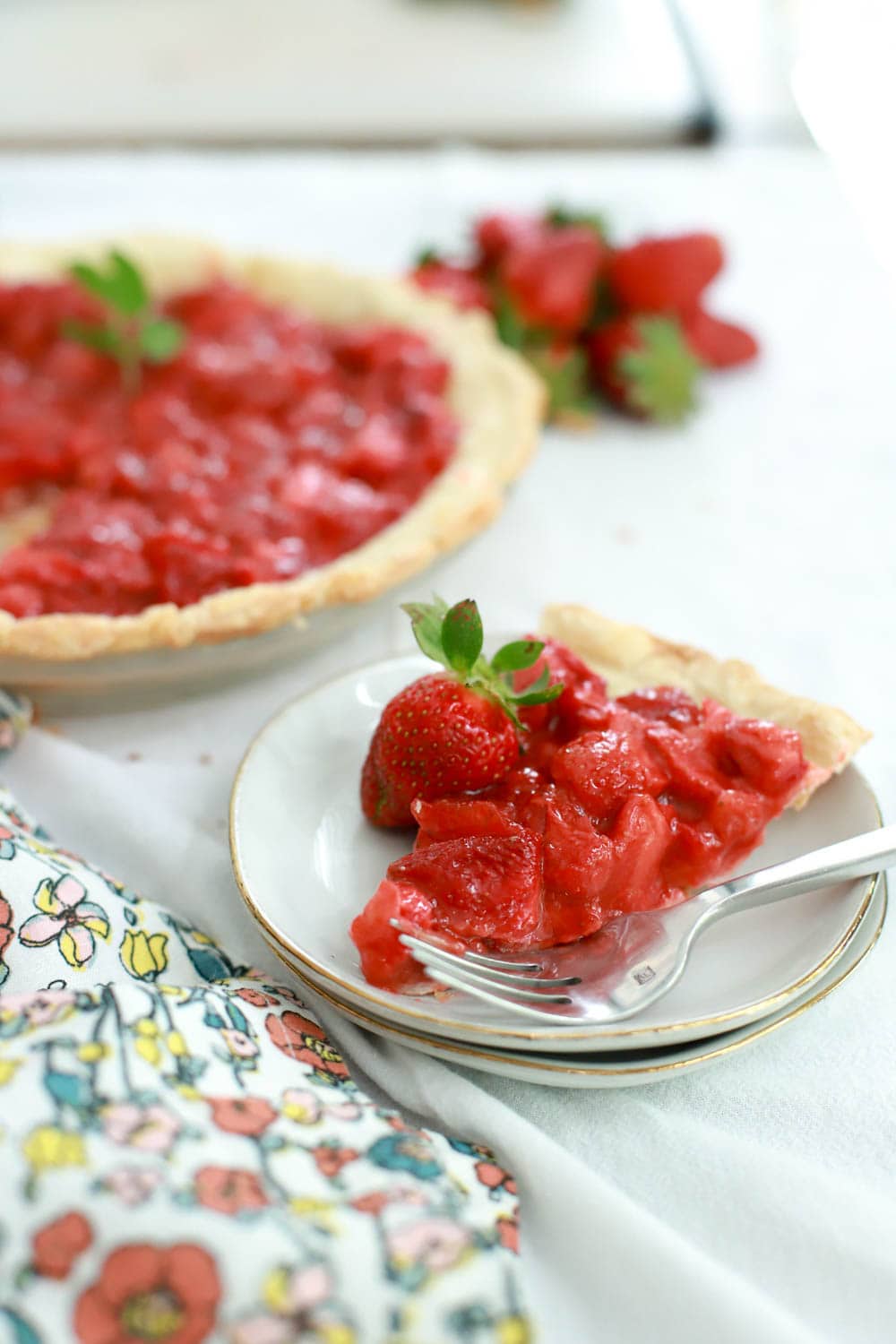 This pie did, though, turn out DELICIOUSLY. I intentionally didn't use much sugar, but you can add more if you'd like. I also bought a pie crust from the grocery store because this is not the time for my self-worth to be tested with pastry.
I nearly screwed up the parbaking of the crust because I transferred it from a disposable pie dish to a regular one in an effort to make things pretty and, let me tell you, a lot of effort for what, an extra dish to wash?
Learn from my mistakes. Make a pie, maybe make two. Maybe give it to someone for Mother's Day, just leave it on their porch all safe-like, and rest in the fact that LOVE is more important than BEAUTY in baking, and trust me when I say that un-beautiful pies can be very, very delicious.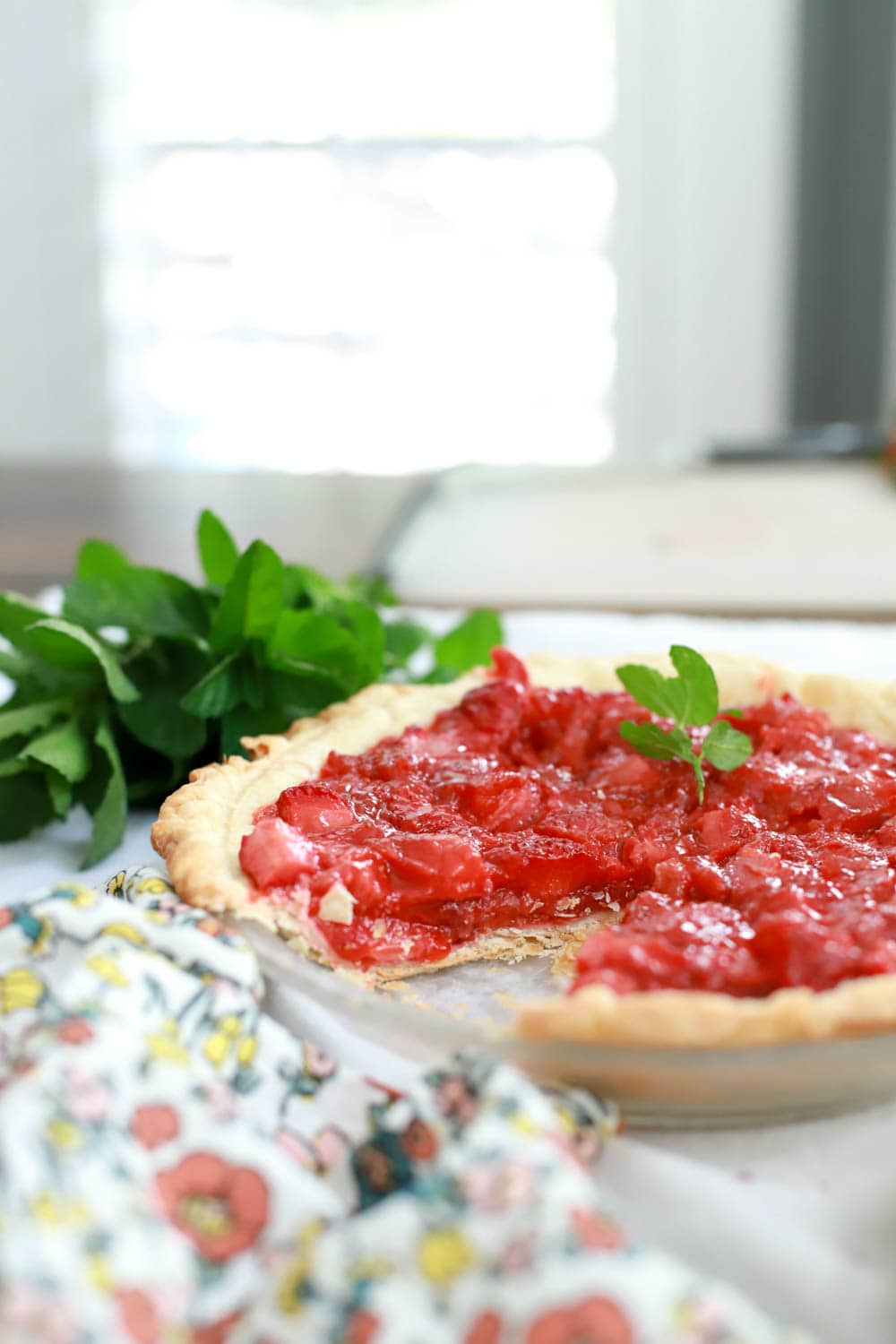 This is a super easy strawberry pie recipe that I'll be making again and again. Sometime it might be prettier than this one, but in the meantime I'm into living in THIS world, not one that takes 8 tries to get something right for the sake of the internet.
You know?
How To Make Strawberry Pie Without Jello
For this, we are cutting up a bunch of strawberries. 6 cups or so. I quarter them so you can still see the berries in the pie filling, but you can do halves or leave some whole if they're small - whole strawberry pies are very pretty, but I was worried about kids choking.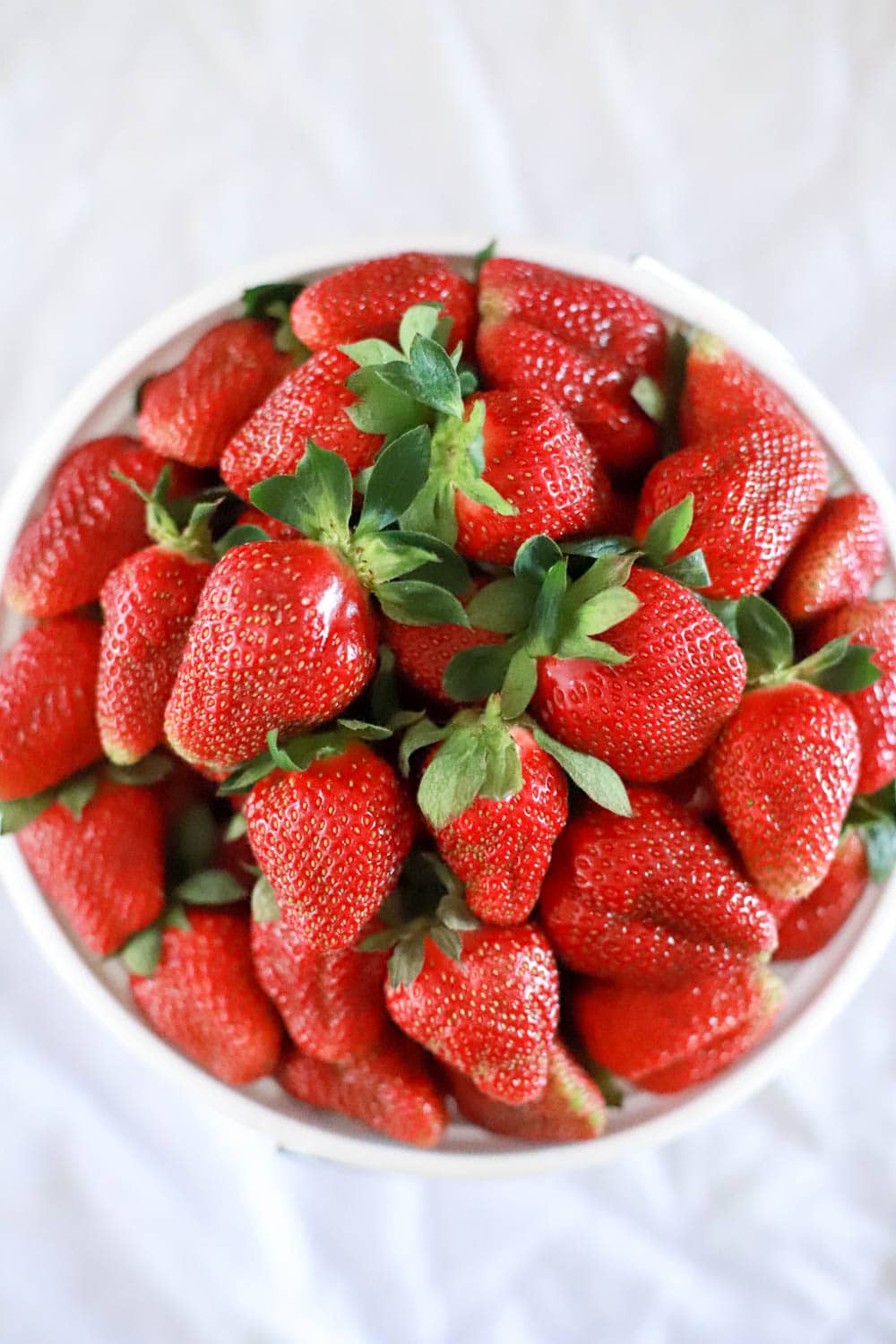 Cut the strawberries any way you want, is my point. While you're working on the filling, bake the pie crust as per the directions (google it or use the package instructions), then let the pie crust cool. We won't cook the filling in the pie, so you are baking the crust, not parbaking it.
I'm tell you extra because this was such a difficult task for me.
Method
Back to the filling! Throw your prepped berries in a bowl. I actually did double of this quantity and then had chopped berries in the fridge for the next few days, which was lovely. The pie berries get tossed with cornstarch, sugar, and a pinch of salt.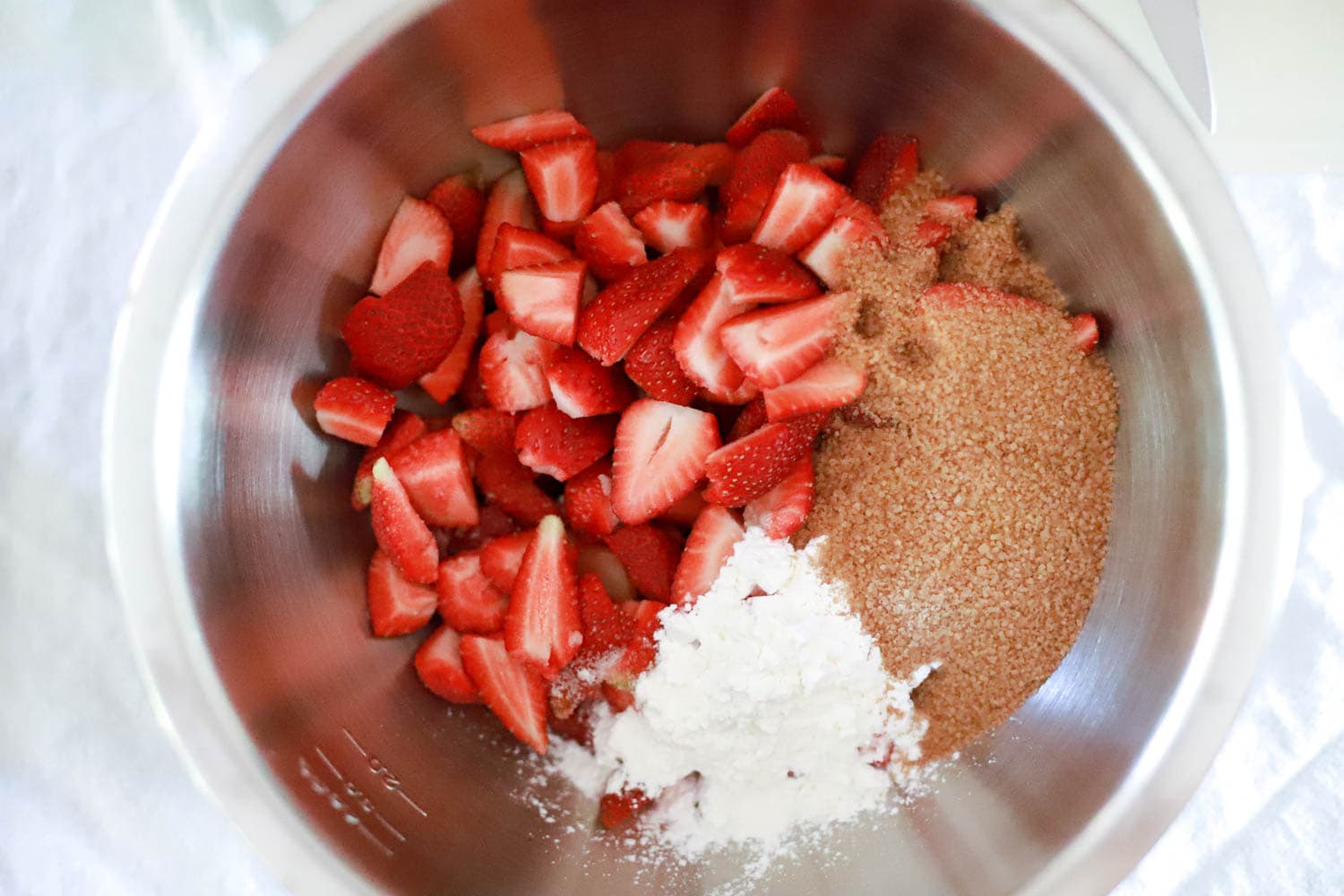 Variations: I only had a little bit of granulated sugar so subbed the rest with turbinado sugar. Trying times, you know?
Toss everything together. It will be clumpy and weird but will cook into a smooth thick jammy goodness. Dump the filling into a pot (nonstick is nice here), then turn the heat to medium and let the strawberry pie filling start to heat slowly.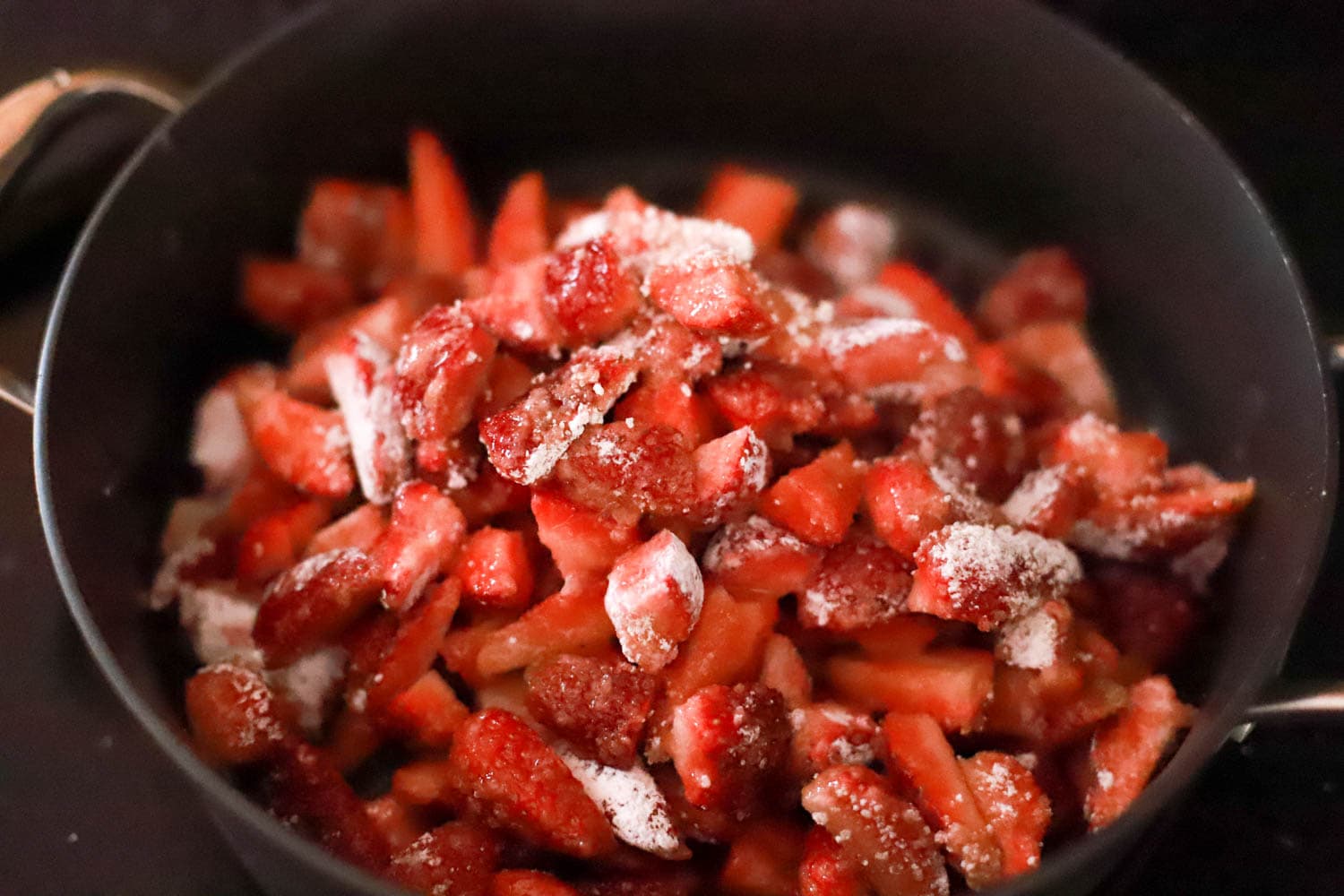 Stir every minute or so. The berries will release some juice, the sugar will melt, and the cornstarch will dissolve and thicken everything. After just a few minutes there will be enough liquid for the cornstarch + berry juice to bubble. As soon as the filling bubbles, turn the heat off.
Let the pie filling cool for just a minute or two, then pour it into the baked pie crust.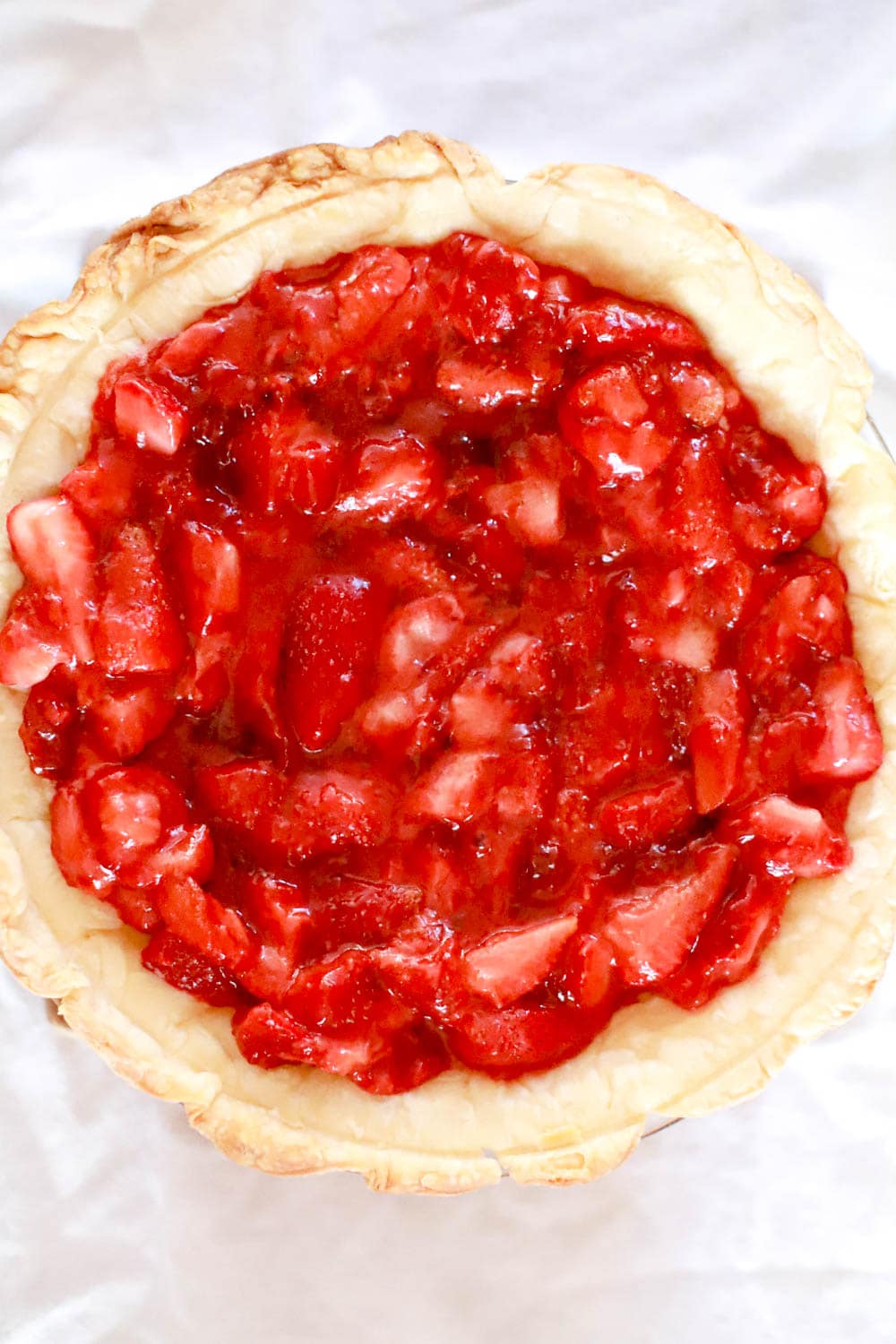 Chill the pie! For at least 3 hours; I did this overnight.
The result is: a delicious pie that allows the strawberry flavor to SHINE. Great texture that holds together (see the cornstarch quantity) but isn't...Jello, right? No offense to Jello. Spring-meets-summer goodness in a light-ish dessert that is just so perfect for right now.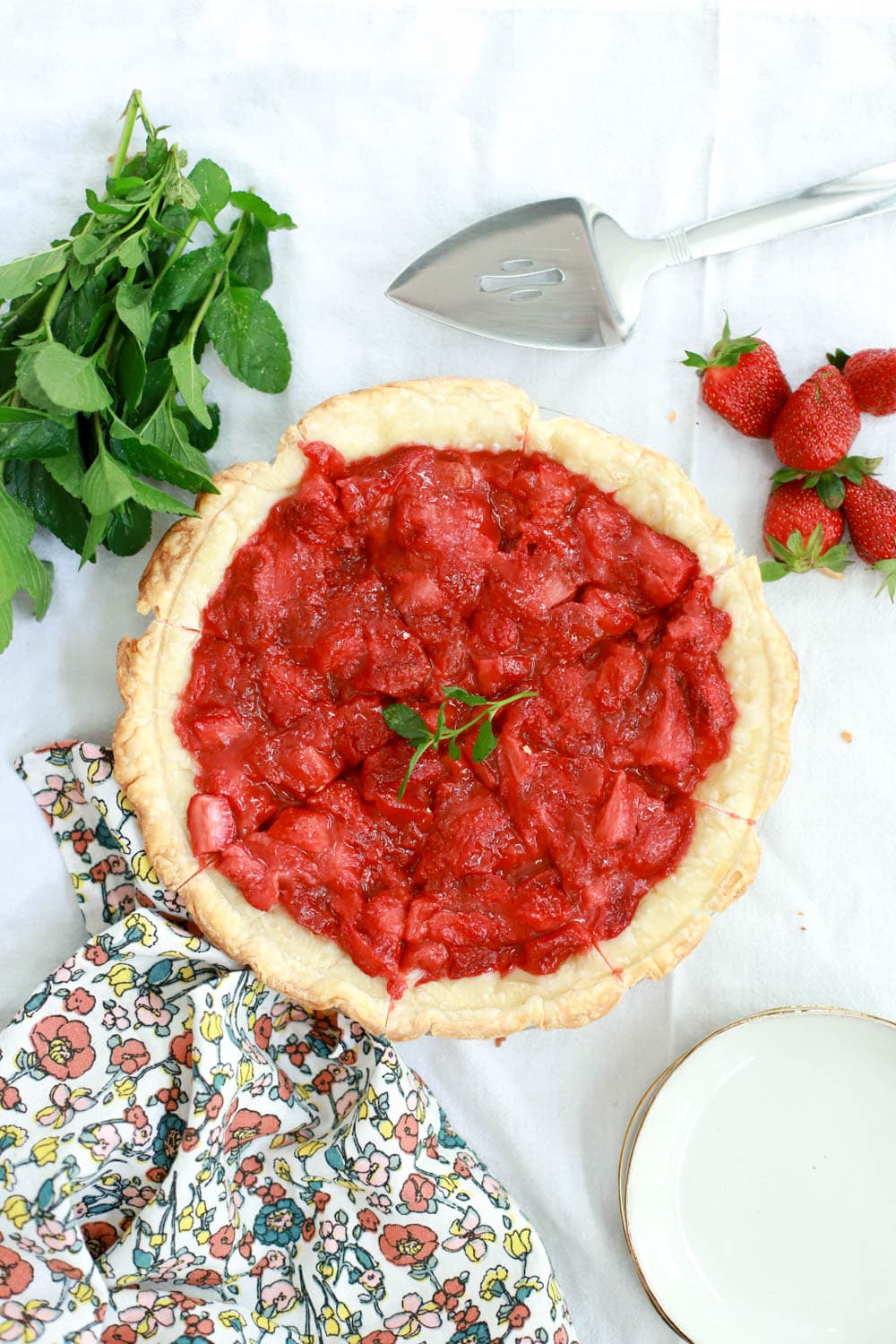 Make this for Mother's Day, make it all summer, make it for yourself! And, yes, I did think about covering the whole thing with whipped cream to make it look better but then would have been lying to myself in a different way, you know?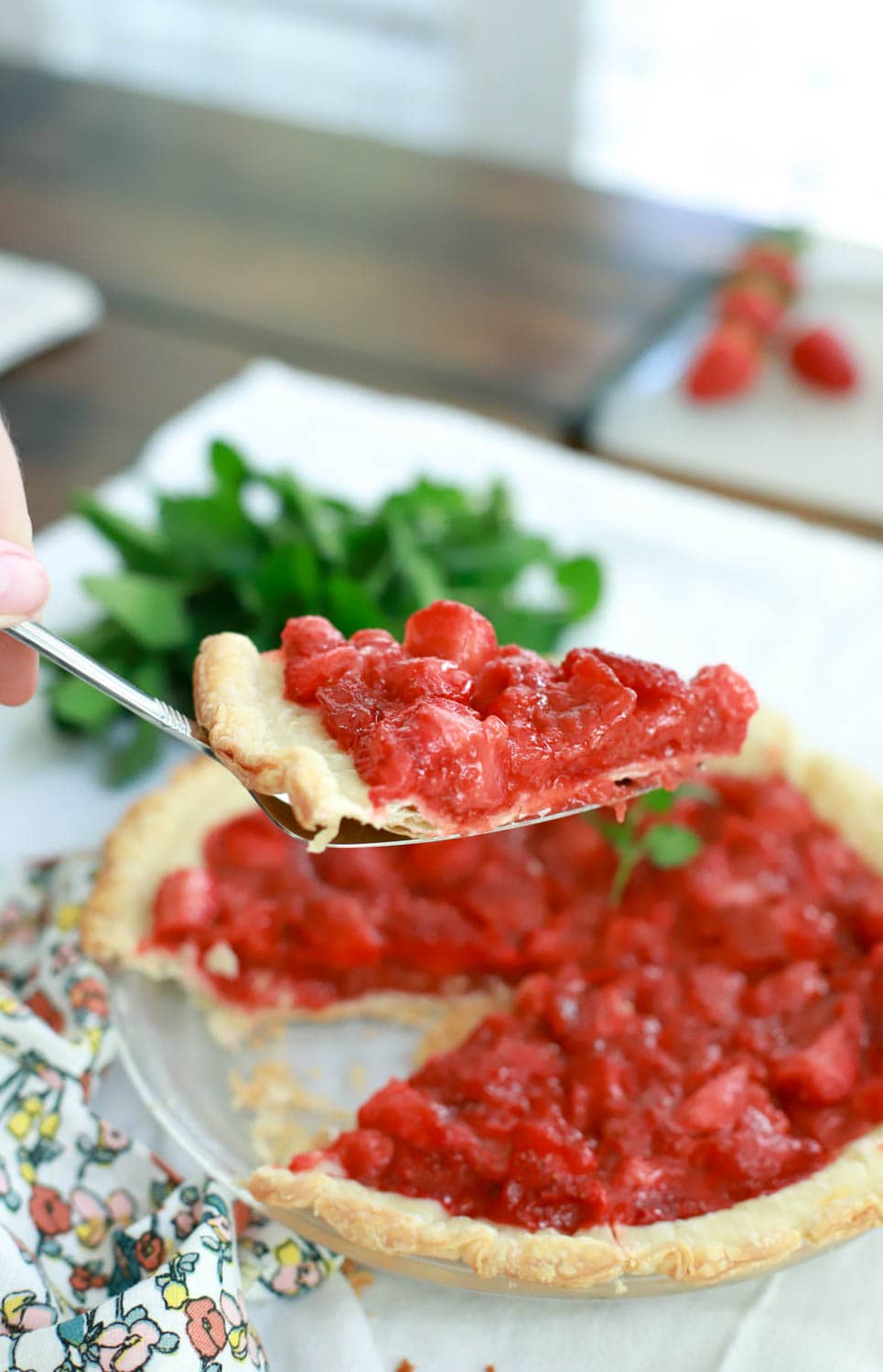 But whipped cream would be delicious on this, for sure, with some mint and extra fresh berries.
Enjoy this so, so much!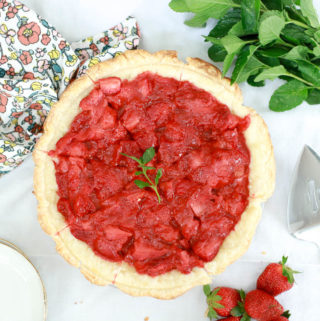 5-Ingredient Strawberry Pie
An easy, delicious strawberry pie with no Jello, just a few simple ingredients. Use a storebought crust for a quick strawberry pie!
Ingredients
1

storebought pie crust

6

cups

fresh strawberries

quartered

¼

cup

cornstarch

½

cup

sugar

pinch

salt
Instructions
Cook the pie crust to package directions. Allow to cool while you make the filling.

In a large bowl, toss the strawberries, cornstarch, sugar, and salt to coat evenly.

Transfer the strawberry mixture to a large nonstick pan and turn the heat to medium. Allow the berries to heat through and release some liquid, stirring every minute or so.

When the sugar/strawberry liquid/cornstarch combine and bubble, turn the heat off and let the mixture cool and thicken for about 5 minutes.

Transfer the strawberry mixture to the prepared pie crust and chill in the fridge for at least 3 hours or overnight until firm. Slice carefully and serve!

Or, like, eat the whole thing yourself for safety's sake.
Notes
Make your own pie crust if you're into that sort of thing! Use an 8-inch pie plate, or add a cup or two more strawberries for larger pie dishes.
I quartered my berries, but you could halve yours or even leave them whole for a super pretty presentation.
Whipped cream, extra berries, and fresh mint on top are amazing here!
This is a lightly sweet pie. Add more sugar if you'd like, up to ⅓ cup more.
More Easy Dessert Recipes