Delicious, easy strawberry cucumber salad with quick pickled onions! This is one of my favorite summer side dishes: it's vegan, gluten free, and makes the MOST of in-season produce! I love this with fresh dill, but it's also really nice with mint and basil. Use any herbs you have on hand! Make it a meal with 3-ingredient grilled chicken marinade and loaded potato salad.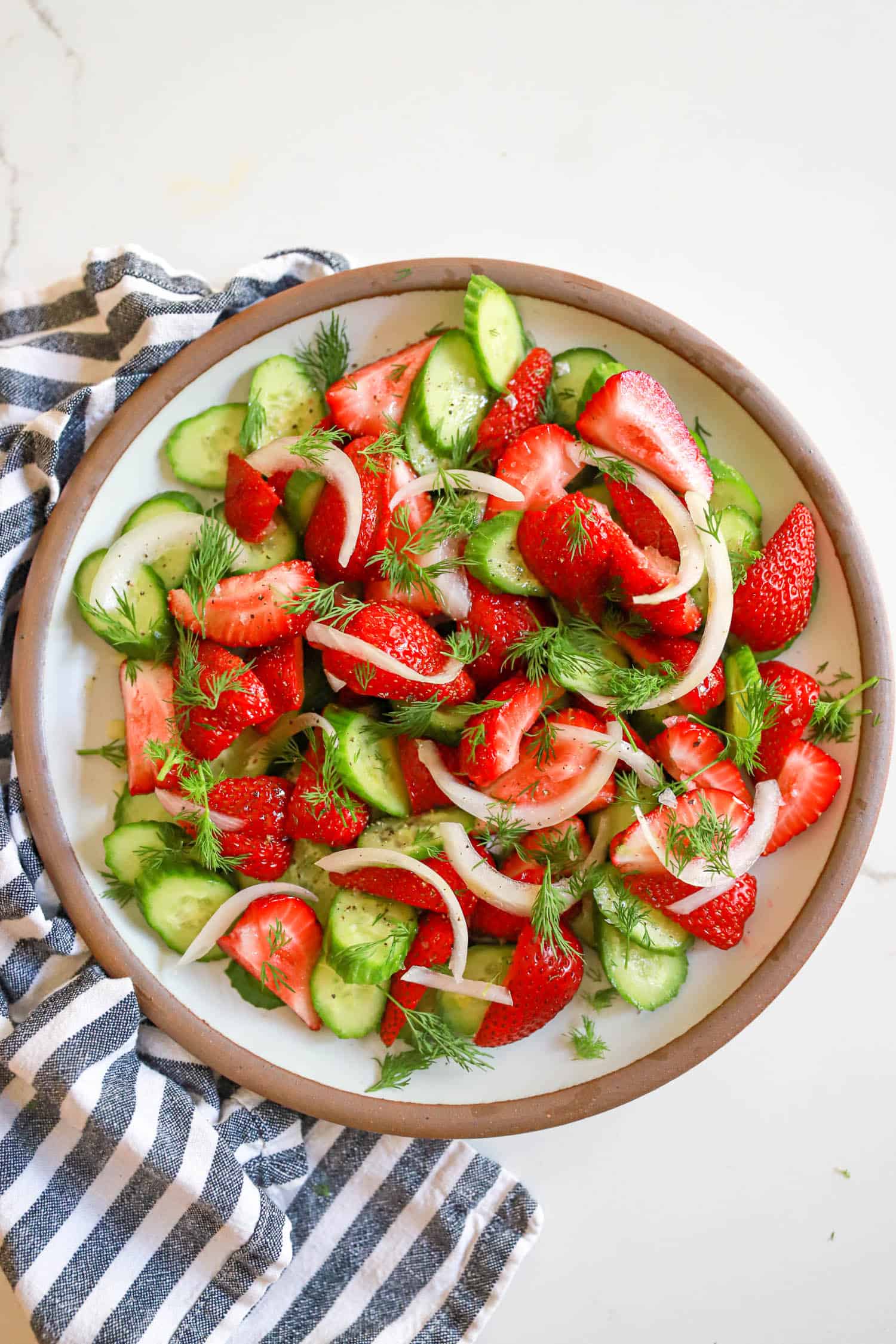 Ok, real talk about fruit in salads: this is a polarizing topic, amirite? Very on trend for the times, I suppose.
I don't exactly get it why people care so much, but, as for me, I'm team sweet/savory at all times, which makes this simple cucumber and strawberry salad the absolute perfect summer salad, in my mind.
Recipe Notes and Variations
As written, this recipe is vegan and gluten free, which is nice for the "I'm not sure what folks can eat" potluck types of situations.
The basic building blocks are: strawberries, cucumbers, and pickled onions that seriously pickle in the amount of time it takes to wash and prep the other ingredients.
There's no "dressing" on this, just some seasonings and the pickled onions that give a tart/briney/salad dressing nudge.
This is a "use any kind of fresh herb you like" situation, all the way. I love fresh dill, but basil, chives, parsley, and mint all work gorgeously with the strawberries and cucumbers.
I don't often say SERIOUSLY BUY THIS about specific ingredients, BUT. If you were ever thinking about getting into bed with flaky salt, this is a fabulous time to buy some. It adds a lot to the finished product.
If you have extra strawberries, classic no-jello strawberry pie OR strawberry cream cheese pie (trust) are absolutely delicious summer desserts!
Prep: Pickled White Onions Recipe
In terms of timing, you can absolutely make the onions and let them sit for about 15 minutes while you prep the rest of the salad.
OR, you can make these as part of your meal prep, you can also make these in advance! Pickled onions are a great ingredient to keep in the fridge for sandwiches and other salads.
To make the quick pickled onions, heat just a little water in the microwave (or however you warm up water).
Stir in sugar, salt, and vinegar until the sugar and salt have dissolved, then add the onions.
Let them sit for at least 15 minutes at room temperature while you make the rest of the salad or in the fridge for up to a week.
Spicy Variation: If you like spicy things, add a pinch of red pepper flakes to the brine for the pickled onions. YUM.
Are Pickled White Onions Good?
Yes! Note that for the pickled onions you can absolutely use red onions, but I love the mild flavor that pickled white or Vidalia onions give to this recipe. I also usually buy white onions so pickling what I have on hand makes the most sense for me.
Can You Pickle White Onions Instead of Red?
Absolutely! Pickled red onions are seen in a lot of recipes, but the exact same method can be used for any type of onion that you like and keep on hand.
Salad Ingredients
Here's what you need!
Strawberries, cucumbers, dill, olive oil, salt and pepper, and the pickled onions you prepped. Super simple, colorful, fresh, all good things.
Step By Step Instructions
The prep is honestly the longest part of this entire recipe, and even that doesn't take too terribly long.
One you've gathered your ingredients, grab a dish or bowl and build the salad. I like to do this on a plate or super shallow bowl because it's such a pretty salad.
Start by layering the cucumbers and strawberries evenly on the plate.
Drizzle over the olive oil, and sprinkle the cucumbers and strawberries very generously with flaky salt and pepper - ½ teaspoon each or more.
Arrange the pickled onions all over the salad, then sprinkle with the fresh dill.
Done! The magic is in the ingredients together; cool cucumbers, sweet strawberries, tangy pickled onions are very, very nice together.
Serving and Variation
I serve this as a side dish, but I've also had it as a main dish for lunch. To make this a main dish, add some salad greens to a bowl or plate, top it with the salad, and serve with a toasty hunk of bread. YUM.
If you'd like to add onto the salad, a drizzle of balsamic glaze and crumbled feta cheese are really, really yummy as a topping.
Here are some other summery side dishes to serve alongside this salad:
Leftover Storage and Make-Ahead
Leftovers of this salad will keep for a day or so in the fridge, but the salt will break down the strawberries a little bit. If you can, eat this salad the day you make it.
To prep, I wash and cut the cucumbers and strawberries and store them separately a day in advance. The pickled onions can be made up to a week in advance, which is helpful for saving time when you'd like to make this salad.
I love this so much, and you absolutely will too. It'll carry us all through summer!
Strawberry Cucumber Salad
The best easy, delicious summery side dish! Cool cukes, sweet strawberries, and tangy quick pickled white onions work together to make this a seriously delicious salad.
Ingredients
Pickled White Onions
½

white or sweet onion

thinly sliced

½

cup

hot water

2

tablespoons

red wine vinegar

2

teaspoons

sugar

1

teaspoon

salt
Strawberry Cucumber Salad
1

pint

strawberries

halved or quartered to bite-sized

3

small

Persian or pickling cucumbers, sliced

¼

cup

pickled onions

2

tablespoons

chopped fresh dill

see note

1

tablespoon

olive oil

Flaky salt and pepper

for topping
Instructions
Onions
Whisk the salt and sugar into the hot water until dissolved.

Stir in the onions and vinegar.

Let the onions sit for at least 15 minutes or up to a week in the pickling liquid.

Use as you'd like, draining the pickled onions before using.
Salad
Layer the strawberries and cucumbers evenly in a shallow serving dish.

Drizzle with the olive oil and sprinkle evenly with the pickled onions and dill.

Top with lots of flaky salt and pepper and serve alongside your favorite summer dinner. Enjoy!
Notes
Cucumbers: Feel free to use any cucumber you like in this recipe; we're going for about the same amount of chopped cucumbers as strawberries.
Herbs: I love dill on this salad, but fresh basil, chives, and mint are also delicious!
The pickled onions are delicious on other salads, tacos, and rice bowls. Use extras on dinners and snacks all week long!
Leftovers of this salad are OK for a day, but this salad is best eaten fresh.
Gluten free and Vegan as written.
This recipe was originally published in May 2012 and has been updated with new images and better instructions. It's been a favorite of ours for a long time!
More Yummy Salad Recipes